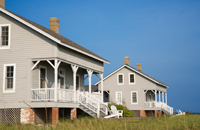 With the success of companies like Uber, Lyft, and Airbnb, the "sharing economy" is emerging as an economic force. However, these companies have also leapt ahead of regulators and insurance companies raising questions about their legality, regulation and insurance.
We saw how rideshare companies have made their mark on the car insurance industry. Airbnb has had a similar impact on homeowners insurance.
If you are thinking about or are currently renting out all or part of your home on Airbnb, there are many homeowners insurance guidelines to be wary of. Not to worry, because we have created a guide to homeowners insurance and Airbnb.
What is Airbnb?
Before getting to the nitty gritty, lets first define what Airbnb is. Essentially, it's a web-based platform people use to rent out living quarters temporarily in lieu of conventional hotel rooms. Its presence reaches over 190 countries, and thousands of cities.
What's unique about Airbnb is you don't have to stay in homes or apartments. You may rent anything from an earth hut, to a cave, to a yurt. However, the bulk of Airbnb rentals are of more mundane dwellings. 
The problem with Airbnb, as with other sharing economy companies, is that they are so innovative they've produced regulatory and insurance gray areas. An Airbnb rental is not a commercial property, but it's also not a regular house – so what insurance should be required?
Airbnb and Insurance
Insuring the rental that you listed on Airbnb can be complicated. There are multiple types of insurance policies you may want to purchase.
Homeowners Insurance. Although most home insurance providers won't cover commercial use of your home, there are a few exceptions. If you only rent your home out to people a few times a year, your insurer might let that slide. The general rule among insurers is if you rent out your home for less than 30 days a year, you're probably okay. Anything more than that and you'll need to purchase a business or landlord policy.

If you aren't satisfied with your current policy and you would like to shop around, request home insurance quotes from multiple insurers, and compare rates.

Business Property Insurance. If you are renting out your home, you'll want to consider a business policy. More specifically, hospitality and hotel insurance—because that is essentially what an Airbnb is.

This is similar to a homeowners policy in that it consists of property and liability coverage.

Property coverage will protect any damage to your property. Liability coverage is for if anyone gets hurt on your property. It will cover medical expenses, as well as any legal expenses if they file suit against you.

It might also cover loss of income expenses. This is if your property sustains damage and you need additional expenses to help your business out financially—in the short term.

Landlord Insurance. If you are a consistent Airbnb landlord, meaning you frequently rent out your property to guests, you'll want to get a landlord insurance policy. This is especially the case if you don't live in the home while you rent it out.

Imagine many strangers coming and going in your home. You will be making a lot of money, but there is also room for a lot to go wrong.

Just one tenant slipping on the stairs and breaking her leg could have you paying thousands of dollars in medical bills, if you reach the cap on your homeowners policy.   

Just as with homeowners policies, landlord policies also consist of property damage and liability coverage. The property damage coverage will protect your home against any perils covered under your policy, as well as any property damage to the home. It might also cover personal property for tenant use. However, keep in mind that your policy won't offer protection for your tenants' personal possessions.

The liability portion of your landlord policy will also cover your tenants getting hurt on your property. It will cover their medical expenses, and legal fees if they decide to sue you. It is important to note that on average, you will pay about 15 to 20 percent more for landlord insurance, than homeowners insurance.

Endorsements. If you are living in your home while renting it out to others, you might be able to get a 'unit or residence rented to others' endorsement on your homeowners policy. This is like an extra cushion of coverage if something were to go wrong in your home. It will provide extra personal property and liability coverage.

Keep in mind that along with your coverage, your deductible and premiums will most likely go up with the purchase of an endorsement.

Umbrella Policy. An umbrella policy is extra liability coverage that kicks in when your current policy is exhausted. It will cover personal property or personal injury claims as well as legal fees if the other party decides to press charges.

It's important to consider getting this type of coverage if you are using your property as an Airbnb and renting your home to people who could potentially sue you. The coverage comes in increments of one million dollars. Some people even have upwards of 10 million dollars in coverage.

Just be aware that while the premiums range from a few hundred to a thousand dollars a month, the deductible can be in the hundred-thousand-dollar range.
There are many different insurance policies to choose from. You might want to do some research and possibly consult with an agent on which one would best fit your needs.
Host Protection Coverage
Host protection coverage is Airbnb's own form of liability coverage. The coverage is automatic, free, and is in the amount of one million dollars. It protects you if someone sues you due to property damage or liability. Airbnb makes it possible to file a claim through this program. However, you do have to pay a deductible first.
While this might seem too good to be true, there are some exclusions. You might want to check out the host protection insurance section of their website for more information on what isn't covered.
FREQUENTLY ASKED QUESTIONS
Q: Are there any hidden expenses with Airbnb?
A: There aren't necessarily "hidden" fees, but many people forget to read the fine print. For example, Airbnb will take three percent from you to cover the processing fee for each transaction. There is also a 6-12 percent guest service fee that Airbnb will take.
They also collect about a five to 15 percent of hotel or occupancy taxes per each transaction. Because it's not easily visible, it's important to read the section on financing, very carefully, before listing a space on Airbnb.
Q: What are HomeAway and VRBO (Vacation Rental by Owner)?
A: These are vacation rental companies that are very similar to Airbnb. HomeAway is VRBO's parent company. One difference between Airbnb and the others is HomeAway doesn't provide its own liability insurance for its hosts. It also charges people to advertise their space, while Airbnb lets you list it for free.
Q: Do people using Airbnb to rent spaces need insurance?
A: Depending on your policy, your renters insurance may extend to travel. Renters insurance provides you with property and liability coverage when you are renting a space in a housing unit. It also may cover additional living expenses if you endure some type of damage to your belongings that hinders your ability to stay in the dwelling.
Q: Will I need travel insurance to stay at an Airbnb?
A: While it isn't a requirement to obtain travel insurance when staying at an Airbnb, it isn't a bad idea. This type of coverage will help you out if you need to cancel your stay at the last minute. It will also cover your personal belongings, as well as any personal liability claims.
Because every insurance company is different, check with your provider before assuming travel insurance will cover your specific circumstances.
Q: How can I ensure my home will be safe if I let people rent out rooms in it on Airbnb?
A: One thing you might want to do is add a security deposit on the listing. This would mean your guest/s would pay an additional deposit in case there are any mishaps regarding your property while they stay with you.
You might also add insurance on top of the guaranteed host protection policy. This policy contains many exclusions, and you want to make sure you have proper coverage in the case something goes wrong in your home. Consider adding an endorsement to your homeowners policy, or getting a business or landlord policy.
References:
QuoteWizard.com LLC has made every effort to ensure that the information on this site is correct, but we cannot guarantee that it is free of inaccuracies, errors, or omissions. All content and services provided on or through this site are provided "as is" and "as available" for use. QuoteWizard.com LLC makes no representations or warranties of any kind, express or implied, as to the operation of this site or to the information, content, materials, or products included on this site. You expressly agree that your use of this site is at your sole risk.