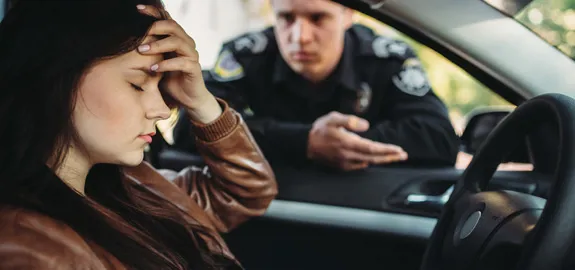 The penalties of being in a car accident without auto insurance depend on who caused the accident and who doesn't have car insurance coverage. If you cause a car accident and don't have insurance, you may face lawsuits, license suspension and fines, among other problems. If the other driver is at-fault and doesn't have insurance, your auto insurer should cover your expenses. If neither of you has auto insurance...well, good luck, no matter who was at fault.
This article will cover:
If you cause a car accident and have no auto insurance
If you are at-fault for a car crash and don't have an auto insurance policy, the chance of the other driver suing you for repair and medical costs becomes a reality.
Auto insurance can take care of repair costs and medical bills that may arise if you cause an auto accident. Without auto insurance, the other driver can sue you to recoup costs. This could also result in loss of savings, garnished wages and even the loss of your home if you have one.
You may also face legal penalties. Depending on which state you live in and your driving history, possibilities include:
Fines and tickets: Driving without insurance is illegal in all states except New Hampshire. Fines in many states are around $500, but in West Virginia they can go as high as $5,000.
License suspension: If you are found guilty of driving without a license, your license may be suspended whether you are in an accident or not. The length of the suspension can range anywhere from a few months to many years, depending on the state.
An SR-22: In many states, getting a suspended license can result in an SR-22. An SR-22 is a form you file in order to show you carry the minimum liability coverage required by your state. SR-22 auto insurance can be incredibly expensive, and you can be required to carry the form for anywhere from three to five years.
Jail time: In all states except New Hampshire, it is illegal to drive without auto insurance. In Washington, for instance, it can result in 90 days of jail time.
How having no auto insurance can affect getting coverage
If you decide to buy auto insurance after getting into an accident with no insurance, you can expect to pay higher insurance premiums than if you were a first-time auto insurance buyer with a clean record. An insured driver with a single accident can face a 94% increase in their premium, depending on damage done.
What happens if you get hit by someone without auto insurance
If you're in a car accident with another driver where they were at-fault but don't have auto insurance, uninsured/underinsured coverage would help pay for your repairs and medical bills.
You may be able to sue the at-fault driver for car repair or medical expenses, but that largely depends on which state you're in. This means you could sue for reimbursement of medical bills or auto repair expenses, but not emotional distress associated with the accident.
If you also don't have insurance, suing the other driver may not work. Some states won't allow uninsured drivers to sue other drivers for accident damages. States that limit the amount you can recover in this scenario are said to have "no pay, no play" laws. These states include:
Alaska
California
Indiana
Iowa
Kansas
Louisiana
Michigan
New Jersey
North Dakota
Oklahoma
Oregon
A potential challenge with "no pay, no play" states is the possibility that you may have to pay a large deductible — often around $10,000 — toward your auto repairs before you can sue the at-fault driver for those costs.
If you're in an accident where no one has auto insurance
If neither you or the other driver in the crash has auto insurance, going to court to get expenses paid is pretty much your sole recourse.
This can be a no-win situation. If you or the other driver cannot afford an auto insurance policy, the chances of being able to afford paying for car repairs or a hospital stay probably aren't good. This is particularly bad if your car is totaled in the accident. Having to pay for a new car plus dealing with your (or another's) medical expenses if injuries occurred can be financially catastrophic.
The best way to find affordable auto insurance is to compare quotes from different providers. When you find a decent quote, don't stop there. Talk to the insurers with the best quotes about discounts that are available to you. Most auto insurers offer a wide range of discounts that can reduce your yearly premium even more.
QuoteWizard.com LLC has made every effort to ensure that the information on this site is correct, but we cannot guarantee that it is free of inaccuracies, errors, or omissions. All content and services provided on or through this site are provided "as is" and "as available" for use. QuoteWizard.com LLC makes no representations or warranties of any kind, express or implied, as to the operation of this site or to the information, content, materials, or products included on this site. You expressly agree that your use of this site is at your sole risk.