What Happens if You're in a Car Accident with No Insurance?
Whether or not you cause it, you could face fines, license or registration suspension, jail time, lawsuits, and more if you get in an accident without car insurance.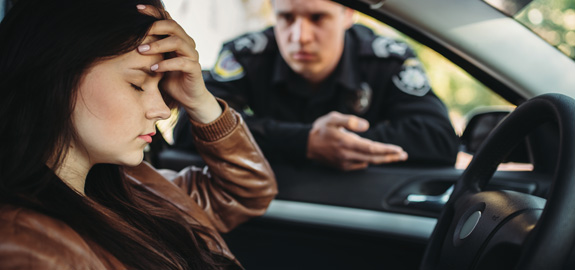 Every state penalizes you in one or more ways if you're caught driving without car insurance.
But those penalties – tickets, suspended licenses, and more – may be the least of your worries if you get into an accident without insurance.
The reason for that can be summed up in one word: lawsuits.
You'll learn how and why lawsuits are possible below. You'll also find answers to these and other questions:
What Happens If You Cause an Accident and You Don't Have Insurance
For starters, it's important to know that you could face any of these penalties if you're involved in a car accident in any way and don't have insurance:
Tickets and fines
Suspended license or registration
Points added to your driver's license
Confiscated license plates
Towed and impounded vehicle
SR-22 insurance  requirement
Jail time
 
The penalties depend on where you live and whether you've been caught driving uninsured before. These penalties are just the tip of the iceberg when it comes to what you might deal with if you cause a car accident without insurance, though.
How so? If you cause an accident and you don't have car insurance, the other people involved in it may sue you. This rarely happens when you have insurance. After all, insurers typically step in and pay for the victim's vehicle repair or medical costs in such cases. And if you do get sued, your liability insurance helps cover it.
When you don't have auto insurance and you're at fault for an accident, the other drivers and passengers often try to recover those costs from you instead.They can use the courts to go after your savings or future earnings. They can even go after your home, if you have one.
They're far less likely to do any of those things if you live in a no-fault insurance  state, however. You'll learn more about what this means in a minute, but here's the gist: people in these states get reimbursed from their own insurers for most medical expenses, no matter who caused the accident.
Keep in mind, though, that no-fault insurance systems and laws focus on compensating people for accident-related injuries. In other words, someone still may sue you if the crash you caused damaged their vehicle.
What Happens If Someone Else Causes an Accident and You Don't Have Insurance
If you don't have car insurance and you're involved in a crash you didn't cause, you're in an okay spot. In this situation, you may be able to recover vehicle repair and medical expenses from the other driver's insurance company.You also may be able to sue the other driver for those funds.
Whether or not you can do this, or to what extent you can do it, though, depends on where you live. The 11 states listed below currently have "no pay, no play" laws on the books that "ban uninsured drivers  from suing for non-economic damages such as pain and suffering," according to the Insurance Information Institute.
Alaska
California
Indiana
Iowa
Kansas
Louisiana
Michigan
Missouri
New Jersey
North Dakota
Oregon
 
This doesn't mean you're completely out of luck in terms of getting an at-fault driver – or their insurer -- to reimburse your medical bills. It just means you can't sue them for things like emotional distress or mental anguish.
There's one other hurdle you may need to overcome if you live in a "no pay, no play" state and you get into an accident without insurance. You might have to pay a hefty deductible toward your own vehicle repairs before you can sue another driver for those costs.
What Happens If an Uninsured Driver Causes an Accident and You Don't Have Insurance?
If you want to recover vehicle repair or medical costs from the at-fault driver in this case, suing is likely to be your only option.
Something to think about before you file a lawsuit here is there's probably a reason the other driver doesn't have car insurance. And if that reason is he or she can't afford it, the chances of you being reimbursed for your repair or medical bills are slim to none.
There may be no better situation for showing just how important it is to have car insurance. At the very least, you want to buy your state's minimum amount of liability car insurance .
Getting into an Accident Without Insurance in a No-Fault State
These 12 states currently have no-fault car insurance systems in place:
Florida
Hawaii
Kansas
Kentucky
Massachusetts
Michigan
Minnesota
New Jersey
New York
North Dakota
Pennsylvania
Utah
 
Do you live in one of these states? If you do and you get into a car accident, you'll pretty much always file a claim with your own insurance company if you're injured. And you'll do this no matter who caused the crash.
That's a good thing if you caused the crash and you don't have insurance, as the other driver probably won't be able to sue you for their medical expenses. If the other driver caused the crash and you don't have insurance, though, you might be similarly unable to sue.
In most no-fault insurance states, you can only sue another driver when your injuries are severe or costly enough. How much is enough? It depends. Different states have different definitions for "severe" and "costly" in this kind of situation. Some states require expenses exceed a monetary threshold, while other states require that injuries are "serious."
Getting Car Insurance After a Car Accident with No Insurance
You can count on one thing if you're involved in an accident without car insurance: when you finally get it, you're going to pay more for it.
How much more? In general, you'll pay 40 percent to 50 percent more than you would be if you had a clean driving record.
To get the lowest rate here, shop around and compare quotes  from a handful of insurance companies.
QuoteWizard.com LLC has made every effort to ensure that the information on this site is correct, but we cannot guarantee that it is free of inaccuracies, errors, or omissions. All content and services provided on or through this site are provided "as is" and "as available" for use. QuoteWizard.com LLC makes no representations or warranties of any kind, express or implied, as to the operation of this site or to the information, content, materials, or products included on this site. You expressly agree that your use of this site is at your sole risk.