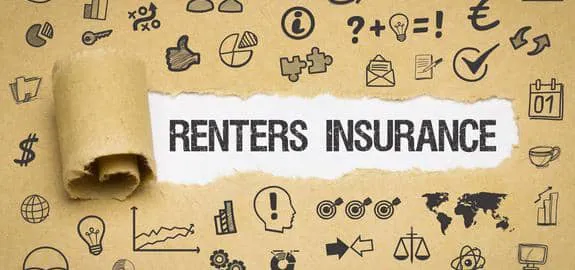 You aren't responsible for the physical structure of your rental home if it is damaged by a natural disaster or accident – your landlord's insurance covers that. But your landlord's insurance doesn't cover your personal belongings. That's where renters insurance comes in: it protects your stuff and provides valuable additional coverages.
Is renters insurance worth it?
We think that renters insurance is worth it for most people, because it provides extensive coverage with a cheap price tag: the average cost of renters insurance is just $15 a month, or $185 a year. Adding another bill to your monthly expenses is never fun, but $15 is a small price for the value you get.
The average renter has $20,000 worth of belongings, according to Esurance. Even if you own less than that, think about what you have in your apartment – your mattress, clothes, TV, computer or cellphone. Any one of these items is worth many times more than the average annual cost of renters insurance.
Consider this: The average dollar loss for burglary in 2017 was $2,416 according to the FBI. That adds up to over 13 years of renters insurance premiums by itself.
But theft isn't the only protection you'll receive. Renters insurance policies will cover loss or damage to your property from theft, fire and water leakage, among other events, such as smoke and freezing. A burst pipe can cause thousands of dollars' worth of damage to your furniture, so filing a single claim after a single disaster can easily make up for the premiums you've paid over the years.
With renters insurance, you'll receive protection for many of your valuable items, including:
Electronics, cellphones and computers
Clothes
Furniture
Jewelry
Sports equipment
Musical instruments
There are coverage limits for some of these items, however. For example, most policies only cover jewelry, watches and semiprecious stones up to $1,500. You can always add extra protection for your most valuable items though, in order to make sure you're completely covered.
What does renters insurance cover?
Renters insurance policies, which are also called tenants insurance or HO-4 policies, consist of four main coverages: personal property, personal liability, medical payments to others and loss of use. So, renters insurance protects more than just your belongings.
What renters insurance covers

| Coverage | What it covers | When you might need it |
| --- | --- | --- |
| Personal property | Your belongings | Your laptop is stolen from a cafe |
| Personal liability | Legal fees and payments if you are found responsible for property damage or personal injury | Your dog bites a neighbor on a walk |
| Medical payments to others | The medical expenses if you are found responsible for an injury to someone else | A guest in your home requires stitches after falling |
| Loss of use | Additional expenses from being unable to remain in your home | You must spend a week in a hotel after a fire in your apartment |
Therefore, in addition to protecting your personal property (whose cumulative value adds up quickly), you'll get coverage in and outside your home for liability and emergency living expenses.
Even if you firmly believe that your home is not at risk for any of the events that renters insurance covers, remember that renters insurance travels with you: if your property is stolen from a hotel room, for example, you'll still have coverage. Similarly, if you accidentally injure someone outside of your home, or cause damage to their property, your renters insurance can kick in.
Despite its breadth of coverage, only 37% of renters have renters insurance policies, according to the Insurance Information Institute. Whatever the reason for the low insured rate among renters, it is a protection all tenants could benefit from.
How to save on renters insurance
If you're concerned about adding another expense to your monthly budget, here are three of the best ways to keep your renters insurance costs low.
Compare insurers: Not all renters insurance companies are made the same, and comparing insurers is the first step in getting a better rate. However, be sure that you aren't sacrificing necessary coverage for a lower price tag.
Lower your coverage: Make sure that you aren't paying for more coverage than you need. When you work with an insurer, you should be able to customize your policy to a certain degree. You should purchase enough coverage to protect all your belongings. The smallest amount of personal property coverage we've seen is $2,000, but most policies start at $10,000. The smallest amount of liability coverage we've seen is $50,000, but $100,000 is standard.
Increase your deductible: Increasing your deductible will lower your premium, but it means you will have to pay more out of pocket if you file a claim.
The limitations of renters insurance
Renters insurance comes with a short list of cons. Even though there are few people we wouldn't recommend renters insurance to, here are some of the drawbacks of renters insurance.
Renters insurance does not cover floods, earthquakes and damage by pests. So while it does protect you from some common events like theft and fire, not everything is covered. However, you can purchase renters flood insurance as a separate policy.
The added monthly expense is just another bill for you to pay. But we think that the value you get for your money is outstanding. With a nationwide average cost of $15 a month, renters insurance would probably be one of your lowest monthly bills.
You will have to pay extra for high-value items. Belongings such as jewelry and expensive electronics have coverage limits. You can increase your coverage amount for these items with an insurance rider, but it will increase your monthly cost.
The bottom line
No one wants to add to their monthly expenses, and renters insurance can feel like money down the drain when you never file a claim. But when the unexpected happens, you'll be happy you had coverage.
QuoteWizard.com LLC has made every effort to ensure that the information on this site is correct, but we cannot guarantee that it is free of inaccuracies, errors, or omissions. All content and services provided on or through this site are provided "as is" and "as available" for use. QuoteWizard.com LLC makes no representations or warranties of any kind, express or implied, as to the operation of this site or to the information, content, materials, or products included on this site. You expressly agree that your use of this site is at your sole risk.