Creating a Home Inventory List for Homeowners Insurance
A good home inventory list is invaluable when you need to file a home insurance claim. This guide can help you make one.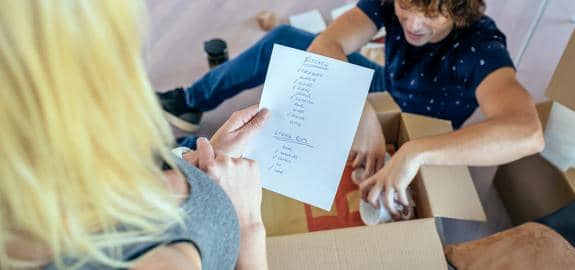 A good home inventory list is invaluable when you need to file a home insurance claim. This guide can help you make one.
When you file a home insurance claim, your home insurer will likely want an itemized inventory list of your belongings that were damaged or destroyed. Having the list prepared before you even need to file a claim is important for many reasons. At the very least, it means you don't have to put the list together from scratch when you probably need to focus on the damage to your home.
Compiling a home inventory list is relatively painless if you follow some steps. There are home inventory software programs, mobile apps and online tools that make creating a home inventory list even easier. This article covers:
Why do I need a home inventory list?
The benefits of a home inventory list start before you even have to file a claim. Creating an accurate inventory list reduces your chances of purchasing the wrong amount of property coverage. You may not think your belongings are worth much, but a quick inventory of your clothes in the bedroom closet can quickly disabuse you of that notion. Just ballparking how much your belongings are worth can easily result in underinsuring.
Having a list ready-made can be a huge relief when an event occurs that requires you to file a home insurance claim. If you have to file a claim on your belongings, it's a slim chance that they were the only things damaged. If you have to mitigate further damage or hire contractors to deal with structural damage, you're not going to want to spend that time whipping up an inventory list on the spot. Having a current list of your damaged items ready to send to your insurer helps you deal with the priorities.
Also, having a home inventory list can help expedite the claims process. Odds are you want your claim to be handled quickly so you can repair or replace your belongings as soon as possible. The sooner you can get that inventory list to your home insurance company, the sooner your claim pays out.
How to make a home inventory list
Compiling a thorough inventory list probably isn't going to be a quick process. However, if you're organized, it doesn't need to take longer than it should be. Here is a step-by-step guide to putting together a home inventory list for your home insurance company:
Get together sales receipts and appraisals
Having records of item cost gathered together when you start your inventory list can speed things up.
Break down your inventory list room by room
This can help you avoid getting overwhelmed by the inventory list creation process. If the damage is confined to one room, not having to jump all around your list to note the right belongings will help keep you on track.
Don't forget to list your stuff in the basement, attic and garage as well. If you have belongings stored in a rental storage unit, make sure to include the items in your list.
Start listing your most recent purchases first
It should be easier to find current market prices for these items, and it can get the listing process started strong.
Take both photos and videos of your possessions
While photos are good for singular items, getting video evidence of large collections can save a lot of time.
Describe each item as thoroughly as possible
List where each item was bought, as well as serial numbers, makes and models.
Categorize clothes by type
If you record each pair of pants or shirt, you could spend unnecessary hours on your inventory list. Bundle them together, unless a particular article of clothing is expensive or valuable.
List valuable items and check them against your home insurance policy
Home insurance companies tend to have maximum payout limits for some valuable items (ie. jewelry, art, electronics) that are separate from your regular personal property limit. You may need to get a rider to make sure they can be covered for their current full value.
Price your inventory list
Record the current market value of your things. Do this even if you bought something at a discount. There are some very simple reasons for this:
There's no guarantee your home insurance company will be able to find the item at the garage sale price you did.
If your personal property coverage is paid out at Actual Cash Value (ACV), you're probably going to get a payout that's less than the current market value anyway. ACV figures depreciation into the payout on covered items. Don't keep even more of your money out of your pocket by listing a lower price for an item.
If your personal property coverage pays out at Replacement Cost, depreciation is not a factor in your payout. If you put the value of an item lower that it is, your home insurer might take your word for it.
Make sure your list is safe
Once you have made your list, make sure it's secure. Keep a copy in a safe or deposit box. Also keep a copy on your computer, on a USB drive and on a cloud service. Whenever you make a major purchase, make sure that all of your copies of the list are updated.
Many home insurers have a service where you can save your home inventory list online with them. This can make the claims process easier for everyone involved.
Home inventory apps and online tools
Handwritten inventory lists have ceased to be your only option. There are many inventory list apps for Android and iOS smartphones, as well as many software programs, available to quickly put together a clear, comprehensive inventory list. Top choices include:
Allstate Mobile
Sortly
Memento Database
HomeManage
Back2Me
Itemtopia
If working with pen and paper is still your preferred means, there are plenty of options for you. Take a look at what your home insurer has on their website. If a hardcopy list is the way you want to go, they might have a home inventory list template they prefer using.
Other organizations like the Texas Department of Insurance have a home inventory checklist you can download and print for free. The National Association of Insurance Commissioners also has a general inventory checklist you can use.
References:
QuoteWizard.com LLC has made every effort to ensure that the information on this site is correct, but we cannot guarantee that it is free of inaccuracies, errors, or omissions. All content and services provided on or through this site are provided "as is" and "as available" for use. QuoteWizard.com LLC makes no representations or warranties of any kind, express or implied, as to the operation of this site or to the information, content, materials, or products included on this site. You expressly agree that your use of this site is at your sole risk.