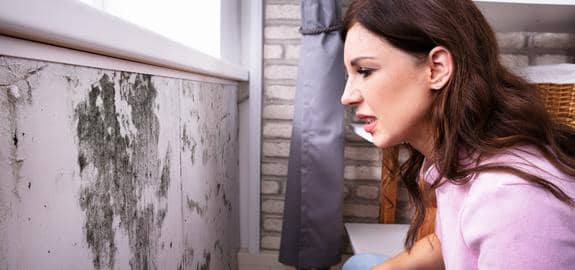 The coverage renters insurance provides for mold damage in an apartment or rental home is highly conditional. The key criteria that determines whether or not a mold damage claim is covered by your renters insurance policy is what caused the mold. Most renters insurance will only cover mold damage if it was caused by an event listed in your policy.
Landlords are usually only responsible for mold damage to your personal belongings if the cause of the mold started in the structure of the building or home. Otherwise, your renters insurance is usually responsible for the remediation.
This article will cover:
Mold coverage and renters insurance
Your renters insurance should cover repairs and replacement of your belongings if your belongings in your rental home or apartment are damaged by mold and the source of the mold damage is covered in your policy.
Examples of covered mold damage include:
Damage from internal leaks in the walls
Water leakage after wind or fire damage
Acts of vandalism
On the flip side, some mold damage is usually excluded in a renters insurance policy. This includes:
Mold damage from an uncovered peril
Mold due to negligence
Water backup
Different renters insurance providers may approach what and how much mold damage they cover. Make sure to check your renters insurance policy to see what's covered, and contact your insurer so they can clarify any points you're unsure of.
Depending on the specifics of your renters insurance policy, mold coverage may also include damage caused by any fungus growth, bacteria and both wet and dry rot. The full scope of what mold damage includes should be listed as part of the "accidental discharge or overflow of water and steam" portion of your renters insurance policy.
If you have to relocate while the mold damage is being removed from your rental unit or home, your renters insurance may cover additional living expenses (ALE). ALE can help cover rent costs, restaurant meals, laundry and extra commuting costs within the limits of your renters insurance policy until you can move back in.
Renters insurance exclusions for mold damage
If damage is caused by mold that isn't sourced from a peril covered under your rental insurance, it will most likely not be covered. Mold that occurs due to negligence on your part will not be covered, as renters insurance is primarily in place to cover sudden or accidental damage.
Flooding and sewer backups are usually not covered under a standard renters insurance policy, so mold damage from such events would likely be excluded as well. However, some renters insurance companies do offer flood insurance for renters. Also, you may be able to get sewer backup coverage as an add-on endorsement to your policy.
Both flooding and sewer backup can be highly expensive problems to fix, and renters insurance premiums would also be incredibly expensive if these problems were standard coverage. These additional coverage options are often offered in part to control the rates of your renters insurance while still being able to offer some coverage for flood or sewer backup. Even then, endorsements have maximum limits on how much mold damage they'll cover, often about $5,000 on average.
Mold remediation
A common repair process for mold damage is remediation. Mold remediation is defined as "the removal, cleaning, sanitizing, demolition, or other treatment, including preventive activities, of mold or mold-contaminated matter that was not purposely grown at that location."
Mold remediation is regulated by the Environmental Protection Agency (EPA) and requires licensed professionals to carry out. Your renters insurance company will probably require that you use a professional remediator as part of your policy agreement. While mold remediation can be costly, the cost of the mold spreading if not taken care of correctly may be vastly higher. Your renters insurance should cover the cost of remediation within your policy limits.
If the remediation job is severe, you may have to relocate while it is performed. Your renters insurance ALE coverage may help. Check your policy to see what your ALE limits are.
What is mold?
Mold is caused by spores that thrive in excess water or other collected moisture in a home. In dwellings, it tends to be most prevalent in the bathroom but can also occur in the basement if your rental house has one.
If you rent an apartment with inadequate ventilation or a shared ventilation system, you run a risk of mold infestation, as well. Apartments with shared ventilation are at a big risk. Mold can be airborne and easily spread to other apartments in your building, putting your neighbors at risk.
The most common mold type to occur in a rental home is black mold, recognized as black splotches with a wet and slimy or light and fuzzy texture. It will also probably have a strong musty smell. While not all black mold is toxic, it and other mold types can cause serious respiratory problems.
Is your landlord responsible for mold damage?
Clear-set laws for landlord responsibilities in regards to mold aren't common at either the state or federal levels. This is largely because the health impacts of mold are still considered unclear.
Despite the vagueness of mold remediation on the legal level, they're a bit more clear-cut in terms of insurance. Under renters rights, your landlord is responsible for mold problems within the structure of your rental apartment, house or condo, such as on the walls, ceiling and floor.
If a mold bloom occurs in any of these areas and damages your belongings, you will probably have to go through your landlord's insurance to file a claim and get reimbursed for the damage. Should your landlord choose not to repair mold damage that they're responsible for, you may have to use legal recourse.
When you're responsible for mold damage
If mold occurs from a source not within the structure of the building, you may be responsible for rectifying it. The best way to avoid this is to keep areas such as your bathroom, and other areas where moisture can collect, dry and clean.
How to remove mold
While a remediation professional is probably needed to repair mold damage in a rental unit to your insurer's satisfaction, you will also be expected to mitigate the damage so it does not spread further until the remediators can get to you. Here are some steps to remove mold:
You'll want to take pictures before and after you do any repairs to stop the mold. Fix any leaks that are occurring, then dry out the area completely.
Turn off your AC or heater, then close the registers in the affected room to keep spores from going airborne.
Once the affected area is dry, scrub the stains with a mixture made of 1 quart water and a half cup of bleach. It's best to use a soft brush and scrub it until the stains disappear.
Make sure the room where the bleach is has proper ventilation. Open the vents and clean them with a vacuum. Do not use a fan on mold, as that will only get it airborne to spread to other parts of the rental unit or home.
In closing
The best way to avoid mold damage as much as possible is to keep your rental clean and dry. Renters insurance may cover instances that are beyond your control, and landlord insurance may help if the source of the mold is structural. Given that renters insurance companies have varying degrees of coverage for mold damage, read your policy carefully to understand the scope of your coverage and consider mold endorsements where available.
QuoteWizard.com LLC has made every effort to ensure that the information on this site is correct, but we cannot guarantee that it is free of inaccuracies, errors, or omissions. All content and services provided on or through this site are provided "as is" and "as available" for use. QuoteWizard.com LLC makes no representations or warranties of any kind, express or implied, as to the operation of this site or to the information, content, materials, or products included on this site. You expressly agree that your use of this site is at your sole risk.