Car Insurance and Vehicle Registration
Registering a car requires a lot of paperwork. And in most cases, you can't register a car if you don't have insurance.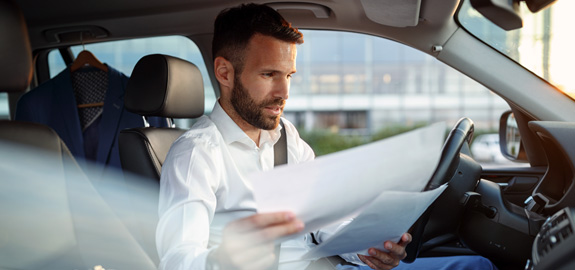 Registering a car requires a lot of paperwork. One of the things you need to register a car is insurance. In most cases, you can't register a car if you don't have insurance. But that's only part of the story. This article aims to answer some of the most common questions about car insurance and registration, such as:
Can you register a car without insurance?
In most states, you will need to have insurance coverage in place before you're allowed to register a car. Before you can legally drive your car on the road, the state where you live will require you to register your vehicle with the DMV. In most states, step one to registering your car is to provide proof that you have current auto insurance coverage.
Depending upon your state's policy, you may be able to verify your car insurance coverage in one of three ways:
Bring proof of insurance with you to the DMV. Your "proof" may consist of an insurance card or a special form provided by your insurance company.
Provide the name of your insurance company. This method only works in states whose DMVs use an electronic insurance database.
Register your car upfront. Then provide proof of insurance after the fact, within the timeframe your state requires.
Registering a car in a different state
When you move to a new state, registering your car probably isn't at the top of your priority list. Yet it's an important task you shouldn't overlook.
While every state is a little different, here are a few common steps you may need to take in order to register your car in a different state:
Step One: Talk to your current car insurance provider prior to your move.
Depending upon your current car insurance provider, you may need to change your car insurance after moving to a new state. Not all auto insurance companies are licensed to sell insurance nationwide. And every state has different coverage requirements, so you might need to increase your car insurance coverage levels.
Step Two: Apply for a driver's license in your new state.
Once you're sure you have adequate insurance coverage, many states will require you to transfer your out-of-state license shortly after establishing residency. In North Carolina, for example, your old license must be transferred within 60 days.
Step Three: Transfer your title and registration.
After you have secured car insurance coverage and transferred your driver's license, you should be in the clear to transfer your vehicle's title and registration to your new state.
Changing license plates from one state to another
Once you've obtained car insurance coverage, changing license plates will be a part of the process of registering your vehicle in your new state of residence. You will most likely need to complete your vehicle registration and secure your new license plates in person, at the local DMV office in your new state.
Also, remember that your former state may require to you turn in or mail your old plate once it is no longer being used. You should check with your former state's DMV (or equivalent office) to determine what steps, if any, you may be required to take with your old tag.
Can you register a car without a license?
You might be surprised, but in most states, it is possible to register a car without a driver's license. The process, however, may not be easy. In most states it's perfectly legal to purchase or even register a vehicle without a valid driver's license. You simply cannot drive the vehicle without one.
Although registering a car without a license isn't illegal, it can be a challenge to secure auto insurance coverage without a valid license. Since proving insurance coverage is a hurdle which must usually be crossed before you can register a car, this can be a problem.
Many insurance companies will turn you down flat if you try to insure a car you own without a valid driver's license existing in your name. However, there are some insurers who may be willing to provide a policy in someone else's name, provided you're willing to be excluded as a driver on the policy.
Can you insure an unregistered vehicle?
In general, the answer is yes. You can insure a vehicle before you officially register it with your state. Most of the time it is required.
Many of the DMVs (and similar departments) in the United States demand proof of insurance coverage before your application for new car registration may be approved. In fact, if you buy a new car from a dealership, you may have to show the dealer that you have insurance in place for the vehicle before you're even allowed to drive it off the car lot.
However, keep in mind that you should typically register your vehicle as quickly as possible. Your state will have laws against driving a car which isn't properly registered. If you drive an unregistered vehicle on public roads, you could get a ticket and be forced to pay fines or face other repercussions for violating the law.
Can you insure a car not registered to you?
In general, your auto insurance policies will cover vehicles which you own. Yet there are some exceptions to this rule. It might be possible to insure a vehicle which belongs to someone else, if you will be driving the car personally.
Keep in mind that the process is complicated and often challenging. Here are two potential issues to be aware of:
You may have difficulty securing insurance coverage.
Your state may require the name on a vehicle's registration to match the name on the auto insurance policy.
Depending upon your situation, there may be some alternatives you can try if insuring a vehicle which doesn't belong to you proves to be difficult or impossible. For example, you might consider one of the following:
Ask the car owner to add you their existing insurance policy.
Search for a non-owner car insurance policy.
Ask the owner to add you to the registration or transfer the registration of the vehicle to your name. (Note: this step often requires shared or transferred ownership of the vehicle on the title itself.)
How to change car registration
There are several reasons why you might need to change the information on your car's registration. Here are a few scenarios.
You want to add someone else to your vehicle registration.
You want to drop a name from your vehicle registration.
You need to update your name on your vehicle registration (e.g. after marriage or divorce).
You want to change the registration from someone else's name to your name (e.g. you've inherited a car or are purchasing a vehicle).
Your address has changed (but you have not moved to a new state).
Depending upon your state of residence, policies regarding car registration can vary widely. It is best to consult the website for your state DMV (or equivalent office) or, if all else fails, visit your local vehicle regulations office in person to get a list of the requirements you'll need to meet to make the desired change to a car's registration.
What do you need to register a car?
Each state has different requirements for registering a vehicle. You can check your state's vehicle regulations department website for specific requirements. In many states you'll need to produce the following information and documents to register a car in your name:
Your Vehicle Identification Number (VIN)
Your title
Applicable state vehicle tax fees (or proof of prior payment)
Applicable state registration fees
A certificate proving your vehicle passes a smog and/or emissions test
Proof your vehicle has passed a safety inspection
Proof of auto insurance coverage
QuoteWizard.com LLC has made every effort to ensure that the information on this site is correct, but we cannot guarantee that it is free of inaccuracies, errors, or omissions. All content and services provided on or through this site are provided "as is" and "as available" for use. QuoteWizard.com LLC makes no representations or warranties of any kind, express or implied, as to the operation of this site or to the information, content, materials, or products included on this site. You expressly agree that your use of this site is at your sole risk.