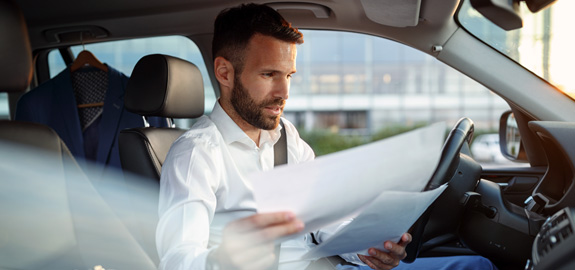 In most states, you can't register a car without having auto insurance. New Hampshire and Virginia are the only states that don't require insurance to drive or register a car, but they do require proof of financial responsibility to drive. Some states (Arizona, Mississippi, North Dakota, Tennessee, Washington and Wisconsin) allow you to register your car without insurance, but require proof of insurance to legally drive. This article answers common questions about car insurance and registration, such as:
Can you register a car without insurance?
In general, you will need to have insurance coverage in place before you can register a car. New Hampshire and Virginia are the only states that allow drivers to forgo liability insurance, but only if drivers have proof of financial responsibility in case of an accident.
Before you can legally drive your car on the road, the state where you live will require you to register your vehicle with the DMV. In most states, one of the first steps to registering your car is to provide proof that you have current auto insurance coverage.
However, some states allow you to register your car as long as you provide proof of insurance within a certain period of time. Arizona residents, for example, can register their car without insurance if they provide proof of insurance to the DMV within 30 days. Keep in mind that you can't legally drive your car until you have the state's minimum insurance requirements, even if your car is registered.
Depending upon your state's car insurance laws, you may be able to verify your car insurance coverage in one of three ways:
Bring proof of insurance with you to the DMV. Your "proof" may consist of an insurance card or a special form provided by your insurance company.
Provide the name of your insurance company. This method only works in states whose DMVs use an electronic insurance database.
Register your car upfront. Then provide proof of insurance after the fact, within the timeframe your state requires.
What documents do you need to register a car?
Each state has different requirements for registering a vehicle. You can check your state's vehicle regulations department website for specific requirements. In many states, you'll need the following information and documents to register a car in your name:
Your Vehicle Identification Number (VIN).
Your title.
Vehicle tax and registration fees.
A certificate proving your vehicle passes a smog and/or emissions test.
Proof your vehicle has passed a safety inspection.
Registering your car in a different state
When you move to a new state, you need to register your car with the DMV. While every state has different requirements, here are a few common steps you may need to take in order to register your car in a different state:
Step one: Talk to your current car insurance provider prior to your move
Depending on your current car insurance provider, you may need to change your car insurance after moving to a new state. Not all auto insurance companies are licensed to sell insurance nationwide. And every state has different coverage requirements, so you might need to adjust your car insurance coverage levels.
Step two: Apply for a driver's license in your new state
Once you're sure you have adequate insurance coverage, many states will require you to transfer your out-of-state license shortly after establishing residency. In North Carolina, for example, your old license must be transferred within 60 days.
Step three: Transfer your title and registration
After you have secured car insurance coverage and transferred your driver's license, you should be in the clear to transfer your vehicle's title and registration to your new state.
QuoteWizard.com LLC has made every effort to ensure that the information on this site is correct, but we cannot guarantee that it is free of inaccuracies, errors, or omissions. All content and services provided on or through this site are provided "as is" and "as available" for use. QuoteWizard.com LLC makes no representations or warranties of any kind, express or implied, as to the operation of this site or to the information, content, materials, or products included on this site. You expressly agree that your use of this site is at your sole risk.