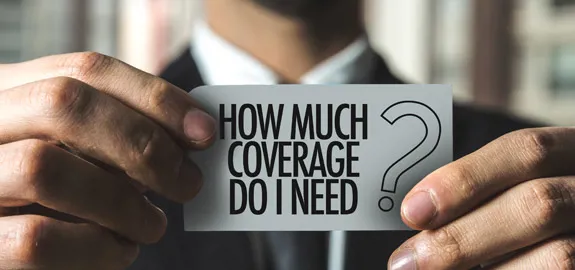 Making a renters insurance claim often means paying a deductible. Learn here how deductibles work and how to choose one.
Whenever you file a renters insurance claim, your insurer typically subtracts a deductible from the claim payout amount. You choose your deductible when you purchase your policy, but it can often be changed later.
The higher the deductible you choose, the less your yearly premium will usually be. When looking at a renters insurance policy, you will want to see if your policy deductible is based on a fixed dollar amount or a percentage of your policy coverage amount.
You'll also want to see if your renters insurance policy pays out based on replacement cost or actual cash value. Both of these considerations come into play when you're deciding whether or not to file a claim.
This article will cover:
What is a renters insurance deductible?
A renters insurance deductible is the amount that your renters insurance provider subtracts from your claim payout before you receive the remaining amount owed to you. Depending on the insurer, your deductible will either be a fixed dollar amount or a percentage of your coverage limit.
A fixed dollar amount deductible is an exact amount you decide on when you get your renters insurance policy that is subtracted from your claim payout. For example, if you had a $500 deductible and a claim of $5,000, your renters insurance company would pay out $4,500. This is the most common type of deductible associated with renters insurance.
Percentage deductibles are calculated based on the coverage limit of your renters insurance policy. If you had a percentage deductible of 2% on a renters insurance policy with a $30,000 coverage limit, your deductible would be $600.
How do renters insurance deductibles work?
When you file a renters insurance claim and receive a payout, the deductible is the amount of the repair or replacement job you have agreed to pay yourself. Claim payouts can happen in two stages. This most frequently happens with personal property renters insurance claims.
The first payment reflects the depreciated value of the property you're making a claim on and your deductible. The second payment is the remainder of the claim payout you are owed after you send your insurer the receipts for the repair or replacement purchases.
For example, say you have a $2,000 oven that was destroyed by a fire, and you have a $500 deductible on your renters insurance policy. After you file your claim and it is approved, your insurer will cut you a check for a portion of the value of the oven, minus your deductible amount and depreciation due to your oven's age. You receive the second payment for what you're owed after the oven has been replaced. Be sure to ask your renters insurance provider how they break down claim payments so you can have an understanding of how much money to expect with each payout.
Deductibles do not apply in a few instances with standard renters insurance policies:
Loss of use
If the place you rent is rendered unlivable and you need to relocate while it is repaired, loss of use coverage (otherwise known as additional living expenses) can help cover additional rent, food bills, commuter costs and other expenses that arise due to the relocation. A deductible is not charged in this case.
Liability
Your renters insurance policy provides liability coverage in the event that someone is injured in your rental and legal or medical expenses arise from it. No deductible is charged in this instance.
Riders or endorsements
Riders or endorsements for added coverage limits on items such as jewelry, antiques and electronics carry no deductible if you purchase one to go with your renters insurance.
Most renters insurance policies offer a maximum payout limit of $1,500 on valuables such as the items listed above. Riders or endorsements are a good way to make sure such valuables will be covered at their appraised value. Riders or endorsements may cost more in premiums, but can be well worth it if you have large collections of valuables.
How do I choose a renters insurance deductible?
The deductible amount you choose for your renters insurance relies mostly on what you can afford for a monthly premium, how much of a deductible you can afford and what payout type you choose for your policy.
Most renters insurance companies offer different options for deductible amounts. The most common deductible amounts tend to be $500 or $1,000. However, some insurers offer deductibles under $500 and up to $5,000. You can usually raise or lower your deductible as your finances require, depending on your renters insurance provider.
Claim payout type does not directly affect your deductible, but it can affect how much you receive in your payout after you file a claim. There are two types of claim payouts renters insurance uses: replacement cost and actual cash value.
Replacement cost vs. actual cash value
Replacement cost pays out on claims at whatever it costs to replace the item, up to your policy limit. If you have an entertainment system that costs $3,000 to replace and that's within your coverage limit, and you have a $500 deductible, you will be paid out $2,500 to replace the item.
Actual cash value, or ACV, pays out on your claim with depreciation taken into account. This means that the current market value of the item you're making a claim on will be used for the payout amount.
For example, say the entertainment system mentioned above had a life expectancy of 10 years. If it was three years old when it was destroyed in a fire, it would lose 30% (10% multiplied by age) of its value at payout with an actual cash value policy, in this case $900. That means after depreciation ($900) and your deductible ($500), your payout would be $1,600.
As you can see, an ACV policy can pay out significantly less than a replacement cost policy. A replacement cost policy usually results in a more expensive premium, but it can be well worth it for a higher payout if you have to file a renters insurance claim.
QuoteWizard.com LLC has made every effort to ensure that the information on this site is correct, but we cannot guarantee that it is free of inaccuracies, errors, or omissions. All content and services provided on or through this site are provided "as is" and "as available" for use. QuoteWizard.com LLC makes no representations or warranties of any kind, express or implied, as to the operation of this site or to the information, content, materials, or products included on this site. You expressly agree that your use of this site is at your sole risk.