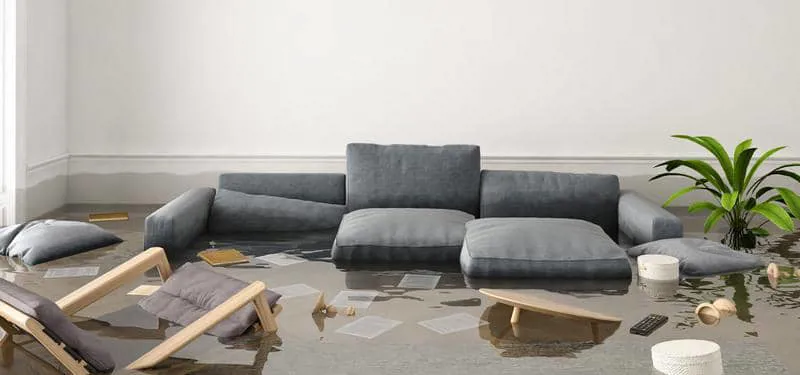 For most people, their home is the most valuable asset they own. Buying the correct type of insurance is important.
Making mistakes when it comes to selecting homeowner's insurance can be costly. Claims could be rejected, especially if you think you're covered. And you're not.
To avoid paying more money, try to prevent making the errors detailed below.
Mistake #1: Underinsuring your home
Why we make it: Most people go with the least amount of coverage, in hopes of saving money.
They buy just enough insurance to cover their mortgage. Or only insure their home for its real-estate value. This could be less than actual costs to rebuild.
Sometimes we don't fully understand all the coverage options available.
What to do instead: Buy enough coverage so you'll be able to completely rebuild your home. And replace your possessions, if something bad were to happen.
Building a house like yours is likely to cost more than what it's worth. Especially if construction prices have increased in the years since your home was built.
If the disaster was wide spread, rebuilding could be even more. Supply will outweigh demand.
Make an appointment to review your policy. Come prepared and ask a lot of questions.
Mistake #2: Underestimating the extent of your homeowners coverage
Why we do it: Most people just file their paperwork without fully reading it. Resulting in folks never getting a full understanding of what is or isn't covered.
What to do instead: Ask your agent to summarize your policy for you. Be prepared. Ask a lot of questions.
Mistake #3: Overestimating the amount of coverage you have
Why we do it: This is related to mistake #3 above. Most of us just don't know all the details of our policies.
What to do instead: Get up to speed on your insurance coverage. It'll keep you from wrongly assuming you can file a claim.
Mistake #4: Setting your deductible too high or too low
Why we do it: Most of us set our insurance deductibles too high or too low. Mostly because we think it'll save us money.
Unfortunately, this usually backfires. With too low of a deductible, we pay more when something goes wrong. Too high and we end up with large premium payments.
What to do instead: Experts suggest setting deductibles at $500 or $1,000. Just make sure you have that amount on hand, if needed. To learn more, read our guide to choosing the best home insurance deductible.
Mistake #5: Sticking with just the basics (as in, standard, no-frills homeowners policies)
Why we do it: There's a lot of misinformation when it comes to homeowner's insurance coverage. Most people believe they're fully covered.
In general, standard policies protect from tornadoes, lightning, fire, hail, and even vandalism. However, they typically won't protect from events like floods, earthquakes, or hurricanes.
What to do instead: Consider all the possibilities for perils where you live. If there's a history of disasters, don't hesitate to enhance your homeowner's coverage.
Mistake #6: Believing that if you live outside of California, you don't need earthquake coverage
Why we do it: California is the state most people think about when the subject turns to earthquakes. It's far from the only place in the country rocked by such tremors.
Alaska, Hawaii, Nevada, and Washington all have more earthquakes. Still, people don't think they need this coverage if they live outside California.
What to do instead: Review the top 10 locations mentioned in the United States Geological Survey's "Top Earthquake States" list. Do you live in or near one of these locations?
You may want to consider adding earthquake coverage to your existing homeowner's policy. Or buy a separate policy that offers similar protections.
Mistake #7: Ignoring flood coverage, especially if you live in certain parts of the country
Why we do it: If you don't live in a flood plain or near water, why buy flood insurance?
What to do instead: Experts recommend this extra coverage from the National Flood Insurance Program. According to the Insurance Information Institute, 25 percent of all flood losses occur in low-risk areas.
Thankfully, a flood policy can be cheap if you don't live in a high-risk zone. (For more information on flood insurance, read our article, "What You Need to Know About Flood Insurance.")
Mistake #8: Assuming a standard policy will protect you if your house develops mold or sewage-backup problems
Why we do it: These are common issues with homes today. And it seems like they would be part of standard coverage.
Think again. The sad truth is that many homeowners' policies don't offer this coverage.
And if they do, claims are capped at relatively low dollar amounts.
What to do instead: Review your policy. Ask your agent if it's unclear.
If your agent says they aren't included, ask if the company offers endorsements or riders. If they do, ask how much.
One word of warning: mold protection can be pricey. It may be worth it if you live in a region notorious for mold.
Mistake #9: Buying just the legally required amount of liability insurance
Why we do it: Liability coverage protects you if people are injured while in your house. And if you, family members, or pets injure someone or damage their property.
Standard homeowner's policies include this type of coverage. Albeit, at a very minimal level. Most people don't consider buying more.
What to do instead: Consumer Reports, recommends at least $300,000 of protection in this area. That's $200,000 more than typically offered in standard homeowner's policies.
If you agree, contact your agent about bumping up your coverage. Premiums will increase too, so keep that in mind.
Mistake #10: Not paying for worker's compensation insurance if you have permanent full- or part-time domestic employees
Why we do it: Most of us don't need to worry about this. However, for the people who hire domestic employees, it's important.
Liability coverage in standard homeowner's policies doesn't extend to this sort of employee. It does protect against injuries sustained by occasional babysitters and yard workers.
What to do instead: Consult with an insurance agent specializing in worker's compensation. Discuss your needs. And purchase accordingly.
Mistake #11: Thinking one flat deductible is tied to your homeowners insurance policy (like it is with your car insurance policy)
Why we do it: Most forms of insurance have a deductible associated with them. Usually, a deductible is a flat rate.
If the deductible is $500, you pay that amount first. Costs above are covered by your insurance carrier. Assuming you're covered and the claim is accepted.
Homeowner's policies may or may not work this way. For example, a hurricane severely damages your house.
Rather than paying a flat rate, you pay a certain percentage. Usually anywhere from 1 to 15 percent or sometimes more. It depends on your policy.
What to do instead: Ask your insurer to explain all deductibles related to your homeowners policy. Check to see if they offer flat rate or a percentage. Compare rates for both, if available.
Mistake #12: Failing to let your insurer know when you've gone through various "life changes"
Why we do it: Some "life changes" seem so common that you don't think your insurer would care. They do.
Insurance companies have refused coverage because people failed to disclose a new dog. Or a remodel.
What to do instead: It's OK to "bother" your insurance agent. They want to know about changes in your life.
Agents are there to help you ensure coverage. And that all your insurance needs are being met.
Mistake #13: Not taking the time to make an inventory of your possessions
Why we do it: Who wants to go through all of their stuff, catalog and categorize it? That's how we spend our weekends… not!
Still, it's an activity worth devoting some time to. Standard homeowner's insurance covers more than the structure of your house.
It covers everything inside as well. In order to get that coverage, there needs to be an accurate accounting.
Without it, your insurance company will probably reject your claim. They need proof to justify the payout.
What to do instead: Read our article, "Create an Inventory of Your Possessions for Homeowners Insurance Claims." Create an inventory using one of the many apps or other tools mentioned in it.
Afterward, you may need to increase your coverage. Or even purchase a rider to protect particularly expensive or valuable items. Your agent should be able to help, if needed.
Mistake #14: Dragging your feet when it comes to resolving issues that pop up
Why we do it: Procrastination is a part of life, right? Or at least it's true for a lot of us.
Especially when it comes to things or situations we find overwhelming. It's easy to drag our feet and put off dealing with them.
What to do instead: Tackle household issues as soon as you become aware of them. Take the mold example mentioned earlier.
If you ignore it and mold spreads, you'll have an even bigger problem on your hands. The likelihood of a claim being rejected, due to your inaction.
Mistake #15: Choosing a homeowners insurance provider based on price
Why we make it: Most people make buying decisions based solely on price.
What to do instead: In addition to comparing home insurance quotes from several companies, research how financially sound the insurance company is. Look for reviews on customer service.
How do they handle or respond to claims? Also, don't forget to ask others for a referral.
Mistake #16: Neglecting to bundle your insurance policies
Why we do it: Maybe you bought insurance policies at different points in your life. And you didn't know you could have bought them all from the same company.
Or maybe you didn't know your insurance company offered a wide range of policies.
What to do instead: If you've got insurance policies from different carriers, check with your agents. Ask what kinds of discounts they'll give you for bundling all of your insurance policies with their company. Assuming that's possible.
References:
QuoteWizard.com LLC has made every effort to ensure that the information on this site is correct, but we cannot guarantee that it is free of inaccuracies, errors, or omissions. All content and services provided on or through this site are provided "as is" and "as available" for use. QuoteWizard.com LLC makes no representations or warranties of any kind, express or implied, as to the operation of this site or to the information, content, materials, or products included on this site. You expressly agree that your use of this site is at your sole risk.