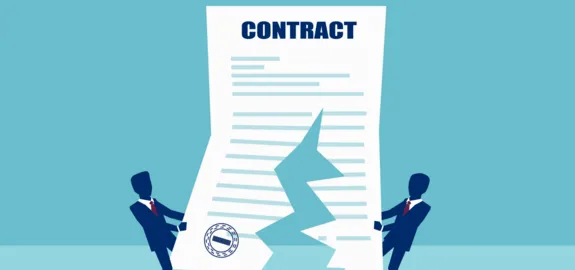 To cancel your renters insurance policy, there are a few steps you should take, including getting in contact with your insurance company. But before cancelling it, make sure that it's the right decision for you. Renters insurance protects more than just your belongings: it can cover liability claims, pay for a hotel if you must temporarily leave your home or pay the medical bills of an injured guest. While there are many reasons to cancel renters insurance, we never recommend canceling your policy without replacing the coverage.
6 steps to cancel renters insurance
Cancelling your renters insurance is usually as simple as contacting your company and letting them know you want to end the policy. However, there are some steps you should follow to ensure you aren't caught without coverage or miss a bill or refund.
Make sure your landlord doesn't require renters insurance as part of the lease agreement, or else you may break the contract. Your landlord, as an interested party to the policy, may be notified if you cancel your renters insurance and can take legal action against you for breach of lease.
If you are cancelling your renters insurance policy because you are switching companies, you should purchase your new policy beforehand to avoid a lapse in coverage.
Contact your insurance company by phone, email or in person to find out its cancellation policy. Alternatively, many companies have online resources to guide you through cancelling a policy or provide instructions in the policy itself.
Follow your insurance company's steps to cancel the policy. Some carriers will send you paperwork to fill out or require a written request.
Pay any outstanding premiums or a cancellation fee.
Confirm your contact information and mailing address (especially if you have moved) so your company can send you a refund or cancellation documents.
Some bigger companies like State Farm and Allstate often make you contact an agent to cancel your policy. Technology-focused companies like Lemonade may allow you to cancel your policy through an online account or mobile app.
When you should cancel your renters policy
We think renters insurance is one of the most valuable insurance policies because it provides extensive coverage at an affordable price. Nevertheless, there are a handful of situations when it makes sense to cancel your policy. Here are some common scenarios when you should cancel your policy.
Switching companies
There are many reasons to switch insurance companies. Maybe you are looking for better rates or more coverage options. No matter your reason, we recommend purchasing a new policy before cancelling your old one to prevent a lapse in coverage, which would leave you exposed. Once you are sure you'll have continuous coverage, it's time to cancel your old policy.
Moving to a new state without coverage
If you're moving to a new state, there's a chance your current renters insurance company won't underwrite policies in your new stomping grounds. If that's the case, you'll need to switch companies. However, you should find a new policy before cancelling your old one, as renters insurance may provide some coverage while moving.
Moving in with a spouse
If you live with a spouse, it often makes sense to share a renters insurance policy, although you'll most likely need higher liability and coverage limits to cover both of you. You may be able to add your spouse to your policy or vice versa, or you may want to shop for a new policy together to find your best rate.
Moving in with your parents
If you're moving in with your parents, you'll likely be covered under their homeowners or renters insurance policy. Before you cancel your own policy, we recommend checking with your parents' insurance company. If you're covered, then you should be all set to move in and then cancel your policy. If you're not covered, we recommend transferring your insurance policy to your new residence to make sure you're always protected.
When you shouldn't cancel your renters policy
As a renter, you should never go without coverage. A change in living situation or rising costs can make cancelling your policy look attractive, but most of the time, renters insurance is worth it. Here are a few reasons not to cancel your policy.
To save money
If your renters insurance premiums have become too expensive and you cannot keep up with the payments, we recommend first trying to find a cheaper company. Before cancelling your policy, consider the belongings you own that are worth protecting. An apartment fire can easily destroy tens of thousands of dollars' worth of personal property, but the average renters policy only costs $180 a year according to our research. Disasters are unpredictable, and finding yourself without coverage leaves you at risk of a large loss.
You are traveling
Renters insurance continues covering you when you travel! Your renters insurance policy travels with you, protecting you anywhere in the world. In this sense, traveling is a reason to have renters insurance, not to get rid of it. Depending on where you're traveling, your coverage limits may be limited, often to 10% of your usual coverage limit. Nevertheless, you likely will maintain some valuable coverage.
You are moving
Renters insurance may provide some protection while you're moving for the same reason that it covers you when you travel — your coverage applies even when you are out of the house. However, damage and accidents still must be caused by an event covered in your policy. For example, renters insurance won't cover property that is dropped or broken in the course of moving. But if you experience theft or a falling object damages your property while you're moving, you'll often still have some coverage.
If you move, you need to let your renters insurance company know, often within 30 days or fewer. Your company may adjust your rate based on your new home, whether for better or worse. For example, your rates may go up if you move to an older building, but they may go down if you move closer to a fire station.
You're putting your belongings into storage
Storing your belongings in a storage unit doesn't guarantee they'll be safe — storage units are subject to fires, water damage and theft. Renters insurance covers your stuff when it is in a storage unit, usually up to 10% of your coverage limit. The storage unit facility may also give you the option (or require you) to purchase a separate storage unit insurance policy. Either way, renters insurance covers your belongings in storage units.
You're moving in with a roommate or significant other
Renters insurance does not cover roommates or partners unless they are specifically listed on your policy, and many companies won't even allow you to list them on your policy. That means every tenant needs their own renters insurance policy. Significant others and partners do not count as a spouse or relative, meaning they won't automatically be covered.
If you have bought a house
If you buy a house, you should not cancel your renters insurance until you are fully moved in and your homeowners insurance takes effect. Mortgage lenders usually require you to purchase homeowners insurance as a condition of your loan. Even if you were able to buy your home with cash, having homeowners insurance is an important precaution to take in protecting your investment.
How to save on renters insurance
If rising premiums are the main reason you are considering cancelling your renters insurance policy, there are a handful of ways to save and avoid going without coverage.
Compare insurers
Insurance providers want to grow their businesses, which you can use to your advantage by comparing quotes from a few companies. Shopping around is the only way to know you're getting the best rate for your situation. If your current company has hiked rates too much, we recommend getting quotes from some other companies to see if they'll beat your current rate.
Take advantage of discounts
Most renters insurance companies offer a few discounts that can shave a significant portion off your premium. For example, a discount for bundling renters and auto insurance is common. We also often see discounts for a claims-free history, home security system and automatic payments. Asking your agent or reviewing your company's online resources can end up saving you a few bucks.
Lower coverage amount
It's possible that your coverage limits are higher than they need to be. For example, if you had $50,000 of property coverage, but you estimate your belongings to have a value of $25,000, you would be paying for coverage you don't need. We don't recommend dropping your coverage below how much your property is worth, however.
Increase your deductible
Increasing your deductible lowers your premium. That's because in the event of a loss, the insurance company would have to pay less out of pocket. You should make sure that you always have the cash on hand to pay your deductible in case of a loss, but otherwise, raising your deductible is a surefire way to lower your monthly insurance bill.
Frequently asked questions
Q: Am I allowed to cancel my renters insurance policy?
A: Yes. However, some companies may charge a small cancellation fee, and you'll have to pay any outstanding premiums.
Q: Can I cancel my renters insurance anytime?
A: Yes, you can cancel your policy whenever you want, even if it's before the end of the policy. But some companies may have a small cancellation fee, and you also have to pay any premiums that you still owe.
Q: Will I get a refund if I cancel my renters insurance?
A: Yes, if you paid for coverage ahead of time, you would get a refund check. Keep in mind, some companies also charge a small penalty for cancelling your policy early.
QuoteWizard.com LLC has made every effort to ensure that the information on this site is correct, but we cannot guarantee that it is free of inaccuracies, errors, or omissions. All content and services provided on or through this site are provided "as is" and "as available" for use. QuoteWizard.com LLC makes no representations or warranties of any kind, express or implied, as to the operation of this site or to the information, content, materials, or products included on this site. You expressly agree that your use of this site is at your sole risk.