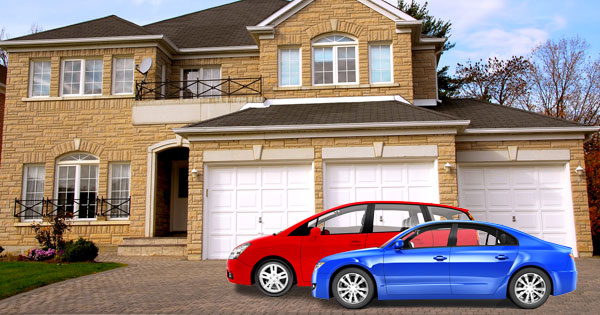 If you're looking to insure more than one car in your household, a multi-car discount can reduce your yearly auto insurance premium. A multi-car discount provides discounts up to 25% on your auto insurance rates on all cars covered under the policy. This is helpful, especially if you have any high-risk drivers such as a teenager in your household. Many different auto insurers offer multi-car discounts, making it very much worth your while to compare quotes.
This article will cover:
How do multi-car insurance policies work?
A multi-car insurance policy provides coverage for two or more vehicles in a covered household. You can usually get a multi-car discount if you're adding another vehicle to your current auto insurance policy or if you're buying a whole new policy. With a multi-car policy, some portions of your auto insurance are shared by all the cars on the policy, while other portions cover the individual vehicles.
Under a multi-car policy, all cars usually share the following coverage at matching limits, if part of a policy:
Liability
Personal injury protection (PIP) and MedPay
Uninsured and underinsured
A multi-car policy can also provide the following individual coverage at different limits for each vehicle:
Comprehensive
Collision
Emergency roadside service
Rental car reimbursement
How to get a multi-car insurance discount
In order to qualify for a multi-car insurance discount, there are some criteria that auto insurance providers require you to fulfill. The most obvious requirement is that you must have two or more cars in your household.
Auto insurance companies will usually cover up to four or five vehicles on a multi-car policy. Some providers, like GEICO, for example, allow you to insure up to nine cars together on a multi-car policy. If you want to insure more vehicles than that together, you may want to consider commercial car insurance.
All the drivers on your multi-car policy must live in the same household. Some insurers will require all drivers listed on the policy to be related. Other providers will allow significant others or even roommates to be on your policy.
The vehicles you want covered under the multi-car policy will usually need to have the same types and limit amounts of liability and uninsured and underinsured motorist coverage. Automobiles that you have in storage are usually not covered due to their lack of personal liability coverage.
Also keep in mind that the multi-car discounts only apply to specific types of vehicles. While you can purchase multi-vehicle insurance policies for multiple motorcycles or RVs, they cannot be added to a multi-car insurance policy.
When getting a multi-car insurance policy, you'll want to have the following information on hand:
The vehicle identification number (VIN) of the car(s) you're adding.
Your current policy number if you're adding a car onto an existing insurance plan.
The date of birth, SSN and drivers license numbers of drivers on the policy.
Your auto insurance provider will inform you of any other additional information needed.
The benefits of multi-car insurance policies
The biggest benefit of getting a multi-car policy is the money you can save. You'll probably be looking at a 10% to 25% discount on your yearly premium. The number of cars you add to your policy won't increase the discount amount. Adding four cars to your policy will get you the same discount as adding one car.
Do you have a teenage driver in your household? A multi-car insurance policy may save you a considerable chunk of change. Teen drivers are considered high-risk by many auto insurance providers. This leads to teen drivers having significantly higher premiums than most other age groups. The multi-car discount can go a long way towards shaving a lot off your auto insurance costs.
By the same token, some auto insurers may go the other direction and offer a better discount for policyholders who have separate insurance policies for their household vehicles. If you have a teen driver in your home, compare quotes to see which policies offer you the best long-term discounts, whether they be multi-car or separate. Teen driver premiums can really add up over time.
Some states have insurance laws that allow you to stack uninsured and underinsured motorist coverage under multi-car policies. This means that if you have two cars on your policy, each having $100,000 in uninsured and underinsured coverage, you will be able to access $200,000 worth of that coverage instead of an individual vehicle's limit of $100.000.
Also, at the end of the day, being able to pay one bill for all of your cars' auto insurance can be a great convenience.
Auto insurance companies with the best multi-car insurance discounts
The table below shows the average maximum discounts of the major auto insurance providers. When comparing multi-car insurance quotes between different auto insurance companies, be sure to look at each provider's premium in relation to the discount they offer.
For example, one provider may offer a 25% discount on a multi-car policy that costs $900 a year. Another auto insurance company may offer a 10% on the same coverage for $600 yearly. Despite the first company offering a better discount, the second example's rate is ultimately cheaper.
Best multi-car insurance discounts

| Company | Multi-car insurance discount |
| --- | --- |
| GEICO | Up to 25% |
| Nationwide | Up to 25% |
| State Farm | Up to 20% |
| Allstate | 10% |
| Progressive | 10% |
| USAA | 10% |
| Travelers | 8% |
QuoteWizard.com LLC has made every effort to ensure that the information on this site is correct, but we cannot guarantee that it is free of inaccuracies, errors, or omissions. All content and services provided on or through this site are provided "as is" and "as available" for use. QuoteWizard.com LLC makes no representations or warranties of any kind, express or implied, as to the operation of this site or to the information, content, materials, or products included on this site. You expressly agree that your use of this site is at your sole risk.