Insurance Discounts for Multiple Cars
If you own more than one vehicle, you're eligible for a multi-car discount. Find out how much you can save with this popular insurance markdown.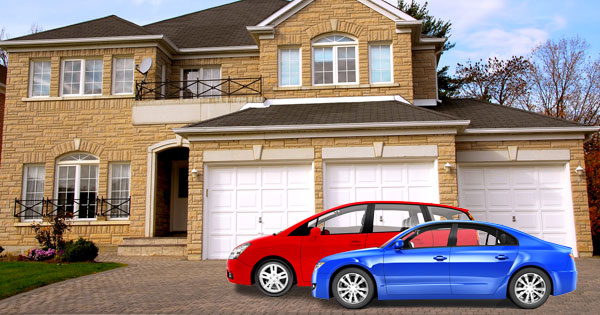 The multi-car discount is one of the easiest car insurance discounts a driver can obtain. It is usually automatically applied when you acquire another vehicle and update your policy, or if you have multiple vehicles and switch insurance companies.
Requirements
Most insurers offer some sort of multi-car deal. Discount requirements vary from company to company. In general, though:
You must have two or more vehicles insured by the same company
All of the drivers on the policy must be living in the same household. Some insurers require that everyone named on the policy be related. Other insurers only require drivers named on the policy to live together. This means people besides your spouse or children may count towards this discount. For example, significant others and roommates could be included on your policy
To add another car to your policy, make sure to have the following information:
Vehicle identification number (VIN) of any cars you're adding
Policy number
Year, make, and model of any cars you're adding
Date of birth and driver's license number of any additional drivers
Lienholder information, if applicable
If a driver gets into an accident while driving a car that's included in a multi-car policy, their premiums for that vehicle will increase. This will affect the total monthly premiums.
Don't be afraid to shop around if you aren't satisfied with your discount. Getting quotes from multiple insurance companies is one of the best ways to save. It pays to shop around. Usually, a multi-car discount is the best deal, but not always.
Coverage
Vehicles receiving this discount usually need to have the same types and amounts of liability and uninsured motorist coverage. You can then decide whether you want more or optional coverage on a car by car basis.
When adding a new car, always compare the coverage included in the vehicle's old policy with what's included in the new policy. For instance, if you are adding a new car with collision coverage to your multi-car policy, that probably won't automatically carry over. You'd want to make sure the multi-car policy included collision coverage.
Typically, all drivers in a household are eligible to drive any of the cars listed on a multiple car policy.
Benefits
Drivers can typically save 10 to 25 percent on car insurance by insuring multiple vehicles on one policy. This discount can apply to your liability, comprehensive, and collision coverage. The number of cars you add doesn't generally increase the discount amount.
For example, you may have two cars on one policy and receive a 15 percent discount compared to what it would cost to insure them separately. When you add a third vehicle, you will probably continue to get 15 percent off compared to what you would pay to insure the three vehicles separately. This can vary quite a bit by company, so it is always wise to ask an agent or carrier what the discount will be for each car you add.
This bargain is particularly helpful for people with a teen driver. Car insurance for teenagers is higher as they get into accidents at a much higher rate than other drivers.
Despite this, excluding your teen driver from the multi-car policy may end up costing less. You'll need to compare policies to figure out what works best for you.
Besides the obvious financial benefit, a multi-car policy offers other benefits. Having only one policy means you won't have to deal with several insurers and agents. You'll just get one bill and have one payment.
In addition, some states allow you to "stack" your uninsured and underinsured motorist coverage under this type of policy. For instance, a driver might have three cars on their policy, each with $10,000 worth of underinsured motorist coverage. If a driver needs to use this insurance, instead of having $10,000 worth of coverage, they'll have up to $30,000 to help with an accident, even if it only involves one of the vehicles.
Keep in mind, customers may end up paying higher rates for this extra protection.
Restrictions
There are some limitations. Many companies will ask you to add additional cars within 30 days of buying your initial coverage. Some insurers might also limit the number of cars eligible for one policy to four or five vehicles.
For most states, cars must have personal liability property damage (PLPD) coverage by law. Cars without this minimum requirement don't qualify for the multi-car discount. This means cars in storage can't count towards this deal.
Vehicles like boats and RVs can't be added to a multi-car insurance policy. However, you usually can receive a discount for insuring multiple motorcycles or multiple RVs.
What's the advantage for the insurer?
Insurance companies offer these savings because they want you to buy more insurance from them. The insurer also benefits from only having to do the work of issuing one policy document.
By offering an incentive like a discount, insurers end up gaining more of your business. More of your business means more money for them in the long run. This may also make you a more loyal customer.
Multiple policies in one household
With that said, some insurers go the other way, and offer a reduced rate if customers have more than one policy. The people on these separate policies would still have to live together. This can be a helpful discount for households with teen drivers. So, if you're not comfortable with putting everyone in the household on one policy, shop around for insurance carriers that offer a multiple policy discount.
Frequently Asked Questions
Q: Should I include my teenager on my multi-car policy?
A: According to the Centers for Disease Control and Prevention, teens from 16 to 19 are almost three times more likely to be in a fatal crash than drivers age 20 or older. Thus, insurance for teenagers is always going to be more expensive.
The multi-car discount is a great way to save on insurance for teen drivers. Be warned that while you will receive a discount, adding a high-risk driver will increase the overall rate for your multi-car policy.
It may be cheaper in the end to insure a teen on a separate policy. Some insurers also offer a discount for multiple policies in the same household.
Q: How much can I save with a multi-car discount?
A: The amount you can save varies by company. Most insurers offer somewhere between 10 and 25 percent off.
Always compare quotes for both individual and multi-car policies. There is always a chance that a couple of individual-vehicle policies will cost less than a policy with the multi-car discount.
Q: What are some reasons I wouldn't be able to get a multi-car discount?
A: The multi-car discount is one of the simpler insurance discounts you can get, but there are still some limitations. These restrictions differ between companies.
Some insurers will apply the discount as long as everyone on the policy lives together. Others require that all drivers are related.
In addition, only cars are eligible for the multi-car discount. Motorcycles, RVs, and boats are excluded. Cars that are in storage and not driven cannot be included either.
Q: What happens if I get into a car accident in a vehicle on the multi-car policy? Will my rates go up?
A: Unfortunately, yes your premium for your multi-car policy will increase. This is because the rate for the car involved in the accident will go up. This increase will affect your overall premium on your multi-car policy.
If this happens, ask your agent if there is anything else you can do to lower the cost of your insurance.
References:
QuoteWizard.com LLC has made every effort to ensure that the information on this site is correct, but we cannot guarantee that it is free of inaccuracies, errors, or omissions. All content and services provided on or through this site are provided "as is" and "as available" for use. QuoteWizard.com LLC makes no representations or warranties of any kind, express or implied, as to the operation of this site or to the information, content, materials, or products included on this site. You expressly agree that your use of this site is at your sole risk.