Jeep Wrangler Insurance
Jeep Wrangler insurance is surprisingly cheap. Find out just how cheap it is, why it's so cheap, and more.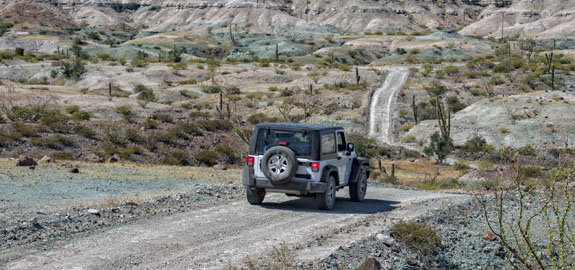 It costs $1,654 per year to insure aJeep Wrangler on average, according to our research.
What you pay for Jeep Wrangler car insurance varies based on the model you own – whether it's a Sport, Sahara, or Rubicon. It also depends on the trim and the number of doors. Where you live and which insurance company you choose are major factors in your insurance rates, too.
Something else that impacts the price of this type of insurance is customizing or modding your Wrangler.
In this article, you'll learn about:
How Much Does Jeep Wrangler Insurance Cost?
Insuring a Jeep Wrangler costs an average of $138 per month. The exact amount depends on where you live, as average Wrangler insurance rates are $197 per month in California compared to $64 per month in Wisconsin.
It also depends on a number of other rate factors – including your gender, your age, your driving record, which model you buy, whether or not you modify or customize it in any way and where you get your car insurance policy.
Which companies offer the cheapest Jeep Wrangler insurance?
GEICO charges $1,254 per year for Jeep Wrangler car insurance on average – compared to Progressive and Allstate, which charge an average of $1,278 and $2,430 per year.
These average rates come from sample quotes across two states and a slew of Wrangler models and trim options.


Here are quotes for monthly rates to insure a Jeep Wrangler in California:
| Company | Wrangler Sport 2-Door | Sport 4-Door | Wrangler Sahara 2D | Sahara 4D | Wrangler Rubicon 2D | Rubicon 4D | Average rate |
| --- | --- | --- | --- | --- | --- | --- | --- |
| Allstate | $247 | $255 | N/A | $269 | $275 | $290 | $267 |
| Geico | $149 | $156 | $151 | $170 | $156 | $175 | $160 |
| Progressive | $165 | $165 | $165 | $165 | $165 | $165 | $165 |
And here are the quotes for Jeep Wrangler insurance in Wisconsin:
| Company | Wrangler Sport 2D | Sport 4D | Sahara 2D | Sahara 4D | Rubicon 2D | Rubicon 4D | Average rate |
| --- | --- | --- | --- | --- | --- | --- | --- |
| Allstate | $127 | $127 | N/A | $144 | $147 | $147 | $138 |
| Geico | $51 | $48 | $49 | $51 | $49 | $48 | $50 |
| Progressive | $48 | $48 | $48 | $48 | $48 | $48 | $48 |
A few notes about these Jeep Wrangler insurance quotes:
Allstate doesn't allow car insurance shoppers who use its site to choose a two-door option for the Jeep Wrangler Sahara.
Progressive's site doesn't ask visitors to specify which Wrangler model they own. It only asks if their Wrangler has a four- or six-cylinder engine.
The Progressive quotes included above are for four-cylinder Wranglers. The quotes we got from Progressive for a six-cylinder Wrangler in Wisconsin came to $288 for a six-month policy. The quotes we got for California came to $1,075.
You might have expected insurance for four-door Jeep Wranglers to be cheaper than insurance for two-door Wranglers. That's usually how it works, after all. Not in this case. This could be because Jeep's four-door "Unlimited" models cost more and have more impressive trim levels than its two-door models.
Regardless, Progressive provided the best insurance rates for Jeep Wrangler owners overall in our survey of car insurance companies. GEICO's rates were nearly as good, though, and in some cases, they were better than Progressive's. So don't ignore it while shopping for Wrangler insurance.
Although age doesn't affect Jeep Wrangler insurance rates as much as you might imagine, it does affect them. For example, here are some quotes from Progressive for monthly rates for Jeep Wranglers of three different model years in California:
| Jeep Model | Monthly Rate |
| --- | --- |
| 2019 Jeep Wrangler | $48 |
| 2016 Jeep Wrangler | $46 |
| 2013 Jeep Wrangler | $43 |
And here are some Progressive quotes for Jeep Wranglers of three different model years in Wisconsin:
| Jeep Model | Monthly Rate |
| --- | --- |
| 2019 Jeep Wrangler | $165 |
| 2016 Jeep Wrangler | $159 |
| 2013 Jeep Wrangler | $149 |
Unlike some of the quotes highlighted earlier, these make perfect sense. Older vehicles usually are cheaper to insure than newer vehicles. And that's mainly because older vehicles are worth less and are less expensive to repair than newer vehicles.
Do young drivers pay more for Jeep Wrangler insurance?
Yes, Jeep insurance for young drivers is more expensive than it is for older, more experienced drivers.
This doesn't mean, however, that teens who own Jeep Wranglers pay more to insure their vehicles than they would if they owned another kind of car.
Still, their premiums are sure to be high. Individual car insurance policies for 16-year-old drivers cost $438 a month, on average.
Why Are Jeep Wranglers Cheap to Insure?
The most likely reason Jeep Wranglers are cheap to insure is they're inexpensive to repair.
Owners can even make certain repairs themselves, if they'd like. Wrangler roofs, windshields, and doors are easily removed and replaced.
Another likely reason Wrangler insurance is inexpensive: car thieves don't target them as much as they target many other vehicle makes and models.
The Wrangler's overall sturdiness and the fact that it often includes safety features like anti-lock brakes and passive restraint systems surely help bring down the price of insurance coverage, too.
Insuring Modified Jeep Wranglers
Although Jeep Wrangler insurance usually is cheap, it can become expensive if you customize or modify your vehicle as many owners do. It also can become a bit of a hassle to maintain.
Why? One reason is some auto insurance companies don't cover Wrangler mods. And many that do cover mods don't cover all of them – like winches, or mods that lift the vehicle above a certain height. Or they only cover them up to a set dollar amount.
A few other things to keep in mind when you go to insure a modified Wrangler:
Even companies that insure all Jeep mods probably won't cover labor, which can be costly.
Most insurers that cover customized Wranglers require receipts for each part.
Regardless, make sure whatever policy you buy fully covers, or covers as fully as possible, your mods. Also, update it – and increase its payout value, if need be – whenever you add another mod.
If your mods are pricey, ask if you can get a rider for them. And if that's not enough, ask if you can get a declared or stated value policy.
Look into collector car insurance, too – especially if you rarely drive your modified Wrangler. Many insurers won't sell this to you, however, if you often go off-road.
Carefully read over any policy you get for a customized Jeep. If coverage for your mods isn't clearly listed, have your agent add it. Anything that's not in writing may not be covered if your vehicle is damaged, destroyed, or stolen.
What are the best insurance companies for modified Jeeps? Owners who've gone through the process say GEICO and State Farm are particularly good about covering mods without limits.
Don't just take their word for it, though. Shop around and compare quotes from a number of insurers to get the best coverage for the best price.
Methodology
We compared rates from three top auto insurance companies for this sample. These rates are for a 40-year-old male with a clean driving record, 100/300/50 coverage, 25/50 uninsured motorist coverage, and $500 deductibles for comprehensive and collision coverage. Your rates will vary based on several factors, including car model, where you live, your driving record, and more.
QuoteWizard.com LLC has made every effort to ensure that the information on this site is correct, but we cannot guarantee that it is free of inaccuracies, errors, or omissions. All content and services provided on or through this site are provided "as is" and "as available" for use. QuoteWizard.com LLC makes no representations or warranties of any kind, express or implied, as to the operation of this site or to the information, content, materials, or products included on this site. You expressly agree that your use of this site is at your sole risk.