Insurance rates for used cars depend on factors like your specific vehicle model, your location and your driving history. Whether you are shopping for a used car or already own one, it's important to consider how much the insurance will be.
Cost to insure used cars
To find the cost of insurance for used cars, we looked at three popular second-hand vehicles: Toyota Camry, Nissan Altima and Honda Accord, from model years 2002 to 2017. For minimum coverage, we found that rates do not vary substantially by model year, but increase slightly for more recent years.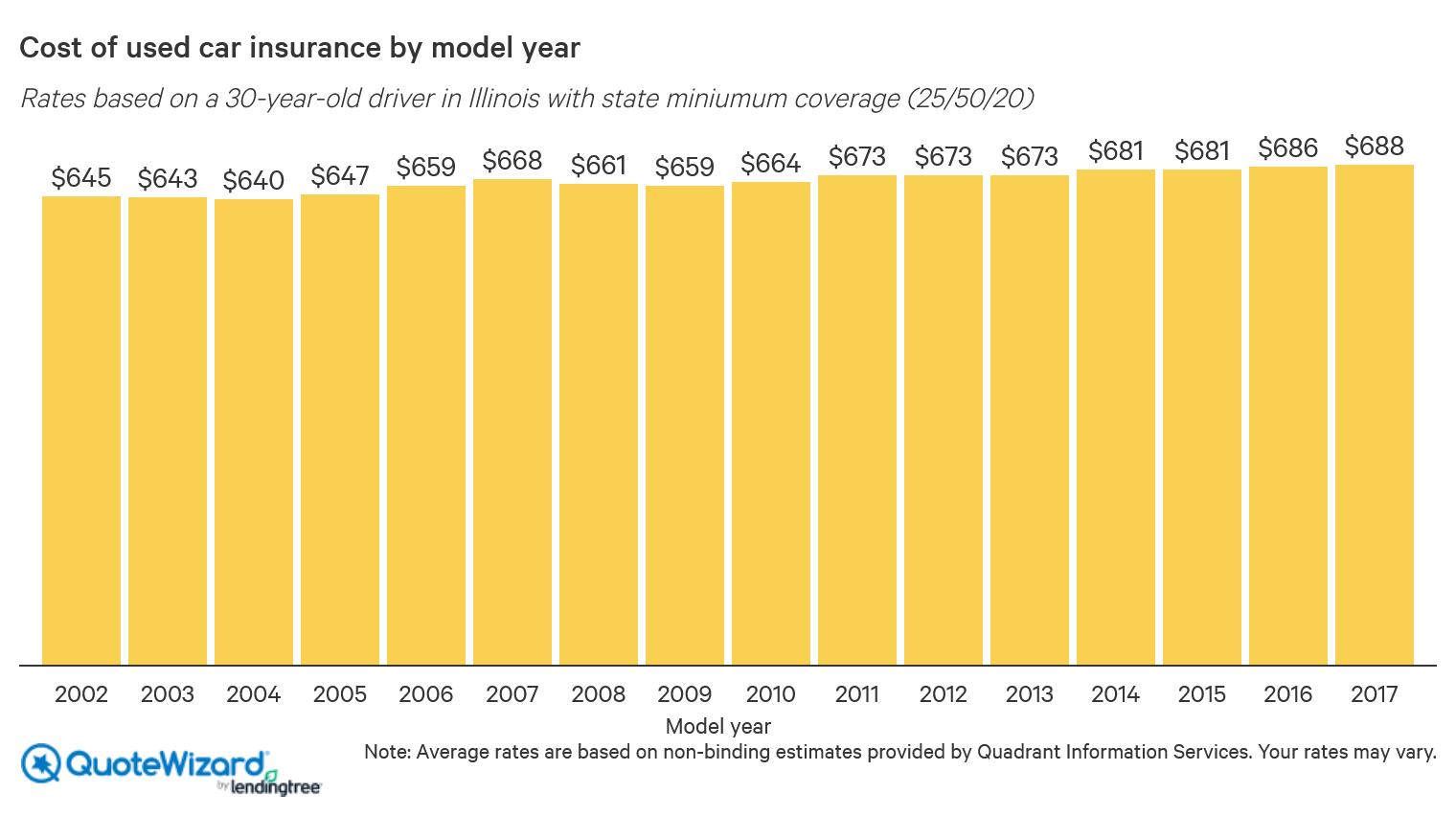 So, while insurance is generally cheaper for older used cars, assuming you have minimum coverage, it is not cheaper by much. Your insurance prices are going to vary based on the car you buy, the model year, your driving background, where you live and more.
Don't assume that buying an older car is always cheaper, though. New cars have improved safety and security features, which can lower your insurance rates. The only way to know for sure how cheap your insurance rates would be is by getting a few quotes.
Get the cheapest rates for your used car.
Cheapest used cars to insure
We analyzed data for more than 375 vehicles to find the cheapest used vehicles to insure, from model years 2006 to 2014. These were the cheapest vehicles we found for used car insurance:
Cheapest used vehicles to insure
Car
Average yearly cost to insure
2008 BMW 328i
$539
2006 Mercedes CLK350
$542
2006 Volkswagen New Beetle
$566
2006 Chevrolet Uplander
$567
2006 Volkswagen Passat
$567
2006 Nissan Quest
$567
2006 Honda Odyssey
$572
2006 Toyota Sienna
$578
2011 Chevrolet Camaro
$591
2010 Volkswagen Routan
$594
2007 Chevrolet Uplander
$594
2006 Volkswagen Golf
$608
Note: Average rates are based on non-binding estimates provided by Quadrant Information Services. Your rates may vary.
There is no single cheapest car to insure — these are average rates to help you ballpark. As you can see, there are many makes and models where you can find cheap insurance, from sedans, to sports cars, to minivans. As cars age, replacement parts can become cheaper. This could make older cars cheaper to insure, but not always.
Insurance when buying a used car
You do not need insurance to buy a car, but you need insurance to drive away with it. This is true whether you buy from a private seller or a dealer. That means timing is key: you don't want to buy insurance before you're sure the car is yours, but you need insurance by the time you're ready to drive it home.
Although you don't need insurance ahead of time to buy a used car, we recommend considering the cost of insurance as part of the buying process. Auto insurance is one of the largest recurring expenses of owning a car, and its cost varies depending on the vehicle. Doing some legwork ahead of time means you won't be surprised later.
We recommend reaching out to a few companies for quotes ahead of time. Many companies let you start a quote and return to it later, meaning as soon as you know your car purchase is going to happen, you can go back to your quote and purchase the best policy for you.
How much insurance to buy for a used car
Knowing how much coverage to purchase for your vehicle is a tricky question. Car insurance companies should give you some flexibility in how much insurance you buy, and you should purchase enough to protect your assets.
Minimum coverage for used cars
Every state (except New Hampshire) has state-minimum liability coverage limits. These can be relatively low, ranging from $20,000 to $100,000 for bodily injury liability, and from $10,000 to $25,000 for property damage liability. You'll have to have at least the minimum requirement in your state.
That may sound like a lot of coverage, but bodily injury and property damage liability can add up quickly. If you are found liable for more damage than you are covered for, expenses can be recovered from your other assets. Therefore, it's often a good idea to have more insurance than your state minimum.
We recommend having a total of $500,000 of liability coverage, or a 100/300/100 policy. That means $100,000 of bodily injury liability protection per person, $300,000 bodily injury liability total and $100,000 of property damage liability.
Full coverage for used cars
Your vehicle is an asset, so you might want to consider adding full coverage to your insurance policy, depending on how much the car is worth. A full coverage car insurance policy typically includes liability, comprehensive and collision coverages. A common rule of thumb is that if the cost of full coverage per year is 10% or higher of your car's value, you can drop full coverage.
For example, if your car is worth $5,000, but full coverage costs more than $500 a year, you should drop it. Additionally, if your deductible is close to your car's value, full coverage probably isn't worth it.
State-minimum coverage usually does not include protection for your vehicle. That means if it is damaged in an accident, you may have to pay for repairs out of pocket. Therefore, if your used car has significant value, we recommend adding some amount of collision or comprehensive coverage.
Summing up
Buying a used car saves you money on your vehicle, but not necessarily on insurance. Older cars generally have cheaper auto insurance rates, but because there are so many factors that determine rates, this isn't always the case. Once your vehicle depreciates enough, it may be time to drop full coverage on it.
Most states have a required minimum liability coverage amount, but you'll probably want to increase it — $500,000 of liability protection is a good place to start for many people.
Methodology
Our calculations are based on Illinois minimum coverage for vehicles in the Chicago metro area. To find the cheapest used cars to insure, we considered 376 individual vehicles and rates from four large companies: Allstate, GEICO, Progressive and State Farm. The same companies were used to determine average rates by model year.
QuoteWizard.com LLC has made every effort to ensure that the information on this site is correct, but we cannot guarantee that it is free of inaccuracies, errors, or omissions. All content and services provided on or through this site are provided "as is" and "as available" for use. QuoteWizard.com LLC makes no representations or warranties of any kind, express or implied, as to the operation of this site or to the information, content, materials, or products included on this site. You expressly agree that your use of this site is at your sole risk.