Condo HO6 Insurance in Florida
Own a condo in Florida? HO6 Condo insurance helps cover what your homeowners association insurance doesn't.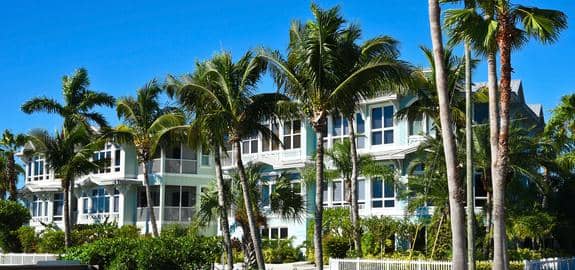 While condo insurance, or HO6 insurance, isn't required by Florida law, your mortgage lender or homeowner's association likely requires it. Condo insurance not only protects your belongings from damage or destruction, it also includes liability coverage that could protect you if you are sued.
Condo insurance usually covers the interior structure of your condo, your belongings and more that your homeowners association insurance may not.
This article details:
How much does HO6 insurance cost in Florida?
Florida condo insurance costs $942 a year on average, or around $78 a month. This is almost twice the national average of $488 a year. Your final premium for condo insurance may also consider factors such as the condo's:
Age
Location
Design
Condition
Personal factors can affect your condo premium as well. If you have previous insurance claims, they may increase your condo insurance rates. Having a pet can raise your rates, too — some insurance providers may believe certain dog breeds are an insurance risk.
But there are ways for you to reduce your rates. Bundling condo insurance with auto or life insurance may help reduce the price of both premiums. Some insurers also have discounts for new condo buyers and veterans.
Condo insurers in Florida often have a discount if you have wind-resistant features installed, due to the state's risk of hurricanes.
What does HO6 insurance cover?
HO6 insurance, the standard insurance policy for condos, provides condo owners with coverage for situations and damages that homeowners association insurance does not usually cover.
Condo insurance typically provides the following coverage:
Dwelling
The dwelling coverage of an HO6 policy typically covers the parts of your condo unit's structure excluded from your homeowners association's insurance policy. This usually includes the walls, flooring, bookcases and counters.
Personal property
If your personal belongings, such as electronics, appliances or furniture, are damaged or destroyed within your condo or away from the unit, personal property coverage can protect them. High-value items like jewelry, art and antiques may require additional endorsements in order for them to be covered at their full value.
Personal liability
If you're responsible for injury or property damage to others within your condo unit, personal liability coverage may help cover the legal fees and/or medical bills up to your policy limits that arise.
Guest medical coverage
If someone is injured in your condo, guest medical coverage may cover medical expenses, even if you're not responsible.
Additional Living Expenses (ALE)
If you need to relocate while damage to your condo is repaired, additional living expenses coverage can help with additional rent costs, restaurant meals, extra commuting costs and more while your condo is fixed.
Loss assessment
Homeowners association insurance typically covers common areas such as hallways and pools to a certain limit, then requires condo owners to help cover the excess costs. Loss assessment is insurance that provides you with coverage for repairs or replacements of your part of the common areas. Florida law requires HO6 insurance policies to include at least $2,000 in loss assessment.
HOA master policies
Your homeowners association should have an insurance master policy to cover the building itself. Master policies fall into three different types:
Bare walls: This is the "bare bones" condo master policy. It only covers the structure of the building, including the sheetrock and sub-floor, within the collectively owned areas of the building.
All-inclusive: This policy covers everything the bare walls master policy does, with the inclusion of fixtures in the individual condo units and any updates and structural improvements you may do.
Single entity: This insurance type covers everything the all-inclusive master policy type does, except for structural improvements and additions you do within your condo unit.
Florida state law doesn't require your condo association's insurance to cover the following:
Fixtures
Personal property
Flooring and walls
Window treatments
Water heaters
Built in fixtures and appliances
While there may be some overlap between your homeowners association insurance and your condo insurance, neither will cover everything you need. Talk to your homeowners association representative about what their insurance does and does not cover. You can then go to your condo insurance provider with a better picture of the coverage you need so that it is as comprehensive as possible.
Do I need condo insurance?
Florida state law does not require you to have condo insurance, but your mortgage lender may require it in order to protect its investment. Your condo homeowners association may also require it as part of your contract with them. The homeowners association may require you to show evidence that your condo insurance policy meets its required coverage limits, and even that you purchase it from a specific condo insurance provider.
While you're under no obligation to keep your condo insurance if you don't have mortgage requirements, it's a good idea to have it. According to the Insurance Information Institute, the average cost of a bodily injury or property damage claim is $26,085. This is many times the cost of an annual condo insurance premium.
Furthermore, Florida is notorious for hurricanes with damages frequently running into the millions if not more. The cost of a condo insurance premium is very little in comparison to the price of replacing your belongings after a natural disaster.
How much condo insurance do I need?
Usually, condo mortgage providers require you to have at least 20% of your unit's appraised value in insurance. Your condo association's master policy covers the majority of the structural damage that can occur, hence the lower minimum.
However, two of the main factors you are going to want to look at when buying condo insurance are personal property and liability. Your homeowners insurance covers neither of these. You'll want to have enough personal property coverage to replace all of your belongings in the event of a total loss.
The best way to figure how much personal property coverage you need is to make a home inventory list. If you're in the process of packing, this is the perfect time to put that list together. This will help your condo insurance provider accurately calculate your claim payout, and can also help speed up your claim process.
You will also want to decide how much liability insurance to purchase. Most standard HO6 policies come with a minimum liability limit of $100,000. This may seem like a lot, but an extended hospital stay or a long legal case can burn through $100,000 quickly. We recommend getting at least $300,000 in personal liability and $500,000 if you can afford it.
QuoteWizard.com LLC has made every effort to ensure that the information on this site is correct, but we cannot guarantee that it is free of inaccuracies, errors, or omissions. All content and services provided on or through this site are provided "as is" and "as available" for use. QuoteWizard.com LLC makes no representations or warranties of any kind, express or implied, as to the operation of this site or to the information, content, materials, or products included on this site. You expressly agree that your use of this site is at your sole risk.