Several factors have converged to fuel the ongoing surge in electric car sales. If you are considering one yourself, you may be relieved to know that many perceived barriers to electric car ownership are falling by the wayside. Charging stations are becoming more prevalent. Government incentives are defraying the costs of purchasing them. And car insurance rates for electric cars are falling in line with those for gas-powered vehicles.
As you weigh your options, here's what you need to know about how the infrastructure and insurance rates for electric vehicles are making them easier to own than ever before.
How much does electric car insurance cost?
The average cost of car insurance for a brand new electric car is $240 a month, based on our analysis of full-coverage rates available for eight popular models. The prices range from $189 a month for a Nissan Leaf S to $388 a month for an Audi Q4 e-tron.
Average insurance rates for popular electric cars
Model
Monthly rate
Hyundai Kona SEL
$189
Kia Niro EV EX
$195
VW ID.4 Pro
$208
Ford Mustang Mach E Select
$212
Nissan Leaf S
$213
Chevy Bolt 1LT
$215
EV Average
$240
Tesla Model 3
$302
Audi Q4 e-tron
$388
Note: Average rates are based on non-binding estimates provided by Quadrant Information Services. Your rates may vary.
Full-coverage car insurance includes liability, collision and comprehensive coverage. Liability is required by law in almost every state, while collision and comprehensive are typically required for car loans and leased vehicles.
The price, or value, of any vehicle is one of the more significant factors that insurance companies use to determine the cost of insuring it. However, insurance companies also analyze the accident frequency and repair costs of each model to determine which cars are riskier, or more expensive, to insure.
Among our findings:
The Audi Q4 e-tron, with a Manufacturers' Suggested Retail Price (MSRP) of $48,800, is the most expensive electric car in our analysis to purchase and insure.
Even though the Hyundai Kona is cheapest to insure, its $39,900 MSRP makes it more expensive than the Nissan Leaf, $27,800, and Chevy Bolt, $32,495.
Which companies sell electric car insurance?
Most insurance companies that sell car insurance for gasoline-powered vehicles also offer insurance for electric vehicles. This includes the nation's largest carriers, such as State Farm and GEICO, as well as regional carriers and most local Farm Bureau affiliates.
Tesla Insurance is also available to Tesla owners in a growing number of states, including Illinois, Ohio and Texas. Tesla Insurance accesses information about the way you drive directly from your vehicle and gives you a discount if you achieve or maintain a high enough "safety score."
Electric car insurance cost by insurer
Among the companies in our analysis, Erie Insurance offers the cheapest car insurance for electric cars, with rates averaging $117 a month. Erie operates in 12 states between the East Coast and the Midwest.
The next-best insurance rates for EVs are available from Progressive, $185 a month, and GEICO, $190 a month.
Average insurance company rates for popular electric cars
Company
Monthly rate
Erie
$114
Progressive
$172
GEICO
$190
Nationwide
$290
Allstate
$321
State Farm
$327
Note: Average rates are based on non-binding estimates provided by Quadrant Information Services. Your rates may vary.
Top states for electric vehicle infrastructure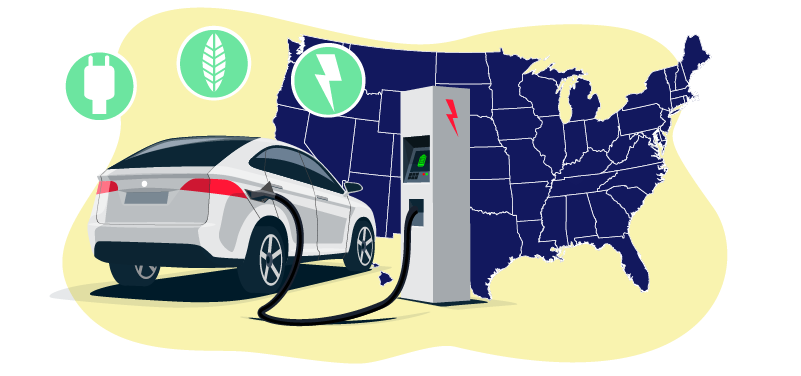 The United States Department of Transportation is investing heavily in electric vehicles (EV). Over the next five years, more than $5 billion will be used to bring EV charging stations to all 50 states. Some states, though, have already developed an extensive electric vehicle infrastructure.
We looked at each state's number of electric vehicles, charging outlets, alternative fuel stations and EV incentives to determine the top states for electric vehicle infrastructure. We found that California is leading the way when it comes to electric vehicles. California has 40% of all the electric vehicles on the road, 33% of all charging outlets and nearly three times as many EV incentives as any other state.
There are, however, some states that have been slower to embrace electric vehicles. Louisiana, Kentucky, Alabama and other southern states have the lowest numbers of charging outlets, fuel stations and EV incentives in the nation.
States with the best electric vehicle infrastructure
Rank
State
EV adoption rate
Alternative fueling stations per 10k vehicles
Electric charging outlets per 10k vehicles
# of gov't incentives
1
California
3.81%
10
28
108
2
Colorado
2.21%
10
24
28
3
Massachusetts
1.50%
11
24
19
4
New York
1.21%
7
18
42
5
Vermont
1.71%
17
44
17
6
Maryland
1.39%
7
18
26
7
Washington
2.33%
6
15
25
8
Utah
1.79%
10
22
17
9
Oregon
2.06%
7
17
19
10
Arizona
1.66%
4
9
18
11
Virginia
0.99%
4
11
20
12
Hawaii
2.91%
8
17
5
13
Connecticut
1.09%
4
12
15
14
Maine
0.85%
8
18
9
15
Nevada
1.66%
4
13
10
16
New Jersey
1.85%
3
8
19
17
Minnesota
0.81%
4
7
20
18
North Carolina
0.74%
4
8
21
19
Florida
1.20%
3
8
16
20
Kansas
0.50%
6
11
16
21
Rhode Island
0.66%
7
16
10
22
Georgia
0.96%
4
11
8
23
Texas
0.99%
3
7
20
24
New Mexico
0.66%
3
7
20
25
Missouri
0.50%
5
11
10
26
Michigan
0.64%
3
7
18
27
Delaware
0.72%
3
7
14
28
Illinois
0.87%
3
7
17
29
Oklahoma
0.58%
3
9
18
30
New Hampshire
0.86%
4
8
7
31
Pennsylvania
0.66%
3
7
17
32
Wisconsin
0.49%
3
5
25
33
Tennessee
0.57%
3
8
8
34
Wyoming
0.27%
4
10
6
35
Nebraska
0.43%
3
6
13
36
Alaska
0.75%
3
5
5
37
Idaho
0.59%
2
6
10
38
North Dakota
0.18%
3
6
12
39
Iowa
0.31%
3
5
11
40
South Carolina
0.42%
2
5
12
41
Ohio
0.50%
2
5
10
42
Indiana
0.49%
2
4
15
43
Montana
0.36%
2
5
10
44
West Virginia
0.20%
2
6
6
45
Arkansas
0.27%
2
5
5
46
South Dakota
0.21%
2
5
9
47
Mississippi
0.17%
1
5
8
48
Alabama
0.23%
1
3
8
49
Kentucky
0.26%
1
3
7
50
Louisiana
0.24%
1
3
7
Methodology: States were evaluated based on EV registrations, fueling & charging stations per 10k registered drivers and EV incentives listed in the NREL database of government incentives by state. States were then ranked based upon a composite score of the factors evaluated.
Do electric vehicles cost more to insure?
As more drivers take to the roads in electric vehicles, the cost of insuring them has become comparable to car insurance for gas-powered vehicles. When all other rate factors are the same, our research shows that a vehicle's value plays a larger role in determining its price than its fuel source.
For example, the average cost of car insurance for an electric Kia Niro is only about $40 more per year than a gas-powered version of the same car. Insurance for an electric Hyundai Kona SEL is only about $4 more per year than it is for a gas-powered Kona SEL.
The sophisticated technology behind most EVs' batteries, electronic systems and body materials generally make them more expensive to purchase and repair than their gas-powered counterparts.
Nevertheless, the insurance rates we reviewed for electric vehicles were generally comparable to the insurance rates available to comparably priced gas-powered vehicles.
One exception is Audi's Q4 e-tron, which costs about $1,200 more a year to insure than an Audi Q5, its closest sibling in the manufacturer's family.
Insurance rates for EVs compared to their gas-powered counterparts
EV model
Annual EV rate
Annual gas-car rate
Hyundai Kona SEL
$2,269
$2,265
Kia Niro EV EX
$2,334
$2,295
Ford Mustang Mach E Select
$2,542
$2,733
Audi Q4 e-tron Premium
$4,653
$3,413
Note: Average rates are based on non-binding estimates provided by Quadrant Information Services. Your rates may vary.
Benefits of owning an electric vehicle
There are currently 47 federal incentives to purchase electric cars, which includes grants, tax breaks, loans and leases, rebates, credits, exemptions and other programs in the country. Nationally, around 627 state-funded incentives exist. California has the most, with 94 state incentives (72 more than second-ranked Colorado).
The hope is that more incentives toward manufacturers and consumers will persuade Americans to swap out older, environmentally unfriendly and less-efficient vehicles for more energy- and consumer-efficient options. According to our findings, states that offer the most EV incentives generally have the highest adoption rates.
States with the highest interest in alternative fuel vehicles
Infrastructure takes time to build, but demand can change quickly. We found that over the last year, demand for electric vehicles has risen by 48% nationwide. In some states, though, interest has risen by as much as 140%.
The demand for electric vehicles has risen fastest in smaller, more rural states. In just one year, electric vehicle interest rose by more than 100% in West Virginia, Delaware and Kansas. Search interest in electric vehicles has increased in every state, but New Mexico, New York and Hawaii have shown the smallest increases in demand.
"We saw a spike in electric vehicle demand as gas prices rose to record hghs, but I don't think it's just about gas prices. Car companies are making more affordable models, states are investing in EV infrastructure, people are more conscious of their impact on the environment and it's become clear alternative fuel vehicles are the future." - Nick VinZant, Insurance Expert
States with the highest interest in electric vehicles
State
% change in demand 2021 - 2022
West Virginia
140%
Delaware
112%
Kansas
107%
Maine
92%
Idaho
90%
Nebraska
90%
Montana
75%
California
74%
Illinois
73%
Alabama
69%
Vermont
68%
Virginia
65%
Pennsylvania
61%
Arkansas
60%
Minnesota
58%
Utah
58%
Oregon
57%
New Hampshire
57%
Rhode Island
57%
Mississippi
56%
Michigan
54%
North Dakota
53%
Missouri
52%
Washington
51%
South Dakota
50%
Colorado
48%
Indiana
46%
Oklahoma
45%
Wisconsin
44%
Maryland
44%
North Carolina
44%
Iowa
43%
Wyoming
43%
Tennessee
42%
Florida
41%
Texas
41%
Georgia
39%
Arizona
37%
Connecticut
37%
Louisiana
37%
Kentucky
36%
Massachusetts
34%
Nevada
33%
Ohio
29%
South Carolina
29%
New Jersey
28%
Alaska
22%
Hawaii
16%
New York
13%
New Mexico
12%
Methodology: Data is sourced from Google analytics with a date range of September 2020 September 2022.
Certain cities have also experienced dramatic changes in their demand for electric vehicles. Evansville, Ind., Brownsville, Texas and Fresno, Calif., have shown the biggest changes in EV demand, while Bend, Ore., Montgomery, Ala., and Lansing, Mich., have the highest EV demand overall.
Cities with the highest interest in electric vehicles
City
Search Index average
% change in demand 2021 - 2022
Evansville, IN
92
119%
Brownsville, TX
35
119%
Fresno, CA
28
115%
Rockford, IL
47
114%
Columbus, GA
51
96%
Harrisburg, PA
47
96%
Springfield, MA
46
77%
Sioux Falls, SD
54
69%
Bakersfield, CA
44
63%
La Crosse, WI
53
56%
Topeka, KS
59
55%
Yakima, WA
48
55%
South Bend, IN
54
54%
Gainesville, FL
43
54%
Augusta, GA
49
53%
Erie, PA
39
50%
Bangor, ME
48
50%
Colorado Springs, CO
57
50%
Champaign, IL
58
49%
Ft. Smith, AR
55
49%
Memphis, TN
49
48%
Omaha, NE
37
48%
Kansas City, MO
44
47%
Idaho Falls, ID
37
42%
Roanoke, VA
58
41%
Lansing, MI
41
41%
Wausau, WI
68
39%
Bismarck, ND
43
39%
Lexington, KY
54
38%
Tampa, FL
40
38%
Boise, ID
45
36%
Greensboro, NC
50
35%
Tulsa, OK
35
35%
San Antonio, TX
38
31%
Norfolk, VA
34
31%
Charlottesville, VA
43
30%
Tucson, AZ
35
30%
Wichita, KS
50
28%
Salt Lake City, UT
41
28%
San Diego, CA
51
28%
Lincoln, NE
65
27%
Cedar Rapids, IA
39
26%
Birmingham, AL
44
26%
Springfield, MO
35
25%
Providence, MA
40
25%
Chicago, IL
50
25%
Peoria, IL
36
24%
Louisville, KY
57
24%
Orlando, FL
37
23%
Portland, OR
43
23%
St. Louis, MO
56
22%
Methodology: Data is sourced from Google analytics with a date range of September 2020 September 2022. Search index number is rounded to the nearest half number. The max search index score is 100 with higher numbers indicating a greater proportionate search interest for that area. Data for some states is not available.
How to save on electric car insurance
In addition to the usual steps for saving money on car insurance, such as comparing quotes and seeking discounts, choosing an electric car with high safety ratings may also help you nab a cheaper rate.
Granted, safety ratings alone don't determine the price of insurance for any particular vehicle.
However, a car designated as a Top Safety Pick from the Insurance Institute of Highway Safety (IIHS), for example, is likely to emerge from an accident with less severe damage and passenger injuries than one without such a rating. This generally makes it cheaper to insure.
The Volvo EX40 Recharge, Audi e-tron and Tesla Model 3 are among the electric cars that have earned the Top Safety Pick + award, the IIHS's highest designation, in recent years.
You can typically also keep your insurance rates low by maintaining a clean driving record and avoiding at-fault accidents. Since insurance companies in most states include your credit-based insurance score among their rate factors, paying your bills on time is also likely to help.
Methodology
Electric- and gas-car insurance rate comparisons are based on non-binding quotes obtained through Quadrant Information Services for a typical driver in Ohio. For our analysis, a typical driver is a 35-year-old male who drives 13,500 miles a year and has no prior accidents or traffic violations.
Full-coverage insurance includes the following coverages, limits and deductibles:
Bodily injury liability: $100,000 per person/$300,000 per accident
Property damage liability: $100,000
Collision coverage: $500 deductible
Comprehensive coverage: $500 deductible
QuoteWizard.com LLC has made every effort to ensure that the information on this site is correct, but we cannot guarantee that it is free of inaccuracies, errors, or omissions. All content and services provided on or through this site are provided "as is" and "as available" for use. QuoteWizard.com LLC makes no representations or warranties of any kind, express or implied, as to the operation of this site or to the information, content, materials, or products included on this site. You expressly agree that your use of this site is at your sole risk.