Mobile Home Insurance in Texas
Buying homeowners insurance for your mobile or manufactured home is a great way to protect your investment.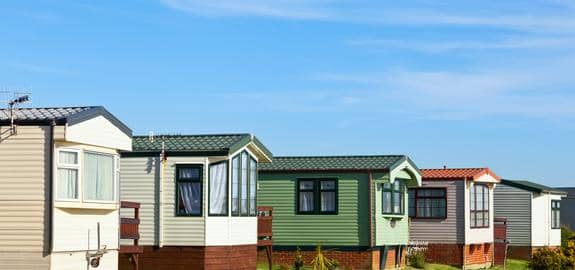 If you own a mobile or manufactured home in Texas, we recommend protecting your home with an insurance policy. If you have a mortgage or live in a community or park, insurance may even be required. However, finding the right coverage at an affordable price can be difficult, so there are a few important things mobile home owners should know:
Home insurance for mobile and manufactured homes
Mobile home insurance coverage is similar to homeowners insurance. It helps to repair and replace your home's structure and your belongings if they are damaged after events like:
Wind
Hail
Fire
Lightning
Falling objects
Vandalism and theft
Mobile home insurance also comes with liability protections, like personal liability and medical payments to others coverage. These coverages can pay legal, settlement and medical costs if you are found responsible for injuring someone or damaging their property. In this sense, homeowners insurance for your manufactured home protects you just as much as it does your home.
The last protection mobile home insurance provides is loss of use coverage. If you are unable to remain in your home after a disaster, loss of use coverage can help pay for your additional living expenses, like a hotel or storage unit, until you can return home.
It is important to remember that mobile home insurance does not cover flooding. Flooding should be a concern no matter where you live in Texas, which is why we recommend every Texas homeowner to consider purchasing a separate flood insurance policy.
For more details, check out our article on what mobile home insurance covers.
Mobile home requirements in Texas
Mobile home insurance is not required by Texas law. However, many mortgage lenders require insurance as a condition of your loan. Additionally, mobile home communities and parks often require you to have insurance.
Even if you don't have to buy mobile home insurance, we recommend having it nevertheless because of the valuable coverage it provides.
Find affordable coverage for your home!
Average cost of mobile home insurance in Texas
The cost of mobile home insurance in Texas depends on many factors, including the age of your home, where you live and the estimated cost of rebuilding your home. Typically, mobile home insurance can cost anywhere from $300 to more than $1,200 a year.
Home insurance for mobile homes is not as cheap as some might think. Although mobile and manufactured homes are often more affordable than traditional homes, they can be more expensive to insure because they are at greater risk of loss.
Mobile homes are often more susceptible to damage from fire, wind, hail and theft. That's because they usually weigh less than a traditional house and have less insulation. That translates to a higher risk for damage and higher insurance premiums.
There are a few ways to reduce the cost of mobile home insurance. Upgrading your roof, adding security features, installing storm shutters and securely tying down your home can lower your monthly premiums. Another way to save in Texas is by switching insurance companies. Average costs change from company to company, so shopping around can lead to substantial savings.
Mobile home insurance quotes in Texas
There are a few ways to get quotes for your mobile home in Texas: some companies allow you to get quotes online, and others require you to get in touch with an agent. Many of the top homeowners insurance companies in Texas also write mobile home insurance policies. For example, the biggest home insurance companies in Texas by number of policies are:
State Farm
Allstate
Farmers
USAA
Insurance companies like Assurant and Foremost specialize in mobile home insurance and partner with nationally recognizable names. For example, when we got quotes from Progressive and Geico, we found that both companies partner with Assurant to cover manufactured homes.
Texas mobile home statistics
There are more than 845,000 manufactured or mobile homes in Texas, accounting for 7% of all housing units in the state. Only Florida has more mobile homes, with just over 918,000.
Below are some of the most popular counties for people to have a mobile home. Harris County, home to Houston, has the largest number of mobile homes, with 46,610.
Number of mobile homes in Texas by county
County
Number of mobile or manufactured homes
Percent of total housing units
Bexar
23,821
3%
Cameron
18,213
12%
Dallas
15,968
2%
El Paso
17,967
6%
Harris
46,610
3%
Hidalgo
44,558
16%
Montgomery
32,965
14%
Travis
19,444
4%
Brazoria
15,565
11%
Tarrant
15,154
2%
Johnson
13,854
21%
Denton
13,106
4%
Parker
11,501
20%
Henderson
11,271
27%
Smith
11,010
11%
Source: S&P Global
Although there are a lot of mobile homes in Texas, it is a smaller portion of all homes compared to some states. Seven percent of homes in Texas are mobile homes, compared to 17% in neighboring New Mexico.
Bottom line
Home insurance for mobile and manufactured homes can be expensive. Mobile home insurance is often required by mortgage lenders and mobile home communities, but we recommend having a policy even if it's not required.
Methodology
Our insurance experts surveyed the mobile home insurance market in Texas, including collecting quotes from multiple companies. We also reviewed manufactured home insurance policies from multiple companies in order to provide a summary of the coverage.
Housing data was sourced from S&P Global. We calculated the percent of total housing units by dividing the number of mobile homes by the number of housing units.
QuoteWizard.com LLC has made every effort to ensure that the information on this site is correct, but we cannot guarantee that it is free of inaccuracies, errors, or omissions. All content and services provided on or through this site are provided "as is" and "as available" for use. QuoteWizard.com LLC makes no representations or warranties of any kind, express or implied, as to the operation of this site or to the information, content, materials, or products included on this site. You expressly agree that your use of this site is at your sole risk.