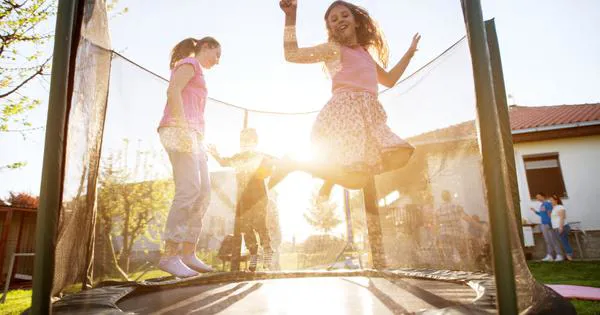 While owning a trampoline can be great fun, getting one covered by home insurance presents difficulties. Some home insurers will cover trampolines with no conditions. Other home insurance providers will insure trampolines if certain safety precautions are met. But some insurance companies consider them too big of a liability risk to cover. Trampolines are a major cause of injuries and lawsuits, and home insurers are aware of this. This article will cover:
Does home insurance cover trampolines?
There is no hard "yes" or "no" answer to this question. Whether your trampoline is covered by your standard home insurance policy, also known as an HO-3 policy, will vary between states and between home insurers. Depending on state laws and how the individual insurance company sees the risk, there are three ways home insurance companies handle trampolines:
No exclusions
This is the home insurance coverage type most trampoline owners want. With no-exclusions coverage, there are no home insurance policy restrictions on trampolines. Liability and property damage claims involving your trampoline should be paid out within your limits.
Coverage with safety precautions
As the name implies, coverage with safety precautions means that your home insurer will cover your trampoline as long as certain safety steps are followed. These safety measures are often just common sense, such as having the trampoline fenced in or installing a net enclosure around the trampoline.
Exclusion
If your home insurance policy excludes trampolines from coverage, no claims involving trampolines will be paid out.
You might think, "If my home insurance company doesn't cover trampolines, I just won't tell them I have one." This is incredibly risky. Should your insurer discover that you have an excluded trampoline on your premises, they will more than likely cancel or not renew your policy after a surprise inspection. If your home insurance policy is cancelled, you put yourself at risk. Since most mortgage lenders require you to have home insurance as part of their lending contract, you could be putting your home ownership at risk as well. It is truly not worth it.
How does homeowners insurance cover my trampoline?
If your HO-3 policy covers trampolines, it will often pay out up to your declared limits for a covered event. This includes:
Medical expenses for guests who got hurt on your trampoline
Repair or replacement of the trampoline if it is damaged or destroyed by a covered event
Legal expenses in the event of a lawsuit
Umbrella policies for trampolines
An umbrella policy provides liability coverage beyond the limits of your HO-3. If your trampoline injures someone, there is a good chance that the emergency room costs will exceed the limits of your liability. Any expenses that go beyond your liability limits come out of your pocket. To avoid the financial hit, we recommend getting an umbrella policy. The premium on an umbrella policy can be high. However, the cost is nowhere near what you could wind up paying for medical expenses or a lawsuit without it.
Insurance risks of owning a trampoline
Home insurers have good reasons to consider trampoline an insurance risk. Trampolines are the cause of roughly 100,000 injuries yearly
That's why home insurance companies can shy away from covering trampolines. On top of your friends possibly getting injured on it, if the trampoline isn't properly locked up, neighborhood children could get on it and injure themselves.
Trampolines fall into a category known as "attractive nuisance." An attractive nuisance is an item on your property that is both dangerous and tempting. Trampolines and swimming pools are two of the main things that home insurers consider in this category. It may seem like trespassing from your point of view, but you can still be held liable if a child sneaks onto your property and gets hurt on your backyard trampoline. To avoid this, make sure the trampoline is properly secured behind a fence or other barrier. It is not unlikely that having an attractive nuisance on your property will lead to a rate increase.
Along similar lines, if you are renting out your property, do not allow your tenants to have a trampoline on it. Even if you're not living on the property, the attractive nuisance clause can still be in effect. If someone gets injured on your property because of a tenant's trampoline, you can still be held liable.
Home insurance companies that cover trampolines
The following is a list of insurers that have been known to cover trampolines under their home insurance policies. Remember that companies that normally do cover them are still beholden to state law. You will want to talk with the insurer to see if they cover your trampoline. You'll also want to learn what their conditions for trampoline coverage are. These companies include:
Allstate
Amica
Farmers
GEICO
Liberty Mutual
Nationwide
Progressive
State Farm®
QuoteWizard.com LLC has made every effort to ensure that the information on this site is correct, but we cannot guarantee that it is free of inaccuracies, errors, or omissions. All content and services provided on or through this site are provided "as is" and "as available" for use. QuoteWizard.com LLC makes no representations or warranties of any kind, express or implied, as to the operation of this site or to the information, content, materials, or products included on this site. You expressly agree that your use of this site is at your sole risk.