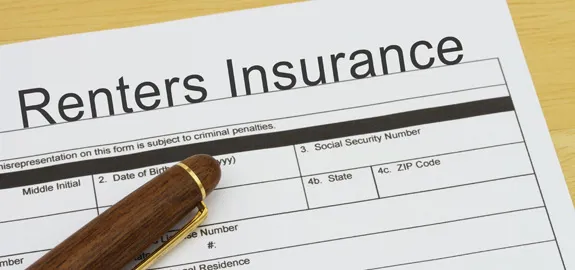 Renters insurance can be a vital and inexpensive investment if you're living in a rental unit. It provides property and liability coverage that your landlord's homeowners insurance doesn't.
Renters insurance can also help cover costs if you need to relocate while damage to your rental home is repaired. Credit card fraud and things you have in storage can be covered as well. So even if your landlord doesn't require renters insurance, an average policy only costs $150 to $200 a year. So for about $12 to $17 a month, renters insurance is an excellent value.This article will cover:
What does renters insurance cover?
Personal property
Standard renters insurance typically covers the cost to repair or replace your belongings from the following perils in a rental:
Fire or lightning
Windstorm or hail
Riots or civil commotion
Theft or vandalism
Volcanic activity
Falling objects, like rocks or trees
Damage caused by water leakage or overflow
The weight of snow, ice or sleet
Freezing pipes
Vehicular or aircraft damage (not caused by the policyholder)
Damage from steam heaters, water heaters or short-circuiting electrical appliances
What else is covered?
On top of covering your property, renters insurance provides many other forms of protection. These include:
Personal liability
Personal liability is the part of renters insurance that covers legal costs from issues relating to negligence. If a guest to your rental home is injured, you may be liable. Along these lines, if your pet bites someone in your apartment, you could be sued. Renters insurance covers medical and legal fees that can accrue from such situations.
Renters insurance coverage can also provide for family liability protection. If a family member who lives with you injures someone else or damages their property, liability insurance can cover you for medical and legal expenses if you're found responsible.
In many cases, if a covered peril in your rental unit causes damage to a neighbors' unit, renters insurance covers it. For example, if a pipe breaks in your apartment and leaks to the unit below or next door to you, your policy should cover all the damages.
Additional Living Expenses (ALE)
If your rental unit is damaged to the point of being unlivable, ALE helps cover extra living expenses if you have to relocate while damages from a covered event are repaired. ALE, also known as loss of use coverage, can pay extra costs for temporary housing, restaurant meals and many other expenses. ALE limits vary from insurer to insurer. Make sure you understand exactly what the ALE portion of your renters insurance covers.
Renters insurance also includes some coverage you may not expect. This includes:
Belongings stored off-site
If some of your belongings in an off-site storage rental unit are stolen or damaged, your renters insurance could cover it. Just make sure they're recorded in your inventory list.
Loss while travelling
If your luggage is lost or stolen while you're on vacation, your renters insurance may pay for its replacement.
Borrowed items
If you borrow items from a friend and the stuff gets damaged by a covered peril, your renters insurance policy can cover their damaged property.
Ruined food
In the event that your refrigerator or freezer shuts down and the food in it spoils, your renters insurance can reimburse you.
Identity theft
If your home is robbed and your credit card is stolen and used, your renters insurance can reimburse you for purchases you did not make.
Renters insurance coverage limits
It's important to know that not all categories of belongings are going to be covered up to your policy's dollar limit. There are some items that renters insurance providers often have a very tight maximum payout limit for. They include:
Electronics
Items such as TVs, computers and other expensive electronic devices are often covered only up to $2,500. Keep in mind that this limit is for all of your electronics, not just a single computer. If you own more than one laptop, odds are your rental insurance policy limit will not be enough to cover both of them.
Jewelry
Jewelry is another valuable that renters insurance companies have a total max $2,500 limit on. If you have a large antique jewelry collection, one piece could set you over the limit.
Water damage
Renters insurance often covers water damage to your property as long as the damage is due to a covered peril. If your belongings are damaged due to water coming in from a leaky roof, you should be covered. However, if your stuff is damaged because the sewer line backed up, that's an excluded peril. You would have to pay for those damages out of your own pocket.
Endorsements and floaters
Depending on how large your electronics or jewelry collections are, ask your renters insurance provider what endorsements or scheduled floaters are available. Endorsements and floaters raise your payout limits in different ways. Endorsements, also called "riders" or "options", increase the claim limit of an item category. Floaters extend the claim limit of a particular item to its appraised value. You would want an endorsement to extend the coverage of your jewelry collection, but only need a floater for a single piece.
How renters insurance works
There are two factors that define how your renters insurance policy works:
What perils renters insurance covers
How your renters insurance policy pays out claims
A renters insurance policy provides coverage either against named perils or open perils. Named perils are threats that are expressly written in your renters insurance policy. If your property is damaged by a threat not listed in your policy, it will probably not be covered.
Open peril is also known as "all perils" or "all risk". With open peril coverage, all threats are covered unless they are excluded in writing in your policy.
Renters insurance policies usually provide coverage on a named peril basis. Your insurer may offer open peril coverage at a higher premium.
Insurers pay out on renters insurance claims either at Actual Cash Value (ACV) or Replacement Cost. ACV renters insurance policies compensate the value of a damaged or destroyed item minus depreciation. Replacement Cost, on the other hand, pays out on claims at the cost to replace the item without depreciation as a factor.
As an example, if you had a computer that cost you $1,200 four years ago, ACV will pay out based on what the computer is worth now. After a few years, the value of the computer could be half of what you originally paid for it. With a Replacement Cost renters insurance policy, you would receive a payout equal to what it would cost for an equal quality laptop.
Usually contents are covered by renters insurance at ACV, but most insurance companies offer Replacement Cost policies as well. You would want to prepare for the price difference though. Replacement Cost coverage is usually a lot more.
How to get the best renters insurance coverage
The optimal renters insurance policy would be coverage for open perils at Replacement Cost. This would mean you'd have the widest range of peril coverage with the highest payout option possible.
When you create an inventory list of your belongings, take note of the age of your high-dollar items. If you don't have a large jewelry or art collection and your electronics are fairly new, ACV payout might be a better way to go for now. You can switch to a Replacement Cost policy at a later date when your stuff is older. This way you can save money on your renters insurance premium.
Save on Renters Insurance
Compare quotes from local agents
QuoteWizard.com LLC has made every effort to ensure that the information on this site is correct, but we cannot guarantee that it is free of inaccuracies, errors, or omissions. All content and services provided on or through this site are provided "as is" and "as available" for use. QuoteWizard.com LLC makes no representations or warranties of any kind, express or implied, as to the operation of this site or to the information, content, materials, or products included on this site. You expressly agree that your use of this site is at your sole risk.