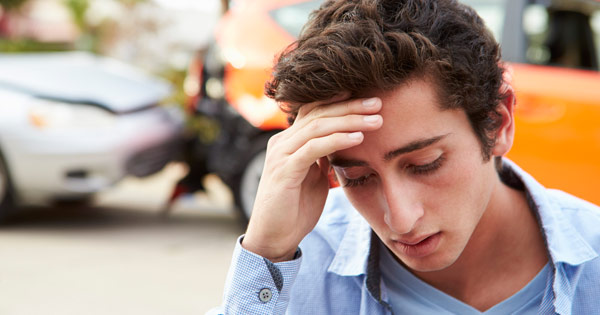 When you buy a car, it can be tempting to obtain a policy with the minimum amount of auto insurance coverage that's legally required in your state.
The thing is, though, that these "legal minimums"—many of which haven't been updated in years or even decades--aren't going to sufficiently protect most people if they cause or are otherwise part of an auto accident at some point down the road.
Don't believe it? Consider the following stories, each of which are highly possible regardless of your driving history or how long you've been driving, and each of which illustrate just how inadequate sticking to your state's minimum car-insurance requirements can be.
Let's say you live in one of the 30 or so states that doesn't require uninsured motorist or underinsured motorist coverage. While driving home from the grocery store, you're rear-ended by someone who lacks any kind of car insurance. You, on the other hand, have the required amount of liability coverage, but that's it--you dropped your collision coverage after you paid off your vehicle a couple of years ago and you've never really seen the benefit of buying uninsured or underinsured motorist coverage. As a result of this accident, your car is severely damaged and you have a nasty case of whiplash, but because the driver who caused the crash has few assets and no car insurance (and you have only the bare minimum), you're basically on your own when it comes to paying your medical bills and fixing or replacing your wrecked car.
Finally, imagine you live in a city like Dallas, which regularly experiences severe thunderstorms. Also imagine, of course, that for whatever reason you only carry the minimum amounts and kinds of car insurance that are legally required of drivers who live in the state of Texas. Now imagine that a thunderstorm appears one day and pounds your precious Toyota Prius with hail the size of golf balls before you can park it in a protected area. Because you only have insurance that covers bodily injury liability and property damage liability--as opposed to comprehensive coverage, which is what would help you in this particular case—you have to pay for the repairs out of your own pocket.
You can find good, affordable coverage if you shop around. Compare quotes from different companies to get the lowest auto insurance rates.
Get to Know the Required Kinds of Liability Coverage
As suggested in the stories above, drivers in the United States aren't required to carry a whole lot of car insurance.
Yes, every state but one—New Hampshire—requires that its citizens own certain types as well as certain amounts of liability coverage, but that coverage often isn't enough to protect people (either the ones paying for the insurance or the ones the insurance is supposed to benefit) in the event of an accident.
That's easy to see when you consider what the required types of liability insurance actually cover:
Bodily Injury Liability (BIL)—Surprisingly, perhaps, this form of coverage doesn't protect you or your vehicle. Instead, its purpose is to protect you if you--or a family member who lives with you, or a person using your car with your consent--cause an accident and injure other people as a result of it. Specifically, it protects you from any claims those folks may bring against you that are related to medical expenses, lost wages, pain and suffering, and the like.
You'll usually see this kind of coverage into two different categories: individual and total, with the first category dealing with the maximum amount that your insurance company will pay for an individual person injured in a car accident and the second category dealing with the maximum amount your insurance provider will pay, in total, for every person injured in an accident.
A few states, like Florida, only require drivers to have $10,000 or $15,000 worth of individual bodily injury liability coverage, while others, like Alaska and Maine, require drivers to have $50,000. The low end for total bodily injury liability coverage, on the other hand, is $20,000, while the high end is $100,000—with most state minimums falling somewhere in the middle.
If some of these amounts seem adequate at first glance, consider how much medical and legal costs have skyrocketed in recent years. In that light, how far do you think, say, $10,000 of individual bodily injury liability coverage will take you if you're involved in an accident that severely injures a couple of other people? (The most likely answer: not very far.)
Property Damage Liability (PDL)—The point of purchasing this type of auto-insurance coverage is so it will pay for any damage you may cause to the property of others—a crumpled fender, a destroyed fence, and even a toppled road sign are a few examples—due to an accident.
States like California, Massachusetts, and New Jersey only require motorists to buy $5,000 worth of property damage liability coverage, while a number of other states, Georgia and Ohio are just two examples, require at least $25,000.
Don't Forget About Uninsured and Underinsured Motorist Coverage
Quite a few states also mandate that people buy uninsured motorist or underinsured motorist coverage if they want to legally hit the road.
Here's what those forms of coverage offer in terms of driver protections:
Uninsured Motorist—If you or any occupants of your car are injured due to an accident and the driver of the vehicle that caused the accident is uninsured (or if the accident was of the hit-and-run variety), this type of coverage will come to your aid.
It'll also come to your aid if you or a member of your family are injured by an uninsured driver or if you're involved in a hit-and-run incident as a pedestrian.
Like the other kinds of car-insurance coverage mentioned earlier in this article, the amounts of uninsured motorist coverage that are required vary widely between the 20 or so states that mandate it.
Underinsured Motorist—This type of coverage protects you and anyone in your car if you're involved in an accident and the at-fault driver--assuming it isn't you--doesn't have enough insurance to cover your medical bills or other related losses. (Basically, it picks up the difference between that driver's bodily injury liability coverage limit and your underinsured motorist coverage limit.)
Only 13 states currently require drivers to purchase this kind of coverage, and the minimums related to those requirements differ from state to state.
If the information shared above isn't enough to convince you to consider buying both uninsured and underinsured motorist coverage if you own and use a car, how about this: according to the Insurance Research Council's "Uninsured Motorists, 2014 Edition," about 12.6 percent of US drivers were uninsured at the time the study was completed. That's one out of every eight drivers!
The bottom line is this: You cannot assume that because your car insurance policy is adequate just because it meets the legal minimum requirements in your state. A driver can have an insurance policy that meets their state's minimum legal requirements, but will subject them to major financial difficulties if they are in a serious accident.
Minimum Liability Car Insurance Levels by State
| State | BIL/BIL/PDL |
| --- | --- |
| Alabama | 25/50/25 |
| Alaska | 50/100/25 |
| Arizona | 15/30/10 |
| Arkansas | 25/50/25 |
| California | 15/30/5 |
| Colorado | 25/50/15 |
| Connecticut | 20/40/10 |
| Delaware | 15/30/10 |
| District of Columbia | 25/50/10 |
| Florida | 10/20/10 |
| Georgia | 25/50/25 |
| Hawaii | 20/40/10 |
| Idaho | 25/50/15 |
| Illinois | 25/50/20 |
| Indiana | 25/50/10 |
| Iowa | 20/40/15 |
| Kansas | 25/50/10 |
| Kentucky | 25/50/10 |
| Louisiana | 10/20/10 |
| Maine | 50/100/25 |
| Maryland | 20/40/15 |
| Massachusetts | 20/40/5 |
| Michigan | 20/40/10 |
| Minnesota | 30/60/10 |
| Mississippi | 25/50/25 |
| Missouri | 25/50/10 |
| Montana | 25/50/10 |
| Nebraska | 25/50/25 |
| Nevada | 15/30/10 |
| New Hampshire | 25/50/25 |
| New Jersey | 15/30/5 |
| New Mexico | 25/50/10 |
| New York | 25/50/10 |
| North Carolina | 30/60/25 |
| North Dakota | 25/50/25 |
| Ohio | 25/50/25 |
| Oklahoma | 25/50/25 |
| Oregon | 25/50/10 |
| Pennsylvania | 15/30/5 |
| Rhode Island | 25/50/25 |
| South Carolina | 25/50/25 |
| South Dakota | 25/50/25 |
| Tennessee | 25/50/15 |
| Texas | 25/50/25 |
| Utah | 25/65/15 |
| Vermont | 25/50/10 |
| Virginia | 25/50/20 |
| Washington | 25/50/10 |
| West Virginia | 20/40/10 |
| Wisconsin | 25/50/10 |
| Wyoming | 25/50/20 |
Note: the first number in the table above refers to the bodily injury liability (BIL) limits for one person injured in an accident (meaning the minimum amount of this type of coverage that's required in Alabama, for example, is $25,000), while the second number refers to BIL limits for all people injured in an accident (again, in thousands of dollars), and the third number refers to property damage liability (PDL) coverage minimums in thousands of dollars.
Minimum Liability Car Insurance Q & A
Q: What is the minimum required insurance coverage for a financed vehicle?
A: The legally required minimum insurance coverage for a financed vehicle is the same as any other vehicle in a given state. However, the company financing the vehicle will require the buyer of the vehicle to obtain comprehensive and collision coverage in addition to whatever coverage is required by law. Collision coverage is fairly self-explanatory. Comprehensive coverage protects a vehicle from a variety of hazards, such as: theft, vandalism, hitting an animal, fire, flood, damage from severe weather or natural disasters, damage from falling objects, and glass damage.
Q:  How much car insurance coverage is enough?
A: This is a difficult question to answer because it depends on a lot of factors like where you live, what kind of vehicle you have, and how much you drive, but ideally you should have liability limits of $100,000/$300,000. You should discuss your insurance situation with a licensed insurance professional to make sure that you have adequate coverage.
Q:  Why is it that so many states haven't updated their minimum insurance coverage requirements in decades?
A: Raising the minimum coverage requirements would mean forcing many drivers to pay more for their car insurance. This would be very politically unpopular.
QuoteWizard.com LLC has made every effort to ensure that the information on this site is correct, but we cannot guarantee that it is free of inaccuracies, errors, or omissions. All content and services provided on or through this site are provided "as is" and "as available" for use. QuoteWizard.com LLC makes no representations or warranties of any kind, express or implied, as to the operation of this site or to the information, content, materials, or products included on this site. You expressly agree that your use of this site is at your sole risk.