Your auto insurance policy should have as much property damage liability coverage and bodily injury liability coverage as you need to protect all of your assets. Liability coverage protects you from the cost of any damages you may cause to others in an accident where you're at fault. State required liability coverage minimums might not protect all of your assets and savings in the case of a car accident.
A good rule of thumb is to tally up the value of all of your assets and subtract any debt you owe and that's the approximation of the amount your total liability coverage should protect. In the end, how much liability car insurance you need depends on how much you need to protect, but we recommend a minimum coverage level of $100,000 in bodily injury protection per person, $300,000 bodily injury protection per accident, and $100,000 in property damage protection.
The good news is purchasing additional liability coverage is relatively cheap and can protect you better in case of an accident.
This article will touch on:
What does liability car insurance cover?
Liability auto insurance covers the cost of any bodily injury or property damage that you cause to others, not yourself, in an accident where you're at fault. Let's say you cause an accident that totals the other party's car, and the other party needs to go to the hospital. In this case, your bodily injury liability car coverage would protect you against the cost of the hospital bills. Your property damage liability coverage would cover the costs of the other party's car repair or replacement—both subject to your deductible, and up to your coverage limits.
There are two main types of liability insurance:
Property damage liability covers repair and replacement costs of any vehicles or property that has been damaged by the crash you caused. This can also include public property and anything you crashed into, such as a tree or mailbox.
Bodily injury liability covers any medical expenses and lost wages for anyone injured (other than yourself) in an accident you caused. For example, if the person you injured makes $60,000 a year and they're unable to work for four months, you would be liable for $20,000 under lost wages coverage.
Liability coverage is often written in a three number format, such as 100/300/100. Each of these numbers is a limit, setting to the maximum amount your insurance company will pay out for a claim. In order, the three numbers in this notation refer to:
Bodily injury coverage per person
Bodily injury coverage per accident
Property damage coverage.
In this case, you would have this coverage:
$100,000 in bodily injury protection per person. If you cause an accident and the injured incurs $125,000 in medical bills, your policy would pay out $100,000 and you would be on the hook for $25,000.
$300,000 in bodily injury protection per accident. This is the total amount of coverage you would have for all injured parties, but your coverage is still subject to per person limits. Let's say two people were injured. One has $50,000 in medical bills. The other has $200,000 in medical bills and foregone wages. Your policy would cover the entire $50,000 for the first person, and only $100,000 for the second. You would be on the hook for $100,000, even though the total of $250,000 in medical bills and foregone wages is under the total $300,000 limit.
$100,000 in property damage protection. If you wreck a car worth $120,000, your insurer would cover the first $100,000 and you would be liable for $20,000.
What car insurance are you required to have?
49 out of the 50 states (all except New Hampshire) in the US require drivers to carry some form of liability car insurance. Each state sets their own minimum liability coverage requirement. North Carolina, for example, requires a minimum of 30/60/25 coverage. If your state requires auto insurance and your policy lapses, not only are you risking your assets in case of an accident, but you can also face penalties such as a fine, imprisonment, and/or suspension of your driver's license by the state.
Many states require additional coverage
Some states require car insurance coverages beyond the liability portion of your car insurance policy. Some minimum protection requirements may include:
Uninsured and Underinsured Motorist Coverage - pays for any damage or injury you sustain in an accident where another motorist is at fault. If that motorist is uninsured or underinsured and cannot pay your bills, your insurer can pick up the tab.
Medical Payments Coverage - also known as MedPay. Covers anyone in your car's injuries, regardless of fault. It does not cover any lost wages, though. Typically less coverage than personal injury protection.
Personal Injury Protection Insurance - covers lost wages and minor injuries (and not severe injuries) in an accident, regardless of fault. In no-fault states , PIP pays before liability coverage.
Collision and comprehensive coverage are also both available as additions to your auto insurance policy. Collision insurance protects you against any damage that results from a car crash. Comprehensive covers you for anything other than a collision--such as theft, vandalism, and natural disasters. Both are subject to a deductible, or how much you owe out of pocket before insurance covers any damage.
Liability insurance coverage limit recommendations
Are the state minimums for liability insurance enough to protect you? The short answer is probably not. You should insure up to your net worth and beyond your state minimum requirement to protect your assets and future wages. If you cause an accident, the other party can sue you for property damage and bodily injury costs. State required auto insurance minimums around $25,000 for bodily injury and a few thousand for property damage won't cut it in a lot of cases. For example, the average new car tops out at $37,000!
You're best off protecting yourself for everything you're worth, and then some. Let's walk through an example of calculating your desired coverage.
| Assets | Value |
| --- | --- |
| House | $200,000 |
| Personal Property | $35,000 |
| Savings | $150,000 |
| Vehicle | $25,000 |
|   | Total: $410,000 |
|   | Example Suggested Coverage: $500,000 |
In this example, your assets add up to over $400,000. In the case of an accident, you can be sued for all of your assets if your insurance doesn't cover the entirety of any damages you caused. You can be sued for more than your net worth, so you would want to ideally cover $500,000 for example through your auto insurance.
In short, you can determine how much auto insurance you need with a simple exercise. Add up the value of your assets (cars, homes, valuables, etc.), less any debt you may have. That number is the minimum liability coverage you should aim to purchase. Add extra protection as a buffer if you can afford it. To get the best rate, make sure to get as many liability car insurance quotes as you can.
Compare great rates with top insurance providers!
You can save up to $492/year.
What if I don't have any assets?
Regardless of your assets, you can be sued for more than your net worth. Let's say you haven't accumulated any assets yet, and even have some debt. At this stage, you should be protected by purchasing the state minimum required bodily injury and property damage liability policies. Remember though, even if you don't have assets now, you can be sued for your future earnings. If you anticipate making more money in the future, you should consider more than basic car insurance coverage if you can afford it. In any case, you should always request multiple quotes to get the best premium.
Umbrella insurance for even more protection
If you have more than $500,000 in assets, you should consider purchasing an umbrella insurance policy which offers protection after you reach your auto insurance liability coverage limits. Most providers cap their auto insurance policy's liability coverage at $500,000 or $1 million. If you need more than the coverage your liability insurance offers, you need umbrella insurance.
You should consider umbrella coverage if:
Own a house
Have savings
Have assets you'd like to protect
Have a high risk of accidents
Rideshare
Let's say you have $300,000 in liability coverage and $1 million in umbrella insurance. You're at fault in an accident and are sued for $1,000,000 in damages. Your liability insurance would pay the first $300,000, and your umbrella coverage would pick up the remaining $700,000.
Umbrella insurance is a good way to protect your assets on top of your auto and homeowners insurance liability coverages. It is often sold in increments of $1 million, and can sometimes protect up to $5 million in assets. Umbrella coverage costs typically are few hundred dollars per year. To get the best umbrella insurance for you, make sure to get as many quotes as you can.
How much does liability insurance cost?
How much is liability car insurance exactly? Auto insurance premiums will depend on many factors including your driving history, vehicle, state, and other coverages. Below are the average sample rates for a 30 year old male in Chicago driving a 2014 Honda Civic EX holding the minimum state required auto insurance. Here are the rates for a 25/50/20 policy with 25/50 Uninsured Motorist coverage:
| Premium per month | Premium for 6 months |
| --- | --- |
| $58.48 | $350.87 |
Increasing liability insurance limits doesn't lead to steep increases in premiums. In our research we found there was only an 8 to 14 percent increase in premiums when bumping up coverage levels. For example, it costs less than $9 more monthly to go from 100/300 coverage to 250/500 coverage! And the difference between the state required minimum and the maximum liability coverage you can have hovers around $20 a month. Your rates will vary, so make sure to speak with your insurance agent and get multiple insurance quotes.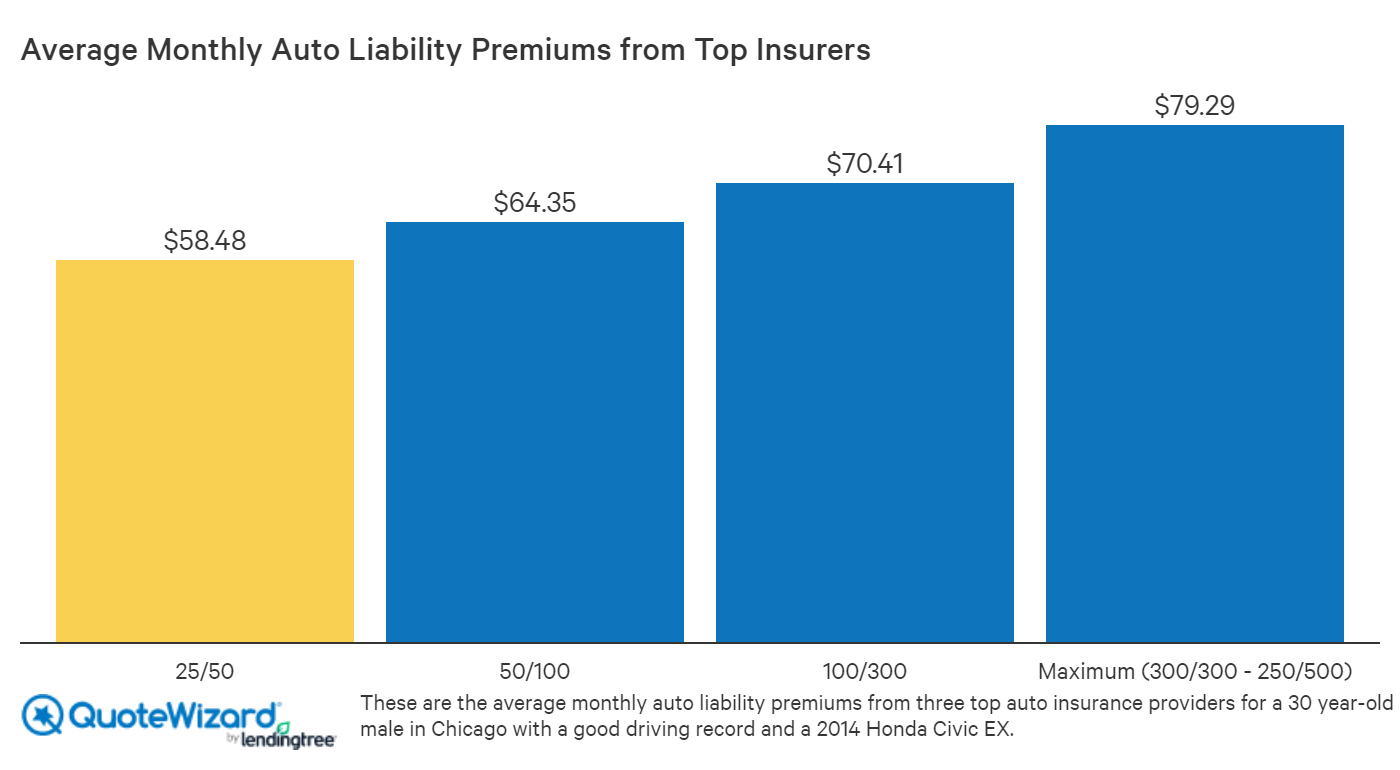 QuoteWizard.com LLC has made every effort to ensure that the information on this site is correct, but we cannot guarantee that it is free of inaccuracies, errors, or omissions. All content and services provided on or through this site are provided "as is" and "as available" for use. QuoteWizard.com LLC makes no representations or warranties of any kind, express or implied, as to the operation of this site or to the information, content, materials, or products included on this site. You expressly agree that your use of this site is at your sole risk.