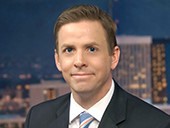 Nick VinZant
Senior PR Specialist
Nick VinZant is a Senior Research Analyst and Insurance Expert at QuoteWizard. A former journalist, Nick spent years covering the insurance, business, technology and transportation industries. He is a graduate of Kansas State University.
Articles By Nick
Pandemic Fuels Rise in Mental Health Prescriptions
The number of Americans prescribed mental health medication has gone up almost 7% since the beginning of the COVID-19 pandemic. This increase means that nearly 65 million people (1 in 5) are now taking prescription medication to help them cope with stress, anxiety or depression.
A Year At Risk: Race, Ethnicity and COVID-19
People of color have disproportionately borne a greater share of the pandemic's toll. As a proportion of the population, people of color have a higher rate of COVID-19 cases and deaths per 100k people, lower vaccination rates, higher rate of frontline and essential workers, less ability to work from home, and a higher rate of unemployment.
Loss of Opportunity: Women and COVID-19
With fewer jobs, unequal access to healthcare and more exposure to COVID-19 on the frontlines, our data suggests that women - especially women of color - have disproportionately borne a greater share of the pandemic's toll.
Which states are staying home. And is it working?
It's been nearly a year since the first cases of COVID-19 led to lockdowns, travel warnings and stay-at-home orders. But how many people have actually stayed home? And is it working? QuoteWizard Bureau of Transportation Statistics and found that the number of people staying home varied widely by state.
Riskiest Places to Travel During Spring Break
Spring Break in 2021 will not only have the dangers of road conditions but the added health dangers of traveling during a pandemic. However, depending on where you're traveling this year those risks can be greater than other destinations.
States with the Worst Road Infrastructure
QuoteWizard analyzed road infrastructure data to see which states ranked overall for worst road infrastructure.