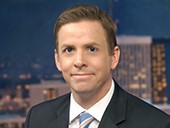 Nick VinZant
Senior PR Specialist
Nick VinZant is a Senior Research Analyst and Insurance Expert at QuoteWizard. A former journalist, Nick spent years covering the insurance, business, technology and transportation industries. He is a graduate of Kansas State University.
Articles By Nick
Inflation's Impact on Each State
Changing economic conditions are making it more difficult for people to afford household expenses. Our team of analysts found that the number of people who said they were having a "very difficult" time paying for their usual household expenses has increased by 50% since June.
Stay or Go: America's New Travel Habits
Our team of analysts at QuoteWizard looked at mobility numbers from the Bureau of Transportation Statistics and the University of Maryland. We found that states that have a higher percentage of people staying home frequently have a lower number of coronavirus cases per capita.
Why Some Parents Are Against Vaccination
Our team of analysts looked at the latest information on vaccine hesitancy to find the main reasons why parents don't want to vaccinate their children.
How Debt in Each State Changed During the Pandemic
Despite record unemployment and financially uncertain times, America's struggle with debt showed signs of improving during the first year of the pandemic. Our team of analysts found that credit card scores improved, more people got caught up on their student loans and the number of people in debt collection has declined over the last year.
Rent Availability and Cost by State
Americans are moving, and it's changing the price of rent nationwide. Our team of analysts found that this reshuffling has dramatically changed the number of available apartments in almost every state, creating a significant issue of supply and demand that has reversed long-standing trends in the price of rent.
The Safest States for Summer Travel
Looking for the best vacation spot? Our analysts go beyond the travel deals to make sure that cheap vacation doesn't turn into an all-inclusive nightmare. We look at everything from driving dangers and crime rates to health statistics to find the safest states to travel to on your next vacation.
The Rising Fear of Eviction or Foreclosure
High housing costs, a potential end to a moratorium on evictions and prolonged unemployment have many Americans worried about keeping a roof over their heads. We found that nationwide, nearly 20% of people (1 in 5) are worried they will face foreclosure or eviction in the next two months.
A Growing Crisis: Drug Overdose Deaths in America
Our team of analysts found that drug overdose deaths have risen by nearly 27% in the last year. Nationwide, more than 87,000 people died of an overdose in 2020, nearly 20,000 more than in 2019.
Fraud Crimes Fueled by COVID-19 Pandemic
In every state, in almost every category, fraud is on the rise — and it's costing people billions of dollars. Our team of analysts found that since the beginning of the COVID-19 pandemic, fraud reports have increased by more than 30%, ultimately costing Americans more than $2.3 billion dollars in 2020.
Unaffordable Housing: Housing Costs Race Ahead of Income
Housing prices are rising fast. Income is not. Our analysts looked at a decade's worth of housing and income reports to find the least affordable states - places where housing costs are racing ahead of income.
Pandemic Fuels Rise in Mental Health Prescriptions
The number of Americans prescribed mental health medication has gone up almost 7% since the beginning of the COVID-19 pandemic. This increase means that nearly 65 million people (1 in 5) are now taking prescription medication to help them cope with stress, anxiety or depression.
A Year At Risk: Race, Ethnicity and COVID-19
People of color have disproportionately borne a greater share of the pandemic's toll. As a proportion of the population, people of color have a higher rate of COVID-19 cases and deaths per 100k people, lower vaccination rates, higher rate of frontline and essential workers, less ability to work from home, and a higher rate of unemployment.
Loss of Opportunity: Women and COVID-19
With fewer jobs, unequal access to healthcare and more exposure to COVID-19 on the frontlines, our data suggests that women - especially women of color - have disproportionately borne a greater share of the pandemic's toll.
Which states are staying home. And is it working?
It's been nearly a year since the first cases of COVID-19 led to lockdowns, travel warnings and stay-at-home orders. But how many people have actually stayed home? And is it working? QuoteWizard Bureau of Transportation Statistics and found that the number of people staying home varied widely by state.
States with the Most Medical Debt and Rising Health Care Costs
Recent trends in health care costs, health care coverage, medical debt and household income have contributed to growing disparities between different income groups in the United States.
COVID-19 Vaccine Hesitancy by State
Side effects, government mistrust, necessity: There are many reasons why millions of Americans have chosen not to get the COVID-19 vaccine. Our team of analysts looked at the latest data on vaccine hesitancy to find the main reasons why people aren't getting vaccinated.
Which States Have The Best Homelessness Assistance Programs
The state of homelessness is an ongoing issue; each year tens of millions of Americans are at risk or endangered of being left without basic needs and safety. Which states have the best access, programs and affordable housing.
Pandemic Anxiety and Depression
The number of people dealing with anxiety or depression in each state has changed along with the pandemic. Our team of analysts found that while anxiety and depression levels increased during the first year of the pandemic, they have decreased dramatically throughout 2021.
The Riskiest States for Holiday Travel
Holiday travel in 2021 will look very different than it did in 2020. More people are expected to travel, coronavirus cases are rising, a new variant is spreading and while more people are getting vaccinated everyday, the Centers for Disease Control (CDC) recently issued new guidance for both children's vaccines and booster shots.
Most Dangerous Roads During COVID-19
We analyzed driver behaviors in each state to see which states have the most dangerous roads during COVID-19 stay-at-home orders.
States Least Prepared for Hospital Capacity
We analyzed Kaiser Family Foundation data on hospital beds and physicians per capita in each state to determine which states are least prepared for hospital capacity.
States with the Worst Road Infrastructure
QuoteWizard analyzed road infrastructure data to see which states ranked overall for worst road infrastructure.
States With The Highest Seat Belt Use
Our team of analysts found that seat belt use has increased by as much as 17% in some states over the last decade. However, we also found that seat belt use is declining in some states. This decline is concerning because nearly half of all traffic fatalities involve someone who wasn't wearing a seat belt.
States With the Highest Rate of Skin Cancer
Ranking all 50 states on the rate of new melanoma cases. The states with the highest rate of skin cancer will surprise you.
Most Dangerous States for Motorcycle Riders
Which states are the most dangerous for motorcycle riders? We ranked each state to find where it's most dangerous to ride your motorcycle
The Best and Worst Drivers in the United States, by City
Ever think to yourself, "My city has the worst drivers in the world"? Your fellow drivers that drive too fast or too slow. Drivers who cut you off or camp out in the left lane.
The Best and Worst Drivers by State 2021
QuoteWizard paired two million data points with state fatality info to determine the best and worst driving states in the nation — and to help settle a few rivalries, too. We also provided an indication of how all 50 states rank in 2021.
Pothole Damage Costs US Drivers $3 Billion a Year
Potholes affect millions of Americans annually. Here's why they're so widespread and how you can protect yourself from them.
Does Home Insurance Cover Firework Injuries and Damage?
Hosting a Fourth of July barbecue this year? Think twice before you set up a fireworks display, or even hand out sparklers.