What is No-Fault Insurance and How Does it Work?
In no-fault states, drivers are compensated by their own insurance companies for injuries after accidents, no matter who caused the crash.
No-fault car insurance covers your medical bills after an accident, whether you caused the crash or not.
If no-fault insurance doesn't sound familiar, personal injury protection might. That's what this kind of auto coverage is called in most no-fault states.
In this article, you will learn about:
What is no-fault insurance?
If you have no-fault insurance and you're injured in an accident, you file claims for medical expenses with your own insurer, even if you caused the crash.
No-fault or personal injury protection (often called PIP) coverage doesn't just compensate for medical bills, though. It also usually covers costs like:
Lost wages.
Replacement services.
Survivor's benefits.
Another hallmark of no-fault, or PIP, coverage is that it limits when you can sue or file claims against other drivers for injuries tied to an accident, as you'll learn below.
What states have no-fault insurance laws?
Twelve states — plus Puerto Rico — currently have no-fault insurance laws in place:
Florida
Hawaii
Kansas
Kentucky
Massachusetts
Michigan
Minnesota
New Jersey
New York
North Dakota
Pennsylvania
Utah
Three of the above — Kentucky, New Jersey and Pennsylvania — are "choice" no-fault states.
Drivers in choice no-fault insurance states can reject the restriction of their right to sue for damages after an accident. Those who choose this option often pay higher premiums than those who agree to limit lawsuits.
All no-fault insurance states require drivers to carry at least a minimum amount of PIP coverage, as the table below highlights.
Personal injury protection minimums by state
State
PIP minimum requirement
Florida
$10,000
Hawaii
$10,000
Kansas

$4,500 per person for medical expenses;

$900 per month for one year for disability or loss of income;

$25 per day for in-home services;

$2,000 for funeral, burial or cremation expenses and

$4,500 for rehabilitation expenses

Kentucky

$10,000 for medical expenses;

$200 per week for loss of income

Massachusetts
$8,000
Michigan
$250,000
Minnesota
$40,000
New Jersey
$15,000
New York
$50,000
North Dakota
$30,000
Pennsylvania
$5,000
Utah
$3,000
Utah requires drivers to buy the least amount of no-fault insurance, at just $3,000 of PIP coverage.
Michigan, on the other hand, requires its drivers to buy a minimum of $250,000 of PIP coverage. That said, you can get less than that amount, or even opt out of PIP completely, if you have ample health insurance or if you're enrolled in Medicare or Medicaid.
How does no-fault insurance work?
In a no-fault state, you submit claims to your own insurance company. They pay damages to you for your injuries. This is different from other states, where drivers submit claims through the other driver's insurance company. In that case, the other driver's insurer may deny the claim.
Another unique aspect of no-fault states and laws is they limit lawsuits against other drivers for medical costs associated with an accident.
What does this mean? In some no-fault states, it means you can only sue another driver if an accident results in things such as:
Death.
Disfigurement.
Permanent injury.
Permanent loss of bodily function.
These no-fault states use what is known as a verbal threshold to restrict when someone can file a suit after a crash. Other no-fault states use a monetary threshold to restrict such suits.
No-fault lawsuit thresholds by state
State
Lawsuit threshold
Florida
Verbal
Hawaii
Monetary (medical bills must be over $5,000
Kansas
Monetary ($2,000)
Kentucky
Monetary ($1,000)
Massachusetts
Monetary ($2,000)
Michigan
Verbal
Minnesota
Monetary ($4,000)
New Jersey
Verbal
New York
Verbal
North Dakota
Monetary ($2,500)
Pennsylvania
Verbal
Utah
Monetary ($3,000)
Source: III
Kansas is a good example of a state that uses a monetary threshold. In Kansas, you can't sue another driver for injuries caused by a car accident unless your medical bills total $2,000 or more. In Utah, your medical bills have to top $3,000 before you can sue someone for pain and suffering.
How much is no-fault insurance?
What you pay for no-fault insurance depends on several factors, including where you live, where you get it and how much coverage you buy.
That last rate factor is particularly important, as some no-fault states require drivers to buy just $5,000 or $10,000 of PIP coverage, while others require coverage of $40,000, $50,000 or more.
Although many other articles and experts will tell you drivers in no-fault states spend more on auto insurance than drivers elsewhere, our research suggests that's not always the case.
Drivers in some no-fault states pay a lot more for auto insurance than they would if they lived somewhere else. But the opposite is also true, as the following graphs show.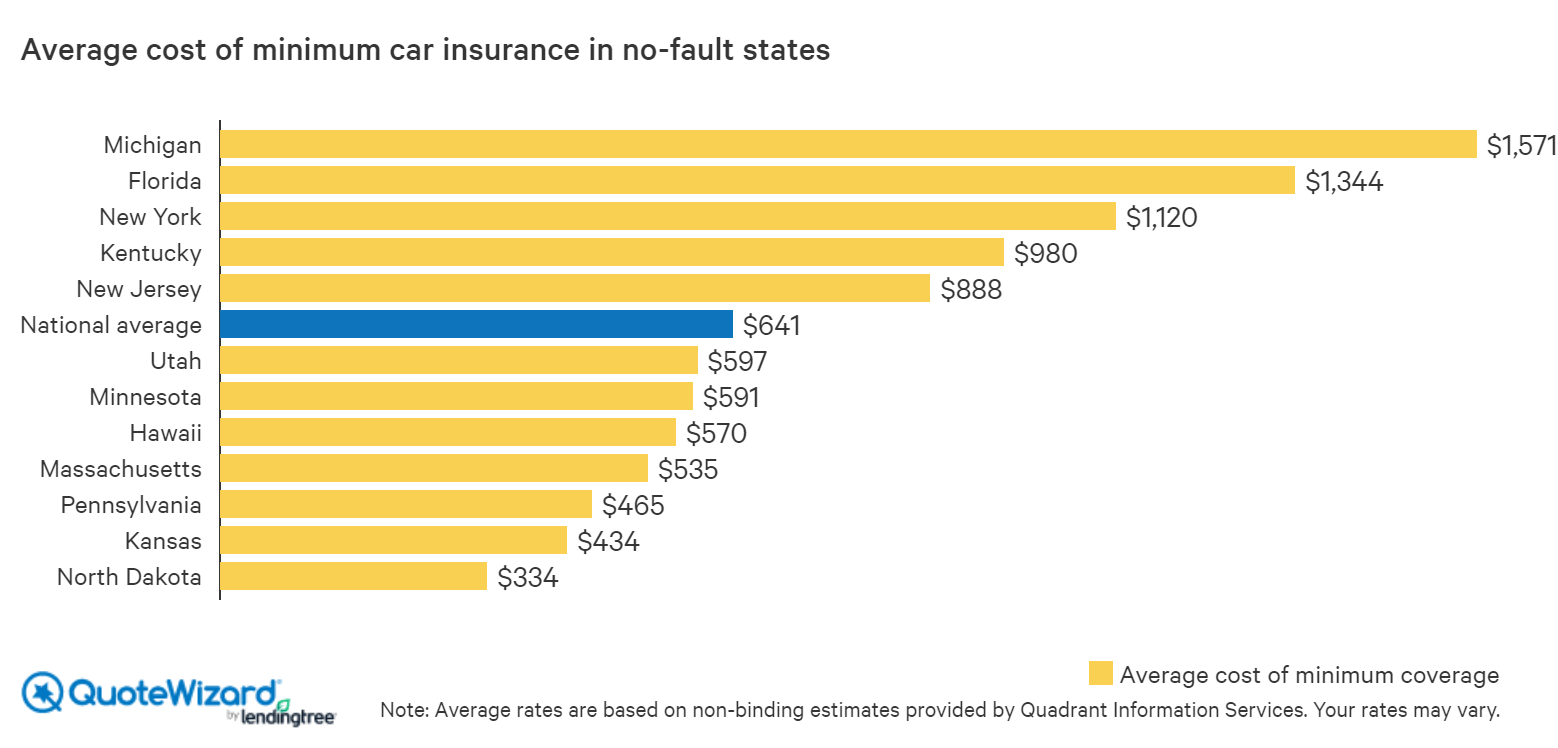 The national average for minimum-coverage car insurance is $641 per year, according to our data. In five of the 12 no-fault states, the average cost of a minimum-coverage policy is higher than that amount, with Michigan leading the way at $1,571 per year.
Seven no-fault car insurance states boast average premiums lower than that amount, though. The average cost of state-minimum coverage in the cheapest locale, North Dakota, is almost half the national average, at $334 per year.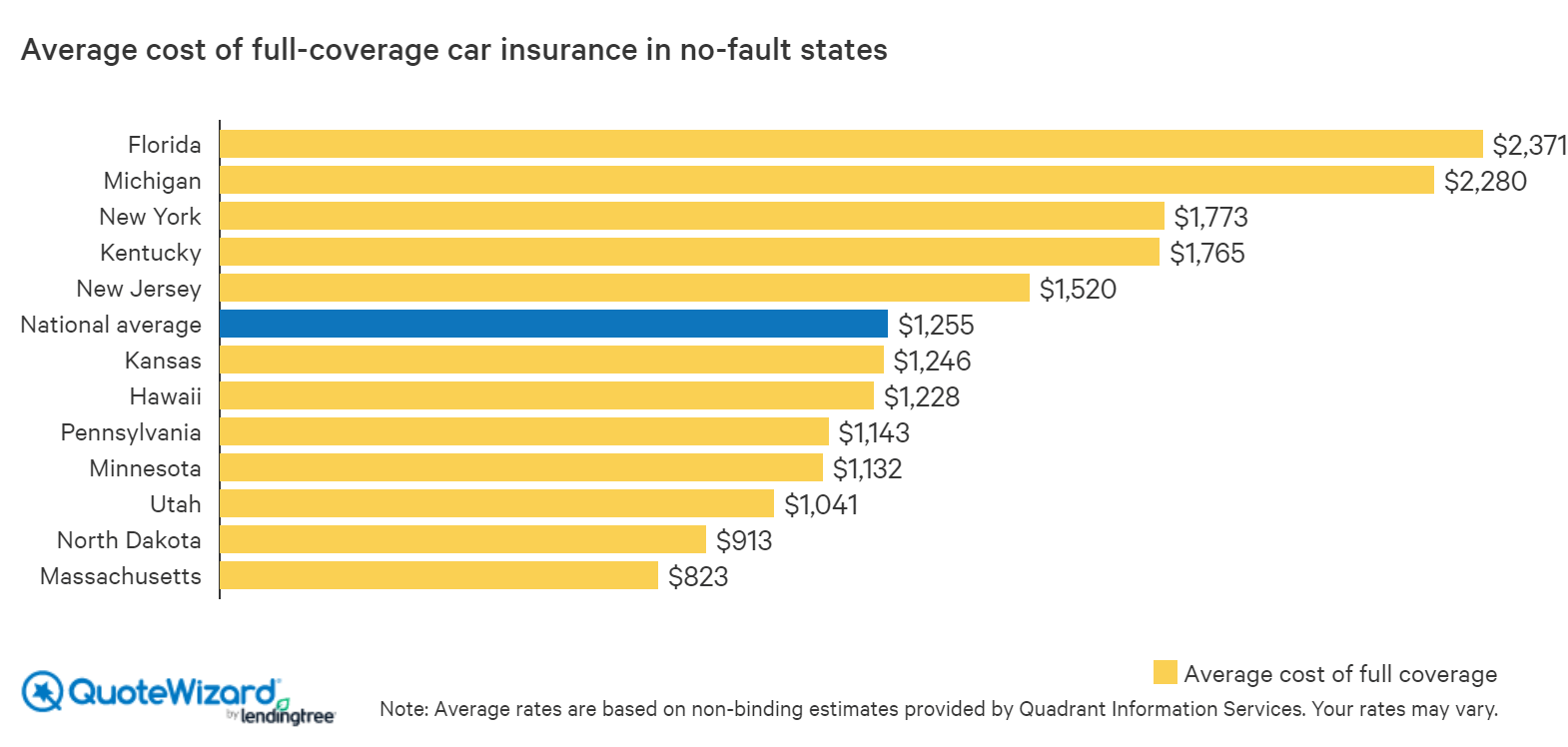 The same is true when you look at the cost of full-coverage car insurance in no-fault states.
In five no-fault states, the average cost of a full-coverage policy is more expensive than the national average. Florida leads the way here, at $2,371 per year. That's $1,116 per year more than the national average for this type of policy — or nearly double the amount.
Drivers in Massachusetts, though, spend an average of $823 per year on full-coverage auto insurance. That's $432 per year cheaper than the national average — even though the state has a no-fault law on the books.
Is no-fault insurance mandatory?
All 12 no-fault states require drivers to carry some amount of personal injury protection coverage.
If you live in Kentucky, you can reject PIP coverage for yourself. In most situations, though, you'll still need to buy "guest PIP" coverage for passengers and pedestrians.
Also, not all states or insurers call this coverage personal injury protection. For example, Kentucky refers to it as basic reparations benefits, as well as PIP. Pennsylvania refers to it as medical benefits coverage.
Methodology
We conducted a comprehensive study of auto insurance rates across the U.S. through Quadrant Information Services. The quotes we collected were for a single, 35-year-old male who has an excellent credit score and a clean driving record. He owns a 2012 Honda Accord and drives it an average of 15,000 miles a year. His car insurance policy has 100/300/50 coverage limits and a $1,000 deductible, where applicable.
QuoteWizard.com LLC has made every effort to ensure that the information on this site is correct, but we cannot guarantee that it is free of inaccuracies, errors, or omissions. All content and services provided on or through this site are provided "as is" and "as available" for use. QuoteWizard.com LLC makes no representations or warranties of any kind, express or implied, as to the operation of this site or to the information, content, materials, or products included on this site. You expressly agree that your use of this site is at your sole risk.