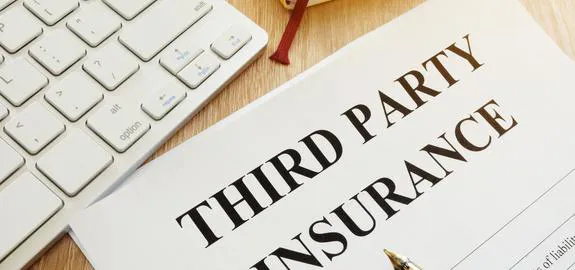 If you have liability insurance, which most U.S. states require by law, you have third-party car insurance. Third-party refers to people involved in an accident that aren't you or your passengers. It is also called liability insurance. A third-party can make a claim against your insurance, which is what third-party car insurance covers. This protects you against legal fees, medical bills and damages the third-party claims as a result of an accident you're at-fault for. This article explains everything you need to know about third-party auto insurance, including:
What does third-party auto insurance cover?
Third-party auto insurance (also known as liability coverage) pays for any bodily injury or property damage you cause to others in an accident. This includes medical expenses, car repairs, legal fees and more. Third-party auto insurance encompasses two types of liability coverage:
Bodily Injury Liability. Pays for medical costs and bodily injuries of another person caused by an accident you're at-fault for.
Property Damage Liability. Covers cost for the other person's property you damage in an auto accident that you're at-fault for.
What is not covered with third-party insurance?
Any injuries and damages that you, your passengers or your property get from an accident aren't covered under third-party insurance. These damages are filed under a first-party insurance claim. You may already have coverage for you and your passengers, which includes comprehensive, collision and PIP.
First-party auto insurance isn't required in most states. But it's good to have so you're protected in case of a car accident. Even though you have the other driver and passengers covered with liability insurance, consider purchasing full coverage to cover your bases.
Third-party vs. first-party insurance
Again, what's covered by liability coverage boils down to whether a third-party or first-party claim is made. Here's the difference between third-party and first-party auto insurance:
First-party. If you or your passengers were injured or your property was damaged in a crash, it's considered a first-party claim. You'll file any first-party claims with your insurer, usually through a comprehensive or collision policy. If you don't have first-party coverage (some people don't as it's not required), you'll pay for expenses out of your own pocket.
Third-party. Any personal injury or property damage claim made by those involved in a car crash, not including you or your passengers, is considered third-party. Third-party claims will also be filed with your insurer. But they're filed by the injured party or the party whose property was damaged in a crash that was your fault.
How much third-party liability car insurance do I need?
Liability car insurance is required in most U.S. states. You should check your state's minimum insurance requirements to ensure you purchase at least that amount. However, you should consider purchasing more than just the minimum.
If you don't purchase enough third-party insurance and you badly injure somebody, you could be forced into debt. You should purchase enough coverage so that you won't lose your assets, savings and investments if you cause a crash. Medical bills, loss of income and property damage can add up to thousands of dollars. The more you have to lose, the more protection you should purchase.
Imagine your state minimum limit is $25,000/$50,000/$25,000. If a third party files a claim for more than those amounts, you'll have to pay out of pocket. Increasing your limits can cost only around $5 to $20 more a month for a lot more coverage. For example, increasing your bodily injury limits from 25/50 to 250/500 (10 times more coverage) only costs $16 more monthly, according to our data.
How to get cheap third-party car insurance
On average, we found that liability insurance costs $58 per month or $351 for six months. That's based on a Chicago driver with a 2014 Honda Civic EX and a 25/50/20 policy. Again, increasing that coverage limit won't add much to your monthly premium. So if you can afford a few dollars more monthly, we recommend increasing your limits.
To find cheap third-party auto insurance, just look for cheap liability insurance. Insurance rates depend on several factors, including your location, driving record, credit score and more. To find the cheapest rates, compare quotes from several insurance companies.
Third-party rental car insurance
If you're renting a car and need third-party car insurance, you may already have it. Remember, third-party insurance is the same as liability insurance. If you have liability insurance on your primary insurance, it usually applies to rental cars. Check with your insurer and credit card companies before renting to be sure.
If you don't have pre-existing third-party car insurance, you can easily purchase it at the counter with your rental car company. Either way, you need to make sure you have third-party liability insurance before driving away in your rental car.
References:
QuoteWizard.com LLC has made every effort to ensure that the information on this site is correct, but we cannot guarantee that it is free of inaccuracies, errors, or omissions. All content and services provided on or through this site are provided "as is" and "as available" for use. QuoteWizard.com LLC makes no representations or warranties of any kind, express or implied, as to the operation of this site or to the information, content, materials, or products included on this site. You expressly agree that your use of this site is at your sole risk.