Compare Auto Insurance in Houston
With a population of around 2.3 million people, Houston, Texas is the fourth largest city in the United States. Now, Houston residents can get car insurance savings that are every bit as big as their city with QuoteWizard.
Average Houston Car Insurance Rates
How much is car insurance in Houston, TX? You can thank bad driving and an extremely high vehicle theft rate for rising car insurance rates in Houston. Average rates here are higher than both the state and national averages. The average cost of auto insurance in Texas is $934.22 per year. The national average cost is $889.01.
Car insurance prices in Houston vary depending on several factors. These include your driving history, your claims history, and where you live.
Houston, TX Average Annual Car Insurance Rates
Coverage
Men
Women
Liability
$915
$1,017
Collision
$417
$400
Comprehensive
$135
$116
Total Cost Per Year
$1,467
$1,533
Price Per Month
$122.25
$127.75
These average rates are based on our sample quote data. 1
The graph below shows the change in average Texas auto insurance rates from 2011 to 2015. Car insurance rates in Texas increased from $808 in 2011 to $934 in 2015, a jump of $125, or 15.48 percent.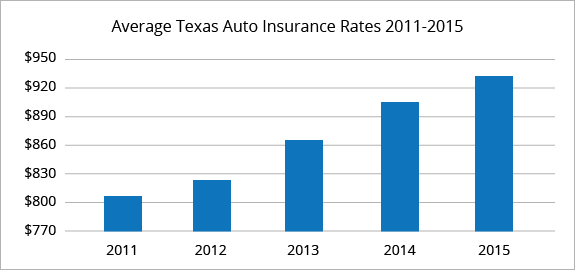 QuoteWizard helps consumers compare quotes from national insurance companies and local agents. Comparing quotes helps you find cheap car insurance rates near Houston, Texas. You can save up to 40% on your premium by using QuoteWizard.
Last year, 64,413 residents used QuoteWizard to compare auto insurance quotes in Houston, TX from multiple companies and find the cheapest rates.
Best Car Insurance Companies in Houston, TX
These are the most popular car insurance companies reported by QuoteWizard users in Houston, Texas last year. Of these 64,413 drivers using QuoteWizard, 12,915 were uninsured when they requested a quote.
Other popular Houston, Texas car insurance companies: MetLife, Safeco, Country Financial, American Family, 21st Century, Texas Farm Bureau, and Hartford.
Best High-Risk Auto Insurance Companies
Drivers with tickets and accidents on their record may be classified as high-risk. If you're a high-risk driver, you pay significantly higher insurance rates. Some high-risk drivers might be unable to find a company willing to offer them coverage.
Fortunately, high-risk drivers in Houston can find coverage through the Texas Automobile Insurance Plan Association. TAIPA helps ensure that every driver can get minimum coverage levels. In Texas, that's 30/60/25. We'll discuss what those coverage levels entail in the 'Car Insurance Minimum Coverage' section below.
Regardless, these companies offer insurance policies for Houston's high-risk drivers:
Texas Farm Bureau Insurance
A-MAX
Top 10 Vehicles
These are the most common cars owned by Houston, TX drivers using QuoteWizard last year.
Ford F150
Honda Accord EX/LX
Toyota Camry LE/XLE/SE
Nissan Altima 2.5 S
Chevrolet Impala LS
Ford Mustang
Ford Explorer
Ford Taurus SE
Chevrolet C1500 Silverado
Dodge Charger
Cheapest Houston Zip Codes/Neighborhoods
Zip Code
Monthly Rates
Annual Rates
77059 - Clear Lake
$83
$998
77339 - Kingwood
$84
$1,008
77058 - Clear Lake
$84
$1,014
77062 - Clear Lake
$85
$1,019
77079 - Memorial 
$86
$1,028
Average rates are based on non-binding estimates provided by Quadrant Information Services. Your rates may vary. 2
Most Expensive Houston Zip Codes/Neighborhoods
Zip Code
Monthly Rates
Annual Rates
77036 - Sharpstown
$111
$1,326
77072 - Alief
$108
$1,298
77033 - South Park 
$104
$1,249
77083 - Aleif
$104
$1,245
77053 - Fort Bend Houston
$103
$1,234
Average rates are based on non-binding estimates provided by Quadrant Information Services. Your rates may vary. 2
Minimum Car Insurance Requirements in Houston, TX
Houston, Texas has a minimum liability coverage requirement known as the 30/60/25 rule. This means each policy must include at least:
Individual Bodily Injury Liability (BIL): $30,000.
The maximum amount your insurer pays for a person injured in a car accident.
Total Bodily Injury Liability: $60,000.
The total your insurance company pays for every person injured in a car accident.
Property Damage Liability (PDL): $25,000.
The most your insurance carrier pays for property damage caused by a car accident.
Recommended Coverage Levels
It's not a great idea to buy only legal minimum coverage While it costs less, minimum coverage becomes more expensive if you file a claim. Why? Minimum coverage does not include comprehensive or collision coverage. Plus, it's easy to exceed minimum coverage levels after an accident.
With that in mind, we recommend that Houston drivers buy the following coverage:
Individual Body Injury Liability: $100,000
Total Bodily Injury Liability: $300,000
Property Damage Liability: $100,000
Houston Drivers
QuoteWizard releases annual studies on the Best and Worst Drivers by state and city. When it comes to good drivers, Houston and Texas are both above average.
On our city study, Houston drivers ranked 40th best out of 100 cities. On our state study, Texas ranked 22nd best out of every state. 
That's good news for Houston drivers, because living in an area with low-risk drivers lowers your insurance premium.
Driving Conditions
Driving conditions in Houston are a major reason insurance rates in this city are higher than the national average. Severe weather and inadequate road maintenance negatively affect driving conditions.
Weather
Houston weather is warm because it's so close to the Gulf of Mexico. Summers are hot and humid. Winters are mild. Frequent and heavy rainfall and below sea-level elevation creates many problems for local drivers in the form of urban flooding. Most recently, Hurricane Harvey devastated the city, destroying up to one million cars. On the bright side, it almost never snows.
Road Conditions
TRIP reports that 24 percent of Houston's roads are in poor condition. Another 28 percent are mediocre.Records show that Houston road paving has decreased by 53% since 2008. If you think potholes are getting worse, it's not your imagination. Pothole repairs have declined from 19,000 fixes in 2012 to 16,000 in 2014.  Road conditions cost Houston drivers $610 a year in extra vehicle operating costs due to traffic congestion, crashes, and repairs.
Traffic Congestion
TomTom ranks Houston 117th in the world worst traffic. An average commuter spends 121 hours per year stuck in heavy traffic on poorly maintained roads.
Moving Violations
Moving violations can give you a bad driving record. Insurance carriers flag the worst drivers with the most tickets "non-preferred" and make them buy non-standard, high-risk auto insurance.
Traffic Tickets
The City of Houston Municipal Courts website allows you to pay your traffic tickets. You can also find out how to contest a ticket. If you get a moving violation, you should fight it. Moving violations can raise your insurance rates for three to five years.
SR-22 DWI Insurance
A DWI conviction may require you to obtain an SR-22 form. Filing an SR-22 form is an expensive and time-consuming process. It's almost guaranteed to raise your insurance rates.
DWI Crashes and Injuries
Houston reported 1,560 crashes involving alcohol or drugs in 2017. These accidents caused 708 injuries and 72 fatalities involving impaired drivers.
Car Accident Statistics
Houston, TX officials reported 59,630 car crashes in 2017 resulting in 28,178 injuries. 1,202 of these injuries were serious.
Traffic Fatalities
Houston officials reported 216 fatal car crashes in 2017 resulting in 232 fatalities.
Vehicle Theft Rates
Houston police reported 11,680 vehicle thefts in 2017. A rate of 5.05 per 1,000 residents. This is more than twice the national average of 2.37 thefts per 1,000 people.
Car Insurance Discounts
Auto insurance discounts are a great way for drivers to lower their rates. Below are some of the many discounts available to drivers in the Houston area.
Rate Methodology
1 We compared rates from three different insurance companies for 30-year-old male and female drivers with a 2010 Honda Accord. Our rate profiles have a clean driving record and drive less than 10,000 annual miles. Coverage includes state liability minimum of 25/50/10 and 25/50/10 underinsured motorist coverage. Policies also include $10,000 personal injury protection and a $500 comprehensive and collision deductible.
2 Auto insurance rate data was provided by Quadrant Information Services. Rates are based on a driver profile of a 35-year-old, owning a 2015 Toyota Camry, drives less than 10,000 annual miles, good credit, clean record, and state minimum liability of 25/50/10. Rates are an average of the top 10 insurance companies in the state of Texas.
Car insurance agents in Houston, TX:

Kenneth Eaves
Eaves & Associates, LLC
Allstate
(281) 404-0432
4951 FM 2920
Spring, TX 77388
We are committed to giving you the best value for your money on your insurance coverage. We specialize in Home, Auto, and Life Insurance, as well as Financial Services.
Sources:
QuoteWizard.com LLC has made every effort to ensure that the information on this site is correct, but we cannot guarantee that it is free of inaccuracies, errors, or omissions. All content and services provided on or through this site are provided "as is" and "as available" for use. QuoteWizard.com LLC makes no representations or warranties of any kind, express or implied, as to the operation of this site or to the information, content, materials, or products included on this site. You expressly agree that your use of this site is at your sole risk.