Lexington is known as the Horse Capital of the World. But if you prefer to travel by car instead of horse, you need a good car insurance policy. We'll help you get a great policy at an even better price.
Average Lexington Car Insurance Rates
How much is car insurance in Lexington, KY? Residents shouldn't be surprised to learn average car insurance rates in Lexington are higher than both the state and national averages. Urban living conditions and some of the nation's worst traffic congestion and vehicle theft rates are causing rates to go up. The average cost of auto insurance in Kentucky is $801.97 per year. The national average price is $889.01.
Prices may vary depending on your driving record and the number of claims filed in your zip code.
Kentucky Average Annual Car Insurance Rates
Coverage
Rates
Liability
$529.21
Collision
$267.91
Comprehensive
$141.39
Total Cost Per Year
$801.97
Price Per Month
$66.83
Source: Facts + Statistics: Auto insurance
The graph below shows the change in average Kentucky rates from 2011 to 2015, the most recent year the data is available. According to the III, Kentucky car insurance rates increased from $744 in 2011 to $802 in 2015, a jump of $57 dollars, or 7.71 percent.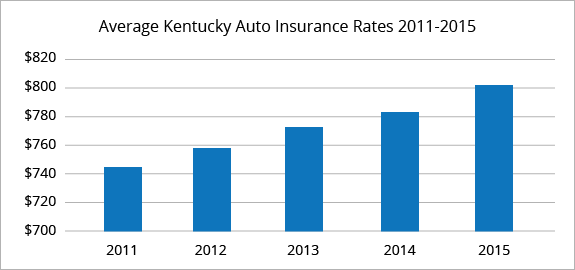 QuoteWizard helps consumers compare quotes from both national insurance companies and local agents. QuoteWizard can help you find cheap car insurance rates near Lexington and save up to 40% on your premium.
Last year, 17,561 people used QuoteWizard to compare auto insurance quotes in Lexington, KY from multiple companies to find the cheapest rates.
Best Car Insurance Companies in Lexington, KY
These are the most popular car insurance companies reported by QuoteWizard users in Lexington, Kentucky. Last year 11,050 people in Lexington used QuoteWizard to find auto quotes. Of those people, 2,169 were uninsured.
Other popular auto insurers in Lexington include Amica Mutual, Cambridge Insurance, and Shelter Insurance.
Top 10 Vehicles in Lexington
These are the most popular cars driven by Lexington, KY QuoteWizard users.
Toyota Camry LE
Ford F-150
Toyota Camry SE
Chevrolet Impala
Toyota Camry
Toyota Avalon XL
Honda Accord EX
Jeep Grand Cherokee Laredo
Nissan Altima S
Chevrolet Impala LT
Minimum Car Insurance Requirements in Lexington, KY
Lexington, Kentucky has a minimum coverage requirement known as the 25/50/10 rule. This means each policy must include at least the following three components:
Individual Bodily Injury Liability (BIL): $25,000.
The most your insurance company will pay for an individual person injured in a car accident.
Total Bodily Injury Liability: $50,000.
The maximum amount your insurer will pay in total for every person injured in a car accident.
Property Damage Liability (PDL): $10,000.
The most your carrier will pay for property damage caused by a car accident.
Recommended Coverage Levels
Getting only minimum coverage may seem like a good move in the short run. However, it can cost more than it's worth if you have an accident. The minimum doesn't include collision or comprehensive coverage. Should your accident go beyond the range of your policy, the price tag could be huge. 
In order to assure you have adequate coverage, we recommend the following: 
Individual Body Injury Liability: $100,000 
Total Bodily Injury Liability: $300,000 
Property Damage Liability: $100,000
Comprehensive and collision coverage
Lexington Drivers
Living in an area known for bad driving can raise your rates. Our study shows that Lexington ranks as the 53rd worst driving city. This ranking includes accidents, speeding tickets, DUIs, and citations occurring in Lexington.
Driving Conditions
Factors such as weather, state of the roads, and traffic can affect your insurance rates. Riskier driving conditions lead to higher premiums.
Weather
Kentucky is one of the most dangerous states for driving in the rain with 67 crashes and 71 fatalities from rain in 2016. The slippery roads make for higher chances of a crash. Living in a region with dangerous driving weather can raise your rates.
Road Conditions
Only about 8.1 percent of the roads in Kentucky overall are in poor condition. This is great because the damage they do to your car over time can affect your premium. Driving on bad roads in Lexington only costs you an average $425 a year in extra costs. That's lower than most cities.
Traffic Congestion
INRIX ranks Lexington 564th of 1,360 world cities on the list of traffic congestion. You're looking at spending an extra 17 hours on roads every year. Fortunately, that comes out to just a few minutes a day.
Moving Violations
Tickets and accidents will increase your auto insurance costs. If you've had many citations, you may need to get high-risk insurance. That means higher premiums or even coverage cancellation.
Traffic Tickets
The Lexington Police Department wrote 9,568 speeding tickets in 2017. This is a 27.3 percent increase over the citations written in 2016. Too many citations lead to higher insurance rates. Tickets can cost you time, money, and increasing rates. Watch your speed and do what you can to avoid them.
DUI and DWAI Arrests
If you are arrested for a DUI in Lexington, you'll face license suspension, pay between $200 and $10,000 in fines, and serve up to 5 years in jail. Even if you do get a light sentence, getting a DUI will raise your rates. Our study shows that drivers with a DUI pay $830 more per year for car insurance.
SR-22 DUI/DWAI Insurance
Kentucky does not require you to file an SR-22 form as proof of financial responsibility. If you have moved from another state that does require an SR-22, you'll need to fulfill the SR-22 requirement with that state.
Car Accident Statistics
High accident rates result in higher insurance costs. In 2017, Lexington drivers suffered 17,105 collisions. According to the police department, accident rates increased every year from 2012 to 2017. In 2014, for example, Lexington saw 14,581 crashes.
Traffic Fatalities
Lexington reported 35 fatal crashes in 2017, a drop from 50 traffic fatalities in 2016. Drivers also suffered from 2,402 car-crash injuries.
Vehicle Theft Rates
Drivers in areas with a high rate of car thefts pay higher car insurance rates. Lexington reported 1,412 auto thefts in 2017.
Car Insurance Discounts in Lexington
Looking to save money on your car insurance in Lexington? There are many discount options available to lower your premiums:
If you bundle your car insurance with your home or renters insurance, you can cut up to 20 percent off your total bill 
If you're married, insurers often offer discounts to married couples 
If you're 55 or over, see if a senior citizens discount is available 
If you live in a safe neighborhood in Lexington, you could save money 
There are discount rates for active and retired members of the Military, National Guard, or Reserves
Make sure your car as up-to-date safety features and anti-theft devices
Sources:
QuoteWizard.com LLC has made every effort to ensure that the information on this site is correct, but we cannot guarantee that it is free of inaccuracies, errors, or omissions. All content and services provided on or through this site are provided "as is" and "as available" for use. QuoteWizard.com LLC makes no representations or warranties of any kind, express or implied, as to the operation of this site or to the information, content, materials, or products included on this site. You expressly agree that your use of this site is at your sole risk.