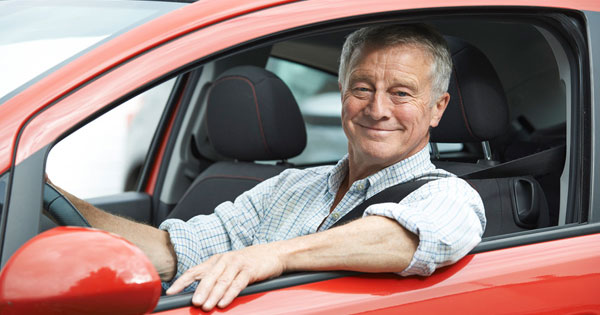 The "Baby Boomer" generation is usually defined as Americans born between 1946 and 1964. The first members of this large generation turned 65 in 2011. This marks the beginning of an increasingly large number of Americans retiring. Today, more drivers on the roads than ever are retirees and/or senior citizens, and the numbers are only going to increase.
Older drivers usually end up paying more for car insurance once they reach 70 years of age. Senior citizens' senses generally get less sharp as they age. Their hearing and vision weaken somewhat, and they might have slower reflexes. However, older drivers are also usually more experienced and more cautious than their younger counterparts.
And most insurers still view senior citizens as safer drivers than teenagers. For example, according to The Huffington Post, a 60-year-old man pays 59 percent less for car insurance than a 20-year-old man.
Besides this, retired people typically drive less than people who have to commute to work every day. And of course, being on the road less decreases your chance of getting into an accident.
This is why some companies offer discounts specifically for senior citizens. But in order to get this reduced rate, your insurer might require you to take a safety course first.
Here are a few other ways to save on car insurance if you're a senior citizen:
Get senior driver car insurance discount quotes!
Compare and save.
Click Here to Begin
Mature Driver
One of the best discounts out there for senior citizens is often automatic. Once you turn a certain age—generally 55—your insurance company will typically give you a discount.  This benefit is referred to as a "mature driver", or "newly retired" discount.
The age you need to be to qualify for it, as well as the discount amount, varies based on the company. As discussed, you may have to take a safety course in order to receive this discount. This course must be certified by the state Department of Public Safety or Motor Vehicles. The course must be taken voluntarily, and not be court-mandated.
Most insurance companies will reserve the right to cancel your discount if you're involved in an at-fault accident. Ask your insurer at what age you qualify, any requirements about the defensive driving course you take (if applicable), and how big the discount is.
Here are a few examples from some major insurers:
Geico
Geico offers a defensive driver discount for older drivers. The specifics vary by state, but in general, expect to save up to 10 percent if you are at least 50 years old. You will also need to take a defensive driving class to receive this discount.
Allstate
Older drivers can receive a number of discounts from Allstate. They offer both a "senior adult" discount and a "55 and retired" discount. To qualify for the latter, drivers must be 55 or older, not working and not looking for full-time work. Drivers meeting these requirements can save up to 10 percent on their car insurance.
If you're at least 55 and take a defensive driving course and have no at-fault claims, you're also eligible for the defensive driver discount. To qualify, you'll need to take a course that is at least six hours long.
If you're over 55 and complete a defensive driving class, you're eligible for a discount of around 5 percent off your usual car insurance rates.
Farmers

Farmers offers a senior defensive driver discount to eligible customers. Depending on the state, drivers have to be at least 55 years old, while some states require you to be 65. You'll also need to complete a driver's education course.
Esurance
Called the defensive driver discount, the age you can get this reduced rate from Esurance depends on your state. The age range in which you qualify also depends on your location, and varies from 50 to 60 years old.
To qualify, you'll need to take a defensive driving class. Your lower rate usually is good for three years after you take the safety course. The discount amount also varies, but can be up to 10 percent off.
Liberty Mutual
According to the Liberty Mutual website, you're eligible for a "newly retired" discount after you retire. The site notes that discounts vary by state. Inquire with your agent to find out more details.
AARP or AAA discount
The American Association of Retired Persons (AARP) notes that many states require insurers to offer a reduced car insurance rate if someone completes an AARP Smart Drive course.  Even if they don't legally have to, many insurers will offer a discount.
This course educates older drivers on the rules of the road which may have changed since they last took a class. It also instructs drivers on ways to make up for loss of hearing, vision, and slower reflexes.
The American Automobile Association (AAA) also offers defensive driving classes that are specifically for drivers over 55.  Again, taking these courses can lead to a discount on your premiums.
Low mileage discount
According to ABCnews.com, retired drivers usually drive between 7,00 to 8,000 miles a year.  This is significantly less than working drivers who average around 12,000 miles a year commuting.
Insurers assume that being on the road less decreases the likelihood you'll get into a crash. Many companies may offer you a discount for driving less. Some insurers will even base your premium on how many miles you drive each year.
Retired military
Many companies offer discounts to veterans and retired military personnel as thanks for their service. Insurance companies are no exception. For example, Geico offers active duty and retired military 15 percent off their premiums.
If your insurer doesn't offer one of these discounts, you can shop around to find a company that does. Compare auto insurance quotes and lower your premium.
Other Ways to Save
Senior drivers can try to reduce their rates in other ways as well. Older drivers who usually have their children or someone else drive them may want to change the primary driver on their insurance. This can help lower car insurance rates, depending on the other driver's age and driving record.
Of course, one of the easiest ways to lower car insurance rates is to reduce unnecessary coverage. While all drivers need to legally have liability insurance, collision, comprehensive, and rental car coverage aren't mandatory.
You may feel like these extra coverages aren't worth the money if you're driving a lot less than you used to, and would rather take the chance of something happening to your vehicle.
Another common way to lower rates? Raise your deductible. By increasing your deductible, you'll end up paying much less for your monthly premiums.
If you do this, be prepared to file fewer claims. This is because policyholders should always try to pay for repairs out of pocket, if they cost less than the deductible.
Again, one of the easiest and quickest ways to lower your rates is by from different insurance companies.
For more ways to save, read our guide to 32 common car insurance discounts.
Frequently Asked Questions
Q: How much can retired drivers save with a mature driver's discount?
A: The amount you can save depends on your location and insurance company. You can usually shave up to 10 percent off your premium.
Q: How do you qualify for a mature driver's discount?
A: Again, this depends on your insurance company. Some insurers will automatically give you this discount once you reach a certain age. Even so, you should ask your agent about this discount rather than assume you're getting the reduced rate.
Many companies will offer a mature driver's discount once you turn 55, but some require you to be 65 years old. Often, you will need to take a defensive driving course. And if you get into a car accident that is your fault, your discount may be revoked.
Q: Why do insurers offer this deal to senior citizens?
A: Contrary to what many people might think, older drivers are often the safest people on the road. Why? They have many more years of driving experience and they're more cautious than many younger drivers.  
In addition, people who are retired drive less, since they don't have to commute every day to work. Many insurers will only give this discount after the policyholder completes a defensive driving class.
References:
QuoteWizard.com LLC has made every effort to ensure that the information on this site is correct, but we cannot guarantee that it is free of inaccuracies, errors, or omissions. All content and services provided on or through this site are provided "as is" and "as available" for use. QuoteWizard.com LLC makes no representations or warranties of any kind, express or implied, as to the operation of this site or to the information, content, materials, or products included on this site. You expressly agree that your use of this site is at your sole risk.