What to Do If You're Hit by an Uninsured Driver
There are millions of drivers on the road without insurance coverage. Here's what to do if someone who doesn't have car insurance hits your vehicle and damages it or injures you.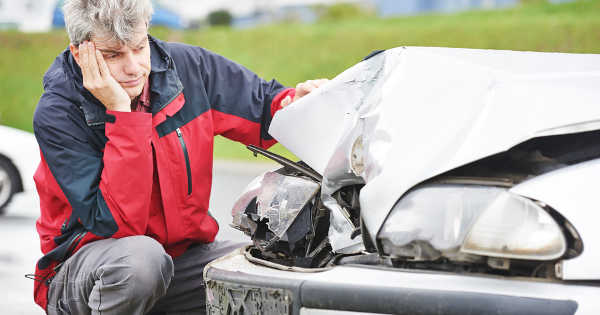 Nearly every state in the US requires its drivers to own at least a minimum amount of liability coverage. Still, there are those who don't buy even that much car insurance—despite it being against the law. So what happens when one of them hits your vehicle?
Normally, when you get in a car accident, the insurance of the at-fault driver pays for the damage. It's more complicated, when someone without insurance hits your vehicle and damages it or injures you or your passengers. 
Thankfully, this article explains what to do if you find yourself in that situation.
1. Determine Fault
Before filing a police report or insurance claim, you need to determine who's at fault for the accident. And while doing so, it's important to consider where you live. Is yours a no-fault state or a tort state? You'll take different actions if you live in a tort state than if you live in a no-fault state.
No-fault vs. Tort
Twelve out of the 50 states are no-fault states. In a no-fault state, it's everyone for themselves. Meaning, if you get into an accident, you pay for any property damage or injuries that result from the crash. This is true no matter which driver caused it. 
In tort or at-fault states, the driver who caused the accident has to pay for any damages tied to it. This is true whether or not they have car insurance.
So depending on which state you call home, either you'll pay for the damages or the other driver will.
If you live in a no-fault state, you'll be good to go. But what if you live in a tort state and the other driver doesn't have insurance? That's when you have to worry about the uninsured driver who hit you.
Underinsured and Uninsured Motorist Coverage
According to the Insurance Research Council, as of 2012, 12.6 percent of US motorists were uninsured. And while those numbers have slightly declined over the years, they're still staggering.
This is why uninsured and underinsured motorist coverage is so important. It's also likely why many states require it.
Uninsured motorist (UM) or underinsured motorist (UIM) protection is for when drivers without insurance or enough liability coverage hit you. This coverage will pay for car repairs, property damage, and medical bills.
Most UM or UIM policies won't allow you to carry more coverage than your liability insurance coverage. So if you have 100,000 dollars' worth of liability coverage, that's how much you'll have in uninsured or underinsured motorist coverage. Of course, you can speak with your insurer for more information, as policies will vary by insurer.
And if you don't have this kind of policy but are interested in it, let QuoteWizard help. We'll connect you with a handful of agents so you can compare quotes and get the best rates.
2. File a Police Report
After you determine fault, you'll need to file a police report.
Personal injury attorney Thomas J. Simeone of Simeone & Miller LLP says for uninsured motorist claims, "Insurance companies can be skeptical. So it is important to call both the police and your insurance company as soon as possible."
When Simeone says insurers can be skeptical, what he means it's hard to get an insurer to pay out an uninsured motorist claim. They need valid evidence that you're not at fault. And they'll get this evidence if you file a police report.
Stan Hladik, owner of The Secret Insurance Agency, agrees. He says, "Whenever an accident happens and you are not at fault, take the time to get the police there. It is time well invested."
He says that just exchanging information at the scene of the accident isn't enough. There's no guarantee that the insurance information given to you by the other party is valid.
"A police report will be your protection that the incident happened based upon the facts you know to be true. And will document if someone has valid insurance," says Hladik.
For example, if the offender claims they don't have insurance, the police will be able to confirm or deny this.
3. File a Claim
After filing a police report, your next step should be to file an uninsured motorist claim with your insurance provider. Your insurer will pay for the medical bills and property damage sustained to your vehicle, up to your coverage amount.
Don't drag your feet, by the way. File the claim sooner rather than later. Most insurers only give you 30 days to file an uninsured or underinsured motorist claim.
And if you don't have uninsured motorist protection, you can file a claim under the collision portion of your policy. The downside is this won't reimburse you for any medical expenses, which can add up quickly.
Similarly, keep in mind that getting an insurance company to pay out on an uninsured motorist claim can be difficult. That's why it's important to file a police report and to keep all receipts related to repairing your vehicle. Also, keep all records of any medical care you receive as a result of the accident. If you can prove you were injured, it's much more likely your insurance company will pay out your claim.
On top of that, gather all the evidence you can that the other party is uninsured. Do this as soon as possible after the accident. The more evidence you have against the other driver, the more likely your claim will go through.
And if your claim is denied, hire an attorney to help prove negligence on the part of the other driver.
4. Press Charges
You must file a police report and insurance claim if an uninsured driver damages your vehicle or injures you. Whether or not you take this next step depends on your particular situation and how it pans out.
What if you file an uninsured motorist claim but don't get enough money to cover your repair or medical bills? You may want to take the offending driver to small claims court.
Just remember that lack of insurance often means lack of assets and lack of a solid income too. Justin Elsner, a managing attorney at Elsner Law Firm, PLLC, says, "If someone doesn't have insurance, they oftentimes don't have much money either. So while you could sue the person, it may not be worth the time and expense."
Given that, most experts only advise pressing charges if you think you have a good chance of winning the case. Even then, though, you won't walk away with anything if the other party has no savings or other assets.
Don't take our word for the above. If you have questions or concerns, talk with an experienced attorney. He or she will be able to guide you through this process.
Frequently Asked Questions
Q: What if I don't have uninsured motorist coverage and an uninsured driver hits me?
A: If you don't have uninsured motorist coverage, your collision coverage should cover the costs. But it won't cover medical payments.
"If you don't have uninsured motorist insurance, then I recommend that people file a notice with the Department of Licensing along with your proof of damages," Elsner says. He says that at least in the state he represents, "the Department of Licensing will suspend someone's license if they do not pay for damages related to an auto collision."
Elsner says filing a notice with your Department of Licensing may prompt the other driver to pay for the damages caused to your vehicle.
So if you don't have UM coverage, don't fret too much. Still, it's not a bad idea to consider buying it in the future.
Q: What happens if the driver who hits me has insurance, but not enough to cover the damages?
A: In at-fault states, the liability insurance of the person who caused the crash covers damage to your vehicle. What happens if that isn't enough? Hopefully you have underinsured motorist coverage. This will pay for what the other party's insurance can't cover in terms of medical expenses and property damage. It covers the difference between your total losses and the offender's coverage.
Q: Can your insurer increase your rates when you file an uninsured or underinsured claim?
A: In many states, it's illegal to raise insurance rates or cancel your policy when you file a claim for accident damage you didn't cause. To learn more about this, talk with your insurer or even your state insurance commissioner.
Q: I've heard it isn't easy to get an insurance company to pay out an uninsured or underinsured motorist claim. Is this true?
A:  This is true, which is why it's so important to file a police report immediately after the accident. That report can help to prove you weren't at fault.
On a related note, don't forget to keep documentation related to the accident. For example, keep all medical bills as well as dated receipts from any repairs made to your car. They'll help prove damage was sustained to you or your vehicle due to the accident.
Also, if the other party sticks around after the accident, get whatever information from them that you can. It could be helpful if the insurance company denies your claim and you decide to file a lawsuit against them.
Q: What if neither I nor the other driver has insurance?
A: You'll have to pay out of pocket for your repair and medical bills.
Also, not carrying insurance is illegal in most states. The police may put a hold on your driver's license until you can pay off any fines they issue. These fines can be hefty, by the way—well into the $5,000 range, in some cases.
So before it's too late, get yourself an insurance policy. Even if you don't think you can afford it. It could save you thousands of dollars in the long run. Would you want to pay an average of $100 a month in premiums, or a $2,000 in car repairs?
Q: What if my uninsured motorist claim is denied?
A: If this happens, and you need the money, consider hiring an attorney and taking on the insurance company. Just be aware that this will be expensive.
Also, don't take this step if you don't have enough evidence to win your case. Instead, use your health insurance and the collision coverage to take care of any damages from the accident.
QuoteWizard.com LLC has made every effort to ensure that the information on this site is correct, but we cannot guarantee that it is free of inaccuracies, errors, or omissions. All content and services provided on or through this site are provided "as is" and "as available" for use. QuoteWizard.com LLC makes no representations or warranties of any kind, express or implied, as to the operation of this site or to the information, content, materials, or products included on this site. You expressly agree that your use of this site is at your sole risk.