How Long After a Car Accident Can You File an Insurance Claim?
Your insurance company might say you need to file a claim within 24 hours of a car accident, but you have more time than that.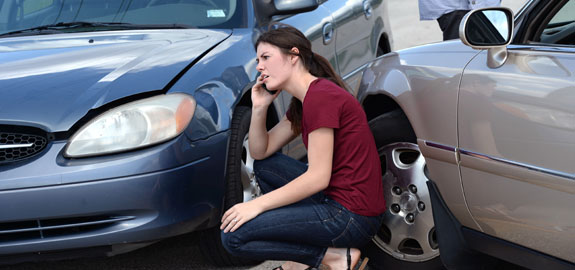 You have as long as your car insurance company or policy says you have to file a claim after an accident—which could mean 24 hours, 30 days, a year, or even "as soon as possible." It varies from state to state, and company to company. Additionally, claim time limits also depend on whether it's a property damage or injury claim.
You'll learn more about that is in this article, and you'll also learn about:
How Long Do You Have to File an Insurance Claim After a Car Accident?
You might have as little as a day or as long as three or more years to file a claim related to a car accident.
How long you have to file an insurance claim after crash depends on:
Which car insurance company provides your coverage
Whether you file a bodily injury or personal property damage claim in the wake of the incident
For example, some insurance companies give you a year to file a bodily injury claim tied to an accident. Others give you three years. The same is true of personal property damage--though insurers often give you longer to file these comprehensive or collision claims.
But most insurance companies just say you need to file a car accident claim "promptly" and not specify a timeline.
You might think where you live has something to say about all of this, too. Usually it doesn't. A few states, the majority of which are part of the no-fault insurance system, have passed laws about how quickly a person needs to file a claim after a car accident. The rest leave that decision up to insurance providers.
All states have statutes of limitations that dictate how quickly you need to file a lawsuit after an auto accident, however. And those time limits also depend on whether your claim has to do with personal property damage or bodily injury.
Insurance Company Claim Time Limits
Many insurance companies urge policyholders to start the claims process within 24 hours of an accident. Or they'll say to do so within 30 days. At best, they'll suggest you file a claim "as soon as possible."
For instance, State Farm tells people via its website to contact them "immediately after an auto accident." Another page on its site prompts them to "notify your insurance agent as soon as possible." Progressive uses similar language online, calling on customers to "report your claim to us as soon as possible." The sites of two other major insurance companies, Geico and USAA, don't mention anything about accident claim time limits, however.
Still, USAA, Geico, and other insurers often detail these time limits in the documents they send people who buy auto coverage from them. So, look over your policy to find out when your insurance company wants you to file a claim after a car accident.
Look over your policy, too, to find out when you need report an accident to your insurance company or the police. Most insurers require this, and they typically require you to do it within a certain number of hours or days.
No matter what your car insurance policy says about how long you can wait to file a claim after an accident, don't drag your feet on doing so.
Yes, you technically might have three years to file an accident claim. Wait that long, though, and it could impact your payout. It could even keep you from receiving a payout at all. Why? Because the longer you take to file a claim, the harder it is for your insurance company to assess any damage or injuries tied to the crash or determine who is at fault for it.
What Happens If You Don't Report a Car Accident?
You might think the only thing that can happen to you if you don't report a car accident to your insurance company is you'll have to pay for any repairs out of your own pocket.
If the "crash" in question consisted of you slamming your car door into the side of your garage, you may not care. Especially if filing a claim for such an accident causes your insurance rates to go up.
In pretty much every other situation, though, you should tell your insurer if you get into an accident. Here are a couple of reasons why:
Maybe you think the other driver is at fault for the accident. He thinks otherwise and decides to sue you over it. If you didn't report the crash to your insurance company, it'll have a hard time gathering evidence on your behalf.
Car damage isn't always obvious right after crash. Sometimes it takes a while to affect a vehicle's performance. The same can be said of injuries. Not reporting an accident to your insurance company could result in it not covering your resulting repair or medical bills.
State Statute of Limitations for Injury and Property Damage Lawsuits
Sometimes you need to go beyond filing an insurance claim after an auto accident and file a lawsuit.
Thankfully, states are a lot more specific about how long you have to file a lawsuit related to an accident than insurers are about how long you have to file a claim related to one.
If you call Louisiana home, for example, state law gives you one year to file a lawsuit after a car accident. This is true whether you're filing a claim for personal property damage or for bodily injury. If you live in North Dakota, state law puts a time limit of six years on those same lawsuits after a crash.
Every other state, with the exception of Rhode Island, sits somewhere in the middle when it comes to these time limits. The time limit in California is two years for bodily injury and three years for personal property damage, for example.
Here are the statutes of limitations for property damage and injury lawsuits in each state:
State
Bodily Injury
Personal Property Damage
Alabama
2
6
Alaska
2
2
Arizona
2
2
Arkansas
3
3
California
2
3
Colorado
2
2
Connecticut
2
2
Delaware
2
2
District of Columbia
3
3
Florida
4
4
Georgia
2
4
Hawaii
2
2
Idaho
2
3
Illinois
2
5
Indiana
2
2
Iowa
2
5
Kansas
2
2
Kentucky
1
3
Louisiana
1
1
Maine
6
6
Maryland
3
3
Massachusetts
3
3
Michigan
3
3
Minnesota
2
6
Mississippi
3
3
Missouri
5
5
Montana
3
2
Nebraska
4
4
Nevada
2
3
New Hampshire
3
3
New Jersey
2
6
New Mexico
3
4
New York
3
3
North Carolina
3
3
North Dakota
6
6
Ohio
2
4
Oklahoma
2
2
Oregon
2
6
Pennsylvania
2
2
Rhode Island
3
10
South Carolina
3
3
South Dakota
3
6
Tennessee
1
3
Texas
2
2
Utah
4
3
Vermont
3
3
Virginia
2
5
Washington
3
3
West Virginia
2
2
Wisconsin
3
6
Wyoming
4
4
Source: nolo.com
If you do plan to file a lawsuit after a car accident, be sure to consult with a local attorney about your state's statute of limitations and any specific state requirements for filing your claim. 
QuoteWizard.com LLC has made every effort to ensure that the information on this site is correct, but we cannot guarantee that it is free of inaccuracies, errors, or omissions. All content and services provided on or through this site are provided "as is" and "as available" for use. QuoteWizard.com LLC makes no representations or warranties of any kind, express or implied, as to the operation of this site or to the information, content, materials, or products included on this site. You expressly agree that your use of this site is at your sole risk.