Compare Auto Insurance in Phoenix
Phoenix, Arizona is a huge city. And not just in terms of population. In land area as well. Phoenix's city limits encompass over 500 square miles. That's more than twice the size of the city of Chicago. It's also the sixth most populous city in the United States. It's a huge city. So, if you live here, you'll be doing plenty of driving, so having affordable car insurance is important.
Average Phoenix Car Insurance Rates
How much is car insurance in Phoenix, AZ? The average cost of insurance coverage in Phoenix is $1,126 a year for men and $1,178 for women. The average cost of auto insurance in Arizona is $843.92. The national average price is $889.01 per year.
Prices may vary depending on many factors: your driving record and the number of claims filed in your zip code. Having liability or comprehensive coverage also affects how much you pay for car insurance.
Phoenix, AZ Average Annual Car Insurance Rates
Coverage
Men
Women
Liability
$660
$709
Collision
$374
$378
Comprehensive
$92
$91
Total Cost Per Year
$1,126
$1,178
Price Per Month
$94
$98
These average rates are based on our sample quote data. 1
The graph below shows the most recent year Arizona's rate data is available. According to the III, Arizona car insurance rates increased from $776 in 2011 to $844 in 2015, a jump of $67, or 8.67 percent.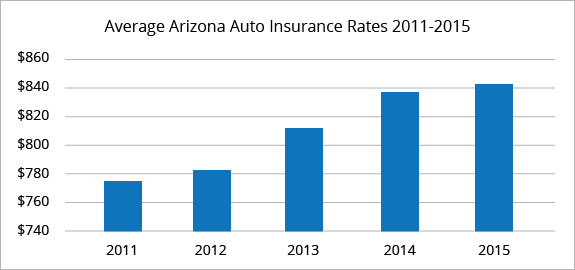 QuoteWizard helps consumers compare quotes from both national insurance companies and local independent agents. Comparing quotes can help you find cheap car insurance rates near Phoenix, Arizona and save up to 40% on your premium.
Last year, 28,991 people used QuoteWizard to get an auto insurance quotes comparison in Phoenix, AZ from multiple companies to find the cheapest rates.
Best Car Insurance Companies Phoenix, AZ
These are the most common car insurance companies reported by QuoteWizard users in Phoenix, AZ last year.
Other popular Phoenix, Arizona car insurance companies: Safeco, USAA, MetLife, Hartford, Infinity, Country Financial, Arizona Farm Bureau, and 21st Century.
Top 10 Vehicles
These are the most common car makes and models owned by Phoenix drivers requesting quotes through QuoteWizard last year.
Ford F150
Honda Accord EX/LX
Ford Mustang
Honda Civic EX
Chevrolet Malibu LS
Chevrolet C1500 Silverado
Chevrolet Impala
Ford Ranger
Chevrolet Blazer
Ford Taurus SE
Minimum Car Insurance Requirements in Phoenix, AZ
Phoenix, Arizona has a minimum liability coverage requirement known as the 15/30/10 rule. This rule means drivers are required to maintain policies that include at least:
Individual Bodily Injury Liability (BIL): $15,000.
The total amount your insurer will pay for one person injured in a car accident.
Total Bodily Injury Liability: $30,000.
The total amount your insurer will pay for every person injured in a car accident.
Property Damage Liability (PDL): $10,000.
The maximum amount your insurer will pay for property damage caused by a car accident.
Arizona lets residents to get a certificate of deposit of $40,000 assigned to the Office of the Arizona State Treasurer.
Phoenix Drivers
When it comes to safe driving, Phoenix, AZ drivers are better than average. Phoenix ranked 77th out of the 200 cities in a recent report published by Allstate. While most US drivers go ten years without having an accident, drivers here crash every nine years.
Driving Conditions
Driving conditions like weather and traffic congestion are factors that can affect your insurance rates.
Weather
The weather in Phoenix can be described in two words: hot & dry. The summers here are long and hot, with the temperature frequently exceeding 100 degrees, and the winters are short and seldom very cold. On average, Phoenix sees only 36 days with any measurable precipitation a year. An average of only 8 inches of rain falls annually. However, monsoon moisture can result in sudden downpours that can cause flash flooding. The biggest weather concern for drivers is the heat, which can be extreme during the summer. In a typical year, the mercury in Phoenix will rise above 100 degrees on 107 days.
Road Conditions
The condition of Phoenix roads leaves something to be desired and contributes to increased costs for drivers. TRIP reports that 23 percent of the major streets in Phoenix in are in poor condition. And 29 percent are mediocre. These under-maintained streets are partly responsible for the $550 a year drivers pay for extra vehicle operating costs.
Traffic Congestion
At least the traffic in Phoenix isn't too bad. According to TomTom's annual traffic index report, Phoenix, AZ ranks 165th for worst traffic congestion in the world. But, commuters spend an extra 20 minutes per day stuck in traffic during rush hour commutes lasting 60 minutes. And 77 hours a year for 30 minute commutes.
Moving Violations
Moving violations like speeding tickets and accidents can add points to your driver's license. This will give you a bad driving record and higher rates. These points can stay on your record for up to three years. If you get too many points on your driving history, your insurer could change your status to non-preferred. When this happens, your insurer will probably ask you to buy a non-standard policy for high-risk drivers.
Traffic Tickets
The Phoenix Municipal Court website allows you to pay traffic citations. It also tells drivers how to contest tickets, and provides helpful traffic court information.
SR-22 DUI Insurance
A DUI conviction could require you to obtain an SR-22 form. Get a quote and compare rates from top companies that specialize in Phoenix DUI insurance.
Drunk Driving Accidents and Fatalities
Phoenix Police reported 1,308 car crashes in 2017 in which alcohol was a factor. These DUI crashes caused 779 injuries and 89 fatalities.
Car Accident Statistics
Phoenix recorded 43,986 car crashes in 2017 resulting in 12,968 injuries.
Traffic Fatalities
Phoenix reported 230 deaths in motor vehicle crashes in 2017. While all traffic deaths are tragedies. And with Phoenix's estimated population of 1,626,078, this is a safe US city in terms of traffic fatalities.
Vehicle Theft Rates
Phoenix officials reported 7,653 vehicle thefts in 2017. This is a rate of 4.71 per 1,000 residents. This is nearly double the national rate of 2.37 auto thefts per 1,000 people.
Car Insurance Discounts
Do you want more affordable car insurance? Discounts can save you a ton of money. Below are some of the many auto insurance discounts available to Phoenix, AZ area drivers.
Rate Methodology
1 We compared rates from three different insurance companies for 30-year-old male and female drivers with a 2010 Honda Accord. Our rate profiles have a clean driving record and drive less than 10,000 annual miles. Coverage includes state liability minimum of 25/50/10 and 25/50/10 underinsured motorist coverage. Policies also include $10,000 personal injury protection and a $500 comprehensive and collision deductible.
Car insurance agents in Phoenix, AZ :

Chris Burt
BrotherLife Financial Services
(480) 650-4166
3527 E Lafayette Ave
Gilbert, AZ 85298
BrotherLife Financial Services is the evolution of a family business started in 1996.  The mission of the business started simple: To provide consumers with access to information about competitive life insurance companies.

Norman Maul
Norman D Maul Insurance Agency, Inc.
(602) 942-8373
14001 N 7th St
STE E109
Phoenix, AZ 85022
The Norm Maul Insurance Agency has been proud to represent Farmers Insurance since 1977. Ours is a family run business. With Norm the Agent and outside sales person, and his wife Janet Maul the office manager.

Steve Proctor
Proctor Agency
Allstate
(623) 242-5705
18001 N 79th Ave
STE A9
Glendale, AZ 85308
Do you want the best quality company that is not cheap regarding claims and service. But is less expensive with premiums? You may also want an easy way to compare the costs of your many options? With the Proctor Agency of Allstate that's what you get!
Sources:
QuoteWizard.com LLC has made every effort to ensure that the information on this site is correct, but we cannot guarantee that it is free of inaccuracies, errors, or omissions. All content and services provided on or through this site are provided "as is" and "as available" for use. QuoteWizard.com LLC makes no representations or warranties of any kind, express or implied, as to the operation of this site or to the information, content, materials, or products included on this site. You expressly agree that your use of this site is at your sole risk.