Compare Car Insurance in Tucson
Tucson, Arizona is home to the University of Arizona Wildcats, whose basketball team boasts the third highest winning percentage in the nation over the last 20 years. The Wildcats made 25 consecutive NCAA tournaments between 1985 and 2009, the second highest record in NCAA history. So, bear down on your car insurance and make sure you're getting the cheapest rates possible.
Average Tucson Car Insurance Rates
How much is car insurance in Tucson, AZ? Residents shouldn't be surprised to learn that average car insurance rates in Tucson are higher than both the state and national averages. The average cost of auto insurance in Arizona is $843.92. The national average price is $889.01 per year.
Prices may vary depending on your driving record and the number of claims filed in your zip code.
Arizona (AZ) Average Annual Car Insurance Rates
Coverage
Rates
Liability
$508.76
Collision
$277.96
Comprehensive
$186.12
Total Cost Per Year
$843.92
Price Per Month
$70.32
Source: Facts + Statistics: Auto insurance
The graph below shows the most recent year Arizona's rate data is available. According to the III, Arizona car insurance rates increased from $776 in 2011 to $844 in 2015, a jump of $67, or 8.67 percent.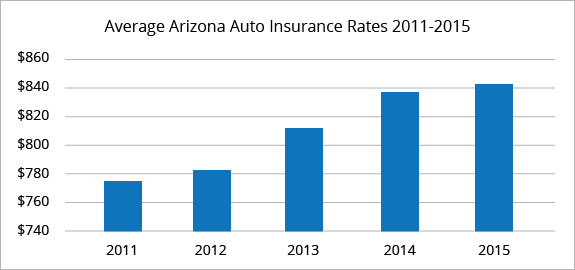 QuoteWizard helps consumers compare quotes from both national insurance companies and local independence agents. Comparing quotes can help you find cheap car insurance rates near Tucson, Arizona and save up to 40% on your premium.
Last year, 17,150 residents used QuoteWizard to compare auto insurance quotes in Tucson, AZ from multiple companies to find the cheapest rates.
Best Car Insurance Companies in Tucson, AZ
These are the most common car insurance companies reported by QuoteWizard users living in Tucson, Arizona last year.
Other popular Tucson car insurance companies: Esurance, Safeco, Hartford, MetLife, Travelers, Country Financial, 21st Century, and Arizona Farm Bureau.
Top 10 Vehicles
This is our list of the most common car makes and models owned by Tucson, AZ drivers requesting quotes through QuoteWizard last year.
Ford F150
Honda Accord EX/LX
Ford Mustang
Toyota Prius
Ford Ranger
Honda Civic EX
Ford Explorer
Chevrolet C1500 Silverado
Dodge Ram 1500
Chevrolet Impala
Minimum Car Insurance Requirements in Tucson, AZ
Tucson, AZ has a minimum liability coverage requirement known as the 15/30/10 rule, which means drivers must maintain policies that include at least:
Individual Bodily Injury Liability (BIL): $15,000.
The most your insurance company will pay for one person injured in a car accident.
Total Bodily Injury Liability: $30,000.
The total amount your insurance company will pay for every person injured in a car accident.
Property Damage Liability (PDL): $10,000.
The maximum your insurance company will pay for property damage caused by a car accident.
The State of Arizona also allows residents the option of obtaining a certificate of deposit of $40,000 assigned to the Office of the Arizona State Treasurer.
Tucson Drivers
Allstate Insurance recently published a report showing that when it comes to safe driving, Tucson, AZ ranked 23rd out of 200 cities. While most US drivers go ten years without having an accident, drivers here are involved in crashes every 10.6 years.
Driving Conditions
Some factors that can affect insurance rates in Tucson are the weather, driving, and road conditions.
Weather
Tucson has a desert climate with long, very hot summers and short, mild winters. Tucson is a very dry city with only 11.56 inches of rainfall per year. What little moisture there is comes between July and September. It can get cold enough to snow here and it sometimes does. However, snowy days are so infrequent that local drivers never see enough to become good at driving in it.
Road Conditions
The condition of Tucson roads is a growing concern for local commuters. According to TRIP, 33 percent of the major roads are in poor condition. 28 percent are mediocre. These poorly maintained streets are cost drivers $661 a year in extra vehicle operating costs. These additional operating costs are a direct result of driving on rough roads and are a contributing factor in car accidents.
Traffic Congestion
TomTom's ranks Tucson 138th for worst traffic congestion in the world. An average commuter spends an additional 17 minutes per day stuck in traffic during rush hour commutes. They spend an extra 65 hours per year for those with 30-minute commutes.
Moving Violations
Moving violations such as speeding tickets, accidents, following too close, and drunk driving can add points to your driver's license and raise your insurance rates. Too many of these violations, though, and your insurer could change your status to non-standard. If that happens, you'll probably have to get a high-risk insurance policy. And that won't be cheap.
Traffic Tickets
The City of Tucson Traffic Civil Traffic Court website allows residents to pay traffic tickets. It also tells drivers how to contest tickets, and provides helpful traffic court information.
DUI Arrests
The Tucson Police Department recorded 2,686 DUI arrests in 2013, an increase of 8% over the 2,470 arrested in 2012.
SR-22 DUI Insurance
A DUI conviction may require you to obtain an SR-22 form. Get a quote and compare rates from local agents and top companies that specialize in Tucson DUI insurance.
Drunk Driving Accidents and Fatalities
Tucson County Police reported 462 alcohol related crashes in 2017. These accidents caused 344 injuries and 21 fatalities.
Car Accident Statistics
Tucson County recorded a 6,680 car crashes in 2017 resulting in 3,180 injuries.
Traffic Fatalities
Tucson reported 62 deaths in motor vehicle crashes in 2017. All traffic deaths are a tragic loss, but considering Tucson's estimated population of 535,677 this is a safe city in terms of traffic fatalities.
Vehicle Theft Rates
Tucson reported 2,477 stolen vehicles in 2017. This is a rate of 4.62 per 1,000 residents. This is nearly twice the national vehicle theft rate of 2.37 per 1,000 Americans.
Car Insurance Discounts
Are you looking for affordable car insurance? Discounts are a great way to lower your rates. These are some of the many auto insurance discounts available to drivers in Tucson, AZ.
Tucson is home to Davis Monthan Air Force Base, one of the most active bases in the US. Many insurance companies offer discounts for active and retired Military.
Almost 17 percent of Tucson's population is senior citizens. If you're one of them, you could qualify for a senior discount. Ask your insurer if they have one.
If you have a short commute like many Tucson drivers, ask about a low mileage discount.
The average home in Tucson has two cars. Most insurers offer multi-car discounts.
Bundling car and homeowners insurance is a sure-fire way to save up to 20 percent on your rates.
Sources:
QuoteWizard.com LLC has made every effort to ensure that the information on this site is correct, but we cannot guarantee that it is free of inaccuracies, errors, or omissions. All content and services provided on or through this site are provided "as is" and "as available" for use. QuoteWizard.com LLC makes no representations or warranties of any kind, express or implied, as to the operation of this site or to the information, content, materials, or products included on this site. You expressly agree that your use of this site is at your sole risk.