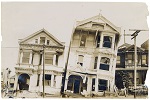 While most people know how destructive earthquakes can be, many people don't realize that earthquake damage is not covered by a standard homeowners insurance policy. It's not difficult to obtain earthquake coverage for your home, but it is notoriously expensive in the regions where it is most needed. For this reason, many Americans tend not to purchase it.
Read on to learn more about this misunderstood type of insurance coverage and whether it makes sense for you to have earthquake coverage.
What is earthquake insurance?
Earthquakes aren't a covered peril under a standard homeowners policy. Depending on your insurance company (and possibly your state), you can either add it as an endorsement to your policy, or purchase a separate earthquake policy.
Earthquakes can cause damage in the form of landslides, avalanches, tsunamis, floods, fires, and more. However, earthquake insurance will only reimburse you for damage directly caused by an earthquake. There are separate riders and policies for mudslides/landslides and floods. Fires are usually covered under a standard homeowners policy.
What does earthquake insurance cover?
Earthquake insurance will cover the structure of your home in the event that it is damaged by an earthquake. It will also cover the personal property inside of your home, and possibly additional living expenses in the event that your home becomes uninhabitable for a period of time.
Cost of Coverage
The biggest downside of earthquake insurance is the cost. Not only can it be costly, but it can also be quite the mathematical challenge to determine how much coverage to get.
As is the case with most types of insurance, there are two components to the cost of the coverage—one is the deductible, and the other is the monthly premium.
Deductible
This is the amount of money you will have to pay out of your own pocket, before your insurance coverage will kick in. Within the business of earthquake insurance, the deductible can be quite large. This is because depending on where you live in the country, major earthquakes can be quite likely to occur in the short term, and quite costly for the insurance company.
Usually, earthquake deductibles will range from 10 to 20 percent of a policy's coverage limit. For example, say you have a 200,000 dollar coverage limit on your dwelling, with a deductible of 15 percent. Let's say that hypothetically your home suffers earthquake damage of around 50,000 dollars.
This means you would be paying $30,000 dollars and your insurer would be paying the cost of damage minus the deductible amount. This would come out to around 20,000 dollars.
The calculations can get pretty complicated, but here is a simplified list of how a deductible works for dwelling coverage:
Coverage Limit: $200,000
Deductible: 15%
Damage Costs: $50,000
Deductible Amount You Pay: $30,000
Amount Insurer Pays: $20,000
You want to make sure that you can pay your deductible before your coverage kicks in, otherwise this coverage won't be very useful.
Premium
You earthquake insurance premium will be calculated similarly to your homeowners insurance. Your insurer will take into account your home's location and whether it is in an earthquake zone. They'll take into account how old your home is, what materials it's made of, and whether you already have earthquake-proofed (retrofitted) it or not.
An adjuster also might take into consideration the replacement cost or actual cash value (ACV) of the home. ACV is the replacement cost minus depreciation. Replacement cost represents how much it would cost to return the home to the condition that it was in prior to the earthquake.
Are you curious how much it would cost to get earthquake coverage for your home? QuoteWizard can help you compare earthquake insurance rates to find the lowest cost coverage.
How do I reduce the risk of earthquake damage to my home?
Do you live in an earthquake prone area, but don't want to pay for an expensive earthquake insurance policy? There are safety precautions you can take to reduce the risk of earthquake damage to your home.
For example, you may consider retrofitting your home so that it will be better able to withstand moderate earthquakes. This would include things like bolting the walls of your home to the foundation, and aggressively securing your furnace and water heater. When making your house safer, your insurer will likely perceive you as a lower risk, and you may see a decrease in your monthly rates.
Exclusions to an Earthquake Policy
Earthquake insurance will only cover perils that aren't on your homeowners insurance policy. It will not cover:
Fire - Even if an earthquake caused the fire, your homeowners insurance would cover fire damage; your earthquake policy would not.
Water damage - Well, external damage that is. If an earthquake was to damage a levy and cause a flood, your earthquake insurance wouldn't cover it—and neither would your homeowners policy. Only flood insurance would cover this type of damage.
Previous Damage - Damage caused before the earthquake won't be considered in the earthquake insurance claims process.
It's important to check with your insurance carrier to see what else they might have added to the list of exclusions. It's also important to file a claim within the time period that your carrier requires. Check with your provider to see how much time you have to file a claim.
Is earthquake insurance worth it?
This all depends on how you assess risk. If you live in an earthquake prone area, you might be more inclined to purchase a policy, than if you live in, for instance, the Upper Midwest.
According to Chris Long of Longevity Insurance Brokers, "Earthquake insurance is worth it for anyone that has a moderate to high risk of earthquakes. I recommend that anyone who is in a yellow area or worse on the simplified USGS Hazard Map get at least a basic earthquake policy."
The USGS hazard map is a great resource for determining whether or not you live in an area known to have a high risk of an earthquake occurring.
Earthquake Insurance FAQ
Q: Are some homes more prone to earthquake damage than others?
A: Homes with masonry veneer or brick are more likely to suffer damage in an earthquake than ones with a wood frame. For this reason, these homes will usually cost more to insure, and in some cases, may be excluded from a policy altogether.
When your home was built, and whether or not it has been retrofitted, have a large impact on your insurance premiums as well.
Q: Will earthquake-proofing my home reduce my homeowners premiums?
A: It can, but you might want to double check with your insurer. California is unique in that you can purchase your policy from the California Earthquake Authority. They will also issue you a discount for safeguarding your home against seismic activity.
Q: Will premiums and deductibles be different based on location?
A: Deductibles will most definitely be higher for people who live in areas with a high risk of a major earthquake. If you live in California, Oregon, or Washington, you will have higher premiums and deductibles than most of the rest of the U.S.
Your rates can also vary depending on how far your home is from a fault line, as well as whether you live near water, on a hillside, or in a valley. If you still have questions about how your location will affect the price of your policy, compare rates from the top national insurance companies.
Q: Will FEMA help me out in the event of an earthquake?
A: The Federal Emergency Management Agency issues loans in the event of catastrophes such as earthquakes. However, this isn't free money, as you must pay FEMA back with interest.
References:
QuoteWizard.com LLC has made every effort to ensure that the information on this site is correct, but we cannot guarantee that it is free of inaccuracies, errors, or omissions. All content and services provided on or through this site are provided "as is" and "as available" for use. QuoteWizard.com LLC makes no representations or warranties of any kind, express or implied, as to the operation of this site or to the information, content, materials, or products included on this site. You expressly agree that your use of this site is at your sole risk.