What's an Umbrella Insurance Policy? Do I need One?
You may need more liability coverage than a typical insurance policy provides. Umbrella policies increase your liability.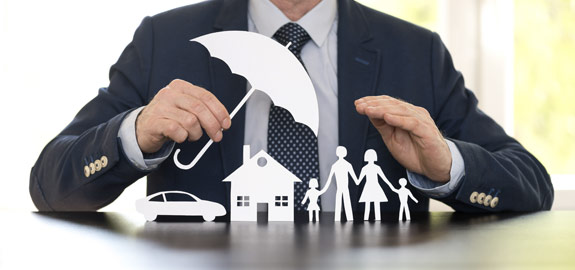 If you accidentally cause property damage or bodily injury to someone else, your home or auto insurance liability coverage can protect you from the costly fallout. But the cost of damages may far exceed your policy's liability coverage limit. For example, a deluxe car insurance plan's liability coverage usually tops out at $500,000 or $1 million, but many plans have far less coverage. State minimum liability requirements range from around $15,000 to $100,000 at the most.
Although that may seem like a lot of money, one bad accident can surpass those limits. That's where an umbrella policy comes in. Once liability coverage is exhausted from expenses like legal fees and judgments against you, your umbrella policy can provide extra coverage, usually starting at $1 million. If you don't have umbrella coverage, expect to pay the difference out of your own pocket. This article covers:
What is a personal liability umbrella policy?
An umbrella insurance policy covers your assets if you're found liable for property damage or bodily injury. Basic home and auto insurance policies include bodily injury (BI) and property damage (PD) liability coverage. If something happens and you're found to be liable or at fault, that liability coverage protects you up to your policy limits. But if the monetary damages come out to more than your liability coverage limit, umbrella insurance can cover the rest.
Umbrella insurance is an added layer of coverage if you're liable for damages or injuries and the liability coverage in your home, renters, boat or auto insurance isn't enough to cover the amount. It also covers claims that some liability policies may not, like false arrest, libel, slander and rental units you own.
What does an umbrella policy cover?
If you're ever sued, the liability coverage from your home or auto insurance will cover you up to a point. But after that, you're responsible for all charges. Umbrella insurance provides coverage for:
Slander
False arrest, detention or imprisonment
Libel
Injuries
Property damage
Legal defense costs
Although your homeowners and auto insurance may offer coverage for some of these situations, umbrella insurance offers a higher level of coverage and additional support to those policies.
Examples of why you may need umbrella insurance
Let's cover hypothetical scenarios where an umbrella policy kicks in for both home and car insurance:
A guest injures themselves at your house and you're liable for their medical bills, which add up to $700,000. Your home insurance covers the first $300,000, but you'll have to pay the remaining $400,000 out of pocket, unless you have umbrella insurance.
A dog bites somebody at your home and they sue you. Your liability policy will cover legal fees up to your policy limits, and your umbrella insurance will cover the rest up to its policy limits.
You're involved in an accident that you're found liable for. You need to pay for the car damages, the driver's injuries and lost wages for the time they're in the hospital ($600,000). Your auto insurance liability will cover you for the first $400,000, but $200,000 still needs to be paid. Umbrella coverage will pay the remaining cost so you don't have to.
What does an umbrella policy not cover?
There's not a lot that an umbrella insurance policy won't cover — that's one of the great things about it. If you're shopping for an umbrella policy, ask about any exclusions before you buy. This is what an umbrella policy typically doesn't cover:
Any unintentional damage you may do to your own property. Your homeowners insurance or collision and comprehensive coverage in your car insurance usually takes care of that.
Your own injuries.
Intentional or criminal acts.
Damage or injuries you cause while using certain vehicles, like a Jet Ski.
Do I need umbrella insurance?
People with extensive assets, several properties or a wealth of savings should seriously consider an umbrella policy. But this level of coverage is useful even if you have an average income and fewer assets. That's because anyone can get sued, and lawsuits are expensive. Plus, it's inexpensive to buy extra coverage. So especially if you have a high net worth, it's probably worth the extra few dollars a month.
Umbrella insurance isn't required, but is often purchased by people who:
Have a higher risk of being sued.
Own high-risk items like trampolines, pools and certain dog breeds.
Own property.
Have significant savings and/or other assets.
How much umbrella insurance do I need?
Most people find a $1 million policy to be enough umbrella coverage. However, if you determine you need more than the minimum $1 million, speak to your insurance company. The amount you choose should cover your current assets and future income. When considering your umbrella insurance coverage limits, consider the following:
Risks you face.
The value of your assets.
The possible loss of future income.
How much does umbrella insurance cost?
According to the Insurance Information Institute, this is an estimate of what umbrella insurance costs yearly:
| Policy limits | Cost (annually) |
| --- | --- |
| $1 million policy | $150 to $300 |
| $2 million policy | $225 to $375 |
| $3 million policy | $275 to $425 |
| $4 million policy | $325 to $475 |
| $5 million policy | $375 to $525 |
In general, insurance companies offer umbrella insurance in increments of $1 million. These policies are some of the least costly for the high level of coverage they buy you. The average person only needs that first million in coverage, as you should get enough to cover all your assets and savings. If you need more than that first million, speak to your insurance provider about the best amount.
How do I get umbrella insurance?
Most major insurance companies offer umbrella insurance, but they usually require prior liability coverage through them. That can come in the form of auto, home or renters insurance.
Although purchasing an umbrella policy through one type of existing insurance coverage will cover all your assets and legal fees across insurance types, insurers generally require you hold a certain amount of liability coverage before you can add an umbrella policy. Depending on the provider, this is generally the base level of required insurance before you can add an umbrella policy:
Also, companies have different limits on how much your umbrella policy covers. Some may cap that number at $5 million, whereas others allow you to reach $10 million. Certain companies may refuse to insure you if you have certain risky hobbies, like Jet Skiing. The best way to determine where you should buy umbrella insurance is by getting a quote to compare insurance companies.
Bottom line
In short, umbrella insurance provides additional liability coverage for an affordable price. It adds a layer of extra coverage to your existing insurance policies and doesn't cost a fortune. For those reasons, you should consider an umbrella policy if you have the money, especially because it's so inexpensive.
QuoteWizard.com LLC has made every effort to ensure that the information on this site is correct, but we cannot guarantee that it is free of inaccuracies, errors, or omissions. All content and services provided on or through this site are provided "as is" and "as available" for use. QuoteWizard.com LLC makes no representations or warranties of any kind, express or implied, as to the operation of this site or to the information, content, materials, or products included on this site. You expressly agree that your use of this site is at your sole risk.