What is Flood Insurance? How Does it Work?
Home insurance doesn't cover flood damage, but flood insurance does. Learn how flood insurance protects your house.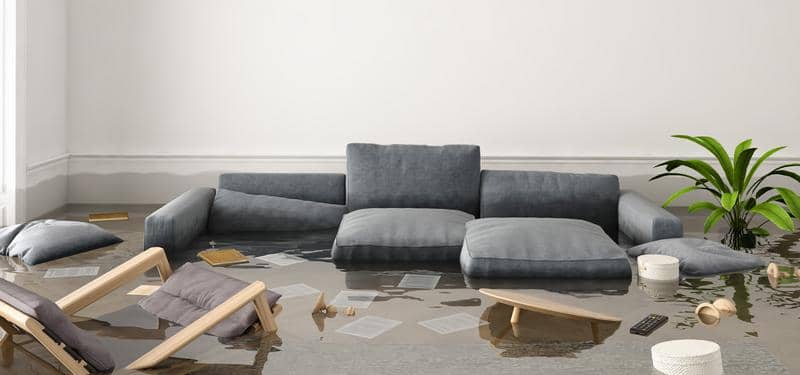 Since home insurance does not cover flood damage, flood insurance provides a needed buffer should from floods. Flood insurance covers specific parts of your house, such as the structure, plumbing, and electrical systems. It also covers certain belongings, like your furniture and electronics. Flood insurance can be purchased either through a federal program or some private insurers. This article covers:
How Does Flood Insurance Work?
Flood insurance covers your home and belongings for repair or replacement in the event of a flood. The National Flood Insurance Program (NFIP) defines a flood as a "general and temporary condition where two or more acres of normally dry land or two or more properties are inundated by water or mudflow."
A standard homeowners insurance policy, also known as an HO-3, does not cover flood damage. You may mistakenly assume that flood damage is covered by your home insurance. This puts you in a dangerous spot if a flood does occur.
What Does Flood Insurance Cover?
Flood insurance can be purchased either directly through the NFIP, or through one of 80 private flood insurers. Of the many flood policies available, a National Flood Insurance Program policy is most relevant to home owners. Coverage is split between structure coverage and contents coverage.
The residential building coverage portion of an NFIP flood policy covers:
The structure of your home
The foundation and foundation walls
HVAC systems
Plumbing and electrical
Appliances such as refrigerators, ovens, and built-in units such as dishwashers
Permanent carpeting over unfinished flooring
Permanently installed wallboard, wall paneling, bookcases, and cabinetry
Detached garage (Covered up to 10% of your flood policy value)
Window blinds
Debris Removal
The contents coverage portion of NFIP flood insurance covers:
Furniture, clothing, and electronics
Curtains
Portable AC units, microwaves, and dishwashers
Carpentry not covered under dwelling coverage
Standing washers and dryers
Freezers and food contained within
Up to $2,500 max in valuables, such as art and furs
Private flood insurance companies provide similar coverage, just at different pricing. You'll want to shop around and compare flood insurance quotes and coverage to get the best value.
What Flood Insurance Doesn't Cover
While flood insurance can cover a lot in the event of flooding, it isn't full service. Here are common flood insurance exclusions:
Water damage not flood related: Damage due to water from non-flood sources isn't covered under flood insurance. If water leaks through your roof during heavy rains, it will not be covered under your flood insurance.
Damage costs beyond policy limits: You're responsible for costs beyond the max payout of your flood insurance. There is, however, excess flood insurance available through private home insurance companies. In order to get excess flood coverage, you must already have NFIP flood coverage.
Landscape and outside features: Items outside the home like trees, lawns, swimming pools, and patios aren't covered.
Additional Living Expenses (ALE): If your home is unlivable after a flood, additional living expenses aren't provided for. Ask your home insurer what options may be available for ALE coverage.
Also, flood coverage does not activate until 30 days after purchase. Any flooding to the home during that time period is not covered. There are some possible exceptions to the 30-day wait period:
If you purchase flood insurance from a private insurer, the wait time may be reduced to around 10 to 14 days. Not all states and communities have private flood insurers. Ask your home insurer for possible options.
If flood insurance is bought as part of a mortgage loan, there is no wait period.
If you're increasing coverage on a flood insurance policy you already own.
If a house is in a newly designated risk area and you purchase flood insurance within 13 months after revision, there is a one-day wait.
If a flood affects property on burned federal land and you buy a policy within 60 days of the fire containment date, there might not be a waiting period. The waiving is determined when the claim is made.
If you're switching from a NFIP flood policy to a private policy, there may be a shorter wait time.
How Do I Get Flood Insurance?
You can buy flood insurance either through FEMA's National Flood Insurance Program, or through a licensed private flood insurer. You cannot purchase flood insurance directly through the Federal government.
Getting Flood Insurance Through NFIP
When purchasing a flood insurance plan through the NFIP, you can call them at the NFIP Referral Call Center. NFIP flood policy rates are the same, regardless of what NFIP-participant you go through. Rates are set by the NFIP.   They depend on factors such as when your house was built, market value of the home, and current flood risk.
Getting Flood Insurance Through a Private Insurer
While not offering it as part of home insurance, there are a number of home insurance providers that also sell flood insurance. Private insurers who provide flood insurance have an advantage over NFIP insurers. Private flood insurers can provide higher claim limits. NFIP flood coverage maxes out at $100,000 for contents coverage and $250,000 for dwelling coverage. NFIP payouts will usually not go beyond those dollar values.
Going with a private flood insurer can have a downside. Private flood insurance companies do have the option of dropping your coverage or not renewing it. This can leave you without flood insurance, should policy issues arise. You can probably get NFIP coverage at that point. However, you'll still have to deal with the 30 day wait period for coverage to start.
QuoteWizard.com LLC has made every effort to ensure that the information on this site is correct, but we cannot guarantee that it is free of inaccuracies, errors, or omissions. All content and services provided on or through this site are provided "as is" and "as available" for use. QuoteWizard.com LLC makes no representations or warranties of any kind, express or implied, as to the operation of this site or to the information, content, materials, or products included on this site. You expressly agree that your use of this site is at your sole risk.