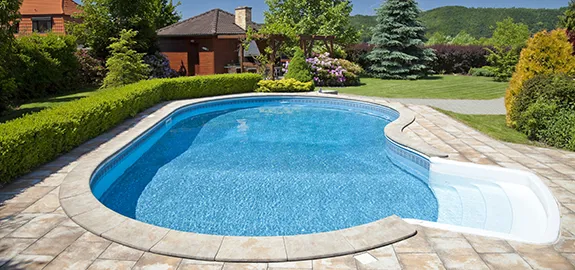 Your home insurance provider typically will cover your swimming pool. However, insurers classify above ground and inground pools differently: above ground pools most often fall under "personal property," and inground pools under "other structures," which affects your coverage limits. This article covers the pool insurance basics:
Home insurance and pools: what you should know
Pools present two insurance considerations – damage coverage and liability coverage. Damage protection helps repair or replace your pool if it is damaged by a "common peril" such as fire, lightning, or falling debris. Liability coverage will help pay legal and medical costs if someone is injured using your pool. Without insurance, you could get stuck with these costs.
Home insurance should provide comfort and assurance. By understanding rate factors such as pools and their insurance requirements, you can ensure you'll have the complete protection you need.
Coverage: above-ground vs. in-ground pools
The type of pool you have will change the portion of your home insurance policy that it falls under, which can dramatically alter how much coverage you have. You should make sure that your pool is not excluded by your policy, and adding it may increase your premium by a small amount. However, the added coverage could come in handy if you spring a leak, or encounter a damaged liner or pump.
Above-ground
Above ground pools are generally protected by personal property coverage, so long as they are not permanently installed. This means that your pool is treated similarly as trailers, boats and glassware. Home insurance personal property coverage ranges from 25% to 75% of the amount your home is insured for.
Therefore, if your home is insured for $200,000, your policy can provide between $50,000 and $150,000 of coverage for all of your personal property, including your pool. If you think you have personal property valued higher than your coverage limit, consider expanding your insurance limit with an umbrella policy.
In-ground
Insurers cover inground pools under the "other structures" portion of your policy. This means that your pool is treated similarly to other external structures such as fences, detached garages, sheds and gazebos.
The coverage limits for other structures is often 10% of the amount your home is insured for – a substantially lower percentage than personal property coverage. For example, if your pool is destroyed and you have a $200,000 homeowners policy, the maximum payout would be $20,000. Although the available coverage for an in-ground pool may be lower than for an above-ground pool, in-ground pools are less prone to structural damage from wind, falling objects and other perils.
Liability implications of pools  
If a child trespasses on your property and gets hurt, you could be responsible under attractive nuisance doctrine. Attractive nuisances are potentially dangerous features of or on your property that may tempt children to trespass, such as trampolines, construction sites, and power tools. This means you'll be on the hook for medical costs and legal fees.  
Although attractive nuisance doctrine applies only to children, you could also be held responsible for the costs of a guest's injury. Insurance policies view trespassers and guests differently. Liability applies to guests of all ages in your home, while you are only responsible for trespassers who are children. Your provider may require you to take additional precautions in addition to following local laws and regulations, such as adding a fence or other safety measures.
Because swimming pools present such a big liability concern, you should also consider adding more liability coverage to your homeowners policy. Doubling or even tripling your coverage amount can raise your rates by as little as $40 a year. If your insurance provider won't increase you liability coverage, you can always supplement your existing protection with an umbrella policy.
Exclusions to your pool insurance coverage
As previously mentioned, insurance providers will cover your pool against common perils. However, not all occurrences are covered by home insurance – common exclusions are earthquakes and floods. Insurers can also refuse to cover more dangerous features of your pool, such as diving boards and slides.
Remember, your insurance only covers damage due to common perils – wear and tear and neglect are not covered! For example, if a windstorm damages your pool liner, you could be covered. But if after 10 years of use your liner needs repairs, your policy will not help you pay for them.
If you or a member of your household are injured using the pool, your home insurance will not cover medical costs. You will have to file a claim with your healthcare provider instead – your home policy only covers guests and child trespassers.
Purchasing a pool for your home, whether above ground or inground, can be fun for your family, neighbors, and friends. However, alerting your home insurance agent to revise your policy will ensure you are protected everywhere – including your pool – on your property.
QuoteWizard.com LLC has made every effort to ensure that the information on this site is correct, but we cannot guarantee that it is free of inaccuracies, errors, or omissions. All content and services provided on or through this site are provided "as is" and "as available" for use. QuoteWizard.com LLC makes no representations or warranties of any kind, express or implied, as to the operation of this site or to the information, content, materials, or products included on this site. You expressly agree that your use of this site is at your sole risk.