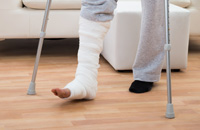 Protection from accidents is the main value of insurance. Without a liability policy, you're not fully protected.
As a homeowner, you have a duty to maintain the safety of your home. Yes, even for trespassers. Even if you do all the necessary upkeep and provide warnings around unsafe areas, accidents happen.
Liability insurance protects you from the financial fallout of an accident. Imagine that your dog bites a guest in your home. Your liability covers the cost of medical expenses of the injured party. Not only that, but liability protects you from lawsuits if the dog bite victim decides to sue.
If you don't have liability coverage, you're on the hook for those medical expenses and legal bills. In a worst-case scenario, you can even lose your home from a lawsuit. That's why homeowners' liability is so important.
Homeowners Insurance Coverage
For homeowners with a mortgage, insurance is mandatory. Lenders want to know their investment is protected.
If you own your house, homeowners insurance isn't required. However, it's definitely recommended. For most people, homes are their largest and most valuable asset. Preserving your home with a good insurance policy is vital.
There are many coverage options for home insurance. All home insurance policies have two basic coverage types: property and liability.
Personal property coverage covers the following:
Your home
Other structures on your property like sheds, garages, and fences
Your belongings
Your homeowners insurance also covers you away from home.
"The personal belongings portion of your home insurance policy can cover your property if it were stolen or lost while off the property," says Elizabeth Dodson, cofounder of HomeZada, a home management software company.
"But you have to make sure these items are covered," warns Dodson. "For instance, high valued jewelry and watches need to be specifically insured in order to have these covered if they were lost or stolen while off the physical property of your home."
Equally important is liability coverage.
What is Liability Coverage?
Liability coverage is a vital part of your homeowners policy. It protects you from accidents or injuries that occur on your property. Liability comes in two parts:
Personal liability: Protects you from legal liability if someone injures themselves while on your property and pays for legal fees.
Medical payments coverage: Helps you pay for the medical expenses of the injured party.
When someone is accidentally hurt on your property, liability coverage helps shield you from fallout. It can help pay for the following:
Lost wages
Death benefits
Legal costs
Medical bills
Pain and suffering
What Does Liability Insurance Cover?
In general, a liability policy covers you and any family members living in your home. Also included are employees residing in your home, like child care providers.
Liability covers the following:
Incidents outside the home
Libel and slander
Dog bites
Neighborhood damage
Slips and falls
Food poisoning
Why Liability Coverage is Important
Homeowners may not fully understand the risk of injuries on their property. There are many accidents where homeowners are found liable. The financial risks are huge. For example, imagine someone sneaks onto your property and drowns in your pool. You may be liable due to the 'attractive nuisances' doctrine.
Examples of attractive nuisances are trampolines, swimming pools, or tree houses. Essentially anything that draws in trespassers – especially children. If you have these nuisances on your property, you need liability coverage.
"[Liability insurance] is important for people with pools, play structures, and lots of children playing around," says Dodson. "If a homeowner plans on hosting these activities or other people in the home, it is best to consider liability insurance."
The law requires that homeowners take steps to stop accidents from such nuisances. Incidents involving an attractive nuisance are covered by liability insurance. But insurers require that you do your part in to secure the nuisance. If you don't, they can deny your claim.
For example, imagine you have a trampoline. It's on your private property, but it's not securely fenced off. You may be held liable if your neighbors' son sneaks into your yard and hurts himself.
In the end, liability coverage will protect you from the unexpected. You never know when it will come in handy. The cost of an accident would far outweigh the cost of insurance.
Renters don't need homeowners insurance, but they do need renters insurance. Liability coverage can be added to a renters insurance policy. This is a good decision for renters with considerable assets.
How Much Liability Coverage Do I Need?
Most policies start around $100,000. Many carriers recommend at least $300,000 in coverage. Consider your assets before choosing your coverage amounts. The more assets you have, the more coverage you need. Once you purchase your policy, your liability limit is set.
"First time homeowners need to understand what home liability insurance is for within and around their home," says Dodson. "It is to protect the homeowner if someone was to injure themselves at your house."
Think about the risks in your home and if more coverage is the best move for you. If your current liability policy doesn't cover enough, you can expand your coverage. An umbrella policy can help.
Umbrella Policy
Do you need more coverage than your homeowners policy provides? An umbrella policy expands coverage beyond your liability limit.
Most umbrella policies offer protection in $1 million increments. Depending on your assets, you may want to consider such a policy.
"The umbrella policy increases your liability coverage above the $300,000 to $500,000 that is in most policies," says Dodson. "That amount often time falls short of medical and legal bills involved in lawsuits."
For a few hundred dollars a year, you can potentially protect hundreds of thousands of dollars worth of assets.
What Liability Doesn't Cover
Liability coverage doesn't pay for intentional acts. If you smash a vase on a guest's head, insurance won't cover your legal bills and their medical bills.
But many accidents are excluded from coverage. Insurance providers have their own standards for exclusions. Even still, these incidents are almost always not covered:
Injuries resulting from home businesses. If a client is injured while in your home on business, insurance won't pay for it. To cover such an injury, business insurance is required.
Tenants. If someone gets hurt while in a home that you're renting, liability policy will not cover the costs. For this kind of liability protection, you'll need landlord insurance.
Unsecured attractive nuisances In general, things like pools, hot tubs, and treehouses are covered. But only if you take the right steps to secure them. This could be as simple as putting up a fence around your pool to stop trespassers. If you don't secure these nuisances, your insurer can deny your claim.
Dog bites Depending on the breed, most liability insurance will cover you if your dog bites someone. But some breeds are seen as high-risk. If your dog is deemed high-risk, your insurance may not cover it. Dangerous breed types vary depending on your provider.
Auto Insurance Your home and auto liability coverage are separate. If you choose to buy an umbrella policy, your coverage limit applies to both your auto and home policies.
Frequently Asked Questions
Q: If my dog bites someone not on my property, is that covered by my homeowners liability policy?
A: Yes, liability policies cover dog bites. Regardless of where your dog is when an incident happens, you would be covered.
However, if your dog is a 'high-risk' breed, your insurer may refuse to cover it. You are responsible for any medical costs of the injured party. If your liability coverage isn't enough to cover the expenses, you risk being sued.To prevent a bankrupting lawsuit, invest in extra liability coverage.
Q: Does a liability policy cover a house I am renting?
A: No, if you are renting a house, you should consider renters insurance. It provides similar protection to a homeowners policy. For example it provides medical payments coverage and personal liability protection.
Q: Will my liability policy cover defamation, libel, or slander?
A: This depends entirely on your insurer and your home owners policy. Generally, this is covered under an umbrella policy.
Q: Should I get umbrella insurance?
A: If your assets are more valuable than your liability coverage, get more coverage or an umbrella policy. An umbrella policy is great for individuals who have multiple loans or mortgages, own an expensive home, or have a decent amount of retirement savings.
References:
QuoteWizard.com LLC has made every effort to ensure that the information on this site is correct, but we cannot guarantee that it is free of inaccuracies, errors, or omissions. All content and services provided on or through this site are provided "as is" and "as available" for use. QuoteWizard.com LLC makes no representations or warranties of any kind, express or implied, as to the operation of this site or to the information, content, materials, or products included on this site. You expressly agree that your use of this site is at your sole risk.