Compare Car Insurance in San Diego
You might not expect a city in Southern California to have a Latin motto, but San Diego, California does. It's Semper Vigilans, which means "Ever Vigilant". It's not clear what this expression refers to (the surf conditions?). It could easily be referring to car insurance. If you want the cheapest car insurance rates in San Diego, you must be vigilant and compare quotes.
Average San Diego Car Insurance Rates
How much is car insurance in San Diego, CA? Average rates are more expensive than both the state and national averages. Why? Crime is high. Traffic is always bad. And the city's roads are terrible. All those factors lead to more expensive car insurance. On average, car insurance in San Diego costs drivers $1,030 a year for both men and women. The average cost of auto insurance in California is $841.45 a year. The national average cost is $889.01.
Your rates can vary depending on several factors. These include your driving record, claims history, your car make and model, and more.
San Diego, CA Average Annual Car Insurance Rates
Coverage
Men
Women
Liability
$474
$484
Collision
$444
$442
Comprehensive
$112
$104
Total Cost Pear Year
$1,030
$1,030
Price Per Month
$85.83
$85.83
These average rates are based on our sample quote data. 1
The graph below shows the most recent year California's rate data is available. According to the III, California car insurance rates increased from $740 in 2011 to $841 in 2015, a jump of $101, or 13.66 percent.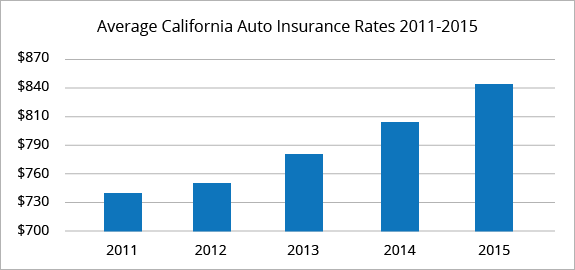 QuoteWizard helps consumers compare quotes from both top national insurance companies and local agents. Comparing quotes can help you find cheap car insurance rates near San Diego, California. You can save up to 40% on your premium.
Last year, 22,079 people used QuoteWizard to compare car insurance quotes in San Diego, CA from multiple companies to find the cheapest rates.
Best Car Insurance Companies in San Diego, CA
These are the most common car insurance companies according to 22,079 QuoteWizard users in San Diego, California last year. Of these Users, 2,398 did not have insurance when they requested a quote.
Other popular San Diego, California car insurance companies: Mercury, Nationwide, Infinity, MetLife, Country Financial, Safeco, 21st Century, and American Family.
Top 10 Vehicles
These are the most common car owned by QuoteWizard users in San Diego, CA:
Honda Accord EX/LX
Toyota Prius
Honda Civic EX/LX/DX
Ford F150
Ford Mustang
Toyota Camry LE/XLE/SE
Ford Ranger
BMW 328i
Toyota Corolla CE/LE/S
Nissan Altima 2.5 S
Minimum Car Insurance Requirements in San Diego, CA
San Diego, California drivers are required follow the 15/30/5 minimum liability coverage rule. This rule states that policies must include at least:
Individual Bodily Injury Liability (BIL): $15,000.
The maximum amount your insurer pays for a person injured in a car accident.
Total Bodily Injury Liability: $30,000.
The total your insurance company pays for every person injured in a car accident.
Property Damage Liability (PDL): $5,000.
The most your insurance carrier pays for property damage caused by a car accident.
Recommended Coverage Levels
It's not a great idea to buy only legal minimum coverage. While it costs less, minimum coverage is more expensive if you're in an accident. Why? Minimum coverage does not include comprehensive or collision coverage. Plus, it's easy to exceed minimum coverage levels after an accident.
Minimum coverage only pays for damages to other people, their car, and their property. Minimum coverage does not cover you, your injuries, or your property. If you have minimum coverage and you cause an accident, you're on the hook for your expenses.
With that in mind, we recommend that San Diego drivers buy the following coverage:
Individual Body Injury Liability: $100,000
Total Bodily Injury Liability: $300,000
Property Damage Liability: $100,000
San Diego Drivers
California's drivers have a less-than-impressive reputation. Our annual best and worst drivers study found that California is the worst driving state in the country. Our city study concluded that San Diego is the fifth worst driving city in America.
Of the 22,079 San Diego drivers that used QuoteWizard last year, 2,155 reported some sort of incident on their driving record. If you live in an area with bad drivers (like San Diego), you're going to pay more for car insurance. A high concentration of bad drivers raises rates across the board. That's because bad drivers get more tickets and accidents, which leads to more claims filed.
Driving Conditions
The weather, driving, and road conditions strongly influence insurance rates. Areas with bad driving conditions often report more accidents, leading to rising insurance rates. So how does San Diego stack up?
Weather
The Farmer's Almanac describes San Diego as having one of the best climates in the US. The Weather Channel named San Diego one of the best two summer climate cities in America.
The temperatures are comfortable year-round. Highs are typically below 80 degrees in the summer, and lows are only around 50 degrees in the winter. It hardly ever rains. However, when it does drivers are not used to it, accidents surge, and traffic often becomes snarled.
Road Conditions
TRIP reports that 34 percent of San Diego's major roads are in poor condition. Another 30 percent are mediocre. These poorly maintained, pothole-filled streets cost drivers $694 a year in extra vehicle operating costs. These extra costs are a direct result of driving on rough roads that damage cars, waste time and gas.
Traffic Congestion
TomTom ranked San Diego 102nd for worst traffic congestion in the world. An average commuter spends an extra 32 minutes per hour stuck in traffic during rush hour commutes. Drivers with commutes of at least 30 minutes' wastes 122 hours a year.
Moving Violations
Moving violations like speeding tickets, accidents, and drunk driving can wreck your driving record and raise your rates. If you get a lot of tickets, your insurer could change your status from preferred to non-standard. You could even be switched to a high-risk policy, which is very expensive.
Traffic Tickets
The Superior Court of California County of San Diego traffic website allows residents to pay traffic tickets. It also tells drivers how to contest tickets.
SR-22 DUI Insurance
A DUI conviction may require you to obtain an SR-22 form. Filing an SR-22 form is an expensive process. Get several quotes and compare rates from top companies that specialize in San Diego DUI insurance.
Traffic Fatalities
In 2016, 76 people died in car crashes on San Diego roads. San Diego's population in 2016 was 1,406,630. This works out to a fatality rate of 6.82 per 100,000 residents. This is a safe American city in terms of traffic fatalities.
Vehicle Theft Rates
Los Angeles police reported 5,223 vehicle thefts in 2017. A rate of 3.68 per 1,000 residents. This rate is well above the national average of 2.37 auto thefts per 1,000 people.
Car Insurance Discounts
Are you looking for affordable car insurance? Auto insurance discounts are one of the best ways to keep rates low. Below are some of the many discounts available to drivers in San Diego, CA.
Rate Methodology
1 We compared rates from three different insurance companies for 30-year-old male and female drivers with a 2010 Honda Accord. Our rate profiles have a clean driving record and drive less than 10,000 annual miles. Coverage includes state liability minimum of 25/50/10 and 25/50/10 underinsured motorist coverage. Policies also include $10,000 personal injury protection and a $500 comprehensive and collision deductible.
Sources:
QuoteWizard.com LLC has made every effort to ensure that the information on this site is correct, but we cannot guarantee that it is free of inaccuracies, errors, or omissions. All content and services provided on or through this site are provided "as is" and "as available" for use. QuoteWizard.com LLC makes no representations or warranties of any kind, express or implied, as to the operation of this site or to the information, content, materials, or products included on this site. You expressly agree that your use of this site is at your sole risk.