Compare Auto Insurance in Huntington Beach
Huntington Beach is known as for world class beaches and surfing. If you're on the road more than the waves, you'll want low-cost car insurance.
Average Huntington Beach Insurance Rates
How much is car insurance in Huntington Beach, CA? Even with California's high average rates, Huntington Beach has affordable coverage. Average insurance in California costs $841.45 per year. The national average price is $889.01.
Prices may vary based on your zip code, driving record, claim history, and credit score.  
California Average Annual Car Insurance Rates
Coverage
Rates
Liability
$489.66
Collision
$396.55
Comprehensive
$100.54
Total Cost Per Year
$841.45
Price Per Month
$70.12
Source: Facts + Statistics: Auto insurance
The graph below shows the average California insurance rates from 2011 to 2015. This is the most recent data available. The Insurance Information Institute found that Huntington Beach car insurance increased from $740 in 2011 to $841 in 2015. This is a jump of $101 dollars, or 101 percent.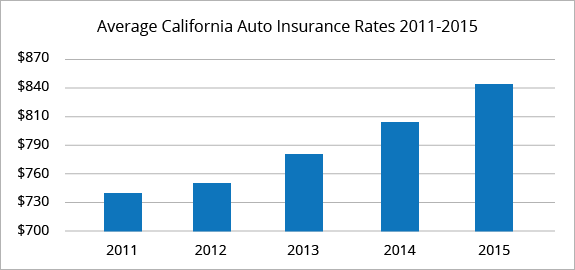 Finding the right car insurance in Huntington Beach can take a lot of time. Let QuoteWizard help you compare rates. In just a few minutes, you'll save both time and money.
Last year, 4,455 people used QuoteWizard to compare car insurance in Huntington Beach, CA from multiple companies to find the cheapest rates.
Best Car Insurance Companies in Huntington Beach, CA
These are the most popular car insurers reported by QuoteWizard users in Huntington Beach, California. Nearly 10 percent or 419 of these drivers were uninsured when they requested a quote.
Top 10 Vehicles
These are the most popular makes and models owned by Huntington Beach, CA QuoteWizard users.
Toyota Prius
Toyota Camry/LE
Honda Civic/EX/LX/DX
Ford F-150
Toyota RAV4
Ford Mustang
Ford Ranger
Honda Accord
Hyundai Elantra GLS
Toyota 4Runner SR5
Minimum Car Insurance Requirements in Huntington Beach, CA
Huntington Beach, California requires drivers to California's legal minimum liability. The minimum is 15/30/05. This means your policy must include: 
$15,000 Individual Bodily Injury Liability (BIL):
The max amount paid for a person injured in a car accident.
$30,000 Total Bodily Injury Liability:
The total amount paid for every person injured in a car accident.
$5,000 Property Damage Liability (PDL):
The max amount paid for property damage caused by a car accident
Recommended Coverage Levels
Minimum coverage may seem a good deal in the short term. But it's expensive after an accident. A minimum policy doesn't include collision or comprehensive coverage.
On top of that, it's easy to exceed your minimum liability limit. As such, we recommend the following coverage: 
Individual Body Injury Liability: $100,000 
Total Bodily Injury Liability: $300,000 
Property Damage Liability: $100,000 
Huntington Beach Drivers
Insurance is more expensive in areas with a history of bad driving and accidents. How does Huntington Beach fare?
QuoteWizard ranked state and city drivers from best to worst. According to our data, California is the worst state for drivers.
Driving Conditions
Factors such as weather, road conditions, and traffic can affect your car insurance rates. The riskier your driving conditions, the higher your rates can go.
Road Conditions
TRIP reports that 68 percent of Huntington Beach, California's roads are in poor to mediocre condition. Driving on bad roads in California costs drivers $843 a year in extra car operating costs.
Traffic Congestion
Huntington Beach is a part of sprawling Los Angeles, a city infamous for terrible traffic. Work recently started on a portion of I-405 going through Huntington Beach that is projected to cut rush hour traffic in half.
Moving Violations
Tickets and at-fault accidents can affect your driving record. People with tickets and accidents on their driving record pay more for car insurance. The more tickets and accidents you have, the higher your rates can raise. After enough citations, your insurer may refuse to cover you due to your high-risk status. Another option is a non-standard, high-risk policy
Traffic Tickets
If you get a traffic citation in California, you are penalized using a point system. If you get pulled over for a moving violation, you will get one point on your driving record. If you get:
4 points in one year
6 points in two years
8 points in three years
The California DMV will suspend your license for 6 months. Other traffic infractions carry an equal or larger penalty.
In 2017, Huntington Beach police issued over 13,578 traffic citations.
DUI and DWAI Arrests
A DUI can hike up your auto insurance rates. According to QuoteWizard data, drivers with a DUI pay $830 more per year for car insurance. In 2015, the most recent data available, Huntington Beach Police made 858 DUI arrests.
SR-22 DUI/DWAI Insurance
California drivers with a suspended license due to DUI must file an SR-22 form. You are required to carry the SR-22 for 3 straight years. Depending on your record and insurance status, it could be extended to four years.
Car Accident Statistics
Drivers pay more for insurance in areas with high accident rates. In 2017, Huntington Beach police reported 4,199 collisions, six of which resulted in fatalities.
Vehicle Theft Rates
Drivers in high car theft areas pay more for car insurance. Huntington Beach Police reported 11 358 auto thefts in 2017.
Car Insurance Discounts
Looking for affordable car insurance? Discounts are one of the best ways to lower rates. Looking for ways to get a discount? Huntington Beach, CA drivers have many options:
QuoteWizard.com LLC has made every effort to ensure that the information on this site is correct, but we cannot guarantee that it is free of inaccuracies, errors, or omissions. All content and services provided on or through this site are provided "as is" and "as available" for use. QuoteWizard.com LLC makes no representations or warranties of any kind, express or implied, as to the operation of this site or to the information, content, materials, or products included on this site. You expressly agree that your use of this site is at your sole risk.