Compare Auto Insurance in Denver
Denver, Colorado is known as the "Mile High City". If you're a Denver driver with mile high car insurance rates, QuoteWizard can help you get an affordable policy.
Average Denver Car Insurance Rates
How much is car insurance in Denver, CO? Drivers here know the answer to that question all too well. Car insurance premiums in Denver can be expensive. The average cost of insurance in Denver is $1,263 per year for men and $1,355 for women. The average cost of auto insurance in Colorado is $857.44 per year. The national average is $889.01.
Prices may vary depending on several factors. These include your driving record, your car, and your claims history.
Denver, CO Average Annual Car Insurance Rates
Coverage
Men
Women
Liability
$662
$721
Collision
$433
$461
Comprehensive
$168
$173
Total Cost Per Year
$1,263
$1,355
Price Per Month
$105
$113
These average rates are based on our sample quote data. 1
The graph below shows the change in Colorado's average auto insurance rate from 2011 to 2015, the most recent year the data is available. According to the III, Colorado car insurance rates increased from $723 in 2011 to $857 in 2015, a jump of $133, or 18.49 percent.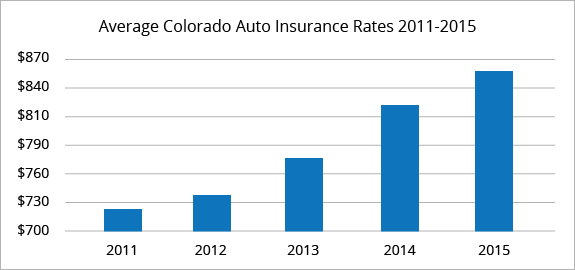 QuoteWizard helps consumers compare insurance quotes from national companies and local agents. Comparing quotes can help you find cheap car insurance rates near Denver, Colorado. Last year, 19,169 people used QuoteWizard to compare auto insurance quotes in Denver, CO from multiple companies to find the cheapest rates.
Best Car Insurance Companies in Denver, CO
These are the most popular car insurance companies reported by QuoteWizard users in Denver, Colorado.
Other popular Denver car insurance companies: AAA, Safeco, USAA, MetLife, Country Financial, Hartford, Travelers, 21st Century, and Colorado Farm Bureau.
Top 10 Vehicles
These are the most popular car makes and models owned by Denver, CO QuoteWizard users.
Ford F150
Honda Accord EX/LX
Jeep Grand Cherokee Laredo
Ford Ranger
Honda Civic EX
Ford Explorer
Ford Taurus
Chevrolet Cavalier
Toyota Rav4
Chevrolet Malibu
Minimum Car Insurance Requirements in Denver, CO
Denver, Colorado drivers are required to carry minimum liability coverage. This is known as the 25/50/15 rule. Each driver's policy must include:
Individual Bodily Injury Liability (BIL): $25,000.
The maximum amount your insurer pays for a person injured in a car accident.
Total Bodily Injury Liability: $50,000.
The total your insurance company pays for every person injured in a car accident.
Property Damage Liability (PDL): $15,000.
The most your insurance carrier pays for property damage caused by a car accident.
Recommended Coverage Levels
It's not a great idea to buy only legal minimum coverage. While it costs less, minimum coverage becomes more expensive if you file a claim. Why? Minimum coverage does not include comprehensive or collision coverage. Plus, it's easy to exceed minimum coverage levels after an accident.
Minimum coverage only pays for damages to other people, their car, and their property. Minimum coverage does not cover you, your injuries, or your property. If you have minimum coverage and you cause an accident, you're on the hook for your expenses.
Collision coverage pays for damages to your car after an accident. Comprehensive coverage pays for damages that don't involve another car. That includes natural disasters, falling tree branches, theft, and vandalism.
With that in mind, we recommend that Denver drivers buy the following coverage:
Individual Body Injury Liability: $100,000
Total Bodily Injury Liability: $300,000
Property Damage Liability: $100,000
Denver Drivers
Remember, insurance policies are more expensive in areas with bad drivers. How does Denver fare?
QuoteWizard ranked state and city drivers from best to worst. We did this by combining 2 million proprietary data points from our users with FHA fatality data. According to our data, Denver is the 9th worst driving city in the country. Colorado as a whole fared a bit better, earning the rank of 17th worst driving state.
Unfortunately, Denver's less-than-stellar driving reputation may bring higher insurance rates.
Driving Conditions
The weather, driving, and road conditions strongly influence insurance rates. Areas with bad driving conditions often report more accidents, leading to rising insurance rates.
Weather
Denver has a semi-arid climate with distinct seasons. Summers are mild and occasionally hot. Winters are chilly and can be extremely cold. You can see the sun in any season with an average of 300 sunny days per year. Denver has an average of 33.3 snow days each winter. These snowy winters often contribute to multiple car accidents.
Road Conditions
Winter subjects Denver streets to the cold winter conditions that creates potholes and cracked pavement. TRIP reports that 45% of Denver's roads are in poor condition. Another 35% are mediocre. Driving on poorly maintained roads costs drivers $753 a year in extra vehicle operating costs.
Traffic Congestion
TomTom ranks Denver 23rd for worst traffic congestion in the United States. That means the average commuter spends an extra 26 minutes per hour stuck in peak traffic. That comes out to 98 hours a year for commutes of 30 minutes.
Traffic data provider Inrix created a traffic scorecard that ranks US cities by their traffic congestion. Unlike TomTom, Inrix ranked Denver the 19th worst US city for traffic congestion. According to Inrix, commuters wasted 49 hours stuck in congestion last year.
Moving Violations
Citations and at-fault accidents hurt your driving record. Drivers with tickets and accidents on their record pay more for car insurance. You could also be required to buy high-risk auto insurance. This can have a huge effect on your rates.
Traffic Tickets
Denver Police issued 98,455 moving citations in 2014. Getting tickets can contribute to higher insurance rates. Denver news station 9News alleges that the city uses a parking ticket quota.
DUI and DWAI Arrests
Getting caught driving under the influence hurts your insurance rates. In 2017, Colorado Police made 10,359 impaired driving arrests. The state Department of Transportation estimates that 226 people died of alcohol-related crashes. In 2014, Denver Police made 2,619 DUI arrests.
Remember, Colorado legalized cannabis in 2012 – some studies suggest recreational pot increases DUI rates.
SR-22 DUI/DWAI Insurance
A DUI conviction may require you to obtain an SR-22 form. If you need an SR-22, you're going to pay more for insurance. Get a quote and compare rates from local agents and top companies that specialize in Denver DUI/DWAI insurance.
Car Accident Statistics
Drivers pay more for insurance in areas with high accident rates. In 2015, Denver drivers crashed 22,140 times.
Traffic Fatalities
Denver reported 49 motor vehicle crash fatalities in 2014. That is a fatality rate of 7.38 per 100,000 Denver residents. With a population of 693,060, this is a safe city in terms of traffic deaths.
Vehicle Theft Rates
Drivers in areas with high car theft rate pay more for car insurance. Denver reported 4,384 vehicle thefts in 2016. That's a rate of 6.42 for every 1,000 residents.
Car Insurance Discounts
Are you looking for affordable car insurance? Discounts are one of the best ways to lower rates. These are some of the many auto insurance discounts Denver, CO drivers can use to lower their rates.
Over ten percent of Denver's population is 65 or older. Senior discounts are common, and car insurance is no exception.
University of Denver students should check with their insurer to see if they offer a good student discount. And if you've graduated, many insurers offer discounts for drivers with a college degree.
With an average credit score of 680, most Denver drivers have good credit. Drivers with better than average credit can earn lower rates.
Bundle your car insurance with a life or home insurance policy and save money. Bundling can lead to a quick 20 percent reduction in your rates.
Had your policy for a few years? Ask your agent if they have a long-term policyholder discount.
Rate Methodology
1 We compared rates from three different insurance companies for 30-year-old male and female drivers with a 2010 Honda Accord. Our rate profiles have a clean driving record and drive less than 10,000 annual miles. Coverage includes state liability minimum of 25/50/10 and 25/50/10 underinsured motorist coverage. Policies also include $10,000 personal injury protection and a $500 comprehensive and collision deductible.
Sources:
QuoteWizard.com LLC has made every effort to ensure that the information on this site is correct, but we cannot guarantee that it is free of inaccuracies, errors, or omissions. All content and services provided on or through this site are provided "as is" and "as available" for use. QuoteWizard.com LLC makes no representations or warranties of any kind, express or implied, as to the operation of this site or to the information, content, materials, or products included on this site. You expressly agree that your use of this site is at your sole risk.