Compare Homeowners Insurance in Houston
2017 was a rough year for Houston, Texas. Hurricane Harvey's devastation brought over $100 billion in damages in Houston. It's not their first rodeo, either – Houston has seen six major floods since 2000.
By our research, Texas has some of the highest home insurance rates in the country. Houston's proclivity for bad weather leads to extra expensive homeowners insurance rates. 
Houston homeowners need to get smart to find their ideal home insurance policy at an affordable price. We can help with that.
Average Houston Home Insurance Rates
What's the average cost of homeowners insurance in Houston? By polling nearly 1,300 QuoteWizard users in Houston, we created this 'average' home:
2238 square foot home built in 1990
3 bedrooms and 2.5 bathrooms
One story
Deadbolt locks
Fire extinguishers
Composite shingle roof
After creating this 'average' Houston home, we got home insurance quotes. These rates are based on a standard policy for our sample home. Remember, home insurance rates depend on you, your home, and your insurance needs. Your experience may differ from our sample home. Below are the average rates for a homeowners insurance policy in Houston:
$339/month
$4,052/year
The graph below shows the change in average Texas home insurance rates from 2011 to 2015, the most recent year the data is available. According to the III, Texas homeowners insurance rates increased from $1,578 in 2011 to $1,947 in 2015, a jump of $413 dollars, or 26.17 percent.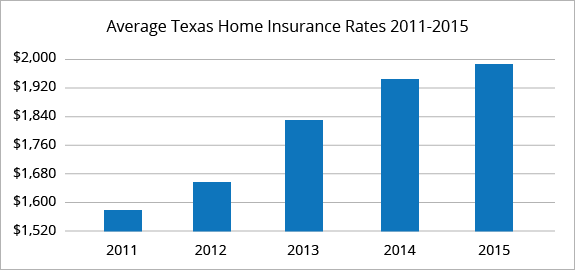 QuoteWizard helps consumers compare quotes from both national insurance companies and local agents. QuoteWizard can help you find affordable home insurance rates near Houston, Texas.
Last year 4,525 people used Quotewizard to compare home insurance quotes in Houston, TX, and find their best rates.
Best Home Insurance Companies in Houston, TX
Most Popular Insurance Companies
Based on data from QuoteWizard users in Houston, these are the most popular insurance companies in the city:
State Farm
Allstate
Geico
Liberty Mutual
Farmers
Progressive
Nationwide
AAA
Esurance
MetLife
Best Homeowners Insurance Companies
The above list shows Houston's most popular home insurers according to our users. But popular doesn't always mean best.
Our study on the best homeowners insurance companies focuses on top of the line companies. In no particular order, these companies stand out among the rest:
Amica: Best Overall
MetLife: Best for Bundling
Allstate: Best for Local Agents
Hartford: Best for Seniors
State Farm: Best for Pet Owners
Travelers: Best for Flexible Policies
Nationwide: Best Replacement Coverage
Farmers: Best for Eco-Friendly Homes
Liberty Mutual: Best for Quick and Easy Quotes
Auto Owners Insurance: Best Claims Experience
Houston Home Insurance Rate Factors
Insurers use many methods to price your home insurance policy. The biggest factor in Houston is weather. Fire protection class and crime rates are also important. Many of these price factors are out of your control. But being aware and prepared can help save you money. These are the most common price factors for home insurance in Houston:
Natural disasters: It's a fact that insurers charge higher rates for home insurance policies in disaster-prone areas. Remember – Hurricane Harvey caused upwards of $100 billion in damage to Houston. How do insurance companies pay for those costs? By raising rates. If you live in Houston, expect your insurance rates to reflect the disastrous weather.

Many homeowners mistakenly assume that flood damage is covered by home insurance. Unfortunately, it's not. A standard home insurance policy doesn't include flood coverage – that's a separate type of policy. Only about 15 percent of Houston homeowners had flood insurance before Hurricane Harvey. That means a lot of Houstonians were out of luck when it came to paying for flood damages.
Your home's age: Older homes usually cost more to insure. These houses are more likely to have problems that require a claim. That's especially true with homes that lack proper maintenance. According, to QuoteWizard users in Houston, the city's average house was built in 1990. That's relatively young for a house, which is good news for Houstonians.
Previous claims: Insurance agents use a tool called CLUE to see your insurance history and the claims history of your home. Filing claims hurts your rates, especially if you file several. On top of that, claims filed by your house's previous owner can also hurt you. Both types of claims make you riskier to insurance companies.
Proximity to emergency services: In the event of a fire, the extent of damage depends on how close you live to a fire station. Most insurance companies consider this when pricing your home insurance. Fortunately, Houston has a Class 1 rating for their fire protection services. That's the highest possible rating. This fact can help lower insurance rates in Houston.
Home security and crime: In 2017, Houston reported 101,879 property crimes according to the FBI. That's a high number. Homeowners who live in neighborhoods with high crime rates will pay even more. There are steps you can take to lower your rates by making your home more secure.
Credit history: Houston is ranked 86th out of 100 US cities for credit score. The average credit score in Houston in 642. That isn't awful, but it's certainly not good. Insurance companies rely on your credit history to gauge your risk level. If you have bad credit, you're going to pay considerably more for home insurance.
Attractive nuisances: Objects that attract trespassers and cause injuries are legally known as attractive nuisances. The most common attractive nuisances are pools, hot-tubs, and trampolines. If a trespasser hurts themselves trying to access an attractive nuisance, you could be held liable. Your home insurance pays for liability claims. As a result, insuring homes with these nuisances cost a bit more. Due to location and climate, owning a pool seems attractive to many Houston homeowners. But it will impact insurance rates.
Your home's replacement cost: When you buy home insurance, the insurance company estimates your homes replacement cost.. If your home is destroyed, dwelling and structure coverage pays for covered amount. This covered amount is calculated as replacement cost or actual cash value. Knowing the difference between the two is important. Larger homes with custom finishing will, obviously, need more coverage.
Coverage amounts: A basic policy covers the structure, belongings, and liability. But people with unique homes and extra valuables may need additional coverage amounts. That's especially true for people with large assets – substantial liability is necessary. Of course, more coverage costs more money. For this reason, coverage amounts are a big part behind the cost of your home insurance policy.
Types of Homeowners Insurance
Many states have their own state specific insurance policies. Texas is no stranger to doing things their own way. Listed below are the most common coverage types in the Texas-area: 
HO3 – This is the most common policy in the nation. It includes coverage on an open peril basis. This means you are covered for all unforeseen damages, unless otherwise stated.
HOA - This is a basic insurance policy specific to Texas. These policies offer actual cash value. That means your home and belongings can lose value as they age.
HOA+ - This is a policy that expands off the HOA policy. It offers additional coverage for more perils.
HOB -This policy provides the same coverage as an HO3, but with more water damage coverage.
6 Ways to Save Money on Homeowners Insurance in Houston
There are innumerable ways you can lower your home insurance premium:
Be a senior: Insurance companies offer many different discounts. One of the most common discounts is the senior homeowners discount. Like their cars, seniors take good care of their houses. That includes regular upkeep and maintenance, meaning the home is less likely to have serious damage. Currently, Houston has around 208,624 seniors. It is projected that people 65 years or older will make up 20 percent of Houston's population in 2030.
Shop around: Houston residents deserve the best insurance to fit their insurance needs. Buying insurance is an intimidating process. It's tempting to buy the first policy that fits and move on. But if you don't shop around and compare quotes from multiple companies, you'll likely leave money on the table. Each company offers different rates and discounts, so price quotes wil lvary from company to company. You should compare home insurance prices in Houston and start saving today.
Raise your deductible: When your deductible goes up, your insurance rates go down. It's that simple. Of course, raising your deductible means you will pay more out-of-pocket when you file a claim. If you can afford to spend a few thousand dollars on emergency repairs, consider raising your deductible. It will instantly lower your premium.
Add technology: As previously stated, Houston has a high crime rate. According to Neighborhoodscout, Houston residents have a 1 in 22 chance of becoming a victim of property crime. Those numbers aren't great.

Installing high-tech security systems and alarms can help homeowners lower their insurance rates. Technology helps identify and stop potential disasters before they happen. Insurance companies reward safe homes with lower insurance rates.
Bundle: Buying multiple insurance policies through the same company is an excellent option to lower your rates. This is the easiest way to save money on all of your insurance premiums. If you bundle your homeowners insurance with your auto insurance, for example, you can quickly save between 10 and 20 percent on your premium. You can also add in life insurance.
Avoid claims: Unfortunately, filing a claim will instantly raise your rates. Now, we're not saying that you can never file a claim. But you should be aware of the consequences that come with filing claims. If the damage is relatively minor, or if you can pay for it out of pocket, avoid filing a claim. It will save you money in the long run. Remember, there are a lot of things to consider before filing a claim.
QuoteWizard.com LLC has made every effort to ensure that the information on this site is correct, but we cannot guarantee that it is free of inaccuracies, errors, or omissions. All content and services provided on or through this site are provided "as is" and "as available" for use. QuoteWizard.com LLC makes no representations or warranties of any kind, express or implied, as to the operation of this site or to the information, content, materials, or products included on this site. You expressly agree that your use of this site is at your sole risk.