Are you a current or future homeowner in the El Paso, Texas? You may be facing sudden insurance rate increases.  
El Paso's home insurance rates have risen in recent years after several significant hailstorms. Natural disasters in your area can play an integral role in the cost of your homeowners insurance. Hail-related insurance claims have risen across Texas, with such claims growing 12-fold in El Paso since 2014.
Research and planning are the first steps to take to get the best El Paso homeowners insurance. 
Average El Paso Home Insurance Rates
How much is home insurance in El Paso? The cost of living in El Paso is lower than many other cities. But one should consider the consistently rising home insurance rates before settling in El Paso, TX. Using information from QuoteWizard users in the city, we created this 'average' El Paso house:
1,700 square foot home built in 1984
3 bedrooms and 2 bathrooms
One story
Deadbolt locks
Fire extinguishers
Composite shingle roof
We got quotes from multiple insurance companies for this 'average' El Paso home. Remember, home insurance rates depend on you, your insurance needs, and your home. These are the average rates for an El Paso homeowners insurance policy:
$177.58/mo.
$2,131.00 annually
The graph below shows the change in average Texas home insurance rates from 2011 to 2015, the most recent year the data is available. According to the III, Texas homeowners insurance rates increased from $1,578 in 2011 to $1,947 in 2015, a jump of $413 dollars, or 26.17 percent.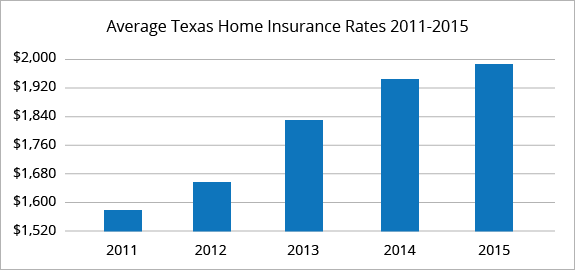 QuoteWizardhelps consumers compare quotes from both national insurance companies and local agents. QuoteWizard can help you find affordable home insurance rates near El Paso, Texas.
Last year, many people used QuoteWizard to compare home insurance quotes in El Paso, TX from multiple companies.
Best Home Insurance Companies in El Paso, TX
Most Popular Insurance Companies
According to QuoteWizard users in the city, these are the most popular El Paso homeowners insurance companies: 
Allstate
Farmers
Progressive
State Farm
Geico
Liberty Mutual
Nationwide
21st Century
Esurance
American Family
Best Homeowners Insurance Companies
The above list shows El Paso's most popular home insurers according to our users. But popular doesn't always mean best.
Our study on the best home insurance companies focuses on top of the line companies. In no particular order, these companies stand out among the rest:
Amica: Best Overall
MetLife: Best for Bundling
Allstate: Best for Local Agents
Hartford: Best for Seniors
State Farm: Best for Pet Owners
Travelers: Best for Flexible Policies
Nationwide: Best Replacement Coverage
Farmers: Best for Eco-Friendly Homes
Liberty Mutual: Best for Quick and Easy Quotes
Auto Owners Insurance: Best Claims Experience
El Paso Home Insurance Rate Factors
Insurers rely on many factors to calculate your home insurance premium. These are the most common components that decide your premium:
Natural disasters: It should come as no surprise that homes located in disaster-prone areas cost more to insure. After all, insurance companies lose money after major natural disasters. This is a problem in El Paso, where natural disasters aren't uncommon. Many people think that hurricanes are the most frequent natural disaster in El Paso. But as we said earlier, El Paso's hailstorms are an expensive problem, and they are the primary culprit behind the city's expensive home insurance premiums.
Your home's age: The older the home, the more likely it is to have long-term, serious damage. Because of this, owners of old houses file claims more often. That's why insurance companies charge more to insure older houses. According to QuoteWizard users in El Paso, the city's average home was built in 1984. That's young for a house, which is good news for El Paso residents.
Credit history: Insurers use your credit score to see how likely you are to pay your monthly premium on time. If you have bad credit you're guaranteed to pay more for home insurance by as much as 90 percent. In 2017, El Paso ranked 73rd out of 100 cities with an average credit score of 650. That's not a great credit score, and it can lead to sky-high insurance rates.
Attractive nuisances: Pools, hot tubs, and trampolines are great additions to El Paso homes, especially with the warm weather. But you may want to re-think these additions, as they can make your home insurance more expensive. Pools, hot tubs, and trampolines are a serious liability. If anyone -- including trespassers – is injured due to a nuisance, you can be held liable. In most cases, your home insurance pays for liability claims. As a result, insurers charge more to cover homes with these nuisances.
Previous claims: A Comprehensive Loss Underwriting Exchange (CLUE) report allows insurers to see the insurance history for you and your home. If you file more than one claim every ten years, insurers can label you as a high-risk. In some cases, they will cancel or refuse to renew your coverage. Gaps in your coverage also negatively affect your insurance rates.
Coverage amounts: A key factor in the cost of your insurance is your plan's coverage levels. A standard insurance policy covers the essentials including the home's structure, your belongings, and liability. Depending on your needs, you may want more coverage than a basic policy. Unsurprisingly, higher coverage levels cost more.
Home security and crime: High crime rates take a serious toll on home insurance rates – especially property crime. Compared to other cities, El Paso has a low property crime rate. At 9 property crimes per 1,000 residents, El Paso's property crime rate is significantly lower than the rest of Texas. Fortunately, crime rates aren't a big factor in El Paso's home insurance rates.
Types of Homeowners Insurance
There are many different types of home insurance, and Texas has state-specific home insurance policies. Listed below are the most common insurance types in Texas: 
HO3 – This is the most common policy in the nation. It includes coverage on an open peril basis. This means you are covered for all unforeseen damages, unless otherwise stated.
HOA - This is a basic insurance policy specific to Texas. These policies offer actual cash value. That means as your home and belongings get older and lose value, the insurance payout lowers as well.
HOA+ - This is a policy that expands off the HOA policy.
HOB -This policy provides the same coverage as HO3, but with more water damage coverage.
8 Ways to Save Money on Homeowners Insurance in El Paso
Below are some tried and true ways to lower your homeowners insurance premium:
Raise your deductibles: A deductible is what you pay out of pocket after filing a claim. A higher deductible leads to a lower premium. It's that simple. Depending on your personal needs and your risk aversion, a high deductible may make sense for you. Be aware that there's a lot to consider when choosing your home insurance deductible.
Bundle: A great way to cut your home insurance costs is bundling policies. Insurance companies give discounts to customers who buy multiple policies. If you bundle your homeowners and your auto insurance with one company, you can quickly save 20 percent on your premium.
Avoid claims: As stated above, filing claims leads to rising rates. If you file multiple claims in a few years, your insurer may cancel your coverage. For minor damages, you should try to pay out of pocket. Always consider whether or not you need to file a claim.
Shop around: It's easy to find an insurance company and never look again. After all, shopping for insurance is a tedious process. But if you don't see what else is out there, you're probably overpaying. Each insurer offers different rates and discounts. And if you stay with the same insurance company, there's a good chance they will regularly raise your rates. Compare home insurance quotes and find instant savings.
Skip the Pool: It gets hot in Texas in the summer time, and owning a pool seems like a great idea. But houses with pools cost significantly more to insure because of the increased possibility of accidents. If you want to save money on your insurance premium, stick to the local pools in El Paso.
Improve your credit score: On average, El Paso residents have poor credit. Insurers charge more to cover people with bad credit scores. If your credit score is bad, there's a lot you can do to improve it. If you're able to refinance debt and pay your bills on time, your credit scores will improve. Once that happens, ask your insurer to reassess your premium, and you may receive a discount.
Security: Though El Paso doesn't have a high crime rate, enhancing your house's security can lower your premiums. Installing features like privacy fences, security cameras, burglar alarms, and more show that you are taking preventive steps to keep trespassers out. It makes your home safer, and it decreases your chances of filing a claim.
Renovate: Maintaining an old home is a costly process. These houses have a higher likelihood of facing serious and expensive problems. To avoid emergencies, update fixtures, appliances, wiring, plumbing, and more before problems arise. El Paso's average home was built in 1984, which is right on the cusp of the age where maintenance begins to pile up. If your home has preventative repairs, your insurer may offer you discounts.
Sources:
QuoteWizard.com LLC has made every effort to ensure that the information on this site is correct, but we cannot guarantee that it is free of inaccuracies, errors, or omissions. All content and services provided on or through this site are provided "as is" and "as available" for use. QuoteWizard.com LLC makes no representations or warranties of any kind, express or implied, as to the operation of this site or to the information, content, materials, or products included on this site. You expressly agree that your use of this site is at your sole risk.