Compare Homeowners Insurance in Dallas
Are you a current or future homeowner in the Dallas area? Are you wondering why your home insurance rates continue to rise? Or are you first-time buyer looking to understand the price of a home insurance policy in Dallas?
Dallas has seen steady increases in home insurance rates for the past few years. New and old homeowners alike are feeling the rising home insurance rates in Dallas. As a homeowner, you should know the main factors that impact home insurance in Dallas.
One of the main reasons for Dallas' growing home insurance rates is because of extreme and frequent weather events throughout the state of Texas. There's also the increased cost to repair property damage from harsh weather.
Another thing Dallas residents should take into consideration are crime rates. High crime rates, unfortunately leads to high insurance rates. Unfortunately, Dallas crime rates are worse than the national average.
Research, proper planning, and comparing home insurance quotes are a some of the steps you can take to get the right homeowners policy in the Dallas area.
Average Dallas Home Insurance Rates
How much is home insurance in Dallas? The cost of living in Dallas is lower than in many other cities. But be aware of the consistently rising home insurance rates before buying a house in Dallas. Using data from nearly 1,300 QuoteWizard users from Dallas, we created this 'average' Dallas home:
2052 square foot home built in 1980
1 story
3 bedrooms and 2.5 bathrooms
Composite shingle roof
To find what the average home insurance policy costs in Dallas, we gathered home insurance quotes from top insurance companies for the average house listed above. Keep in mind, homeowners insurance is unique to each person and their insurance needs. Your home may differ quite a bit from our 'average' Dallas home. These are the average rates for a homeowners insurance policy in Dallas:
Month: $242.16
Year: $2,906.00
The graph below shows the change in average Texas home insurance rates from 2011 to 2015, the most recent year the data is available. According to the III, Texas homeowners insurance rates increased from $1,578 in 2011 to $1,947 in 2015, a jump of $413 dollars, or 26.17 percent.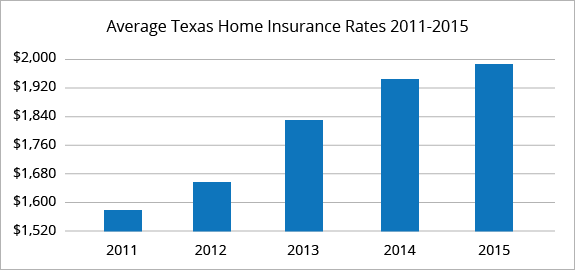 QuoteWizard helps consumers compare quotes from both national insurance companies and local agents. QuoteWizard can help you find affordable home insurance rates near Dallas, Texas.
Last year, 1,300 people used QuoteWizard to compare compare home insurance quotes in Dallas, TX from multiple companies.
Best Home Insurance Companies in Dallas, TX
Most Popular Insurance Companies
Find a list of the most popular home insurance companies in Dallas below. Remember, this data is pulled from QuoteWizard users:
State Farm
Allstate
Geico
Farmers
Progressive
Liberty Mutual
Nationwide
21st Century
Safeco
Esurance
Best Homeowners Insurance Companies
The above list shows the most popular home insurers in Dallas, TX according to our users. But popular doesn't always mean best.
Our study on the best home insurance companies focuses on top of the line companies. In no particular order, these companies stand out among the rest:
Amica: Best Overall
MetLife: Best for Bundling
Allstate: Best for Local Agents
Hartford: Best for Seniors
State Farm: Best for Pet Owners
Travelers: Best for Flexible Policies
Nationwide: Best Replacement Coverage
Farmers: Best for Eco-Friendly Homes
Liberty Mutual: Best for Quick and Easy Quotes
Auto Owners Insurance: Best Claims Experience
Dallas Home Insurance Rate Factors
Insurers use a variety of factors to calculate the cost of your home insurance policy. Listed below are the most common elements that decide your insurance rate:
Natural disasters: Insurers charge higher rates for home insurance in disaster-prone areas. Dallas is no stranger to inclement weather and natural disasters. Many people think that hurricanes are the are the most common natural disaster to strike Dallas. But Dallas (and Texas) residents also experience plenty of hail. In fact, Dallas has lots of insurance claim lawsuits related to hail damage.
Your home's age: The older the home, the more likely it is to have unique maintenance needs, old wiring and plumbing, and out-of-code issues. Therefore, homeowners insurance can be higher for an older home. Thankfully, in Dallas the average home was built in 1980. This isn't considered vintage and probably won't affect Dallas residents home insurance rates too much.
Credit history: It's controversial, but insurers use your credit score to decide on your premium. If you have bad credit you're guaranteed to pay more for home insurance. Unfortunately, studies show that Dallas residents have the 7th worst credit scores of major American cities. Last year Texas had the fifth worst state average credit score of 651.
Attractive nuisances: Have you always wanted an inground pool? Or a trampoline in your backyard? Or perhaps a treehouse? Unfortunately, these fixtures can seriously impact on your home insurance rates. If anyone -- even trespassers – is injured due to a pool, hot tub, or trampoline, you are liable for the damage. Your home insurance usually pays for liability claims. That's why you will face higher rates for having these features.

With average summer temperatures upwards of 90°, Dallas has plenty of pools. That's especially true in Plano, where 31 percent of homes have private pools.
Previous claims: It's no secret that filing claims often impacts your home insurance rates. If you file too many claims, your insurance agent may label you as high-risk, or even cancel your coverage. Coverage gaps can also look bad to insurers and affect the cost of your insurance. Even claims filed by the home's previous owner can hurt your premium price!
Coverage amounts: Coverage amounts are a key element in the cost of your home insurance. Settling for a basic policy that covers the bare-essentials may be a great route if you are looking to save on your monthly premium. However, this can cause extra out-of-pocket costs if something happens to your home.
Home security and crime: Dallas has a high crime rate. For property crimes including burglary, the rate for property crime is 35 per one thousand residents. There's an above average chance of suffering from property crime in Dallas compared to the rest of America. These statistics aren't great for homeowners and will be major factor for home insurance in Dallas. Luckily, there are some safety measures residents can take to lower their premiums.
Types of Homeowners Insurance
There are many different types of home insurance. Texas has state-specific home insurance policies. Listed below are the most common insurance types of insurance in the Texas-area:
HO3 – This is the most common policy in the nation, which includes coverage for most perils. Your structure coverage includes all open perils, and contents coverage includes named perils. This means you are covered for all unforeseen damages, unless otherwise stated.
HOA - This is a basic insurance policy specific to Texas. These policies offer actual cash value only. That means your home and items are valued at their market value. Depreciation is a factor.
HOA+ - This is a policy that expands off the HOA policy. It covers additional perils.
HOB – Again, this policy is specific to Teaxs. It has the same coverage as an HO3, but with more water damage coverage.
9 Ways to Save Money on Homeowners Insurance in Dallas
Below are some tried and true ways to lower your homeowners insurance premium:
Raise your deductibles: Most people would like to have little to no out-of-pocket expense after filing a claim. However, in many cases raising your deductible will lower your insurance bill. However, you will have to pay more out-of-pocket in the event of a claim.
Bundle: Purchasing more than one insurance policy with a company is a great saving tip! Consider bundling your homeowners with your auto insurance. You can save anywhere from 10 and 20 percent on your premium.
Avoid claims: As stated above, if you file multiple claims in a year your insurer may label you as a high-risk. That will, in turn, raise your rates. It's a good practice to not file claims when possible. For example, you should pay for small issues yourself, instead of filing a claim.
Skip the Pool: It gets rather hot in Texas in the summer time. You might think owning a pool sounds like a great idea. However, unless you're prepared to pay high insurance rates, stick to the community pools in Dallas.
Improve your credit score: As stated before, Dallas residents don't have good credit on average. People in Dallas with bad credit can expect to pay more than double in home insurance rates compared to neighbors with excellent credit. If you're in that position, work on improving your credit score.
Add technology: Unfortunately, Dallas homeowners pay the price for the city's crime rate with higher insurance costs. However, installing high-tech security systems and alarms can help lower insurance rates.
Privacy fence: We've stated a few times now that Dallas has bad crime rates, and making home insurance more expensive. However, installing features like privacy fences shows that you are taking preventive steps to keep trespassers out. Just like installing alarms and fire sprinklers, this looks good to insurers. It can help lower you home insurance.
QuoteWizard.com LLC has made every effort to ensure that the information on this site is correct, but we cannot guarantee that it is free of inaccuracies, errors, or omissions. All content and services provided on or through this site are provided "as is" and "as available" for use. QuoteWizard.com LLC makes no representations or warranties of any kind, express or implied, as to the operation of this site or to the information, content, materials, or products included on this site. You expressly agree that your use of this site is at your sole risk.