The Best Homeowners Insurance Companies in Texas
To find the best homeowners insurance companies in Texas, we ranked companies on four factors: coverage, affordability, customer satisfaction and availability. With severe weather throughout Texas, finding the best coverage for you can give you peace of mind in knowing that you're protecting your family and probably your largest asset — your home. 
Our study included nearly 3,000 quotes from 10 of the top insurance companies in Texas and in-depth coverage analysis. Based on our research, these are the best homeowners insurance companies in Texas:
Allstate: the best all-around home insurer
Allstate came out on top in our study of the best homeowners insurance companies in Texas due to its standard coverage, fair rates and good customer satisfaction scores. Allstate is also the second-largest insurer in Texas, meaning it is an option available to most people in the state.
Allstate's rates are among the cheapest in Texas, at $1,868 a year. Its customer satisfaction rankings are respectable as well, receiving a 3/5 in overall satisfaction from J.D. Power's 2019 home insurance survey, which is in line with many of its competitors.
Allstate offers the industry-standard coverage you'd expect from a national leader in insurance. Its homeowners insurance policies include coverage for:
Your home.
Your belongings.
Personal liability and guest medical protection.
One of the ways Allstate sets itself apart is by combining robust online resources with a sizable agent network. This gives customers multiple points of contact with the company, making managing your policy easier.
Amica: the best for customer satisfaction
Amica makes our list of the best homeowners insurance companies in Texas thanks to its high customer satisfaction ratings and scores. It is one of only three companies to receive the maximum 5/5 for customer satisfaction in J.D. Power's 2019 home insurance survey. Amica is a smaller player in Texas as the 11th-largest insurer, but for those who can find local coverage, we think it's an option worth considering.
Amica's 2018 NAIC Complaint Index is one of the lowest in the state, at 0.22. The Complaint Index measures how many complaints a company receives relative to its size, so a lower Complaint Index indicates fewer complaints. The NAIC Complaint Index in conjunction with Amica's J.D. Power ratings point to a best-in-class customer service experience in Texas.
State Farm: great coverage and customer satisfaction, but expensive rates
State Farm is the largest homeowners insurance company in Texas, accounting for 20% of all policies. While State Farm's average rates of $2,925 a year are above the statewide average, it offers good all-around coverage and high customer satisfaction.
State Farm received some of the best scores from J.D. Power's 2019 home insurance survey, earning a 4/5 for overall customer satisfaction. If you're interested in State Farm but concerned about the price, we recommend considering its available discounts, which aren't necessarily unique to State Farm, can help you save nevertheless. State Farm advertises homeowners insurance discounts for:
Bundling multiple policies (like home and auto).
Purchasing a home security system.
Having an impact-resistant or upgraded roof.
Installing updated utilities.
USAA: the best company for military service members and their families
USAA was founded in Texas in 1922 by a few dozen army officers who decided to insure each other's cars. That tradition carries through to today: USAA only serves military members, veterans and their families, but for those who qualify, USAA is one of the best companies around.
It's no wonder USAA writes 10% of all homeowners insurance policies in Texas: Texas is home to more than 1.5 million veterans1. Veterans and active service members can expect best-in-class coverage and service from USAA, where standard coverage comes with $5,000 of identity theft protection and coverage for military uniforms.
USAA also offers some of the most reasonable rates in Texas, according to our study. The average USAA policy cost $1,750 a year, which is more than $200 below the state average. For families with military ties, USAA's affordability, coverage and customer satisfaction can't be beaten.
Texas Farm Bureau: a good option with community ties
Texas Farm Bureau (TFB) is a membership-based non-profit organization that has advocated in the interest of Texas farmers and families since 1952. Members gain access not only to TFB insurance, but also banking services, as well as dozens of travel, vehicle and product discounts.
Our study found that Texas Farm Bureau has average annual rates of $1,422, which is below the state average by 27%. The primary drawback of TFB is its lackluster online resources. We had difficulty finding policy and discount information. That means to manage many parts of your policy, you'll probably have to contact your agent directly.
Find affordable homeowners insurance in Texas
See how much you can save!
Homeowners insurance companies in Texas
We always make our recommendations based on what home insurance companies are available locally. Large insurance companies dominate the Texas market for the most part, except for a few outliers like Texas Farm Bureau. Here are the biggest companies in the state, meaning they are likely options for Texans:
Texas home insurance companies comparison
Company
Market share
J.D. Power overall satisfaction rating
NAIC Complaint Index (lower is better)
State Farm
20%
4/5
0.25
Allstate
13%
3/5
0.29
Farmers
10%
3/5
0.26
USAA
10%
5/5
0.15
Liberty Mutual
7%
2/5
0.29
Travelers
4%
2/5
0.30
Texas Farm Bureau
3%
-
0.28
ASI (Progressive)
2%
3/5
0.35
Nationwide
2%
2/5
0.36
Chubb*
2%
2/5
-
Amica
2%
5/5
0.22
*Note: Chubb's complaint index was 0.0 in 2018, which we consider to be a misleading number, because there were no formal complaints lodged against the subsidiary we used in the analysis.
Choosing a national company often means you'll have access to a national agent network and more substantial online and digital resources. Smaller local insurers, on the other hand, can provide the community-level expertise many people value.
For more information on finding the best company for you, check out our best homeowners insurance companies study.
Average cost of homeowners insurance in Texas
Texas has some of the most expensive homeowners insurance rates in the country: the yearly average of $1,954, or $163 a month, is 61% higher than the national average.
Average cost of home insurance in Texas
 
Texas
U.S.
Average yearly rate
$1,954
$1,215
Average monthly rate
$163
$101
Note: Average rates are based on non-binding estimates provided by Quadrant Information Services. Your rates may vary.
Texas' many environmental risks: hurricanes and tropical storms on the Gulf Coast, tornadoes in the north and wildfires in West Texas all contribute to high rates.
However, rates vary substantially from company to company, which is why it's important to comparison shop when looking for homeowners insurance. Here's how some of the top companies in Texas stack up: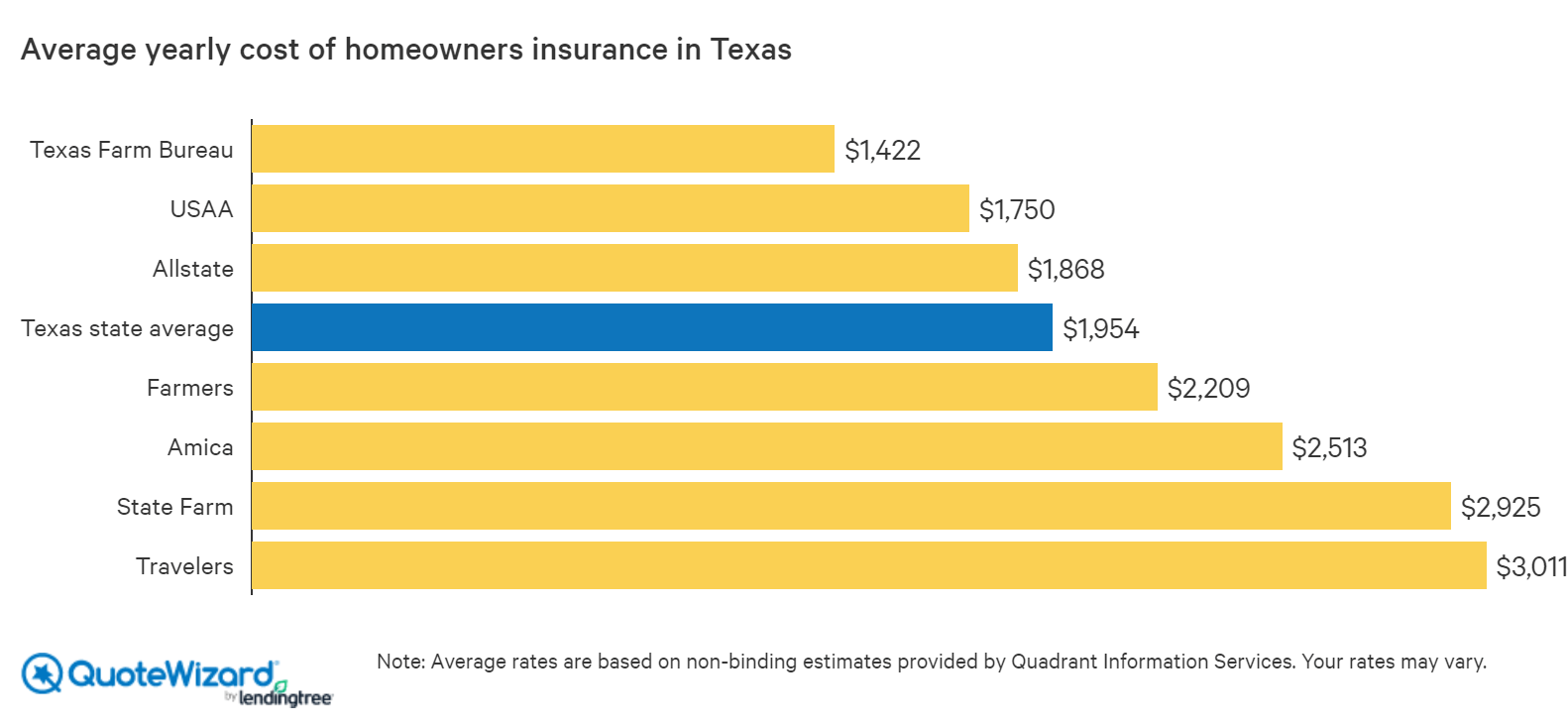 From $1,422 with Texas Farm Bureau to more than $3,000 with Travelers — a 118% swing — our study shows just how much rates can vary between companies.
Cost of homeowners in Texas by city and location
Home insurance rates vary widely across the state: we saw average rates as low as $1,155 a year and as high as $3,056 a year. Because Texas is so big, the state experiences an array of environmental conditions, which can contribute to raised or lowered premiums. For example, here are average rates for some of the biggest cities in Texas.
Average homeowners insurance premiums in Texas' largest cities
City
Average annual rate
Difference from state average ($1,954)
Amarillo
$2,490
27%
Arlington
$2,214
13%
Austin
$1,411
-28%
Corpus Christi
$2,750
41%
Dallas
$2,176
11%
El Paso
$1,145
-41%
Fort Worth
$2,228
14%
Garland
$2,182
12%
Grand Prairie
$2,205
13%
Houston
$1,963
0%
Irving
$2,187
12%
Laredo
$1,459
-25%
Lubbock
$2,208
13%
Plano
$2,151
10%
San Antonio
$1,359
-30%
Note: Average rates are based on non-binding estimates provided by Quadrant Information Services. Your rates may vary.
Broadly speaking, cities along the Gulf Coast and cities in the northeastern part of the state experience higher rates than cities in central and West Texas. Hurricanes off the Gulf of Mexico mean southwestern cities experience more severe weather, and therefore higher rates. Cities in the north and eastern portions of the state are in the path of Tornado Alley, the section of the U.S. that is at the highest tornado risk.
Austin, El Paso and San Antonio have average rates well below the state average, as the central and western portions of Texas experience fewer risks. Cities like Houston and Dallas see more expensive rates due largely in part to their risk for hurricanes and tornadoes, respectively.
Home insurance perils in Texas
Texans are no strangers to severe weather. From tornado season in North Texas in the spring and summer months to hurricanes on the Gulf Coast, homeowners in Texas have plenty to worry about. Insurance companies categorize these events as perils, which are risks to your home or property.
Tornadoes
Between 1991 and 2010, Texas averaged 155 tornadoes a year, according to the National Centers for Environmental Information. That's more than any other state. Tornadoes present risks to homeowners in the forms of high winds and falling debris.
Fortunately, homeowners insurance typically covers damage due to wind. That doesn't mean that you shouldn't take precautions, though, like reinforcing your roof, windows and doors, and tying down any external structures that can become dislodged.
Hurricanes and tropical storms
Tropical storms and hurricanes on the Gulf Coast cause two main types of damage: wind damage and flood damage. Homeowners insurance almost never covers flood damage. For coverage, you'll likely have to purchase a separate flood insurance policy. Some other storm damage, like from wind, hail and lightning, is covered by homeowners insurance.
Flood insurance in Texas
The majority of homeowners obtain flood insurance through the National Flood Insurance Program (NFIP), which is part of FEMA. NFIP flood insurance is backed by the U.S. Treasury, but administered by private companies. The cost of these government flood insurance policies are set by the government, so premiums do not vary between companies.
Our research on the average cost of flood insurance found that the average NFIP policy in Texas costs $595 a year. That's a lot of money, but considering how devastating flooding can be, it's usually worth protecting you home. Between 1996 and 2016, the NFIP paid out more than $5 billion in claims, and that doesn't include NFIP claims from Hurricane Harvey, which totaled more than $8.5 billion2.
Private flood insurance is also becoming more readily available. Some people in lower-risk areas may be able to find cheaper coverage through a private flood company, but that is no guarantee. What is for sure is that there is no such thing as an area safe from flooding, and having coverage can give you peace of mind and be prepared for the unexpected.
Texas home insurance policies
There are standard homeowners insurance policy forms, and the majority of homeowners have the policy called the HO-3. Insurance companies in Texas, however, often use different forms than the rest of the country. Texas' standard homeowners insurance policies are very similar to the national forms. The standard home insurance forms in Texas are listed below:
Texas homeowners insurance policy types
Texas policy form
ISO policy form (common in other states)
Coverage type
Level
HO-A
HO-1
Named-peril
Least coverage
HO-A+
HO-2
Named-peril
Less coverage
HO-B
HO-3
Open-peril
More coverage
HO-C
HO-5
Open-peril
Most coverage
Source: Texas Department of Insurance
Knowing the type of policy you have can help make sure you have sufficient coverage. One of the major differences between the policies are whether they are named-peril or open-peril.
Named-peril policies cover damage from the events listed on the policy, and only those events. That means if your home or property is damaged by something not listed on the policy, it is not covered.
Open-peril policies cover damage from all events, except for those specifically excluded on the policy. So, if your home is property is damaged by something not listed on the policy, it is covered if it is not in the exclusion list.
For more information on policy forms, check out our types of homeowners insurance article.
Frequently asked questions
Q: What's the average cost of homeowners insurance in Texas?
A: The average cost of homeowners insurance in Texas is $1,954, according to our study of nearly 3,000 quotes from 10 companies.
Q: What's the best homeowners insurance company in Texas?
A: Home insurance isn't one size fits all, so the best company for one person may not be the best for another. Our pick for most people in Texas is Allstate, but there are other companies worth your consideration, too.
Q: Does homeowners insurance cover flood damage?
A: Unfortunately, not usually. In order to get flood insurance in Texas, you'll have to purchase a separate flood insurance policy.
Q: Who has the cheapest homeowners insurance in Texas?
A: Our study found that Texas Farm Bureau is the cheapest home insurance company in Texas, on average. However, there are many factors that determine your premiums, so TFB won't be the cheapest company for everyone.
Q: Why are my rates so high?
A: Many factors affect home insurance rates. If an environmental event is more probable in an area, like hurricanes, tornadoes, windstorms and flood, you'll probably see higher rates. But there are a few ways to save on your home insurance premiums.
Methodology
We collected 2,994 quotes based on a home in Texas that was built in 1987 and worth $192,577, as these are the median values in the state. Our survey included the following 10 companies: Allstate, Amica, ASI (Progressive), Chubb, Farmers, State Farm, Texas Farm Bureau, Travelers and USAA. The quote coverages were:
Dwelling coverage: $192,577
Personal property coverage: 50% of dwelling ($96,289)
Other structures coverage: 10% of dwelling ($19,258)
Loss of use coverage: 20% of dwelling ($38,515)
Liability coverage: $100,000
Deductible: $1,000
We aggregated all geographic, demographic and market data from Standard & Poor's Global Market Intelligence.
Sources
1U.S. Department of Veterans Affairs
2FEMA
QuoteWizard.com LLC has made every effort to ensure that the information on this site is correct, but we cannot guarantee that it is free of inaccuracies, errors, or omissions. All content and services provided on or through this site are provided "as is" and "as available" for use. QuoteWizard.com LLC makes no representations or warranties of any kind, express or implied, as to the operation of this site or to the information, content, materials, or products included on this site. You expressly agree that your use of this site is at your sole risk.