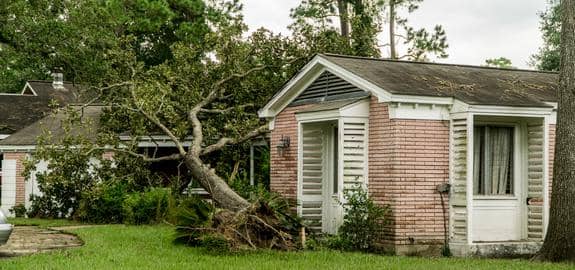 A large part of Texas is high-risk territory for windstorms. While having windstorm insurance isn't required by Texas law, most mortgage lenders in parts of Texas with a high wind risk will not underwrite home loans unless you have windstorm insurance.
Windstorm insurance is available through most local insurance providers in Texas. However, if you're denied coverage through a private insurer, the Texas Windstorm Insurance Association (TWIA) offers a "last resort" coverage option in some Texas counties so homeowners may comply with mortgage lender standards.
This article will cover:
Texas windstorm insurance
Windstorm insurance covers your home's structure and your belongings within it from damage due to high winds, tornadoes, hail and other wind-related events that involve wind gusts of 35 miles per hour or more. Windstorm insurance may also cover Additional Living Expenses (ALE) if you have to relocate while the damage is repaired. 
Some homeowners insurance policies in other states cover wind damage. However, in states like Texas, where wind damage to homes is a frequent danger in high-risk areas, windstorm insurance may be sold as a separate policy or a rider.
Texas does not have a standardized, statewide system for regulating windstorm insurance. Criteria for windstorm insurance coverage varies from county to county. Speak with your insurance company to find out what your county's specific windstorm insurance criteria are.
Do you need windstorm insurance?
If you own a home in Texas but don't have a mortgage, the lender requirement for windstorm insurance becomes a non-issue. Even so, if you own your home you probably want to protect your investment. According to the III, between 2013 to 2017, one in 50 insured homes made a wind damage claim every year. The average claim amount was $10,182.
Keep in mind that these statistics represent the average. If you live on the coast of Texas or in Tornado Alley that runs from Central to Northern Texas, you have a higher chance of having to file a claim. 
How to get windstorm insurance
Windstorm insurance is offered by most private home insurance providers in Texas. However, if you are denied windstorm insurance by a private provider, your mortgage lender still needs you to get this coverage. As such, the Texas Windstorm Insurance Association (TWIA) is there to provide "last resort" windstorm insurance.
If you're building a new home or renovating an existing home, windstorm insurers will usually need an inspection completed before they underwrite a policy. Construction projects that tend to require inspections afterwards are:
Re-roofing
Additions
Air conditioning work
Alterations
Repair work
New dwelling
These inspections must be done by either an inspector from the Texas Department of Insurance (TDI) or an engineer appointed by the Texas Commissioner of Insurance. 
You will be given either an WPI-8 or a WPI-8-C certification, depending on the status of the construction project. The TDI issues a WPI-8 for new and ongoing construction. The TWIA issues the WP-8-C for completed construction projects. The WPI-8-C is usually only required by TWIA, not private insurers. The inspection to get either certification is free.
TWIA windstorm insurance
If you are rejected for windstorm insurance by a private insurer, TWIA windstorm coverage is an alternative. TWIA has criteria that must be met before it can underwrite a policy:
You must be rejected by at least one private windstorm insurance provider. If you reject a policy that does not fulfill your coverage needs, or provides less coverage than the TWIA policy, this counts as a rejection as well.
The home was built, expanded, renovated or remodeled on or after September 1st, 2009 in V-type (including VE and V1-30) flood zones.
The home must be TDI or TWIA code compliant, with respective WPI-8 or WPI-8-C certification.
The home must be well-maintained.
While windstorm insurance coverage may vary from county to county through a private insurer, TWIA coverage is consistent across its coverage area. It includes:
Dwelling: covers structure of home as well as external structure like a detached garage. (10% limit of dwelling limit) Maximum dwelling limit: $1,773,000.
Contents: reimburses for  furniture, appliances and other covered belongings damaged by wind. The maximum limit is $374,000.
ALE: covers Additional Living Expenses unless you're evacuated, the utilities are shut off, or other local infrastructure issues occur related to hurricanes or windstorms.
Debris removal: pays for removal of debris after windstorm-related cleanup on your property.
Increased Cost of Construction (ICC): covers additional costs from compliance with current local and state building codes.
TWIA insurance may be purchased at either Actual Cash Value (ACV) or Replacement Cost for both dwelling and contents coverage. ACV coverage factors current depreciation into your claim payout. Replacement Cost pays out at the full value of your dwelling and belongings. 
Replacement Cost is a better value in the long run, even though it usually costs more than ACV coverage. With ACV coverage, you will probably receive a much lower payout to put towards repairs after a windstorm. 
If your dwelling coverage limit is at least 80% of your home's rebuild cost, your TWIA dwelling coverage is automatically at Replacement Cost. 
Alternative windstorm insurance options
There are insurers in Texas that just provide windstorm insurance. They usually have higher criteria for underwriting than TWIA, but their rates may be 15% lower than TWIA. Windstorm insurance companies in Texas to look at for lower rates include:
Velocity
Weston Insurance (Houston area only)
Maison Insurance
Southern Vanguard Insurance
Lighthouse Property Insurance
If you don't qualify for any of the above windstorm insurance options, look into the Texas FAIR Plan.The FAIR Plan is a state-sponsored insurance program designed to get you the minimum windstorm damage you need for compliance with lender standards.
How much does windstorm insurance cost in Texas?
The average cost of windstorm insurance in Texas is around $1,600 a year. This puts Texas as having the seventh highest windstorm premiums in the country. Your premium is based on the following standard rating factors:
Amount of windstorm insurance purchased
House construction type
Chosen deductible amount
Additional coverage
QuoteWizard.com LLC has made every effort to ensure that the information on this site is correct, but we cannot guarantee that it is free of inaccuracies, errors, or omissions. All content and services provided on or through this site are provided "as is" and "as available" for use. QuoteWizard.com LLC makes no representations or warranties of any kind, express or implied, as to the operation of this site or to the information, content, materials, or products included on this site. You expressly agree that your use of this site is at your sole risk.