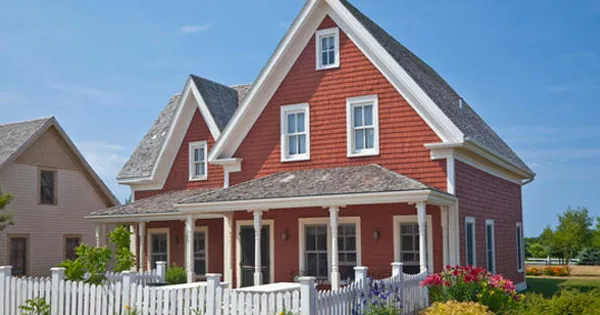 Your homeowners insurance rate is based on many different considerations. These include factors such as how old your house is, where it's located, your personal history and what home insurance limits you need. Being aware of how each factor is reflected in your overall home insurance rate is one of the best ways to make sure you get the best coverage at a low cost. This article will cover the 10 most important home insurance factors:
What to look for in home insurance rates
There is an extensive list of factors involving both your home and your personal history that may affect your yearly home insurance quote. These factors do not just involve your house itself. Personal factors such as your claim and credit histories, even your marital status, will play into how high or low your quote is.
When calculating your home insurance, use the overview below to get an accurate assessment of how each factor may affect your yearly rate.
Home insurance coverage limits
Your actual home insurance policy can be as unique as your home. No two policies are the same. There are many parts of your home insurance coverage that you will want to be aware of in order to get a clear view of the cost involved:
Dwelling insurance: Dwelling insurance, also known as hazard insurance, covers the structure of your home against covered perils. The amount of dwelling insurance you need is based on the replacement cost of your roof, walls and other parts of the physical building of your home. Your dwelling insurance limit is typically used to calculate base limits for other parts of your policy.
Personal property insurance: This portion of your home insurance covers damage and destruction by covered perils of your belongings, such as clothing, furniture, televisions and more. Personal property insurance coverage is usually 20% to 50% of your dwelling coverage.
Actual cash value vs. replacement cost:Another policy cost variable exists within personal property coverage, and that's how your home insurer pays out on claims. The two options for payout are actual cash value and replacement cost. Because replacement cost payouts may be more expensive for an insurer, it tends to cost more.
Liability insurance: Liability covers you in the event of someone suffering injury or property damage caused by you or your family members. It may also cover injury or damage caused by your pets. We recommend going with at least $300,000 in liability coverage, and $500,000 if you can afford it. The premium difference between $300,000 and $500,000 for liability coverage is usually not large.
Your deductible: Simply put, higher deductibles usually mean lower premiums. The most common deductible amounts that home insurance companies offer are $500 or $1,000. Of those, the $1,000 deductible tends to be the most popular.
Quality and age of the home
The building materials used and the age of your house can create variables in home insurance rates. Brick homes, for example, may result in lower premiums than houses made of wood due to lower fire risk, usually about 6% less. If you have an older home built out of materials that are hard to come by today, this can result in higher rates as well.
Your roof can also affect your rates. Some roofing materials are better than others in the eyes of home insurers, based on their risk factor and life span. The roof is one of the most important parts of your home, as it is literally the shield for the rest of the house. An old, unmaintained roof can result in higher rates and possibly denial of coverage altogether.
Location of the house
Your home's location in relation to emergency services can have a large impact on your home insurance rates. Your distance from the local fire department, and even the distance from a fire hydrant, can affect it.
If your home is in an area with a track record for natural disasters, this can also affect your rates. Regions with a lot of wildfires are high-risk, and may increase your premium.
The rough deal with natural disaster trends is that not only will they jump up your home insurance costs, but there are many that standard home insurance doesn't even cover. Natural disasters such as flooding, earthquakes and sinkholes require you to purchase separate insurance in order to cover your home.
The crime rate in your neighborhood may affect your home insurance costs as well. If you live somewhere with high rates of burglary and vandalism, that may boost your home insurance rates. Speaking of legalities, local judicial trends can also increase premiums. If you live in an area where the court system has a tendency of favoring insurance customer plaintiffs in civil court claim disputes, home insurers may charge you more to offset their potential costs.
To give you an example of how much your rates can vary from state to state, check out the table below. We found that the national average annual cost of home insurance is $1,215 per year. You can see how widely state insurance rates compare.
How location affects home insurance rates
State
Average annual premium
Average monthly premium
Difference from national average
Alabama
$1,351
$113
11%
Arizona
$927
$77
-24%
Colorado
$1,832
$153
51%
Delaware
$760
$63
-37%
Idaho
$838
$70
-31%
Kansas
$1,668
$139
37%
Maryland
$1,198
$100
-1%
Nebraska
$1,791
$149
47%
Ohio
$872
$73
-28%
Texas
$1,954
$163
61%
Average rates are based on non-binding estimates provided by Quadrant Information Services. Your rates may vary.
Home security and fire prevention measures
If you take steps to reduce the likelihood of theft or fire, your home insurer may offer you a discount. Installing home security systems, such as burglar alarms or barred windows, tends to bring down rates. The same stands for installing sprinkler systems or carbon monoxide detectors.
Married or single?
Statistically speaking, home insurers consider married couples to be a lower-risk demographic. Home insurance companies may consider both yours and your partner's finances when calculating your premium, but it often results in lower rates.
Your insurance claim history
How many claims you've filed in the past may affect your risk status, and therefore your home insurance rate. All home insurance claims are tracked by the Comprehensive Loss Underwriting Exchange (CLUE) when you file them. Claims on your CLUE report stay for between three and seven years.
Many home insurers look particularly closely at claims on your CLUE report filed within the last three years, according to the frequency of claims and how much the payouts were, when calculating your premium. If you want to get an accurate look at your claim history, you can request a copy through LexisNexis. You might be surprised by what you find. You may have a "claim" on your history just for contacting your insurer after a storm. Such claims may be disputed, possibly resulting in lower rates.
Your credit history
While some states (such as California, Maryland and Massachusetts) have made it illegal to charge home insurance customers more based on their credit scores, it can happen in other states.
According to FICO, 85% of home insurers use customer credit scores to calculate home insurance quotes. Any steps you can take to boost your credit score may have a positive effect on your rates.
The graph below illustrates how credit ratings can influence your home insurance rates: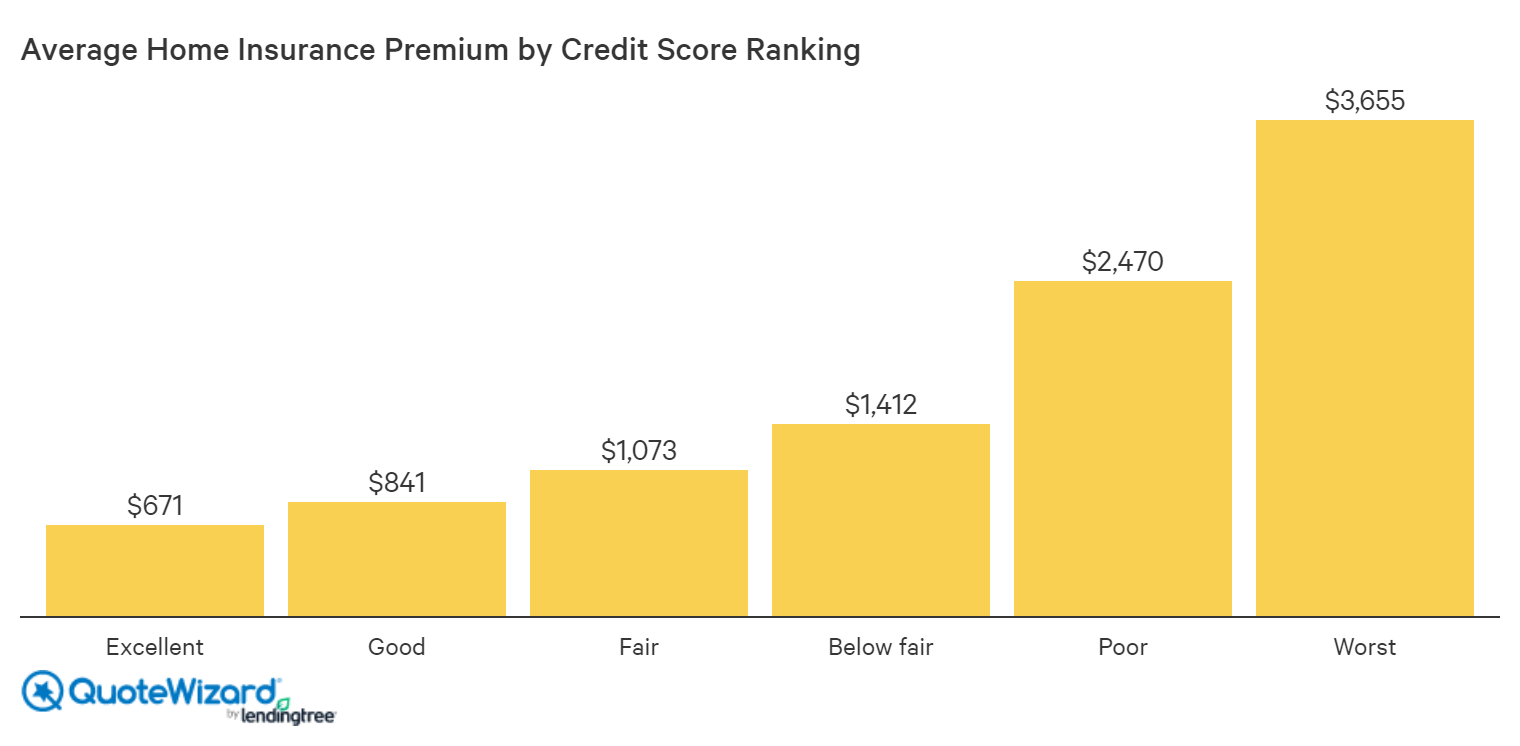 Risky attractions like pools and trampolines
Home insurance companies consider attractive nuisances such as swimming pools, hot tubs and trampolines high-risk insurance situations. They're called "attractive nuisances" because they can entice people onto your property, where they can be injured. If a trip to the hospital occurs because someone got into your pool or on your trampoline while you're gone, you can still be held liable. This can lead to an increase in your home insurance rates. Home insurers may reduce the rate change factor that comes with attractive nuisances if you install fencing or "no trespassing" signage.
How some dog breeds affect your rates
Some insurers consider certain breeds of dog high-risk rather than looking at the behavior of the specific dog. If a dog bites someone, the dog owner may be held liable. This risk tends to result in higher rates or even non-coverage of the dog, requiring you to sign a waiver of coverage. If you are a dog owner, consider shopping around for a policy with a company that doesn't consider breeds a risk factor and goes instead on a case-by-case basis.
In-home business home insurance factors
Having a home business can add new home insurance risks. From expensive equipment that needs high amounts of personal property coverage to extra liability risk for visiting customers, using your home for business purposes can increase your rates. Since standard home insurance doesn't cover much in the way of home businesses, you may want to consider add-on or separate home business insurance options.
QuoteWizard.com LLC has made every effort to ensure that the information on this site is correct, but we cannot guarantee that it is free of inaccuracies, errors, or omissions. All content and services provided on or through this site are provided "as is" and "as available" for use. QuoteWizard.com LLC makes no representations or warranties of any kind, express or implied, as to the operation of this site or to the information, content, materials, or products included on this site. You expressly agree that your use of this site is at your sole risk.