Compare Homeowners Insurance in Austin
With a great job market and quality of life, Austin, Texas is now one of America's most desirable places to live
Austin is one of the fastest-growing metro areas in the country. This is great news for the local economy. But it takes a toll on the cost of homes and homeowners insurance in the area. The median sales price for a single-family home in Austin is well above the national average.
Do you own a home in Austin, TX? Are you planning to move to Austin in the future? You should know about the price of home insurance and the factors that affect your rates.
Average Austin Home Insurance Rates
The rising popularity of the Austin causes an influx in housing prices. The cost of homeowners insurance can rise with the cost of a house. So how much does homeowners insurance cost in Austin?
Using data from close to 1,300 QuoteWizard users from Austin, we created this 'average' home:
2147 square foot home built in 1996
One story
3 bedrooms and 2.5 bathrooms
Deadbolt locks and fire extinguishers
Composite shingle roof
Using this average home, we got quotes from several insurance companies. Don't forget, home insurance is unique to each person and their needs. Your house and insurance rates may vary. Below are the average rates for a homeowners insurance policy in Austin:
$206.41/mo.
$2,477.00 annually
The graph below shows the change in average Texas home insurance rates from 2011 to 2015, the most recent year the data is available. According to the III, Texas homeowners insurance rates increased from $1,578 in 2011 to $1,947 in 2015, a jump of $413 dollars, or 26.17 percent.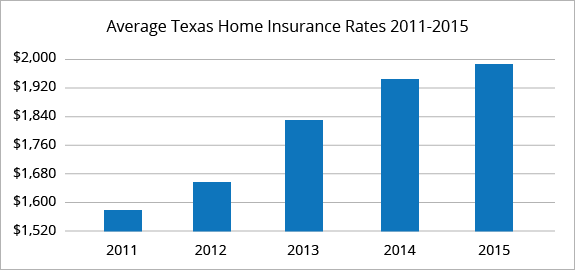 QuoteWizard helps consumers compare quotes from both national insurance companies and local agents. QuoteWizard can help you find affordable home insurance rates near Austin, Texas.
Last year, 1,300 people used QuoteWizard to compare compare home insurance quotes in Austin, TX from multiple companies.
Best Home Insurance Companies in Austin, TX
Most Popular Insurance Companies
According to QuoteWizard users, these are the most popular home insurance companies in Austin, TX:
State Farm
Farmers
Allstate
Geico
Liberty Mutual
Progressive
Nationwide
MetLife
Safeco
21st Century
Best Homeowners Insurance Companies
The above list shows Austin's most popular home insurers according to our users. But popular doesn't always mean best.
Our study on the best home insurance companies focuses on top of the line companies. In no particular order, these companies stand out among the rest:
Amica: Best Overall
MetLife: Best for Bundling
Allstate: Best for Local Agents
Hartford: Best for Seniors
State Farm: Best for Pet Owners
Travelers: Best for Flexible Policies
Nationwide: Best Replacement Coverage
Farmers: Best for Eco-Friendly Homes
Liberty Mutual: Best for Quick and Easy Quotes
Auto Owners Insurance: Best Claims Experience
Austin Home Insurance Rate Factors
Insurance underwriters use many factors to price your home insurance rates. Here are some of the most common factors that decide your monthly premium:
Types of Homeowners Insurance
There are many different types of home insurance, and Texas has state-specific home insurance forms. Listed below are the most common insurance types of insurance in the Texas-area:
HO3 – This is the most common policy in the nation, which includes coverage on an open peril basis. This means you are covered for all unforeseen damages, unless otherwise stated.
HOA - This is a basic insurance policy specific to Texas. These policies offer actual cash value. This means as your home and belongings get older and lose value, the lower the cash value goes.
HOA+ - This is a policy that expands off the HOA policy.
HOB -This policy provides the same coverage as an HO3, but provides more water damage coverage.
8 Ways to Save Money on Homeowners Insurance in Austin
Find below some of the tried and true ways to lower your homeowners insurance premium:
Raise your deductibles. Having little to no out-of-pocket costs in the event of an incident is great. But raising your deductible helps you save on your monthly home premium. Please keep in mind there are many things that need to be factored in prior to raising ones deductible.
Bundle. Insurance companies love customers that purchase more than one insurance policy with them. Just by bundling your home insurance with your auto insurance you can save anywhere between 10 and 20 percent on your insurance rates.
Avoid claims. As mentioned earlier, filing multiple claims can designate you and your home as a high-risk. It's not practical to think that you will never have to file a claim. But if you can pay for small issues out-of-pocket, this will keep your premium from increasing.
Shop around. Shopping for insurance is a long and involved process. However, a great tactic to saving money on home insurance is shopping around. Each company uses different methods to price an insurance plan. If you don't shop around you don't know what else is out there or what savings you may be missing. Start saving money in Austin and compare homeowners quotes.
Improve your credit score. Improving your credit score can help lower your rates. Austin residents have a decent average credit score. But you can always raise your score, and even a few points can help. An easy way you can improve your credit score is to always pay bills on-time.
Add technology. Austin has a very low crime rate. Homeowners don't necessarily have to worry about this property crime when it comes to insurance rates. But if Austin residents install high-tech security systems and alarms this can help drop their insurance rates even lower.
Redo Your Roof. You homes roof protects your home from inclement weather. With Austin being prone to hailstorms and downpours, a high-quality roof is your first layer of protection from inclement weather. Check on your roof regularly to make sure it is in mint condition.
Be a Senior. Homeowners over the age of 65 have more than just retirement to look forward to. Seniors also get a lot of discounts, and that includes discounts on home insurance. Austin has a growing popularity amongst millennials and seniors currently, with the current senior population at close to 11 percent.
QuoteWizard.com LLC has made every effort to ensure that the information on this site is correct, but we cannot guarantee that it is free of inaccuracies, errors, or omissions. All content and services provided on or through this site are provided "as is" and "as available" for use. QuoteWizard.com LLC makes no representations or warranties of any kind, express or implied, as to the operation of this site or to the information, content, materials, or products included on this site. You expressly agree that your use of this site is at your sole risk.