Key findings:
Healthcare spending in April dropped for hospitals (-43%), and physician offices (-37%).
There was a 77.87% decrease in in-person medical visits from March to April 2020 compared to the same period in 2019.
The AHA projects health care system losses of $120.5 billion from July through December 2020, totaling $323.1 billion in losses for 2020.
Over the course of 2020, primary care practices are expected to lose $67,774 per full-time-equivalent physician. The estimated cost to neutralize this revenue loss nationally would be $15.1 billion.
The COVID-19 pandemic has seen a significant shift in how hospitals and health care facilities operate due to an influx of patients coming in to be treated for COVID-19 and an even larger number of people avoiding regular and planned visits because of the elevated risks for contracting COVID-19. This shift in hospital patients during the pandemic has the entire American hospital and health care facility industry facing record losses. From March to April 2020, there was a 77.8% decline for in-person medical visits compared to the same timeframe in 2019. While there has been an uptick in telehealth visits, it hasn't come close to the same number of visits from the previous year. Declining visits means a decline in spending at hospitals and medical facilities. April 2020 compared to April 2019 saw a 43% decline in hospital spending and a 37% decline in physician services
With patient visits down and spending falling short as a result, hospitals are taking on billions in revenue losses. The American Hospital Association (AHA) estimates that from March to June 2020, there was $202.6 billion in losses from low patient volumes. While patient volumes have been increasing since June, the AHA still projects another $120.5 billion in losses from July to December 2020. These potentially catastrophic losses in 2020 total up to $323.1 billion. The CARES Act passed by congress in the early stages of the pandemic allocated $120.6 billion for hospitals, but as of June 2020, the AHA estimates only $54.6 has been distributed by the Department of Health and Human Services. With only a fraction of government assistance going towards hospital relief, the projected losses are likely leading to severe ramifications in the healthcare industry.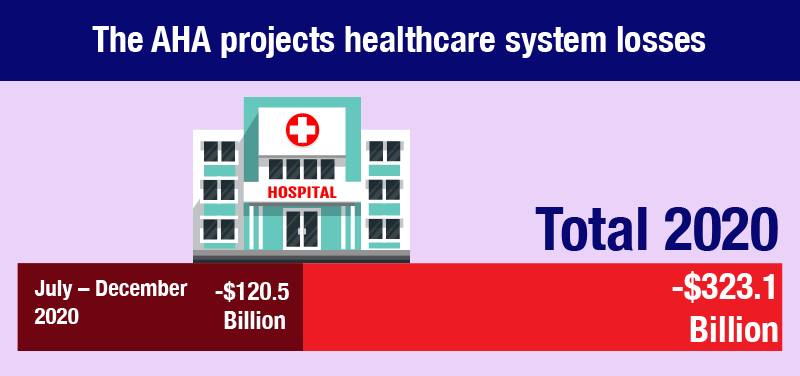 How losses will shape healthcare in the coming years
The billions in losses hospitals and health care facilities are facing could lead to a number of unfavorable results for the American people. Hospitals' ability to stay operational is one initial issue that sticks out. Many hospitals with mounting debts are simply unable to continue operating and are forced to close their doors. Hospital closures are becoming more common, especially in rural areas where health care facilities are few and far between. Already in the first half of 2020, there have been 12 rural hospital closures.
The larger issue ahead of the health care landscape is the rising cost of both health care and health insurance. As hospitals accumulate debt, they offset losses with increased costs of health care services. This would include the average expenses hospitals have per patient visit. Hospitals must increase these costs to maintain profit margins. From 2009 to 2017, the AHA reported uncompensated health care costs, a debt metric for hospitals, to be fairly flat over the time period, resulting in $38.4 billion in 2017. Over that same time period, we analyzed Kaiser Family Foundation data on hospital expenses per visit and found a 36% increase in hospital expenses per visit. Even as hospital debts stayed fairly flat, their expenses increased 36%. Given the record debts set to accumulate for hospitals in 2020, the rate of health care expenses is likely to soar past the 36% rate over the last decade.
As health care costs increase, health insurance premiums follow. More expensive cost of health care is met with pricier insurance claims, leading to inevitable increase in insurance premiums. Over a similar period from 2009 to 2019 we analyzed annual average costs of employer health insurance premiums. In that 10 year period, we found an average health insurance premium increase of 57%. In a similar time frame we found a 36% increase in hospital expenses followed by a 57% increase in health insurance premiums. The troubling chain of events we're likely to see from the billions of debts hospitals are facing from the pandemic is steeper increases in hospital expenses which will lead to a higher rate of health insurance premium hikes.
States with already high hospital expenses and health insurance premiums could see even higher rates impacting their bottom line over the next decade. Below we highlight states with the highest hospital expenses per visit and states with the highest average employer health insurance premiums. Given the projected hospital debts, these states are likely to see the largest increase given the expected high rate of growth.
States with the highest hospital expenses per visit
Rank
State
2018 Average Expense
1
North Dakota
$3,573
2
Connecticut
$3,481
3
Oregon
$3,426
4
Washington
$3,385
5
California
$3,180
6
Idaho
$2,966
7
Colorado
$2,931
8
New York
$2,894
9
Utah
$2,883
10
New Mexico
$2,826
Data Source: Kaiser Family Foundation
States with the highest average health insurance premiums
Rank
State
2019 Average Cost
1
Alaska
$22,969
2
New York
$22,874
3
New Jersey
$22,060
4
Massachusetts
$21,424
5
Vermont
$21,419
6
Connecticut
$21,363
7
Indiana
$21,169
8
South Carolina
$20,973
9
Texas
$20,966
10
California
$20,788
Data Source: State Health Access Data Assistance Center
References:
QuoteWizard.com LLC has made every effort to ensure that the information on this site is correct, but we cannot guarantee that it is free of inaccuracies, errors, or omissions. All content and services provided on or through this site are provided "as is" and "as available" for use. QuoteWizard.com LLC makes no representations or warranties of any kind, express or implied, as to the operation of this site or to the information, content, materials, or products included on this site. You expressly agree that your use of this site is at your sole risk.