Key Findings:
Millennials are the worst group of drivers in Colorado.
Black Forest, Lafayette and Parker are the worst driving cities in Colorado.
Denver ranks eighth worst driving city in the country, Colorado Springs ranked 16th worst.
Colorado's 27% increase in car insurance rates are the highest in the nation.
Millennials are spending less on cars for non-financial reasons.
We here at QuoteWizard have set out to give drivers in Colorado a full view of who they're sharing the roads with and how safe the roads are in the Centennial State. To build the Colorado driver report, we analyzed over 100,000 insurance quotes from users of QuoteWizard.com, along with data from the Federal Highway Administration (FHA) and the National Association of Insurance Commissioners (NAIC) to round out the report. When compiling data for the Colorado Driver Report, we looked at these primary factors:
Driver quality in cities
Driver quality by age group
Road infrastructure
Most popular cars
Car insurance increases
Colorado driver score: C-. While the state as a whole has a moderate ranking as good drivers, the big cities of Denver and Colorado Springs rate among the worst driving cities in the country. With nearly 60% of the population living in those metro areas, many Colorado drivers are exposed to bad driving. Colorado also ranks in the bottom half for states with the worst infrastructure. Poor driver quality and poor roads have lead to poor scores all around plus a steep increase in car insurance rates. Read on for the full report.
Best and worst drivers in Colorado
Every year QuoteWizard puts together national rankings for the best and worst driving states and cities in the U.S. The good news for Colorado is in 2016 the state ranked eighth worst, but did climb to 26th worst in the 2018 rankings. The increase in driver quality deserves a tip of the hat to the whole state. Especially given Denver and Colorado Springs ranking among the nation's worst drivers. Denver came in at eighth worst and Colorado Springs at 16th worst in 2019.
It comes as no surprise that when you look into the worst driving cities in Colorado you'll find the suburb cities of Denver and Colorado Springs. To determine overall driver quality in Colorado, we analyzed driver quality in Colorado's 50 largest cities who used QuoteWizard.com to compare quotes. We then ranked the worst five and best five cities by the highest rate of incidents. Incidents include accidents, speeding tickets, DUIs and moving citations from that data. Cities with the highest rate of incidents were listed as the worst driving cities.
Worst driving cities in Colorado
| Rank (worst) | City |
| --- | --- |
| 1 | Black Forest |
| 2 | Lafayette |
| 3 | Parker |
| 4 | Windsor |
| 5 | Johnstown |
Best driving cities in Colorado
| Rank (best) | City |
| --- | --- |
| 1 | Pueblo |
| 2 | Durango |
| 3 | Fountain |
| 4 | Grand Junction |
| 5 | Boulder |
Colorado infrastructure rating
QuoteWizard conducted a study on states' infrastructure to see where the worst roads in the nation are. We analyzed FHA data to rank states on quality of road infrastructure and found Colorado to have the 23rd worst roads in the country. Rankings were based on a composite score of the following factors:
Roads in poor condition (%): Colorado 22%
Cost per motorist (due to roads in need of repair): Colorado $637
Bridges structurally deficient (%): Colorado 5%
Being in the middle of the pack for infrastructure, isn't great. Colorado is slightly below the national average when it comes to state highway spending on road repairs, at 30%. At the current spending levels on repairs, there's not much ground to make up to reduce the percentage of roads in poor condition. We found states that dedicate a higher percentage of funds to road repairs have a better overall infrastructure score.
Best and worst drivers by age group
It should come as no surprise that millennials are the worst driving age group of the bunch. The 23- to 38-year-old millennials have the highest rate of incidents in the state. Among many things like breakfast, chain restaurants, bars of soap and homeownership, millennials are also ruining safe driving.
To be fair to all the millennials in Colorado, especially those who graduated from Boulder and never left, this trend of incidents among age groups is consistent around the country. The older you get, the less chance of an incident. Insurance companies have known this for years and set their rates accordingly.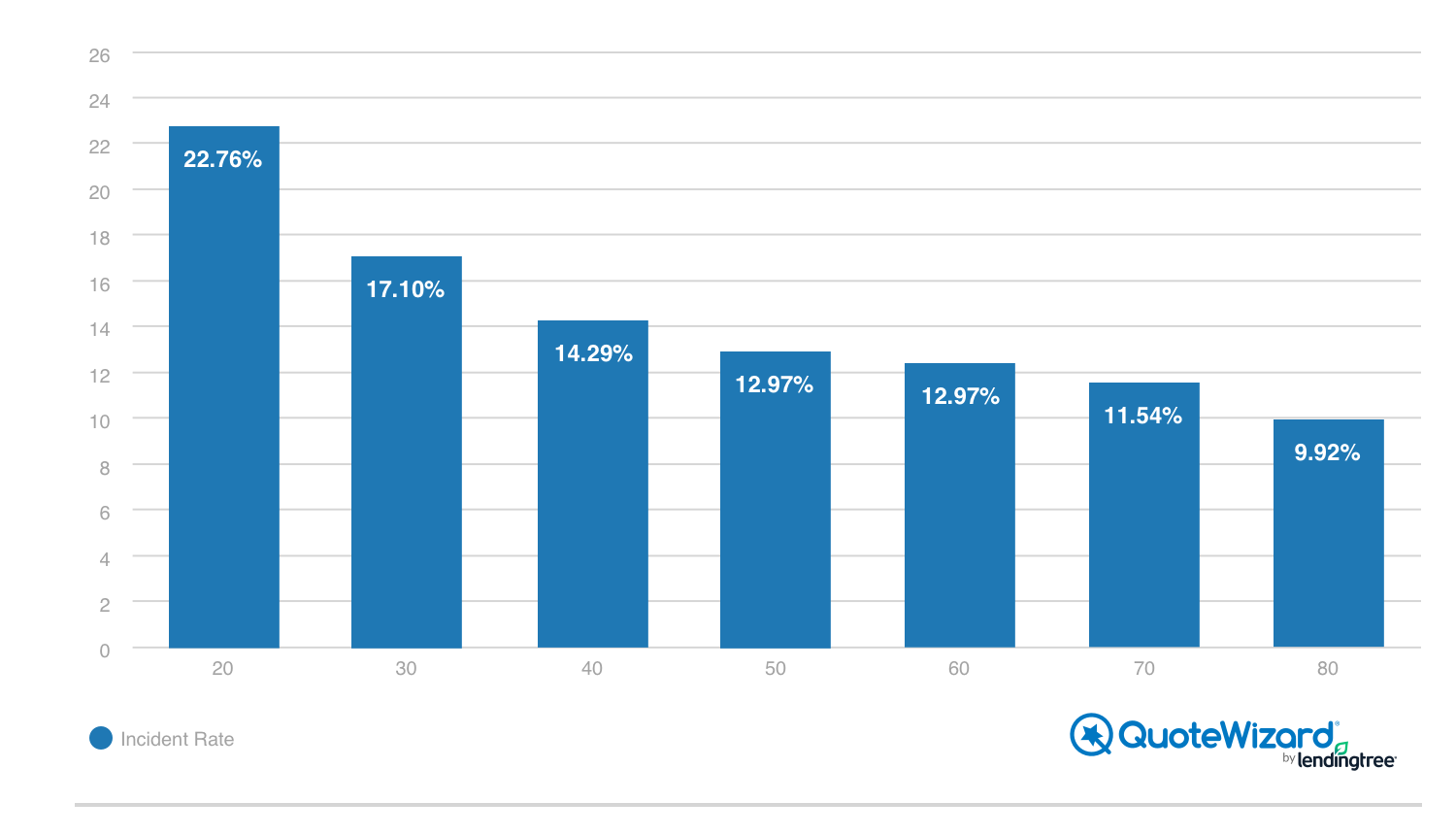 Most popular cars by age group
As expected in Colorado, we found a high number of drivers behind the wheel of SUVs that are capable of year round driving in and out of the mountains. The Ford Explorer and Jeep Grand Cherokee made the top five in all our generational age groups.
It would come as no surprise that the millennial age group drives significantly lower priced cars than older generations. The obvious reason, millennials are buried under student loan debts and the Gen X and baby boomer generations have a leg up on them when it comes to accumulation of wealth. However, the financial reasons for millennials' driving cheaper cars might not show the full picture.
When analyzing similar generational car choices nationwide, we found that millennials are driving cheaper cars not out of necessity, but out of choice. More millennials are moving to big cities like Denver and Colorado Springs at a higher rate in the last decade. Urban dwelling millennials have more transportation options than driving a car. Public transportation, ride-sharing services like Lyft, Uber and Car-to-Go are more viable and cost effective than traditional car ownership. It's not that millennials aren't owning cars, but they're not investing in more expensive cars because there are other means of getting around that oftentimes make more sense than getting behind the wheel.
Millennials (23-38)
Average MSRP $25,652
| Most popular | Model | MSRP |
| --- | --- | --- |
| 1 | Civic | $19,750 |
| 2 | Altima | $24,100 |
| 3 | Corolla | $19,600 |
| 4 | Explorer | $32,765 |
| 5 | Grand Cherokee | $32,045 |
Gen X (39-54)
Average MSRP $28,094
| Most popular | Model | MSRP |
| --- | --- | --- |
| 1 | Explorer | $32,765 |
| 2 | F-150 | $27,495 |
| 3 | Accord | $23,870 |
| 4 | Grand Cherokee | $32,045 |
| 5 | Camry | $24,295 |
Baby boomers (55-75)
Average MSRP $28,297
| Most popular | Model | MSRP |
| --- | --- | --- |
| 1 | F-150 | $27,495 |
| 2 | Camry | $24,295 |
| 3 | Escape | $24,885 |
| 4 | Explorer | $32,765 |
| 5 | Grand Cherokee | $32,045 |
Car insurance getting more expensive in Colorado
We analyzed NAIC car insurance rate data to see trends in Colorado car insurance rates. Car insurance rates around the country are always on the rise. You will rarely see car insurance rates go down in any state. When looking at car insurance rates from 2012 to 2016, Colorado saw a 27% increase in that time period. The 27% increase in Colorado car insurance rates leads the nation in that time period,making Colorado drivers subject to the steepest car insurance rate increase in the country.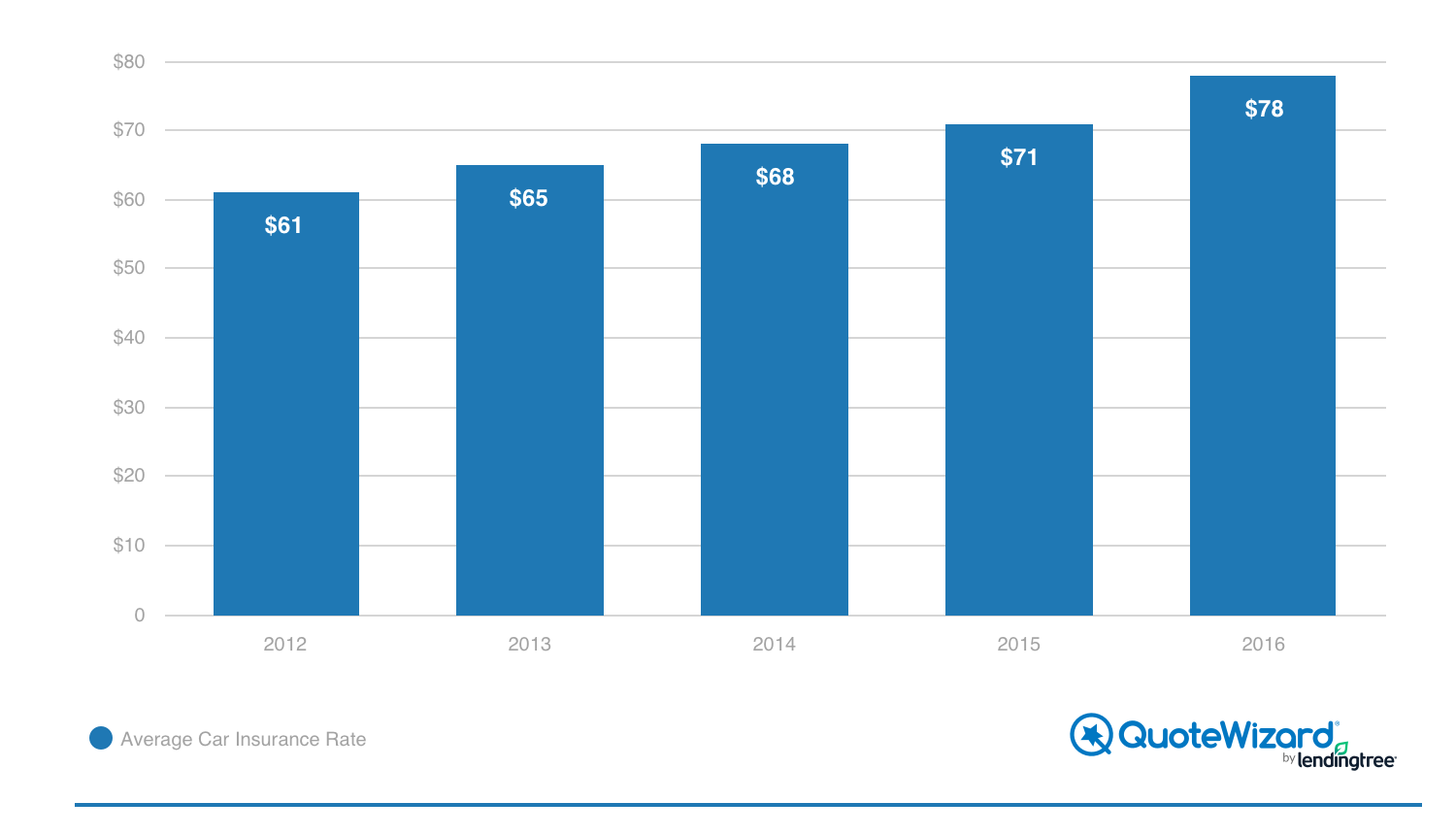 QuoteWizard.com LLC has made every effort to ensure that the information on this site is correct, but we cannot guarantee that it is free of inaccuracies, errors, or omissions. All content and services provided on or through this site are provided "as is" and "as available" for use. QuoteWizard.com LLC makes no representations or warranties of any kind, express or implied, as to the operation of this site or to the information, content, materials, or products included on this site. You expressly agree that your use of this site is at your sole risk.