Compare Car Insurance in Wichita
Wichita, Kansas is known as "The Air Capital of the World". If you're a Wichita driver looking for cheap car insurance, we've got you covered! Read on to learn Wichita's laws, best car insurance companies, and statistics to help you find a great policy.
Average Wichita Car Insurance Rates
How much is car insurance in Wichita, KS? Residents shouldn't be surprised to learn average car insurance rates in Wichita are higher than both the state and national averages. Urban living conditions, traffic congestion, and vehicle theft rates are causing rates to go up. The average cost of auto insurance in Kansas is $698.45 per year. The national average price is $889.01.
Prices may vary depending on your zip code thanks to traffic congestion, weather conditions and crime rates.
Kansas Average Annual Car Insurance Rates
Coverage
Rates
Liability
$358.24
Collision
$263.33
Comprehensive
$241.36
Total Cost Per Year
$698.45
Price Per Month
$58.20
Source: Facts + Statistics: Auto insurance
The graph below shows the change in average Kansas rates from 2011 to 2015, the most recent year the data is available. According to the III, Kansas car insurance rates increased from $626 in 2011 to $698 in 2015, a jump of $72 dollars, or 11.59 percent.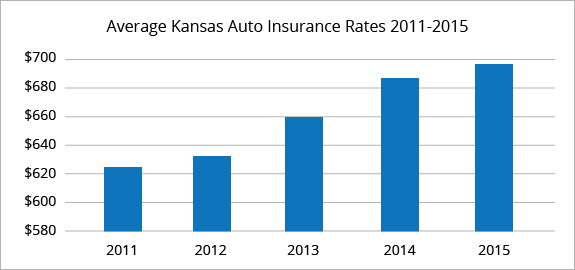 Looking for car insurance in Wichita that provides the best coverage for an affordable rate? Shop around. Compare rates from a number of insurance companies.
QuoteWizard helps consumers compare quotes from both national insurance companies and local agents. QuoteWizard can help you find cheap car insurance rates near Wichita and save up to 40% on your premium.
Last year, 25,673 people used QuoteWizard to compare auto insurance quotes in Wichita, KS from multiple companies to find the cheapest rates.
Best Car Insurance Companies in Wichita, KS
These are the most popular car insurance companies reported by QuoteWizard users in Wichita, Kansas. Of those drivers, 3,312 were uninsured when they requested a quote.
Other popular car insurance companies include Travelers, Midwest Insurance Agency, and Shelter Insurance.
Top 10 Vehicles in Wichita
These are the most popular car makes and models owned by Wichita, KS QuoteWizard users.
Chevrolet Impala LT
Honda Civic LX
Chevrolet Silverado C1500
BMW 328I
Chevrolet Traverse LT
Nissan Altima 2.5
Honda Civic EX
Dodge Caravan SE
Nissan Altima
Ford Focus ST
Minimum Car Insurance Requirements in Wichita, KS
If you drive a vehicle registered in Wichita, Kansas you must maintain a minimum level of insurance coverage of 25/50/10. This means that you must have:
$25,000 of coverage for bodily injury liability per person
$50,000 of coverage for bodily injury liability per incident
$10,000 of coverage for property damage liability per incident
$25,000 of uninsured/underinsured motorist bodily injury coverage per person
$50,000 of uninsured/underinsured motorist bodily injury coverage per incident
In addition to the coverage above, Kansas requires drivers to purchase the following types and amounts of Personal Injury Protection coverage:
$2,000 for funeral expenses per person
$4,500 of medical coverage per person
$4,500 for rehabilitation costs per person
$900 per month for loss of income for up to one year
$25 per day for at home medical services for up to one year
Recommended Coverage Levels
Minimum coverage may look like the best deal since it's so cheap. But it will cost you if you have an accident. This coverage doesn't include collision or comprehensive coverage. If you have a claim that goes beyond the range of your policy, you'll pay for it. 
Given that, we recommend the following coverage: 
Individual Body Injury Liability: $100,000 
Total Bodily Injury Liability: $300,000 
Property Damage Liability: $100,000
Comprehensive and Collision
Wichita Drivers
Living in an area known for bad driving will affect your insurance premium. Our data shows that Wichita ranks as the 25th worst city for driving. This ranking accounts for accidents, speeding tickets, DUIs, and citations occurring in Wichita.
Driving Conditions
Factors such as weather, road conditions, and traffic can hurt your insurance rates. The riskier your driving conditions are, the higher your premium can be.
Weather
Drivers in areas with bad weather often face higher car insurance rates. Wichita has a lot of humidity in the summer. These humidity levels last from May through September. The danger here is that warm air requires your engine to pull more oxygen. Over time, this can put stress on your engine, resulting in a higher chance of breakdowns or accidents.
Rain and snowfall negatively impact driving conditions. The average annual rainfall in Wichita is 34.33 inches. Annual snowfall comes in at 15.6 inches. Heavy winds are a threat as well (have you seen 'The Wizard of Oz?'). Be careful driving when the wind is in full force to avoid a crash.
Road Conditions
Kansas' roads need an upgrade. 26 percent of the roads are rated poor. Another 16 percent are mediocre. Driving on poorly kept roads damages your car, which affects your premium. Driving on Wichita's bad roads adds an average $549 yearly in extra costs.
Traffic Congestion
Wichita drivers don't waste too much time in traffic. INRIX ranks Wichita 198th of 1,360 world cities on the list of traffic congestion. You're looking at only an extra 6 hours total on the road each year.
Moving Violations
The more tickets and accidents you have, the more your auto insurance rates go. You may need to buy high-risk insurance if you have a lot of points on your driving record. High-risk insurance is significantly more expensive.
Traffic Tickets
Wichita Police wrote 37,698 moving citations in 2017. Tickets can cost you through both fines and insurance raises. Watch your speed and do what you can to avoid them.
DUI and DWAI Arrests
If you are arrested for a DUI in Wichita, you're looking at up to $5,000 in fines and 10 years in jail. Even if you do get a light sentence, getting caught driving under the influence affects your rates. Our data shows that car insurance costs drivers with DUIs an extra $830 per year.
SR-22 DUI/DWAI Insurance
Wichita does not require you to file an SR-22 form as proof of financial responsibility. If you have moved from another state that requires an SR-22, you must keep it.
Car Accident Statistics
High accident rates result in higher insurance costs. In 2016, Wichita reported 9,557 car crashes.
Traffic Fatalities
Wichita reported 30 fatal crashes and 31 pedestrian deaths in 2016, as well as 2,796 injuries.
Vehicle Theft Rates
Drivers in high car theft areas often pay more for car insurance. Wichita reported 2,476 auto thefts in 2017.
Car Insurance Discounts in Wichita
Want to save money on your car insurance in Wichita? There are many discount options available to lower your premiums:
If you're married, insurers often offer discounts to married couples 
There are discount rates for active and retired members of the Military, National Guard, or Reserves
Have more than one car? Look into a multiple car discount
If you bundle your car insurance with your home or renters insurance, you can cut up to 20 percent off your premium
Make sure your car as up-to-date safety features and anti-theft devices
Take a certified defensive driving course 
QuoteWizard.com LLC has made every effort to ensure that the information on this site is correct, but we cannot guarantee that it is free of inaccuracies, errors, or omissions. All content and services provided on or through this site are provided "as is" and "as available" for use. QuoteWizard.com LLC makes no representations or warranties of any kind, express or implied, as to the operation of this site or to the information, content, materials, or products included on this site. You expressly agree that your use of this site is at your sole risk.