Defensive Driving School & Car Insurance
Defensive driving can spare you the expenses and hassle of a collision, as well as saving you money on your car insurance.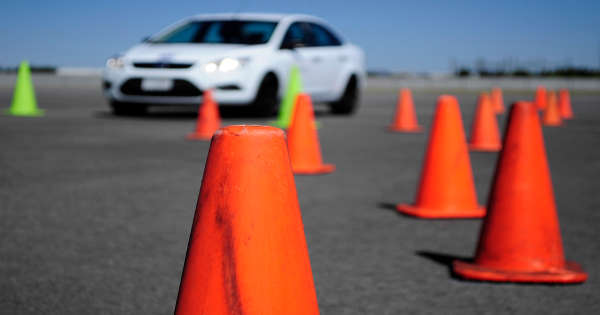 Some car accidents are not our fault. You could be the most responsible driver in the world, but every so often someone who is careless, thoughtless or who is under the influence will come careening into your vehicle's lane. There is no foolproof way to prevent these sorts of incidents from happening. However, there are measures you can take to act quickly and hopefully avoid these types of accidents.
With defensive driving courses, drivers can learn how to assess road conditions, predict possible dangers, and prepare to react to them before they occur or even as they occur. The techniques you will learn make you a far better driver that can handle a variety of scenarios.
If you are interested in making your daily drive safer, as well as your insurance premiums cheaper, you should consider enrolling in a defensive driving course.
What Is Defensive Driving?
The National Safety Council sums up defensive driving as "driving to save lives, time, and money, in spite of the conditions around you and the actions of others." In other words, defensive driving prevents incidents that would have been in no way the driver's fault, but that could still be avoided through mental preparation and careful maneuvering.
Again referring to the National Safety Council, they indicate that preventable collisions are ones "in which the driver fails to do everything reasonable to avoid it." This designation is not to lay blame, nor does it intend to imply that learning how to exercise "reasonable" avoidance is easy. Instead, the idea is that a defensive driver will go above and beyond the typical laws and rules of the road to have an influence on factors that would otherwise be completely out of their control.
What Are Some Specific Lessons People Learn in Defensive Driving Courses?
Defensive driving encompasses a wide range of topics. No one course could ever hope to cover them all, so instructors or course materials will often emphasize certain techniques or guidelines over others.
Nearly every course will touch upon strategies for:
Observing your surroundings using your senses
Accounting for changes in environment like bad weather or unfamiliar areas
Using best practices for safety, such as

Maintaining the speed limit
Letting off the accelerator before turns or stops
Always wearing a seat belt and checking mirrors before departing
Leaving ample distance between you and other cars

Recognizing potential threats
Knowing when to yield when encountering risky drivers or situations
Reacting to situations as they occur
Responding to emergency conditions like a deer entering your lane or your vehicle lights deactivating during a drive
Have you taken a defensive driving course? Get a quote and see how much you can save on your monthly auto insurance premiums!
Examples of Defensive Driving Techniques
Franklin notices he is entering an area where people are jaywalking. He slows down as someone approaches the curb even though they are not at a crosswalk or have even set foot near the road yet.
Jenee is at a stop sign and has come to a complete stop. It is her turn to go, but she sees someone roll up quickly to the stop sign. Rather than assuming she gets the right of way, she waits to see if the other driver will even stop or if they will carelessly barrel through the intersection.
Raphael notices a driver rapidly changing lanes without using turn signals or controlled steering. He approaches the car from the right lane but waits to see if the car will decide to cut in front of him rather than pulling into the car's blind spot.
Caroline slows down as she enters a part of a neighborhood where she knows children and pets often play near the street.
Hoang enters a torrential downpour. He turns his radio down so that he can react more ably to the changing road conditions.
Alexis notices that the vehicle directly in front of her is following the driver ahead of them far too closely. She lets off the accelerator to put enough distance between her to react in time in case an accident occurs.
As you can see, defensive driving often involves suppressing your driving instincts in order to lessen the amount of potential risk. In Jenee's example, the person rolling through the stop sign would certainly be breaking the law, but rather than risk her personal well-being or her expensive vehicle, she decides to remain patient and wait to see if they will act appropriately.
The truth is that some drivers make mistakes, some are having bad days, and others are simply terrible at driving. Using defensive driving techniques helps prevent them from making their personal shortcomings your problem.
Who Is Eligible for Defensive Driving Discounts?
People often confuse defensive driving classes with driver training, often called "driver's education" or "driver's ed". Driver's ed is for new drivers, usually ones that are young. Most insurance companies will only grant new drivers a discount after taking a driver's education class if they are 21 years old or younger.
Defensive driving classes don't have any age restrictions. However, older adults or people who recently received convictions for traffic-related offenses are the ones usually taking advantage of it.
When it comes to insurance discounts, most carriers require you to be at least 50 years of age in order to be eligible. They will also only apply the discount for one to five years following the course, although the student can possibly take the course again to re-enroll in the discount program. Anyone who was required to take the course as part of a court order, or who requires SR-22 certification will be unlikely to receive the discount.
Discounts vary, but they can range anywhere from 3 to 10 percent. Your carrier may not be willing to offer a discount unless you take the course in person rather than online. They will also be likely to only recognize programs offered by certain institutions.
Some state legislatures have made it a requirement for insurers to grant discounts, even for courses taken online. These states include:
Why People Should Consider Taking a Driver Safety Course
When we learn to drive, we only learn the basics. Knowing how to obey traffic laws and how to handle situations like merging from a freeway on-ramp are important, but they are only the beginning. Most of this preparation is for idealized, predictable conditions frequently seen in day-to-day driving. However, sometimes driving conditions aren't predictable or ideal.
Drivers who complete defensive driving courses can take their safety into their own hands even in the most reckless or aggressive traffic conditions. They can also know how to respond to situations like faulty brakes or flash flooding — something the average driver's ed course would never cover.
Older adults in particular should consider taking driver safety courses. The AARP recommends that people over 50 take these classes because a lot will have changed in the years since they first received their license. Traffic rules are constantly evolving, new vehicle features are always appearing in cars, and more distractions exist than ever before.
An increase in the number of drivers also means that people on the road may not be as polite or as self-aware as the average driver 30 years ago. Rather than becoming frustrated and throwing up your hands, you can learn how to keep them safely on the wheel even as someone comes barreling into your lane.
Additionally, older adults may be experiencing impairment issues they had not encountered before. Diminished sight, hearing or even reaction times greatly affect the safety protocols you will need to follow every time you drive. Some medications may also influence driving performance, an issue that health care professionals may not address when you get your prescription.
Conclusion
No matter what age you are, you can gain a lot from attending a driver safety or defensive driving course. These courses will help you achieve a new level of understanding when it comes to driving and preparing you for the dangers you may encounter on the road.
Make sure to shop around for an insurance carrier that will respect your efforts at becoming a better driver and reward them with an adequate discount. QuoteWizard can help you compare auto insurance rates and discount programs so that you can find the auto insurer who can best meet your needs.
References:
QuoteWizard.com LLC has made every effort to ensure that the information on this site is correct, but we cannot guarantee that it is free of inaccuracies, errors, or omissions. All content and services provided on or through this site are provided "as is" and "as available" for use. QuoteWizard.com LLC makes no representations or warranties of any kind, express or implied, as to the operation of this site or to the information, content, materials, or products included on this site. You expressly agree that your use of this site is at your sole risk.