Compare Car Insurance in Lincoln
Lincoln is the capital city of Nebraska. If you're a Lincoln driver looking for cheap auto insurance, we can help you. This page covers Lincoln's insurance companies, laws, rates, and more.
Average Lincoln Car Insurance Rates
How much does car insurance cost in Lincoln, NE? Good news: insurance premiums in Lincoln are much lower than the national average. The average cost of auto insurance in Nebraska is $681.54 a year. The annual average across the country is $889.01.
Prices will vary depending on your coverage, driving history, and the total number of claims filed in your zip code.
Nebraska Average Annual Car Insurance Rates
Coverage
Rates
Liability
$364.64
Collision
$237.13
Comprehensive
$229.25
Total Cost Per Year
$681.54
Price Per Month
$56.79
Source: Facts + Statistics: Auto insurance
The graph below shows the change in average Nebraska rates from 2011 to 2015, the most recent data available. According to the Insurance Information Institute, Nebraska car insurance rates increased from $602 in 2011 to $681 in 2015. This is a jump of $79 dollars, or 13.14 percent.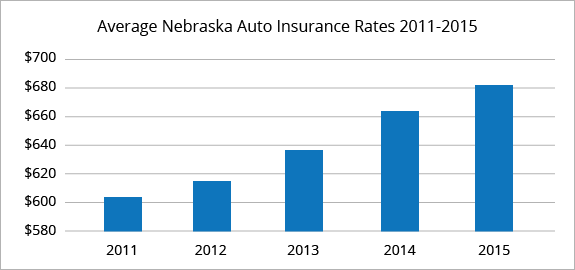 QuoteWizard helps consumers compare quotes from national insurance companies. Comparing quotes can help you find cheap car insurance rates near Lincoln, Nebraska and save up to 40% on your premium.
Last year, 6,746 people used QuoteWizard to compare car insurance quotes in Lincoln, NE from multiple companies to find the cheapest rates.
Best Car Insurance Companies in Lincoln, NE
These are the most common car insurance companies reported by QuoteWizard users in Lincoln, Nebraska. Of these users, 1,290 didn't have insurance when they requested a quote.
Top 10 Vehicles in Lincoln
These are the most popular cars owned by Lincoln QuoteWizard users.
Ford F-150
Honda Accord EX/LX
Toyota Camry/LE
Chevrolet Impala
Chevrolet Malibu
Ram 1500
Jeep Grand Cherokee Laredo
Taurus SE
Ford Ranger
Chevrolet Cavalier
Minimum Car Insurance Requirements in Lincoln, NE
Lincoln, Nebraska requires all its drivers carry certain minimum liability coverage of 25/50/25. This means your Lincoln car insurance policy must include: 
Individual Bodily Injury Liability (BIL): $25,000
The maximum amount your insurer pays for a person injured in a car accident.
Total Bodily Injury Liability: $50,000
The total your insurer pays for every person injured in a car accident.
Property Damage Liability (PDL): $25,000
The maximum your insurer pays for property damage caused by a car accident.
You're also required by Nebraska to have the following uninsured motorist coverage:
$25,000 uninsured motorist bodily injury per person
$50,000 uninsured motorist bodily injury per accident
Recommended Coverage Levels
You should know that minimum coverage doesn't include collision or comprehensive coverage. Minimum coverage only pays for damages to other people and their property. It doesn't cover your damages or medical bills.
To make sure you have adequate coverage, we recommend the following: 
Individual Body Injury Liability: $100,000 
Total Bodily Injury Liability: $300,000 
Property Damage Liability: $100,000 
Lincoln Drivers
If you live in an area that has a high streak of accidents, it will affect your rates. Nebraska ranks as the sixth worst state for drivers. And Omaha, Lincoln's neighbor, is America's worst driving city! Our data reflects accidents, speeding tickets, DUIs, and citations occurring in the US.
Driving Conditions
Weather, road conditions, and traffic can affect what you pay for insurance. The riskier your driving conditions are, the higher your rates go
Weather
During the winter months, snow in Nebraska can make roads slick at best and undriveable at worst. Be extra careful during those months.
Road Conditions
Lincoln drivers pay $348 per year in costs from driving on Nebraska roads. Nebraska has one of the top ten state infrastructures in the US, which helps keeps accidents and insurance rates down.
Traffic Congestion
The average commute time for drivers in Lincoln is 18.3 minutes. The national average is 25.4 minutes, according to the US Census Bureau.
Moving Violations
Tickets and accidents are the top causes of an insurance increase. If you have too many points on your record, your insurer might require you to purchase expensive high-risk insurance. You can even get dropped by your insurance company if your driving record is bad enough.
Traffic Tickets
In 2017 the Lincoln Police Department wrote 22,181 traffic tickets. Tickets can cost time and money in insurance increases, so do your best to avoid them.
DUI and DWAI Arrests
There are many penalties if you're found guilty of DUI in Lincoln. Depending on how many offenses you have, you can serve up to 20 years in jail, up to $25,000 in fines, and a 15-year license suspension. A first offense can result in automatic license suspension, a week in jail, and $500 in fines.
It's not just legal consequences you have to worry about. Our data shows drivers with DUI offenses pay an average of $830 more per year for car insurance.
SR-22 DUI/DWAI Insurance
If you need to reinstate your driver's license in Lincoln after a first offense DUI, you will need an SR-22. An SR-22 is proof of financial responsibility showing that you have minimum coverage.
You are required to maintain the SR-22 for three years starting from the date you're able to reinstate your Nebraska license. If there is a lapse in insurance during that period, your license will be suspended again.
Car Accident Statistics
High accident rates in an area can result in higher insurance costs. Lancaster County had 6,480 auto crashes in 2017.
Traffic Fatalities
In 2017 there were 18 auto fatalities in Lancaster County in 2017. This is 12 percent increase from 15 fatalities in 2016.
Vehicle Theft Rates
Regions that have many car thefts are considered high-risk by insurers. This can lead to higher premiums, especially if you drive a commonly-stolen car. Lincoln reported 357 car thefts in 2017, a 10.8 percent increase over 330 thefts in 2016.
Car Insurance Discounts in Lincoln
Looking to save money on your car insurance in Lincoln? There are many discount options available to get a lower rate:
Bundle your car insurance with your home or renters insurance. It can cut up to 25 percent off your total bill 
Install up-to-date safety features and anti-theft devices your vehicle.
There are discount rates for active and retired members of the Military, National Guard, or Reserves
Take a certified defensive driving course 
Safe driving with a clean record can add up to lower rates
Are you married? Insurers may offer discounts to married couples 
QuoteWizard.com LLC has made every effort to ensure that the information on this site is correct, but we cannot guarantee that it is free of inaccuracies, errors, or omissions. All content and services provided on or through this site are provided "as is" and "as available" for use. QuoteWizard.com LLC makes no representations or warranties of any kind, express or implied, as to the operation of this site or to the information, content, materials, or products included on this site. You expressly agree that your use of this site is at your sole risk.