The Best Car Insurance Companies
Here are the best auto insurance companies for customer service, families, seniors, military members and more.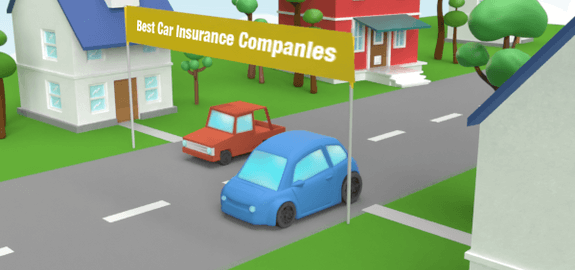 What is the best car insurance company? Or, which car insurance company is best for you? How you answer these questions depends on your needs as a car owner and driver.
There are a lot of car insurance companies to choose from these days, after all. And those companies offer a wide range of rates, coverage options and discounts. They can provide wildly different shopping and claims experiences, too.
Fret no more. We're here to help! QuoteWizard examined dozens of providers to figure out which one is the best car insurance company for your situation.
In this article, you'll find information on:
You'll also learn how to:
The best auto insurance companies around, according to you
To compile the list of top insurance companies you see below, we conducted a Survata survey of over 6,300 policyholders. The question we asked them was simple: on a scale of one to five, how satisfied are you with your car insurance company?
Everyone's car insurance needs are different. Some people want the lowest prices or the best coverage. Some want top-notch customer service. But what ultimately sets one auto insurance company apart from another is how satisfied their customers are with their choice of providers.
Here are the 10 most satisfying car insurance companies, according to the thousands who responded to our survey:
| Ranking | Company | Satisfaction rating |
| --- | --- | --- |
| 1 | USAA | 4.82 |
| 2 | Erie | 4.68 |
| 3 | Amica | 4.54 |
| 4 | AAA | 4.5 |
| 5 | The Hartford | 4.47 |
| 6 | Travelers | 4.39 |
| 7 | State Farm | 4.31 |
| 8 | American Family | 4.26 |
| 9 | Nationwide | 4.2 |
| 10 | Progressive | ​4.2​ |
There's more to being one of the best-rated insurance companies around, other than customer satisfaction, of course.
So, we considered a number of other factors and sources to come up with the following list of best insurance companies. That includes AM Best, Consumer Reports and J.D. Power ratings, rankings and reports.
Best car insurance company overall: USAA
USAA's status as the best auto insurance company around is easy to understand when you consider it's well known for providing top-notch policies and service.
Unfortunately, not everyone can take advantage of that great service or coverage. USAA only serves members of the military and their families. That said, if you're looking for the best car insurance company for military members, veterans and their families, look no further than USAA.
Why? One reason: Consumer Reports has praised USAA for its "prompt responses and attentiveness to claims." Also, J.D. Power gave the company a claims satisfaction score of five out of five.
A few more reasons to check out USAA if you qualify for coverage are because it offers:
24-hour service that's provided over the phone, online and through the USAA app
Flexible payment plans including 100% up front or four-, six-, nine- or 12-month installments
Free accident forgiveness after five years of clean driving
Rideshare coverage for as low as $6 a month
A robust list of discounts for things like bundling policies, completing a defensive driving course, getting good grades and more
Best small car insurance company: Erie 
What makes Erie not just a top small auto insurance company, but a top auto insurance company overall? Its commitment to customer service is as good a reason as any.
Customers aren't the only ones who laud Erie's service, by the way. Rating agencies, research firms and publications like Consumer Reports do it, too.
Erie isn't just nice to customers — it also offers them comprehensive and customizable policies. Here are just a few of the features you can get with or add to Erie car insurance coverage:
Pet coverage in case they're hurt in a car accident
Locksmith services for accidental lockouts
You don't have to pay a deductible if your windshield gets damaged and it's repairable 
Your deductible decreases by $100 every year you don't file a claim
Free accident forgiveness after three years as a customer
And if you're looking for discounts, Erie has you covered. It offers all the standard discounts, plus a bundling discount of up to 25% when you buy home and auto insurance. That's higher than most competitors.
Best car insurance company at retaining customers: Amica
It takes a lot to be the best car insurance company for customer retention. How much is a lot in this case? Amica says 94% of its policyholders stick around for the long term.
As for what keeps Amica customers so loyal, the company receives consistently high ratings from J.D. Power and Consumer Reports. Plus, it earned an A+ financial strength rating from A.M. Best.
Amica customers also likely see the many perks that come with the company's policies as big positives. A few examples:
Free repair after an airbag deployment
No deductibles for damaged windows
Lost key replacement
A repair shop network with over 1,400 participating locations
Best car insurance company for seniors and retirees: The Hartford
The Hartford is the best auto insurance company for seniors because it tailors its coverage for them. Of course, what else would you expect from an insurer that partners with AARP?
Some other reasons The Hartford is a great insurance provider for senior drivers:
Lifetime renewability: You can maintain your chosen coverage for as long as you're able to drive. Other insurance companies may cancel policies or raise rates for senior drivers, so The Hartford stands out here.
RecoverCare: The Hartford's policies assist seniors who are injured in car accidents. They pay for certain household services after a crash or other covered loss, like cleaning, cooking and lawn care.
Accident forgiveness: Accidents happen. But if you've had a clean driving record for five years, The Hartford will forgive your first accident.
Disappearing deductible: For every year of clean driving, your collision deductible decreases. Yes, all the way to $0.
You may save money by bundling its policies, too. For instance, you can cut 5% from your auto insurance premium and 20% from your renters, condo or home insurance premium if you get both from The Hartford. And if a covered loss impacts your home as well as your car, you only pay one deductible.
Best car insurance company for in-person customer service: State Farm
State Farm being called the best car insurance company for in-person customer service may surprise some. After all, it's the largest insurer in the U.S., with a market share of nearly 20%.
Still, that size, and the size of State Farm's employee base (of over 65,000), allows the company to treat customers well. In fact, every State Farm policyholder gets their own personal agent who helps them with questions, claims and more.
Another benefit of State Farm's size is that it offers all of the most important features and options, including:
Excellent mobile and online access, with multiple apps and a well-designed website
Competitive discounts for safe drivers, safe cars and loyal customers
Great coverage for rental cars and travel expenses
Rideshare insurance in almost every state. Many insurance companies don't cover rideshare drivers, and those that do often restrict it to a few states.
Best car insurance company for families: American Family
It just makes sense that American Family would be a top car insurance company for families, given its name.
AmFam earns that label through things like its student and good grade discounts. Its Teen Safe Driver program plays a role, too. This program uses an app that tracks unsafe behavior such as speeding, swerving or distracted driving. After completing 3,000 miles or one year in Teen Safe Driver, policyholders can earn a 10% discount.
A few more reasons families tend to like AmFam:
Lots of coverage options
24/7 claim support
A useful mobile app
Roadside assistance
High customer satisfaction scores and rankings
Other top car insurance companies to consider
AAA
Most people know AAA for its award-winning roadside assistance, but it also offers top-quality car insurance. AAA has a massive network of agents and services that are supported by excellent customer service. And its policies have extra appeal due to the numerous AAA benefits that come with a membership.
Nationwide
Nationwide is one of the best car insurance companies around because of its solid coverage options and sizeable selection of discounts. We specifically like Nationwide's "Vanishing Deductible." With it, you can trim $100 off your deductible for every year of safe driving, for up to five years.
Progressive
There are a few reasons you should consider Progressive while shopping for car insurance. A big one is because it offers tons of coverage options, including:
Decreasing deductible for every year of claim-free driving
Loan and lease payoffs if you total your car
Rental car reimbursement
Rideshare insurance
Travelers
Travelers stands out among top auto insurance companies thanks to its flexible payment plans. And not only that, but choosing certain options can earn you discounts. Paying for a year of coverage can cut 7.5% off your premium. Paying with an electronic funds transfer can lower your rates by up to 3%. And simply paying on time can earn you a 15% discount.
How can I find the best car insurance companies near me?
To find the best car insurance companies in your area, start by checking out our state and city car insurance guide. It will show you:
The average insurance rates for your state
The best auto insurance companies in your state
Your state's car insurance rate factors
It also will tell you about:
Your state's minimum car insurance requirements
Recommended coverage
Traffic safety laws in your area
After you look at our guide, pay a visit to your state insurance commissioner's website. It's a good place to find complaints that have been made about the auto insurance companies near you.
How to get the cheapest car insurance rate
Finding the best car insurance company won't mean much if it doesn't offer you the best rate for the coverage you want.
Well, we can help you with that, too. We recently surveyed some of the top car insurance providers in California and New York to see how their rates compare for different driver profiles.
For example, in California, Progressive offers the cheapest car insurance for drivers who are 16, 30 or 45 years old. In New York, however, Progressive is in the middle of the pack, with USAA providing the cheapest rates on average. Specifically, USAA is the cheapest car insurance option for 30-, 45-, and 65-year-old drivers in New York, according to our survey.
Best car insurance rates for California drivers
Company
Annual premium for 16-year-old driver
30-year-old driver
45-year-old driver
65-year-old driver
Average
Allstate
$8,119
$2,048
$1,829
$1,608
$3,401
GEICO
$9,408
$1,819
$1,632
$1,593
$3,613
Mercury
$7,144
$1,874
$1,849
$1,813
$3,170
Mid-Century
$14,269
$2,490
$2,446
$2,161
$5,342
Progressive
$5,716
$1,638
$1,468
$1,607
$2,607
State Farm
$5,885
$2,580
$2,390
$1,886
$3,185
These average rates are based on non-binding estimates provided by Quadrant Information Services. Your rates may vary.
Best car insurance rates for New York drivers
Company
Annual premium for 16-year-old driver
30-year-old driver
45-year-old driver
65-year-old driver
Average
Allstate
$26,618
$6,732
$6,715
$7,601
$11,917
GEICO
$11,602
$3,510
$3,510
$3,734
$5,589
Progressive
$16,162
$3,746
$3,627
$3,871
$6,852
State Farm
$11,843
$3,097
$3,006
$2,724
$5,168
Travelers
$19,687
$5,822
$5,707
$5,891
$9,277
USAA
$12,355
$2,483
$2,203
$2,230
$4,818
These average rates are based on non-binding estimates provided by Quadrant Information Services. Your rates may vary.
These average rates are based on non-binding estimates provided by Quadrant Information Services. Your rates may vary.
As you can see, your age, where you live and where you buy your policy all have a major impact on what you pay for car insurance.    
What does car insurance cover?
If you buy full-coverage car insurance — which includes liability, comprehensive and collision coverage — it covers things like:
Damage and medical costs tied to accidents you cause
Damage to your own vehicle when you cause an accident
Car damage caused by animals, weather or vandalism 
Car damage caused by falling objects, like tree branches and utility poles
Hit-and-run damage to your car
If you only buy the minimum coverage your state requires, it'll only cover damage you cause to other people or their property, including their cars.
How much car insurance do I need?  
You need to buy at least the minimum amount of liability car insurance coverage your state requires. Unless you live in New Hampshire, which doesn't require liability coverage.
Keep in mind that you should buy more than your state's bare-minimum car insurance coverage if you can afford it. Otherwise, your policy won't cover your own damage or injury costs after an accident.
Most experts recommend that drivers carry at least 100/300/100 of liability coverage. That means $100,000 in bodily injury protection per person, $300,000 bodily injury protection per accident and $100,000 in property damage protection. Even those amounts may not be enough to protect all of your assets, though, so get more if you can.
How much is car insurance? 
Americans spend $935.80 a year on car insurance, on average, according to the Insurance Information Institute. That number is from 2016, however, which means most U.S. drivers probably pay even more today.
How much car insurance costs you depends on several rate factors, such as:
Your age
Where you live
The kind of vehicle you drive
Your driving record
Where you buy your coverage
The amount of coverage you buy and the deductibles you choose also impact what you pay for car insurance.
How can I lower my car insurance premium? 
To keep your car insurance costs down while shopping for coverage:
Compare quotes from several companies
See if you qualify for any discounts
Increase your deductible 
Get less coverage, especially if you have an older car
If you're buying a new car, look at car insurance costs first
Buy your car insurance and homeowners insurance from the same company
Improve your credit history
Methodology
We compared rates from car insurance companies in both California and New York for this sample. These rates are for males who are 16, 30, 45 and 65 years old. All drive 2014 Honda Civics with 100/300/50 liability coverage and the same amounts of uninsured and underinsured motorist coverage. They also have $1,000 deductibles for comprehensive and collision coverage. Your rates may vary.
QuoteWizard.com LLC has made every effort to ensure that the information on this site is correct, but we cannot guarantee that it is free of inaccuracies, errors, or omissions. All content and services provided on or through this site are provided "as is" and "as available" for use. QuoteWizard.com LLC makes no representations or warranties of any kind, express or implied, as to the operation of this site or to the information, content, materials, or products included on this site. You expressly agree that your use of this site is at your sole risk.