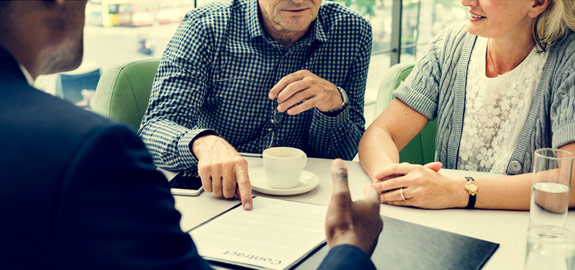 We all want the best things in life, and car insurance is no exception. But with so many different auto insurance options available, finding the company that suits you best is difficult. We examined dozens of car insurance providers to find out which company is best.
Since everyone's insurance needs are different, our rankings are separated into several categories. We have best overall car insurance rankings, as well as more specific metrics like highest customer satisfaction, best family plans, best for high risk drivers, and more.
These rankings are based on our own market research and customer surveys as well as outside sources like JD Power
QuoteWizard's highest rated car insurance companies
Using Survata, we surveyed people to find out how they felt about their car insurance. We asked insurance customers to rate their satisfaction with their car insurance provider on a scale of one to five. According to our data, here are the 10 companies with the highest satisfaction rating:
Best car insurance for teen drivers
Insurance companies charge teen drivers more for car insurance due to their inexperience behind the wheel. If you're a teen, or the parent of a teen, you know firsthand how expensive it is to insurance a teenage driver. The following companies have driver-friendly policies directed specifically at teenagers:
American Family - Their Teen Safe Driver program provides free in-car technology that will track risky and unsafe driving like speeding or swerving. Each 'unsafe' action is catalogued and performance reports are sent to the driver. AmFam states that their program is responsible for decreasing risky driving behavior by 70 percent and increasing seat belt use to 96 percent. It's a great way to ensure that teen drivers are careful behind the wheel, and it can lead to discounts.
COUNTRY Financia - COUNTRY offers a teen driver discount called SimplyDrive. Teen drivers who participate in the program and complete the necessary requirements are eligible for a 10 percent discount. The requirements are relatively simple – drivers must watch an educational video, complete a questionnaire, and sign a safety pledge.
NationWide – Teen drivers can benefit from NationWide's good student discounts as well as their accident forgiveness program. Teens who get at least a B average in school are eligible for reduced rates. NationWide's customers can add accident forgiveness, where their first at-fault accident doesn't result in rising insurance rates. This policy add-on gives teens (and their parents) a break in the event of an accident.
Best car insurance for high-risk drivers with tickets or accidents
If you have a history of car accidents or violation, you probably know that insurance becomes more expensive and difficult to obtain. Insurers charge you higher rates, and they may even cancel your coverage altogether. These companies have policies specifically for high-risk drivers:
The General - The General says "Yes" when others say "No." That's their company motto, and it applies specifically to their high-risk insurance. They offer non-standard plans for individuals with SR-22 requirements, DUIs, or other driving blemishes.
Acceptance Insurance - As their name implies, Acceptance Insurance accepts drivers of all kinds. That includes high-risk drivers with unimpressive driving records. Their insurance plans cover individuals with bad credit, SR-22 restrictions, and high-risk driving history.
GEICO - High-risk drivers can qualify for GEICO's casualty rating plan, where they pay increased rates for auto insurance. Based on the past 35 months of your driving record, you are assigned points depending on the number of accidents and violations you have. Using those points, GEICO determines your insurance premium.
Highest customer claim satisfaction
Your car insurance company will show their true nature when it's time to file a claim. After all, that's why you pay for insurance. But we've all heard the horror stories of insurance companies that deny claims, take their time paying it out, or pay the least amount possible. That's why claim satisfaction is a crucial measurement for a good insurance company. The following five companies rated highest in JD Power's car insurance customer survey for overall claim satisfaction:
NJM Insurance Co.
Auto-Owners Insurance
Best car insurance for people who don't drive much
If you don't drive a lot, you shouldn't need to pay the same for car insurance as someone who does, right? Unfortunately, many companies have been slow to offer low-mileage discounts. But some do, including these:
Metromile - Metromile's entire business plan is designed for low-mileage drivers. The cost of their plans is entirely dependent on the monthly mileage of each driver. Customers decide their coverage amounts and then pay a per-mile fee based on several factors. Mileage is tracked by a device placed inside your vehicle. Drivers who exceed a daily mileage cap pay a flat fee, giving flexibility for road trips. It's only available in select states, but it's an excellent options for urban drivers or people who don't drive much.
National General - "Would you buy a whole pizza if you only wanted a slice?" That's the motto for National General's pay-as-you-go plan. Drivers with less than 15,000 annual miles qualify for car insurance discounts as high as 54 percent. Like Metromile, this plan requires an onboard tracking device and is only available in certain states.
Safeco Insurance - If you drive less than 8,000 miles a year, you qualify for Safeco's mileage discount. Low-frequency drivers with Safeco pay up to 22 percent less for their car insurance premiums.
Best car insurance for multi-car families
Family plans are a great insurance option for any household. Bundling insurance for multiple cars into one plan can simplify your life, lower your rates, and amplify your coverage. Here are two companies with family plans that feature attractive discounts:
Nationwide - Nationwide's family plan means that all drivers living under one roof are entitled to the same discounts, like multi-car and multi-policy discounts. They advertise that their family plan can save families up to 25 percent more than their competitors.
Progressive - Like Nationwide, Progressive's multi-car plan covers everyone in your home, not just relatives. Their multi-car plan discount will save drivers an average of 10 percent on car insurance. Bundling your car insurance with other insurance plans can lead to significantly more discounts.
Best car insurance for classic cars
Keeping a classic car in flawless condition requires a lot of attention and time. If you own a unique vehicle, chances are that a regular car insurance plan doesn't provide you with the coverage you need. That's where a classic car insurance policy comes in. Standard insurance plans rely on market valuation to assess the cost of your vehicle. But market rates don't take historical context into account, meaning classic cars are often undervalued. Classic car insurance companies assess the true value of your vehicle, meaning you won't have to hassle your insurer for a fair payout in case of damage. Here are three companies that specialize in classic car insurance:
Grundy - Grundy's insurance policies cover many things: collector cars, classic yachts, firearm collections, and high-end homes. Their comprehensive plans offer coverage, guaranteed values, roadside assistance, and more. Because of the diverse coverage options, Hagerty is a good choice for bundling multiple exotic vehicles or antique collections.
Hagerty - Hagerty's classic car insurance policies include guaranteed value coverage, no mileage restrictions, and roadside assistance. In the event of a claim, Hagerty advertises that they employ a parts specialist to track down stock replacement parts for your vehicle.
J.C. Taylor - With six decades in existence, J.C. Taylor has been in the insurance business for some time. Their policies are divided into two groups: antique and classic cars that are at least 19 years old, or modified, custom, and specialty vehicles. Most of J.C. Taylor's plans cover 2,500 annual miles, and cars are appraised on a guaranteed value.
Best car insurance web experience
A good website experience makes a big difference for current and future customers. Consumers do more and more shopping and business online than ever, meaning a streamlined website is crucial to success. A good insurance website can be useful for processing claims, shopping for coverage, or chatting with customer service. JD Power's insurance shopping customer survey asked customers to rank their insurer's website, and these four companies scored highest:
Best car insurance for military members
Individuals who have served in the military are eligible for a plethora of discounts, and insurance is no exception. While USAA is the bread-and-butter for military-member insurance, many other companies offer discounts for veterans and their families:
USAA - Insurance policies through USAA are available exclusively to military members and their families. The limited nature of USAA's offerings help keep quality is high and prices are low. USAA regularly ranks very well for customer satisfaction, claims quality, and more. They also offer multiple other forms of insurance, as well as other products and services. If you qualify, purchasing an insurance policy through USAA is a bit of a no brainer.
GEICO - GEICO offers military discounts up to 15 percent for servicemen and women. Military members are also eligible for an Emergency Deployment Discount, where they receive rebates in the event of a deployment.
Armed Forces Insurance - Similar to USAA, AFI caters specifically to current and former military members and their families. AFI is a collective, meaning it is effectively owned by policyholders in an exchange. Their members-first nature combined with the substantial coverage offerings ensure that AFI is a good choice for military members insurance needs.
Best car insurance policy value
Looking for cheap car insurance? JD Power's survey on car insurance shopping reveals which companies have the best customer satisfaction for policy price. This study takes coverage levels into account – it's not simply a ranking of the cheapest car insurance options. Instead, it's the best price point for a given coverage level. These three companies received the highest possible score from JD Power's customer survey for coverage cost:
Erie Insurance
USAA
The Hartford
Best car insurance for safe drivers
Safe drivers save car insurers money. If you don't get into accidents, your insurer won't have to pay for any claims. That's why most insurance companies reward safe driving with discounts. The following auto insurance providers give big discounts to safe drivers:
QuoteWizard.com LLC has made every effort to ensure that the information on this site is correct, but we cannot guarantee that it is free of inaccuracies, errors, or omissions. All content and services provided on or through this site are provided "as is" and "as available" for use. QuoteWizard.com LLC makes no representations or warranties of any kind, express or implied, as to the operation of this site or to the information, content, materials, or products included on this site. You expressly agree that your use of this site is at your sole risk.