Best Car Insurance Companies of 2020
Here are the best auto insurance companies for customer service, families, seniors, military members and more.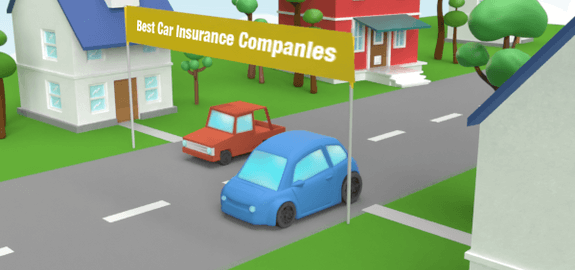 While price is often the most important factor to drivers, the best auto insurance companies offer more than competitive premiums. The top car insurance companies have high customer satisfaction, handle claims well and have relatively few complaints.
We analyzed all of these factors to determine which car insurance companies are the best value. We looked at the biggest and highest-rated insurance companies across the country.
In this article, we'll explore:
Top 10 best car insurance companies
The best car insurance companies have high levels of customer satisfaction and low levels of customer complaints. Using an objective scoring methodology that incorporated the feedback of thousands of people across the country, we found the top 10 best car insurance companies with regards to these factors. Note that not all of these auto insurance companies service all people and states. Make sure to gather car insurance quotes to find your best rate.
QuoteWizard's best car insurance companies
Car insurance company
QuoteWizard customer satisfaction rating
NJM
5
Erie
5
Farmers
4.75
USAA
4.75
GEICO
4.5
State Farm
4.5
Amica
4
The Hartford
4
Nationwide
3.75
Allstate
3.75
See our methodology here1
The best value auto insurance companies, ranked
In a survey QuoteWizard conducted, we found that people care about these factors most when choosing their car insurance company:
Cost of premium
Reputation of company
Customer service
Benefits (such as roadside assistance or discounts)
Local office
Recommendations from friends/family
Online reviews
Same provider spouse uses
We'll dive into the best value car insurance based on affordability, customer service reputations and benefits in this guide.
Erie and USAA are the best value based on cost for good drivers
We found that Erie and USAA offered the cheapest car insurance across all states, where they are available. Erie isn't available nationwide, and USAA is only available to military personnel, veterans and their families. GEICO is the cheapest nationwide provider available to most types of drivers.
Compare car insurance company rates
Company
Average (minimum coverage)
Average (full coverage)
Difference
Percent difference
Erie
$371
$780
$410
110%
USAA
$387
$795
$408
105%
GEICO
$506
$1,036
$530
105%
American Family
$554
$991
$437
79%
State Farm
$556
$1,034
$479
86%
Country Financial
$596
$1,183
$587
99%
Travelers
$649
$1,200
$550
85%
Progressive
$673
$1,226
$553
82%
Allstate
$734
$1,653
$919
125%
Farmers
$747
$1,460
$713
95%
Metropolitan
$906
$1,596
$690
76%
Nationwide
$929
$1,428
$499
54%
Esurance
$940
$1,418
$478
51%
Average rates are based on estimates from Quadrant. Your rates may vary.
Safeway, GEICO and Country Financial are the cheapest and best value for those with bad credit
The most affordable auto insurance companies for drivers with bad credit are Safeway, GEICO and Country Financial, according to our research. On average, those with poor credit can expect higher premiums than those with good credit. We found the national average car insurance premium for drivers with bad credit to be $1,249 annually, almost double the $641 average for a driver with excellent credit. We found multiple major insurers to offer rates below the national average for those with bad credit, including Safeway, GEICO, Country Financial, Farm Bureau Insurance, Allstate and USAA, among others. To find the best value car insurance company for you, make sure to shop around for quotes.
Car insurance rates for drivers with bad credit
Company
Average premium for a driver with bad credit
Safeway
$814
GEICO
$859
Country Financial
$875
Farm Bureau
$908
Allstate
$923
USAA
$989
Average rates are based on estimates from Quadrant. Your rates may vary.
USAA, Country Financial and GEICO are the best value affordable car insurance for young drivers
The average annual auto insurance premium for an 18-year-old driver is $2,044, more than three times the average rate of $641 for an equivalent 35-year-old driver. Multiple companies including Allstate, State Farm and GEICO offer average rates for young drivers that are significantly more affordable. For example, Country Financial offers an average rate of $1,185 for young drivers. These differences in premiums highlight how important it is to shop around for quotes to find the best car insurance company for you.
Car insurance rates for 18-year-old drivers
Company
Average premium for an 18-year-old driver
USAA
$1,140
Country Financial
$1,185
GEICO
$1,235
Farm Bureau
$1,344
State Farm
$1,411
Allstate
$1,438
Average rates are based on estimates from Quadrant. Your rates may vary.
The best auto insurance company discounts of 2020
Every car insurance company offers different discounts and rates that vary greatly for each driver. We analyzed all of the discounts offered by the top 16 auto insurance companies and found the best discounts available. Even if an auto insurer does not provide a discount you're looking for, make sure to shop around and see if they offer a competitive quote.
It's important to remember that every person will have different opinions on their car insurance providers. It is up to you to decide what you value the most: price, extras such as free accident forgiveness or diminishing deductibles, coverages and customer satisfaction, among others.
There is no best car insurance company for any single person.
Based on discounts and coverages available across providers, here's what we found:
Best discounts for young drivers: American Family
Best discounts for good drivers: MetLife
Best discounts for responsible payers: Travelers
Best discounts for bundling: Progressive, Amica, Farmers
Best discounts for those with new cars: Allstate
Best discounts for seniors and elderly drivers: The Hartford
Best car insurance company discounts for young drivers: American Family
There are multiple discounts available to young or new drivers. Teens and college students are also eligible for some discounts. Insurance for new drivers is particularly expensive because of their higher statistical likelihood to get in an accident, so discounts might matter a lot for young drivers. All 16 auto insurance companies we studied offer at least one discount for young and new drivers. It is always in your best interest to shop around to make sure you're getting your best rate.
We found four types of discounts for young and new drivers:
Good student discounts
Safe driving course completion discounts for teens
Student away at college discounts
Young volunteer discounts
American Family is the only insurance provider to offer all four discounts. The young volunteer discount is unique to American Family, offering lower premiums for teens and young adults who volunteer at least 40 hours a year with a nonprofit organization.
Runners up that have good student, safe driving and college student discounts are:
Amica Mutual
Farmers
Progressive
State Farm
Travelers
Best car insurance company discounts for good drivers: MetLife
MetLife should be considered for good drivers because it offers all major good driver discounts, a free diminishing deductible and savings of up to 30% for safe drivers through its MyJourney app.
If you're a careful driver with no violations and no claims in the past few years, you'll likely find cheaper car insurance rates than if you were a high-risk driver. Many car insurance companies offer further discounts for good drivers specifically good driver discounts, accident-free discounts and low mileage discounts — if you are willing to download an app or use a device to track your driving habits. If you have good driving habits, you might find a reduction in rates.
Good drivers are also eligible for a diminishing deductible with certain car insurance providers. Typically, every year you go without an accident, your deductible decreases by a certain amount. MetLife offers all of the major safe driver discounts:
Safe driving record discounts
Accident- and claim-free discounts
Driver safety course discounts
While multiple other major car insurance companies offer these discounts as well, MetLife offers a free vanishing deductible on top. Other auto insurance companies offer diminishing deductibles, but not necessarily for free. MetLife's Deductible Savings Benefits reduces your deductible by $50 every year without a claim. So for drivers with no accidents who don't want to be tracked as they drive, MetLife might be a good choice.
If you don't mind sharing your driving habits, MetLife offers the opportunity to save with its My Journey program app which is available in 10 states: (Connecticut, Delaware, Iowa, Maine, Michigan, Minnesota, North Dakota, New Jersey, Utah and Wisconsin. By enrolling in the program and downloading the app, you'll receive:
An enrollment discount (one time, up to 10%)
A renewal discount (based on safe driving score, up to 30%)
Your My Journey safe driving score will not lead to an increase in auto insurance rates with MetLife. While many insurers offer similar programs, MetLife might have an advantage if it offers you competitive rates and a free diminishing deductible.
Best car insurance companies for bundling discounts: Progressive, Amica and Farmers
Amica Mutual and Farmers offer the highest average discounts on bundling insurance among their competitors: both are up to 15% in savings. While Progressive only offers a 5% discount on bundling policies, they offer competitive savings for multiple vehicles and owning a home: 12% and 10% savings, respectively.
Almost every major insurer offers a discount when you bundle insurance policies. In other words, if you purchase auto and home insurance from the same company, you are most likely eligible for a discount on each policy. In our own survey, QuoteWizard found that over half of drivers bundle their insurance policies.
Progressive, Amica and Farmers all offer three competitive discounts for those who own their homes and have multiple vehicles.
Best car insurance discounts for those with new cars: Allstate
Allstate offers the most comprehensive discounts and coverages for those with new cars, which include:
New car replacement coverage if your car gets totaled and is at most two model years old, Allstate will replace your car, not just pay the depreciated value.
New car discount (up to 15%).
Safety equipment discount (10% discount for anti-lock brakes and 10% discount for anti-theft technology).
Guaranteed Asset Protection (GAP coverage) to pay off the difference between the amount you owe on your car and its actual cash value in case of a total loss.
Best car insurance discounts for drivers who are responsible payers: Travelers
While most insurers offer these discounts, Travelers offers the greatest amount of and most competitive discounts for responsible payers. You can find steep discounts on your car insurance premiums by paying responsibly. This might mean paying in full, having auto-pay set up or not missing payments, among other options.
Travelers offers these discounts for responsible payers:
Pay in full (up to 7.5%)
Auto-pay (up to 3%)
Consistently paying on time (up to 15%)
Drivers with no gaps in coverage (up to 15%)
Getting a Travelers quote before your currently policy expires (up to 10%)
Best car insurance company for seniors: The Hartford
The Hartford has an exclusive partner program with AARP to offer seniors above 50 years old exclusive discounts and benefits. Discounts are important for those 50 years and older as most seniors can expect their premiums to rise as they age. Only a few companies offer an explicit senior car insurance discount. Other insurers offer discounts if those over 50 or 55 year old enroll and complete a defensive driving course.
If you're an AARP member, which is a non-profit group for Americans 50 years and older, you could be eligible for the AARP Auto Insurance Program From The Hartford. An annual membership to AARP is only $16, so even if you don't have a membership now, it might be worthwhile to look into obtaining one.
To be eligible, you need:
To be at least 50 years old.
An AARP membership.
A valid driver's license.
Valid vehicle registration.
The AARP Auto Insurance Program From The Hartford exclusive benefits and discounts include:
Discounts if you participate in the AARP Driver Safety Program (available in 35 states).
Lifetime renewability of your policy, even if you have accidents.
Rate lock for 12 months.
RecoverCare, which pays for up to $2,500 for help such as cooking and cleaning if you're injured in a car accident.
Best car insurance coverage and discounts for military and veterans: GEICO and USAA
GEICO and USAA all offer discounts for military members and veterans. USAA is available exclusively to those in the military, veterans and their families. Because GEICO and USAA offer coverage in case of deployment, they might be the best car insurance companies for those in the military.
Best car insurance company for government employees: GEICO
GEICO stands for Government Employees Insurance Company and was started in 1936 to specifically serve federal employees. GEICO continues to serve government employees with its Eagle Discount and Membership Discount, although the two cannot be combined.
If you are an active or retired federal government employee, you might qualify for GEICO's Eagle Discount. If you are a federal employee GS-7 or above, or are non-GS but are equivalent to GS-11 or above, you may be eligible for this government employee car insurance discount. GS-7 refers to the General Schedule pay scale, which is used to calculate government employees' salaries. In 2019, a federal employee classified as GS-7 earned $36,356 to $47,264 per year. An employee classified as GS-11 earned $53,805 to $69,951 per year. GEICO also partners with many federal groups. If you're a member of one of these groups, you might get a membership discount through GEICO.
Comparing auto insurance company ratings
There are many sources to find auto insurance company ratings. Each of these sources usually measures a different factor. For example, J.D. Power provides ratings on customer satisfaction and NAIC produces ratings based on customer complaint rates.
Car insurance company ratings

| Auto insurance company | Market share | NAIC Complaint Index | A.M. Best | Consumer Reports Reader Score | BBB | J.D. Power Customer Satisfaction | J.D. Power Circle Ratings |
| --- | --- | --- | --- | --- | --- | --- | --- |
| State Farm | 14.75% | 0.57 | A++ | 78 | A+ | 835 | 4 |
| GEICO | 11.39% | 0.92 | A++ | 78 | A+ | 830 | 3 |
| Progressive | 9.77% | 0.91 | A+ | 75 | A+ | 818 | 2 |
| Allstate | 7.53% | 1.25 | A+ | 72 | A+ | 826 | 3 |
| USAA | 5.04% | 1.14 | A++ | 92 | A+ | 892 | 5 |
| Liberty Mutual | 3.43% | 6.22 | A | 72 | A | 810 | 2 |
| Farmers | 2.55% | 0.46 | A- | 72 | A+ | 819 | 3 |
| Nationwide | 1.86% | 0.43 | A+ | 71 | A+ | 808 | 2 |
| American Family | 1.58% | 1.79 | A | 76 | A+ | 824 | 3 |
| Travelers | 1.33% | 5.12 | A++ | 75 | A+ | 818 | 2 |
| Erie | 1.23% | 0.51 | A+ | 86 | A+ | 858 | 5 |
| Esurance | 0.47% | 1.3 | A+ | 70 | A+ | 836 | 4 |
| MetLife | 0.47% | 1.07 | A | 72 | A+ | 812 | 2 |
| Amica | 0.46% | 0.67 | A+ | 89 | A+ | 852 | 5 |
| NJM | 0.40% | 0.01 | A+ | 90 | A+ | 861 | 5 |
| The Hartford | 0.40% | 1.64 | A++ | 74 | A+ | 830 | 4 |
Here's what these car insurance ratings tell you:
Market share percentage is how much of the car insurance market a particular company holds, according to S&P. In this case, State Farm is the largest auto insurance company, occupying almost 15% of the industry.
The NAIC Complaint Index comes from the National Association of Insurance Commissioners. This rating is the ratio of complaints per company size. A score under 1.0 means a company has relatively few complaints for a company of its size. A score above 1.0 means it has relatively high complaints.
A.M. Best scores measure the financial stability of a company. Anything in the A range is stable, meaning your car insurance company should be afloat and able to pay for your claims.
Consumer Reports Reader Scores are measured out of 100 and based on over 100,000 reports by Consumer Reports members. These scores average satisfaction ratings of members on the factors of premiums, claims, service, policy reviews, and help and advice.
Better Business Bureau letter scores indicate how well a company responds to complaints made about it to the BBB. A+ is the highest score a company can receive, but it does not tell us about customer satisfaction or actual complaint resolution.
The Customer Satisfaction Index from J.D. Power averages the customer satisfaction scores from respondents and groups these scores by regions. The best score is 1000.
J.D. Power Circle Ratings indicate how a company satisfies its customers relative to a competitor. These scores range from 1 to 5, with 5 placing a company "among the best."
10 biggest major auto insurance companies
The 10 biggest car insurance companies make up over 60% of the entire market. The top three largest auto insurance companies are State Farm, GEICO and Progressive.
Largest car insurance companies
Auto insurance company
Market share
State Farm
15%
GEICO
12%
Progressive
10%
Allstate
8%
USAA
5%
Liberty Mutual
3%
Farmers
3%
Nationwide
2%
American Family
2%
Travelers
1%
Source: S&P Market Share data
How to find the best car insurance company for you
While we've analyzed the best car insurance companies in general, finding the best rate is specific to your driving history, location, the car you drive and other factors. Deciding on your best auto insurer also means knowing the services and discounts you want from a provider, such as great claims service or 24-hour roadside assistance. Here's how you can find the best car insurance company for you:
Get multiple quotes and make sure to give as much information as possible when you shop around. This way you can find discounts best suited to you. You can gather quotes from many car insurance companies at once through QuoteWizard, or you can reach out to companies individually.
Consider not only the price, but customer satisfaction ratings as well.
Make sure you shop for the coverage you need. Figure out if you need special coverages for a collectible car, for example, or if you need the minimum liability coverage, which varies by state.
Methodology
We conducted a comprehensive study of auto insurance rates across a sample of ZIP codes across all 50 states and Washington, D.C., through Quadrant Information Services. For our base driver, we used a single, 35-year-old male with a 2012 Honda Accord, clean driving record, 15,000 in annual mileage and excellent credit.
Variations from our base driver include:
Changing the age of our base driver from 35 to 18 and 50 years old.
Changing the base driver to have poor credit instead of excellent credit.
Company and state averages for young drivers and those with bad credit are sampled from six states. These six states' average car insurance premiums are closest to the national average.
Unless otherwise noted, state averages are for our sample 35-year-old base driver. Some company premium quotes are not publicly available and are not accounted for in this study. Average rates are based on non-binding estimates provided by Quadrant Information Services. Your rates may vary.
1QuoteWizard's Customer Satisfaction Rating is based on data from Consumer Reports, J.D. Power and the National Association of Insurance Commissioners. The satisfaction rating is calculated by multiplying the claims, service, and help and advice scores from Consumer Reports with J.D. Power's customer satisfaction index and Power Circle scores. This rating is then divided by the NAIC Complaint Index. Star and score ratings out of five are bucketed based on percentile.
QuoteWizard.com LLC has made every effort to ensure that the information on this site is correct, but we cannot guarantee that it is free of inaccuracies, errors, or omissions. All content and services provided on or through this site are provided "as is" and "as available" for use. QuoteWizard.com LLC makes no representations or warranties of any kind, express or implied, as to the operation of this site or to the information, content, materials, or products included on this site. You expressly agree that your use of this site is at your sole risk.